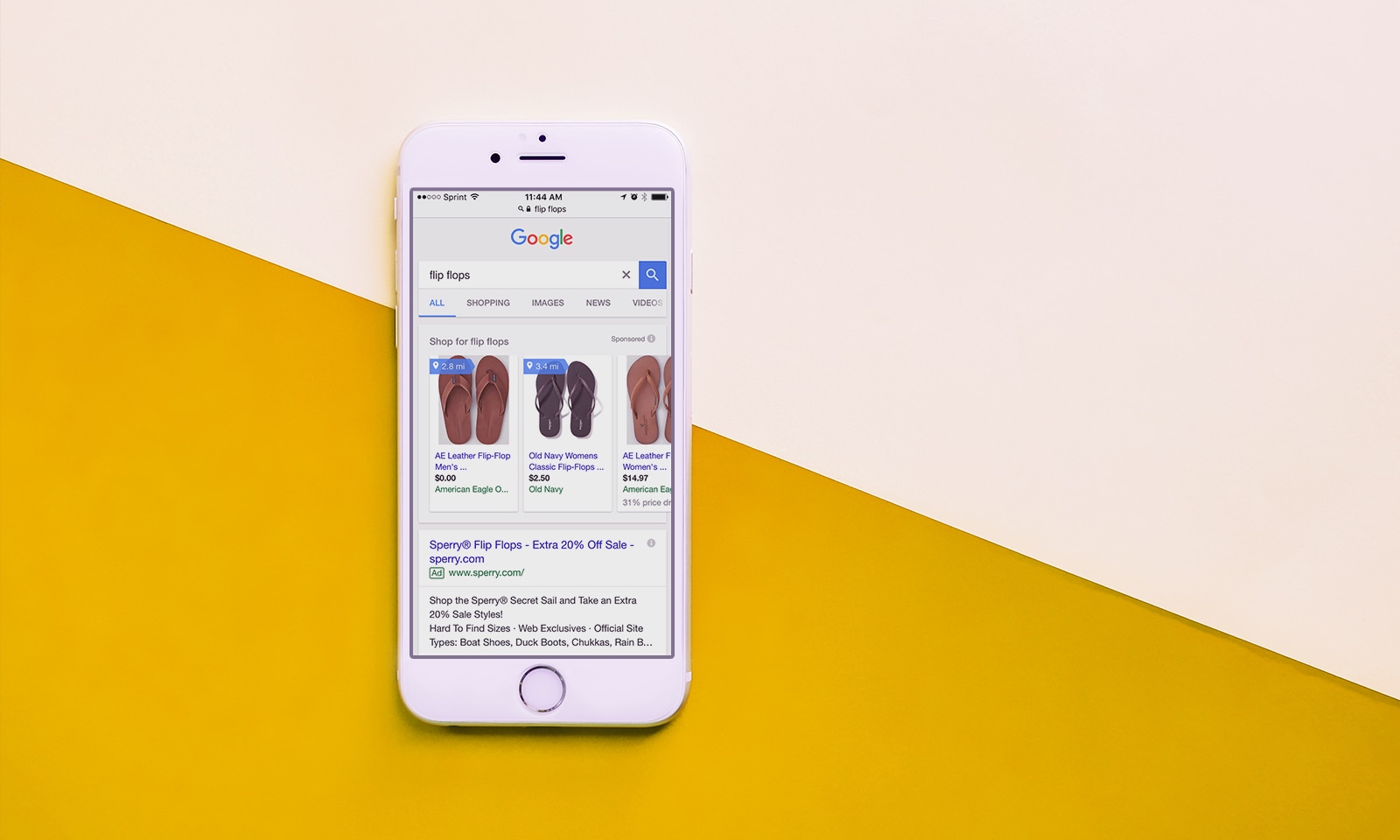 In the fall of 2015, Google announced that for the first time, mobile searches had surpassed desktop. This should come as no real surprise, but what may pique your interest is that in the fall of 2016 internet usage on mobile surpassed desktop. Now, not only are more queries being done through tablets and phones, but more time is being spent there as well. To leverage this market shift, you'll need to pivot your advertising campaigns for a mobile-first world.
Updating your Google Shopping campaign(s) to focus on mobile traffic can be an excellent first step. Mobile product listing ads can check all the boxes for advertising success: being there, being relevant, and being accountable. Let's break down a few core tenants of why we need to shift focus for Shopping.
The elephant not in the room
Online real estate will never not be at a premium. This seems to be one of the few unchanging principles of online advertising: location matters. On mobile, where competitors jostle for room on the small screen, shopping ads can prominently feature your items in an above the fold, scroll-less feature. Honing your advertising strategy around Shopping is crucial, in my opinion, because it's still one of the last bastion's for ecommerce growth. The reason for this is simply because Amazon isn't there. From Business Insider, Amazon accounted for 53% of ecommerce growth in 2016. 53%! For every two dollars spent online in ecommerce last year, they took one of them.
The Bezos-led machine is irrefutability the biggest player in US online sales. They've won, that's it. But, and there is always a but, there is a glimmer of hope via Google Shopping. Outside of some tests they ran in December, Amazon doesn't advertise on the Shopping network, at least in full force. With 55% of ecommerce searches starting on directly on Amazon as it is, having a presence in the one place they're not is critical.
Mobile Shopping relevance – Finding the buy now
Unsurprisingly, customers seeing your products via Google Shopping's scroll will be in all parts of the buying funnel. With a mobile focus however you can better optimize your feed to be a bit closer towards the conversion side. Instead of targeting people who are window shopping, we'll want to get in front of people who are looking to get an item to them quickly.
Best practice for mobile usage - add keywords like review/s, ideas and 'how to'/DIY phrases to your negative keyword list. These phrases show that someone is still researching around your product, rather than deciding that that is the purchase for them. We'll want our products to reach a more targeted, qualified audience. Instead, look to add or append your UPC/MPNs to the product name field. This feature is particularly effective for hardware, automotive and electronics. If someone is searching for a particular product, such as an oven light switch replacement, they can quickly Google the part number associated with the piece they just pulled out of their stove and get the results they're looking for. An applicable product image, which corresponds directly with the thing they're holding in their hand, might as well have 'buy now' in a neon sign over it.
Your Store and Google Shopping - Accountabilibuddies
Closely associated with relevance, you need to show the right product at the right time. Google is going to hold your data feed accountable by ensuring the information you use in ads is up-to-date and correct. On the flip side, you'll need to make sure that your website and mobile experience return a user experience Google expects of you. This means a responsive website with an ease of checkout (easy on the dropdown options and textboxes) designed for small screens.
The best way to keep your advertising campaign accountable for the revenue/traffic/ROI it generates will be all about the metrics. Conversion rate is going to be the main KPI followed by true conversions. To determine the effective of your mobile experience, a quick and easy way is to navigate to your campaign's Settings tab and looking at the device breakdown. This is where you set a mobile bid adjustment as well. Look at the conversion rate, cost per conversion and acquisition rate to see how your desktop v. mobile shoppers are faring.

To segment this data further I would recommend creating a mobile-only Google Shopping campaign. Using built-in AdWords functionality, you can copy over your previous campaign and then make adjustments to diverge your two types of traffic. Setting your original (and now desktop) campaign's mobile bid adjustment to -100% will siphon all mobile traffic to your new campaign. Then, set the desktop bid adjustment on your mobile campaign to -100%. Even with CPC bidding the same, you'll be able to quickly start making optimizations on the different types of traffic. As recommended above, you'll be able to have distinct negative keyword lists allowing the desktop experience to take ownership of the top of the funnel buying cycle. Mobile friendlier brands products can also be segmented for their own budget, preventing daily budget cannibalization.
So, with this new set of data in front of you, monitor your AdWords campaigns (beyond Google shopping) to see where there are areas for improvement and areas to capitalize one. Updating your negative keyword list, creating mobile-specific campaigns and investing in UX will help future-proof your advertising for the foreseeable future.