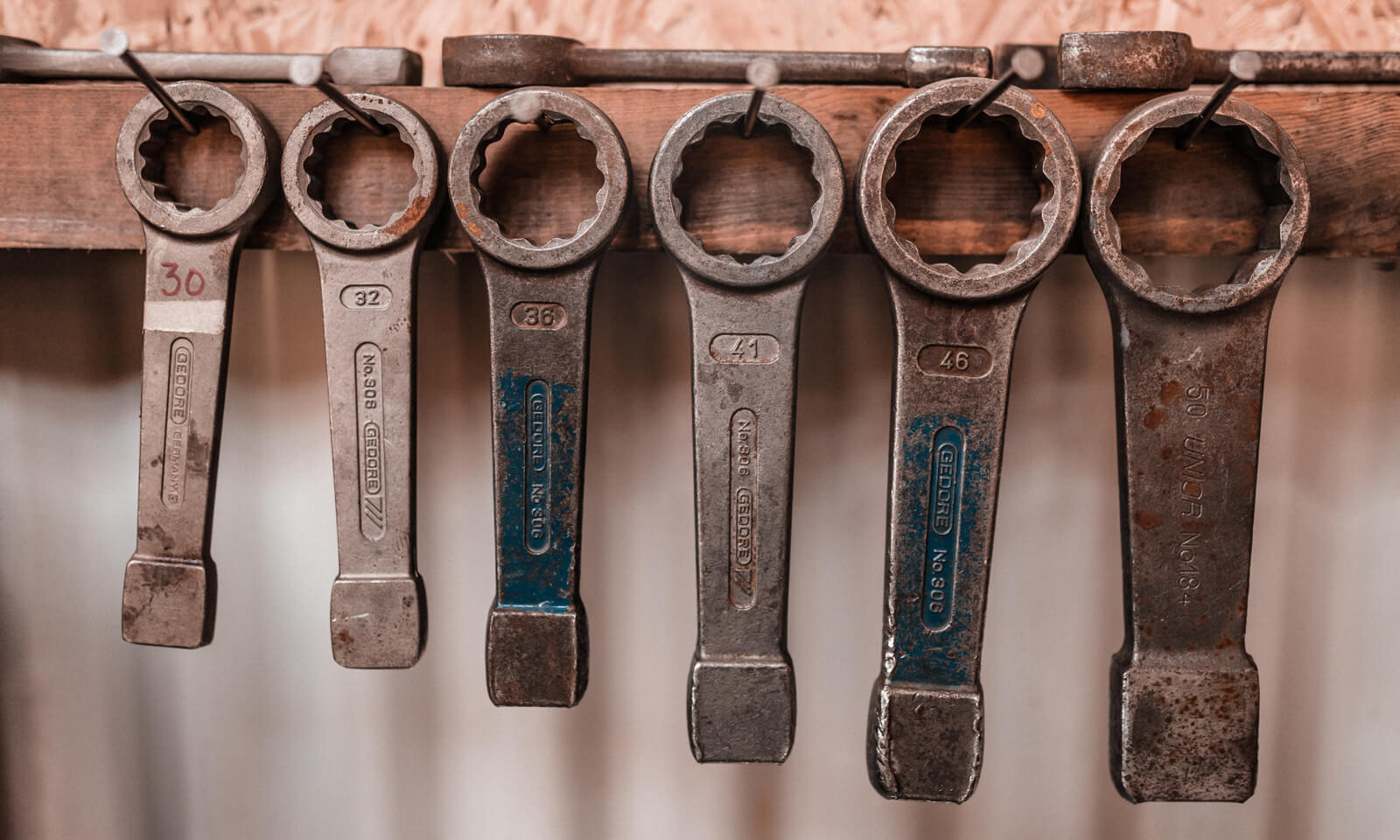 So, you've decided to try your hand at a Pay-Per-Click (PPC) campaign for your business. Congratulations! PPC advertising is a great way to help increase brand awareness, promote your products and services, and ultimately generate sales online. Whether this is your first time venturing into the world of online marketing or you have some experience with PPC, setting everything up and getting your campaign running can feel like a daunting task. But don't worry, we're here to help! With this quick guide, you'll be able to kick-start your campaign in no time, and soon see increased website traffic, conversions, or any other ecommerce goal your heart desires!
Before You Start
Like the name suggests, advertisers are charged a fee when an ad in a Pay-Per-Click campaign is clicked. So before getting started, it is important to set campaign parameters and come up with a budget that you're going to be comfortable with. Cost accumulates as users click on your ads until the set daily budget is reached, at which point Google will stop showing them for the rest of the day. Finding a balance of a budget that allows for the desired exposure and maintaining a positive return on investment can take some time, but luckily you're allowed to make changes at any time.
Additional questions to consider before launching an AdWords PPC campaign include:
What Google networks will you advertise on (Search, Display, or both)? Both networks have their own distinct advantages, and are worth learning about. The Search Network allows you to create text based ads that will appear on Google search result pages, while advertising on the Display Network will allow you to promote your business on popular websites with image or video ads.
What is the campaign's overall objective or goal?
It's most likely to make as many transactions as possible, but you can also create campaigns that serve many different functions. Whether you're focus is on increasing brand awareness, phone orders or newsletter signups, or you're trying to specifically target people using a mobile device, there's a way to do that!
What kind of keywords and ad copy will you utilize?
Text ads give you the opportunity to be creative and write your own ad copy and bid on keywords related to your business. It's a good idea to take some time and focus on your brand messaging and how you want to convey yourself.
What devices (mobile, desktop, or tablet) do you want to target most?
PPC allows a lot of flexibility with how to advertise, and depending on your target audience and their behavior you might see better returns on one device over another.
Are you interested in location targeting?
In addition to device targeting, AdWords also lets us focus in on specific geographic areas. Maybe you want to increase advertising to people around your brick and mortar shop, or maybe you aren't able to ship to all locations. With location targeting, you're able to increase or decrease emphasis on a specific area, offering greater flexibility.
Setting Up
So the moment of truth has come: how do you start a PPC campaign? Follow this handy how-to, and you will be on your way to ecommerce success in no time! So let's begin at the front of the AdWords Dashboard.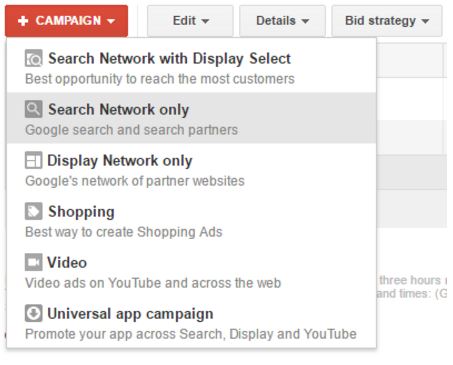 First, click the campaign dropdown and choose the appropriate campaign type. The most common forms of PPC campaigns are the "Search Network only" and "Search Network with Display Select". If you are having trouble deciding which campaigns to utilize, or just want to learn more about the different types, check out this helpful video by AdWords.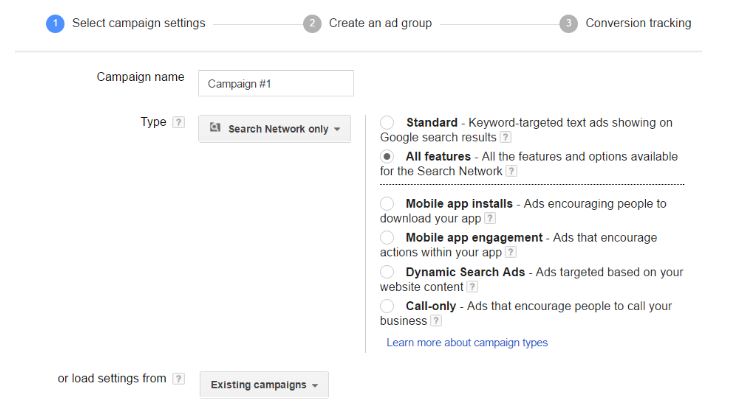 Next, choose the appropriate settings for your desired campaign. We recommend utilizing "All features" of the selected campaign type. If you want to import settings for an existing campaign, simply click the dropdown menu and choose the appropriate campaign. After establishing the campaign settings, select the countries you want to target or exclude, as well as the appropriate language settings. Utilize radius targeting, location groupings, and bulk location uploads in the "Advanced Search" link within the locations section.
One of the most important parts of any PPC campaign is setting the default bids and daily budget. Depending on your business goals, you may want to choose an automated bidding strategy that targets CPA (Cost-per-acquisition), ROAS (Return on ad spend), or Search Page Location. However, the Volusion PPC Team recommends starting your PPC campaign with a manual CPC (cost-per-click) bidding strategy. A manual CPC strategy allows you to start bidding on keywords conservatively, while an automatic strategy increases the likelihood of higher ad costs initially. Starting your campaign with manual CPC bidding creates more budget control, flexibility, and reduces the risk of breaking the bank.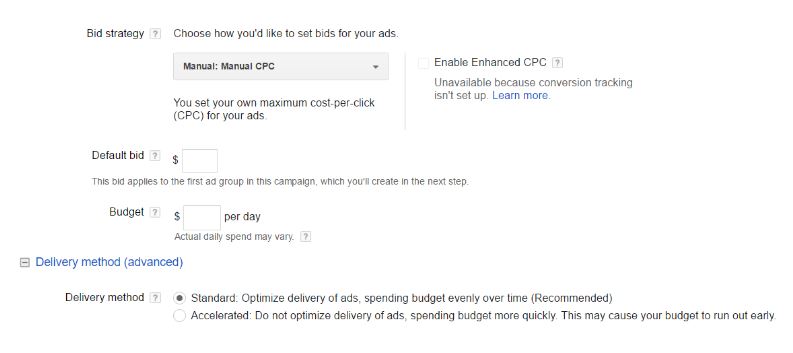 After deciding on a default bid price and daily budget, try creating some Ad Extensions! Ad Extensions provide more text space to advertise your business' selling points and overall value. If you want to go ahead and create ad groups and text ads before creating the Ad Extensions, that is okay! If you'd like to go that route, jump ahead in the campaign setup process.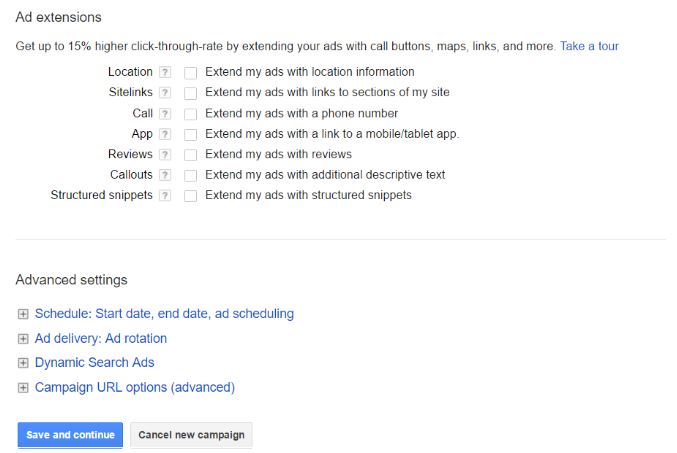 Scheduling ads to appear at specific time frames or specific days is another option during the campaign setup. Similarly to the Ad Extension setup above, you can wait until after the campaign creation is complete to make an ad schedule. Click "Save and Continue" at the bottom of the page to finish the building blocks of the PPC campaign!
The next step requires you to create your first ad group and text ad. This ad group will act as a home for ads and keywords that are targeted to sell a particular group of products or services. Fill in the text ad outline with informative copy and a call-to-action, and make sure the Final URL leads to an appropriate landing page. If you need some tips on improving your landing pages, read this landing page optimization blog post!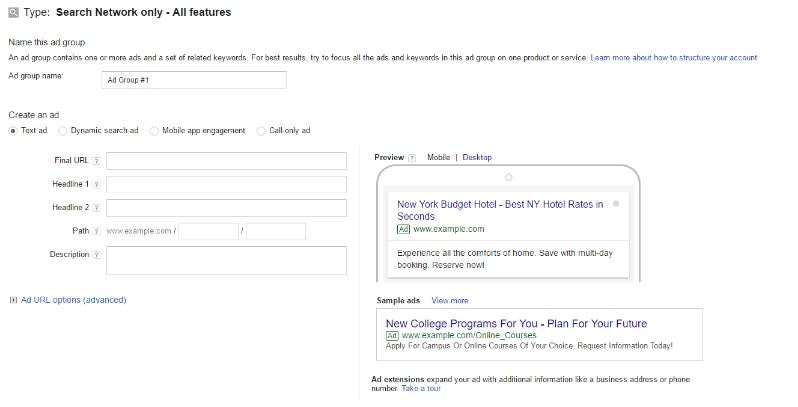 Next, select some relevant keywords to trigger the text ad you just created above. Remember, you always have the option to select more keywords or change any campaign settings in the AdWords Dashboard. After you've created a keyword list, set a default bid for the keywords. The default bid represents the cost you will incur when a searcher clicks on your text ad in the SERP (search engine results page). Set a bid that you are comfortable with and monitor the results closely in the beginning stages of the campaign. Over time you will have a greater knowledge of how frequently your ad is clicked and its overall performance. This data will lead you to make numerous decisions on adjusting the default bids in the future. If you are wondering how to perform effective keyword research and want to save yourself some headaches, check out this Volusion blog post on keyword research!
At this point, there should be a new ad group showing on your AdWords Dashboard. The various tabs under the campaign title will be your best friends from here on out! The "Ad groups" tab shows all ad groups in the selected campaign and their corresponding performance metrics. The "Settings" tab presents preferences that you set in the beginning of this walk-through, such as the type of campaign, device targeting, location targeting, language preference, bid strategy and daily budget, as well as ad scheduling options.
The third tab titled "Ads" is where you will create and manage texts ads. Similarly, the "Ad Extensions" tab is the spot to create and assign extended ad copy to existing text ads. Use the "Keywords" tab to create, delete, or pause your relevant keywords, as well as their individual bids. You can also select the "Negative keywords" sub-tab to exclude search terms that are not relevant to your ads, products, or services. Also, always check the "Search terms" report sub-tag in order to view the actual searches people entered that led to a click on your ads. Finally, the "Audiences and "Demographics" tabs present search data relating to age, gender, geo-location, and much more!
And there you have it! Now you are ready to dive into one of the best digital marketing tools in the world, and achieve your marketing goals. For more information on how to track your PPC campaigns, check out our list of the 9 most important PPC metrics for online merchants. If you require further assistance with your setup, Volusion has a team of AdWords certified professionals ready to create, manage, and optimize your account, so you don't have to do it alone!