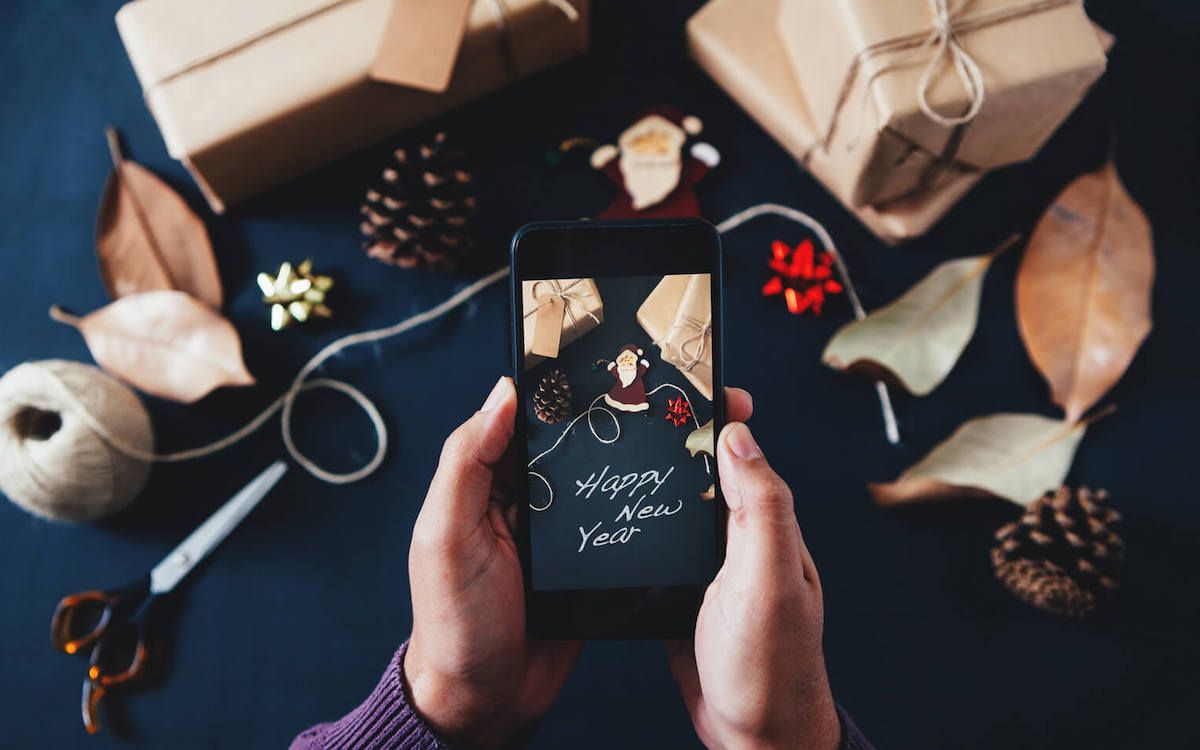 Ecommerce businesses have the chance to bring in some huge sales numbers during the holiday season. And when it comes to marketing to bring in those huge sales, social media is one of the best avenues available.
Not only do shoppers review brands online before buying; they also scour social media pages for special deals and customer service help. That means that platforms like Twitter and Facebook can be an effective and low-cost way to engage with your audience and encourage them to buy.
Are your social media profiles ready for an influx of holiday shoppers? Whether you are or are a bit behind, we've compiled a few great holiday social media strategies that can help you earn more this holiday season.
1. Make Your Social Profiles Festive
Making your social media profiles more festive is a good way to personalize your brand—plus, it shows your followers that you're ready to celebrate the season with them. Get your customers (and yourself) in the holiday spirit by designing your own unique winter or holiday-themed cover photos and profile images for each profile. (Just make sure you remember to change them again once the holiday season passes!)
Additionally, consider the content you plan to post on each platform during this time. Make a point to create festive images that evoke the season to share. You could also create new photos of your products that put them in a seasonal context—surrounded by holiday colors, or placed in front of a background of snow. Holiday product photography can help reposition products as great gifts relevant to the season.
2. Be Inclusive in Your Holiday Social Strategy
You wouldn't know it from most holiday marketing you see, but not everybody celebrates Christmas. That means there are a lot of consumers out there feeling left out by the marketing promotions they see everywhere this time of year. You can appeal to those customers by taking a more inclusive approach to your holiday social media marketing.
That could mean sticking with more neutral holiday wording and imagery—like "Happy Holidays" and a focus on snow scenes—rather than more overt Christmas imagery. Or it could mean making sure to include other holidays like Hanukkah and Kwanzaa in your social media marketing strategy as they occur.
3. Invest More in Social Media Advertising
While social media is a great way to connect directly with your customers, there's a hard limit on who will see most of your updates. If someone isn't already following you, they're unlikely to see anything you share. That's the big challenge of social media marketing, since many won't ever know to follow you to begin with without seeing your updates.
Every social media platform has advertising options you can use to reach people who aren't following you yet. You can increase visibility of all the holiday promotions and content you share on social media right at the time that customers are more likely to buy from you. And because social media platforms generally have good targeting options, you can get the right posts in front of the people most likely to respond to them.
Keep in mind, though, that because it's the busiest time of year for shoppers and merchants, social media ad platforms take advantage of the demand for ad space. Platforms like Facebook, Instagram, and Pinterest increase the cost-per-click as the number of advertisers increases. To ensure that your ads and posts are being seen, we recommend increasing your ad budget for a few weeks to improve visibility throughout the ad-saturated season.
4. Run Holiday Promotions and Deals
Your website is probably plastered with promotions for the deals you're offering at this time of year, whether it's discounts, free gift wrapping for orders over a certain amount, free shipping, or festive giveaways. Your website visitors shouldn't be the only ones who hear about these attractive promotions. Post about them across your social media platforms. All of your followers should know about the awesome deals available for a limited time, so you can drive more traffic back to your website and make more sales.
You can also take advantage of social media's unique nature to create promotions specific to your social profiles. Here are a few of our favorite examples:
Flash Sales: As the name suggests, the flash sale happens quickly and then disappears. This is a great way to offer sales that only last for a short period of time, but allow customers to get big savings. Common examples include posting on Facebook and Twitter with a link to a product and a brief description letting everyone know the sale is only going to last for a few hours. The fleeting feeling created by the post is effective at motivating customers to buy right now. These sales are usually also exclusive to social media followers who will see them more quickly, making them part of a select group that can take advantage of lower prices for a short period of time.
Ask Questions, Give Coupons: This method is mostly geared towards Facebook, but can also work on other platforms. First ask followers what product they most look forward to purchasing from you. You can be creative and ask other questions as well, such as what they would like to give out as a gift to others. After the responses come in, you can offer personalized, one-time use coupon codes for them to get a discount on that particular item. Coupons given in this way are effective because they offer something the customer wants anyway, and you've given them a unique opportunity to get it at a lower cost. This may be one of the quickest methods to bring in some extra holiday sales. For the best results, try this multiple times during your busiest hours.
Holiday Giveaways: While most merchants are concerned with sales, this season is also a time to give back—and giving a little can do wonders for your business. Run a special giveaway or promotion during the holidays to create buzz around your brand. This can be a fun Facebook contest, like "Guess how many candy canes are in this jar for a chance to win!" Or perhaps something on Instagram such as, "Repost this photo for a chance to win this free gift!" You may even want to boost the Facebook post so it can be viewed beyond your page fans.
5. Promote Holiday- and Gift-Related Content
If you're doing content marketing, then you've probably worked up a number of holiday-related content pieces to publish this time of year, such as gift guides or blog posts about seasonal events, holiday recipes, and New Year's resolutions. You can make your social channels more festive and drive more traffic to this content at the same time by promoting all of your seasonal content across your social media profiles.
6. Encourage Sharing with the Right Hashtags
Because this technique is focused on hashtags, it is most appropriate for Twitter. Introduce a specific hashtag related to your product and encourage followers to begin sharing and talking about your business. It helps if the hashtags are something specific to your product rather than a more general hashtag that may be associated with other things.
Followers will normally need to be given incentives to spread the word, so offer bonus discounts or coupons to those who begin sharing. Once a discussion starts and potential customers begin seeing discounts, you may be able to bring in sales from the most active followers. As an added bonus, you will be strengthening your relationships with your customers by engaging with them directly. This can also help your reach if additional people are searching for the words in the hashtag or see a related discussion.
7. Don't Neglect Your Customers
Check your social media pages daily for questions, praise, and/or complaints from your customers. Many shoppers take to social media to ask a question or share an unpleasant experience. Because these types of inquiries tend to surge during the holiday season, it's important to monitor your accounts and respond to shoppers. Social media is a huge customer service tool, so don't neglect these pages!
8. Publish Countdown Reminders
Borrow an idea from advent calendars and use your social profiles to countdown to the big day. Create a neat graphic that showcases the number of days left until Christmas (or New Year's, Kwanzaa, or the number of days left for Hanukkah) and share it each day.
Consider combining each of these posts with a recommended product that makes a great gift, or using them to promote a special deal for each day leading up to Christmas. You could promote your countdown as something like a Deal for Every Day of December or 12 Days of Christmas Gifts. Whatever approach you take, it gives your followers a reason to keep checking back each day to see what you share.
In Conclusion
The holidays are the best time of the year to get a better return on your efforts on social media. Any of the aforementioned techniques are likely to give a boost to sales and help take advantage of the extensive amount of shopping that happens during this time of year. Be sure to stay engaged with your audience throughout these ideas, and you will be rewarded with purchases.