Streamline Purchasing with our Premium Checkout Feature
Volusion's Premium Checkout feature is an upgraded checkout experience for Volusion merchants that simplifies the purchase process for both you and your customers.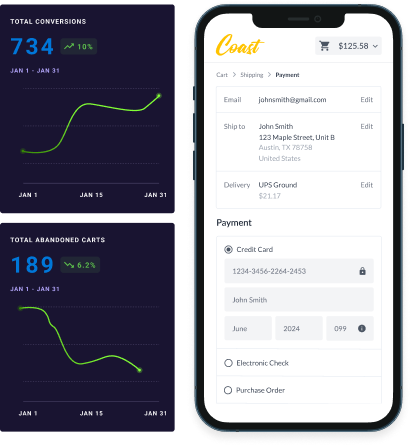 Boost Conversions with an Improved Experience
Premium Checkout introduces a simple, linear checkout process with a clean design that encourages customers to complete their purchases quickly and with ease.
Volusion merchants are already seeing the benefits of upgrading to the Premium Checkout experience for their stores, including:
Less friction at checkout
Fewer abandoned carts
Higher conversion rates
Strengthened customer trust
The All-in-One Checkout Experience
We are always adding to our Premium Checkout feature as we strive to achieve the best possible checkout experience. Current highlights of the feature include:
Updated Interface
Our clean and modern-looking checkout flow was designed to elicit a professional appearance, encouraging more shoppers to convert into buyers.
Mobile-First Checkout Flow
Premium Checkout was built with the mobile experience in mind, so the ever-growing population of mobile shoppers can purchase with ease.
Guest Checkout
Reduce friction by allowing customers to check out without creating an account that stores their information thanks to our anonymous checkout component.
Location-Specific Error Messaging
Identifies where on the checkout form your customers' information needs to be updated before moving forward with the purchase.
Fewer Clicks Required
New customers enjoy a streamlined 2-step checkout process while returning customers enjoy 1-step checkout, allowing faster checkout completion.
Address Verification
Our built-in integration with Smarty validates all entered shipping addresses, eliminating undelivered orders as well as the need for manual corrections.
Multiple Payment Options
Accept the payment methods you prefer, including debit/credit cards, money orders, checks by mail, cash on delivery, wire transfers, and more.
Payment Integrations
Integrate with major players like Amazon Pay and PayPal—learn about PayPal's full-stack processing solution with Volusion here.
Gift Cards
Allow shoppers to purchase gift cards from your business and pay for purchases at checkout using codes from their gift certificates.
Custom Fields
Add questions for your customers to fill out (such as feedback requests and marketing information) or empty fields where they can leave specifications.
Promo Codes
Offer discounts and coupons to your customers and include fields in the cart and at checkout to enter valid promotional codes.
Rewards Points
Allow your customers to earn rewards points from their purchases and spend them at checkout on any future purchases.
Premium Checkout FAQs
My current checkout with Volusion works fine. Why should I upgrade?

Premium Checkout offers a simpler and faster checkout experience to customers, leading to less friction, fewer abandoned carts, and higher conversion rates. Additionally, Premium Checkout is the future of frictionless checkout at Volusion and will be the focus for all checkout-related improvements moving forward.

How much does it cost to upgrade to Premium Checkout?

Nothing! Premium Checkout is included at no extra cost for all Volusion Business, Professional, and Prime plans.

How do I set up Premium Checkout on my Volusion store?

Implementation is easy and only takes a few minutes to complete—simply click a toggle, choose your settings, and save your changes. You don't even need to re-enter your payment gateway credentials. Learn how in the "Accessing & Enabling Premium Checkout" section of our Help Center Article

What payment methods can I offer through Premium Checkout?

Premium Checkout lets you accept payments through a variety of different methods. Select whichever one(s) will work best for your business:

Credit/Debit cards through your preferred payment gateway (Volusion Payments, Stripe, etc.)
PayPal (including Buy Now, Pay Later features)
Venmo (U.S. only)
Amazon Pay
Money Order
Check by Mail
Cash on Delivery
Wire transfer
Cash

Is allowing Guest Checkout required when using Premium Checkout?

While allowing Guest Checkout is strongly advised because it reduces friction in the checkout process for shoppers who do not want their information saved, the feature can be turned off if desired. Learn how in the "Guest Checkout" section of our Help Center Article

When will a specific feature be available on Premium Checkout?

We are continuously updating and adding to our Premium Checkout feature. Are you waiting for a specific feature before you adopt Premium Checkout? Fill out our Feedback Form and let us know what you're waiting for so we can prioritize our new releases!
Our Merchants Love Us
I went back and looked at some of our transaction data from the time we enabled Premium Checkout to present, and we saw a 50% increase in the amount of orders that are completed online versus by phone. So it clearly made a difference.
Simplify Your Checkout Today
Make the checkout process through your Volusion storefront better for your business—and your customers—today.
ENABLE PREMIUM CHECKOUT