Chapter 4
Meta Tags & URLs: Define the Space
Well-written Meta title tags and descriptions, category and product URLs and photo alt tags are also important on-page SEO factors in ecommerce. Treat these like the windows, trim and other features that make each room of your house unique. You don't want to repeat the same design in each space!
Title tags
A title tag is the title of the page and arguably the most important SEO real estate on a page, so when it comes to DIY SEO – this is an area well worth your time and energy. While not visible on the page, it will appear on the clickable tab at the top of your browser and serve as the title of search results in the form of a blue, clickable link.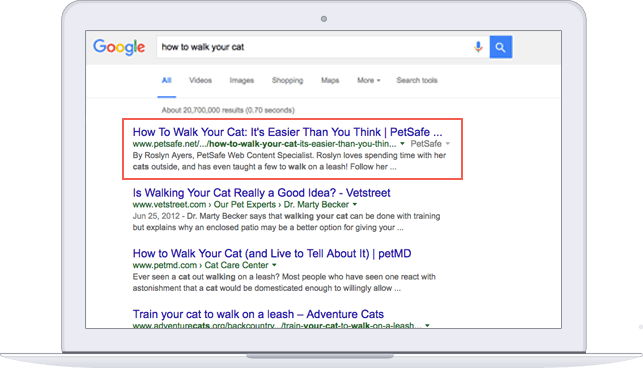 In the SERP example above, PetSafe's title tag is "How To Walk Your Cat: It's Easier Than You Think | PetSafe® Articles." This is not a bad title tag as it contains the keyword phrase "walk your cat" though we might adjust it to read "How To Walk Your Cat on a Leash | Cat Leash Training Tips" for a bit more keyword relevancy.
Meta title tags are generally keyword focused and succinctly describe what the page is about. Search engines very regularly list results based on, among other things, what a page's Meta title tag says. Use a root keyword that accurately describes the entire page's offering and then supplement it with secondary keywords using a hyphen or a vertical bar.
The key here is to be specific about what the page offers. Simply saying "leash training" in the title tag would be missing the mark. It's too broad and doesn't help search engines understand what the page is about.
A title tag should be around 600 pixels in length. Title tags that are too long will be cut off by the SERP and the end of the tag will be replaced with an ellipsis, potentially removing important words from the view of the web user.
Meta descriptions
Like the title tag, the Meta description is not visible on your website, but appears in SERPs. It is the marketing copy that appears beneath the Meta title tag. Its purpose is to reaffirm what your page is about and convince the searcher to click through to your page versus another listing. To that end, a Meta description is less focused on keywords (though keywords will be bolded in the search results) and should convey the value of your products or some sort of edge you have over your competition. We don't know about you, but we find this Meta description compelling – it's begging for a click. And so glad we did! Look at this happy chappy: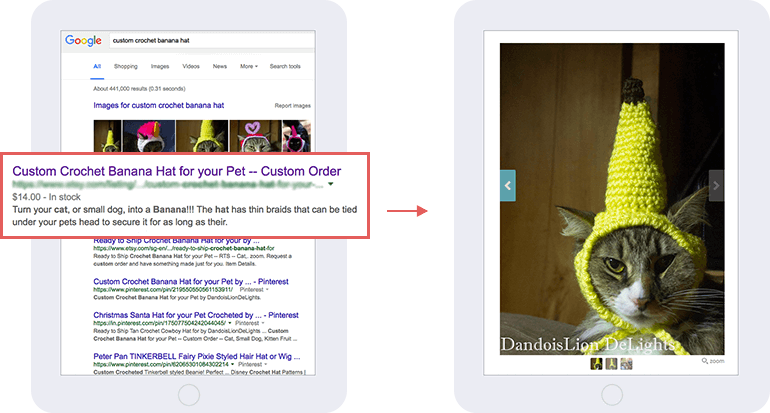 Banana hats aside, Meta descriptions should be around 156 characters in length to make sure the entire message is displayed in search results. Any longer and the end of the message will be cut off and replaced with an ellipsis.
Use a Google SERP optimization tool to craft your title tags and Meta descriptions before you place them on your site.
Optimized URLs
Optimizing your category and product URLs is a simple way to organize your pages and provide your customers with reassurance that they have reached the right page. It is also another tool for search engines to index the pages of your site and potentially list you in a SERP. Additionally, properly optimized URLs will aid in paid search efforts such as Pay-Per-Click advertising and comparison shopping engines (Shopping Feeds) where product URLs are predominantly displayed. Use keywords specific to the category or product in question when you optimize a URL, and keep them succinct so as to avoid confusing-looking URLs. Likewise, avoid punctuation, which will result in unwanted dashes and a confusing URL.
Photo alt text tags
Within the Volusion software, every product you sell can be further optimized with a photo alt text tag. The purpose of this tag is to provide your product images with improved accessibility for sight-impaired users, as well as an added boost for any end user conducting an image search. Since search engines cannot currently "see" images, the Photo Alt Text field is an important section to address to make sure your products are as visible as possible. Treat this field simply as a way to describe the product in question, similar to the Meta title tag.
Where can I find these tags in Volusion?
Volusion makes do-it-yourself SEO easy. To optimize your home page's Meta tag information, refer to the Home Page tab within the SEO section of your Marketing folder in your site's backend manager.
For category pages, you can modify your Meta tags and URLs within the Search Engine Optimization tab under the Advanced Info menu of the category in question.
For product pages, modify your Meta tags, URLs and Photo Alt Text tags within the Search Engine Optimization tab under the Advanced Info menu of the product in question.
Try Volusion free for 14 days
No fees, no commitment, no credit card.