Chapter 1
Introduction: A DIY SEO for Ecommerce Manual
If you own an online store, you want your products to be found in the organic search results. These are the natural, unpaid results that search engines deliver when a term or phrase (a.k.a. keyword) is searched on Google. For example, if you wanted to train your cat (good luck!), you might use Google (or Bing, or Yahoo) to search for "house cat training equipment" and the returned search engine results page (SERP) would be: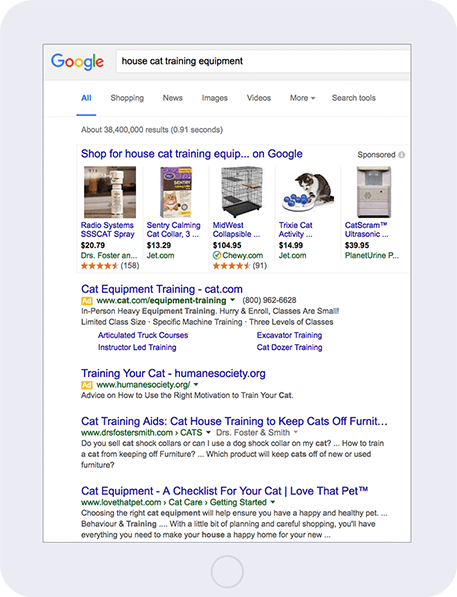 All the listings below the image-based Google shopping results and paid ads are organic search results. Google believes these pages are most relevant to the above query. So how did Doctors Foster & Smith and Love That Pet beat out the likes of Amazon and Petsmart to end up at the top of the results? We'll answer that question, along with providing on and off-page SEO best practices you can start implementing today.
Search engine optimization (SEO) is a collection of marketing techniques aimed at building a website's authority, trust and topical relevance. These are the three main components that search engines use to determine a website's organic visibility. SEO for ecommerce is about increasing organic traffic and revenue for relevant queries. It is not about "ranking" or gaming the search engines. There are no tricks here – just hard work. And even the best SEO takes time to yield results, so we recommend pairing paid advertising and social media with SEO. The good news is, once SEO momentum builds, the payout is substantial and builds on its own success.
Why organic traffic?
Makes up roughly 50% of all website traffic
Often perceived as trustworthy – the search engines are vouching for you
Good medium for website and brand "discovery" – organic search can introduce you to shoppers
Excellent medium for very specific searches, which typically have higher conversion
Why does SEO take time to yield results?
Search engines want to deliver the best results; they are not going to rank something overnight
Trust is earned over time
Competition varies (our internal SEO team sets the expectation that traction happens in 3 to 6 months depending on the industry and current state of the website)
Before we dive in to specifics, it is important to note that SEO is often categorized into two groups, both of which are critical to search engine success.
On-page optimization is the work done on the website. It includes technical optimization and increasing the website's relevance for appropriate keyword phrases by optimizing URLs, content and tags. Effective on-page optimization allows search engines to easily determine the subject of each page and the site as a whole, so they can deliver the best landing page to users performing relevant searches.
Off-page optimization refers to SEO activities that happen off the website. Some effective off-page SEO tactics include earning inbound links and citations, establishing the website as an authority in the industry and building an active social media presence.
From here on out, the information we provide will be an overview of the important aspects of search engine optimization from both an on and off-page perspective.
Try Volusion free for 14 days
No fees, no commitment, no credit card.