Chapter 3
On-Page Content: Prep the Interior
Now that you have a keyword strategy in place (your foundation has been poured), you need to fill your various categories, sub-categories and product pages with unique and descriptive content that naturally incorporates these phrases (framing and drywall). The end-goal of on-page content is twofold: provide customers with information about the products or page and provide search engines with more signals as to what your site's pages are about.
Serve the page's purpose
Content should be written with an end-goal in mind to reflect the page's purpose. What part of the purchase funnel is this visitor in? Is the purpose of the page to explain how easy it is to leash train your cat or are you trying to convince them to add a cat leash training kit to their cart? Unique content should be created to serve the page's purpose and direct the right kind of traffic to the page. All pages should have a clear Call to Action (CTA) that tells your visitors what to do next.
Avoid duplicate content
Content duplicated from page to page on a site or duplicated between websites not only confuses search engines as to which of your website's pages are most relevant to a query, but often leads to diminished search engine visibility as well, meaning less website traffic and fewer sales. Google has developed an arm of their search algorithm to specifically root out sites with duplicate content.
Important: If you are a reseller of goods from a manufacturer, do not copy and paste content they have on their site's category and product pages. While it may be tempting to borrow a well-written description of a product or range of products, it will negatively impact your site's organic visibility. While writing unique descriptions for your category and product pages may seem daunting, it is a beneficial process. Approach it by writing descriptions for your best-selling products or most frequently-visited pages first and work your way through the rest of your website.
Supplement with secondary media
Shoppers crave information and reassurance. Provide them with thorough descriptions, multiple images and even videos (which are great for ecommerce SEO!). Consider developing a how-to video via YouTube and embed it onto the most relevant product page. Optimize your YouTube videos with keyword-minded titles and descriptions. Not only do these videos make their way into Google search results, but YouTube is a search engine all on its own.
Videos do not need to be professionally produced to be effective. Simply produce a video in a well-lit area with a clear picture and audible sound. Every product page in the backend of Volusion's software can easily feature a YouTube video by simply including the video's URL.
Category pages can also feature YouTube videos by using the embed feature directly from YouTube, which provides you with a small piece of HTML code to add to your page.
Home page optimization
Optimize your home page's content to appear above Featured Products by accessing Article 2 within your site's backend system. To place it below Featured Products, access Article 71. While it is better for site readability to place any content higher up on the page, some home pages might be very visually driven, meaning content needs to be placed toward the bottom of the page.
Category page optimization
To optimize a category's on-page content, modify the Category Descriptions tab within the Advanced Info menu of the category in question. If the page is heavily image-driven, place your content in the Secondary Description field so it appears below your products. You can also write a Category Description Short if you're optimizing a sub-category that might appear elsewhere on the site in a clickable list.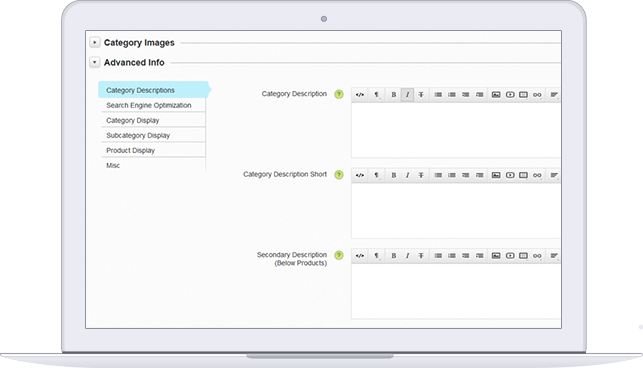 Product page optimization
Optimize your product page's description by modifying the Description field within the Basic Info menu of the product in question. You can also modify the product's name in this menu to make sure it is appropriately descriptive and unique compared to other products.
We recently hosted a Product Page Optimization Webinar, which will help you increase your product page visibility as well as Google Shopping placement. Highly recommended!
Try Volusion free for 14 days
No fees, no commitment, no credit card.