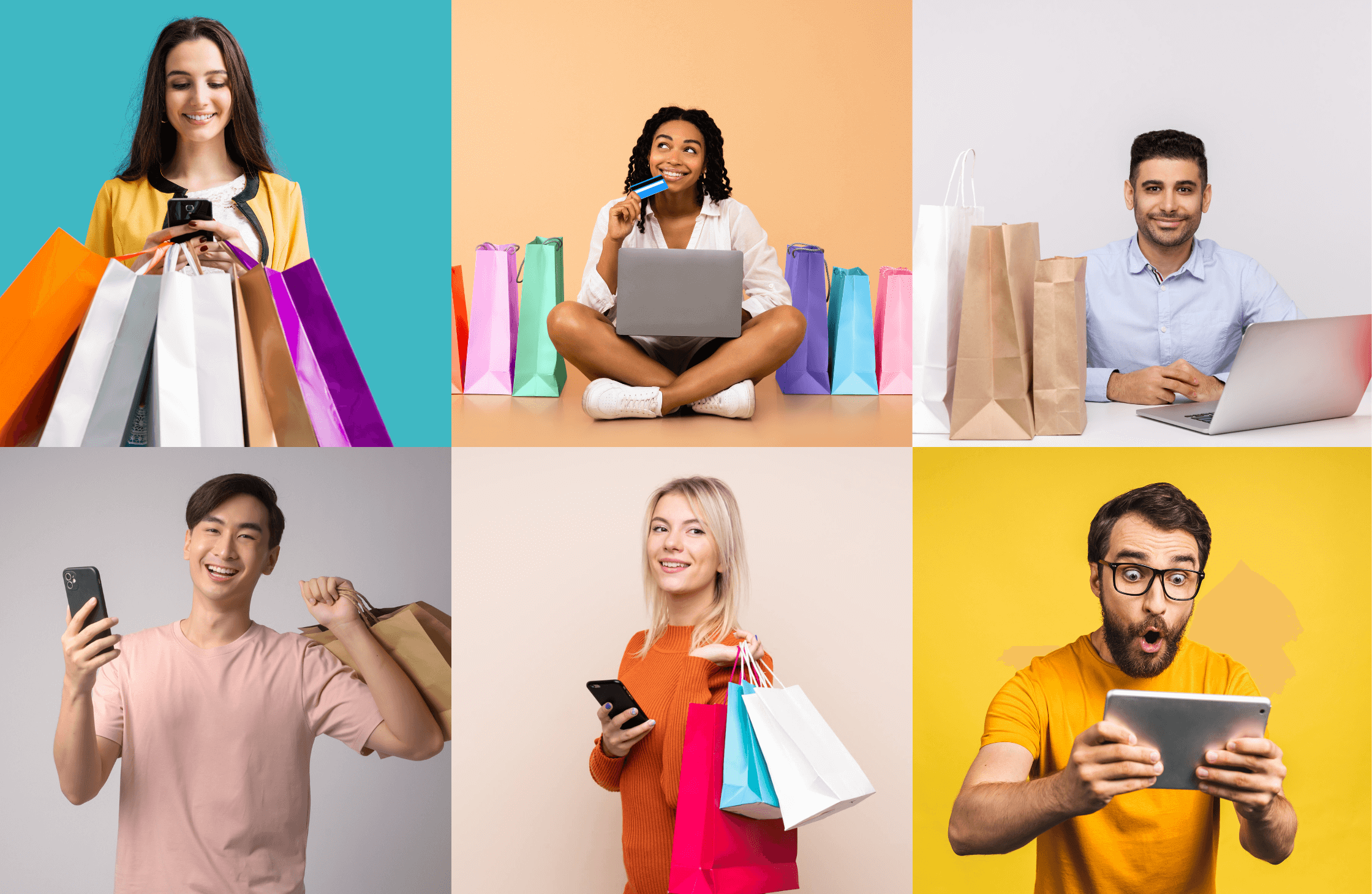 Consumers expect a lot these days—especially when it comes to the online shopping experience. And while around 57% of shoppers found themselves spending online in mid-2022, a whopping 60% plan to buy more online in the future.
Appealing to the right type of online customer can be difficult for small businesses looking to grow. It's tempting to try everything you can afford to do just to see what works, and then continue on that trajectory as far as it will take you.
But by looking into the behaviors of people who may be looking to purchase your product as well as the stage of the purchase funnel they may be in, you can strategize more effective ways to reach them and appeal to their needs in the moment.
Check out our list of the seven types of online shoppers below, and read on to learn the best ways to appeal to each type of shopper so that your business can increase conversions with a more targeted approach.
The Different Types of Online Shoppers
Window Shoppers
Impulse Buyers
Early Adopters
Information-Gatherers
Need-Based Shoppers
Discount Seekers
Loyal Customers
1. Window Shoppers
Window shoppers, wanderers, and sidewalk traffic make up the majority of customers in most brick-and-mortar stores. On ecommerce sites, these visitors may be searching for entertainment, looking for inspiration, or shopping for a gift. Since they don't have a specific product or even a goal in mind, these visitors can be incredibly hard to convert into buyers.
Draw in the Window Shopper with the following:
Make it real: Online buyers can't touch or pick up your products, so you have to make them as real as possible with big, vivid images and detailed descriptions. Use multiple photos for different views, close-up details, or to show the product in use. You can even encourage your customers to share their own images and stories, and then add them to the listing.
Surprise and delight: One of the most enjoyable parts of window shopping is discovering the unexpected. Feature your most interesting, popular, or unique products on your homepage so visitors have a reason to "come in" and look around.
Share your passion: If you or your customers are really passionate about a product, share it on social networks in emails and on blogs. More window shoppers mean even more opportunities to sell.
2. Impulse Buyers
Sometimes, internet-browsers aren't even looking to make a purchase at all when they stumble upon something they just can't pass up. Impulse Buyers are likely to make a purchase if they come across a product that seems like it has been created especially for them or if they are on the verge of needing something new.
You can appeal to Impulse Buyers using the following strategies:
Target ads effectively: Use all of the targeting power you have at your disposal to make sure ads about your store and products are reaching the audience most likely to be receptive to it. That means taking the time to delve into your buyer personas so you know exactly what motivates them.
Present products in a compelling way: The more time you spend framing your products, the better they are likely to come across. Use crisp and attractive product photos from multiple angles, include all specs shoppers may be looking for, and include videos that show your products in use.
Convey urgency: Impulse buyers are more likely to make a purchase if they feel like they only have a limited amount of time to do so. Add low stock badges, time-constrained sales, and other indicators that would make a shopper feel like they can't miss out on the purchase.
3. Early Adopters
Like Window Shoppers and Impulse Buyers, Early Adopters are not necessarily looking to purchase when they come across your store or product. However, they are always up to try something new, whether it be the latest version of a gadget or simply a product they have never seen or heard of before.
To appeal to Early Adopters and convince them to purchase:
Pay attention to trends: Early Adopters are the likeliest shoppers to jump on new trends, so make sure you know what is up-and-coming when it comes to your specific industry. The sooner you can get on board, the sooner you can make more sales.
Explain how it solves a problem: Early Adopters are more likely to try something new if they know how it can be useful to them. Use storytelling or simple cause-and-effect to show how your product solves a problem they may be having or simply makes their life better.
Highlight uniqueness: If your product is not an invention created by your business, there will likely be others on the market too. This means it's important to explain how your version is unique and better than everyone else's, whether it be through quality materials, lower price, additional features, etc.
4. Information-Gatherers
This type of shopper has a specific goal in mind, but they have not yet narrowed it down to a specific product. Maybe they need a winter coat, a waterproof cell phone case, or a rug that really ties a room together—whatever the case may be, they are discovering all of their options. Information-Gatherers, then, can be considered Window Shoppers with a purpose.
Here's how you can help the Information-Gatherer find the right product:
Guide their research: Clearly defined categories and site navigation can help your shoppers find the products they need. While they're browsing, provide links to similar products or related purchases to help them see all the options you have available.
Be informative: From there, give detailed product descriptions and key information that will help them choose which product best suits their needs. If you can, encourage your customers to write reviews so they can help future buyers make the right decision.
Become a resource: If you sell technical or specialty products, consider writing educational resources, tips, and help center articles to give your users even more information. As a bonus, these resources can bring visitors back regularly, boost SEO, and encourage additional sales.
5. Need-Based Shoppers
This type of shopper is on a quest for one specific product. They know exactly what they want, and they're ready to make a purchase once they find it. First, let's assume you have the product—your store is stocked with the best possible products for your customers, so that part is already taken care of.
How do you give yourself the best chance of getting a purchase from a Need-Based Shopper?:
Make it findable: If they're seeking a specific item, there's a good chance they're using a search engine to find it online. Include relevant keywords and manufacturer information to ensure that their search leads them to you. Search engines will likely send shoppers directly to the product page, but others may land on your homepage, so make sure your keywords work for internal site search, too.
Make answering questions easy: If everything about your product seems perfect except for one missing detail, it may throw the sale off completely. List as many specs as you can think of, include an FAQ section, and make contacting your business as quick and painless as possible so shoppers can be secure in their purchase.
Compete on price: Or don't. Price is one of the most important factors in a purchase decision. Integrated price comparisons and shipping estimates can help customers see how much they'll spend (or save) by shopping with you. And don't worry if you can't offer the lowest price—many visitors are willing to spend a little more if you back up your price with added values like a good return policy, product support, and great customer service.
6. Discount Seekers
Everybody loves a good deal. Watching for sales, browsing the clearance racks, and using coupons are all ways we can save money when we shop offline, and they're all ways you can attract Discount Seekers to your online store. These shoppers will only make a purchase if they know they are getting it for the best deal possible.
Here are some ways you can appeal to Discount Seekers:
Give them a deal: Whenever you can, create discounts and specials to feature on your homepage to share with your customers. You can also use coupon codes and discounts in a variety of ways to encourage visitors to make their first purchase or to buy more products.
Create a virtual sales rack: Offer special holiday sales, seasonal promotions, or limited time offers to motivate customers. With an online store, you can also designate a special category as a clearance or sale area and add products to it just like a physical store.
Offer free shipping: With big box stores around every corner offering free shipping, the online consumer has come to expect it out of every business, large or small. Determine how you can feasibly offer this to your customers—for example, you could make up the difference by raising product prices slightly.
7. Loyal Customers
Anyone who has made a purchase from your store in the past and is coming back for another potential purpose is—or at least, has the potential to be—a Loyal Customer. This is the state you want each type of online shopper to end up in once they've had a few experiences with your online business and have grown to trust and appreciate what you have to offer.
Convince Loyal Customers to return and make more purchases using these tips:
Start a loyalty program: Everyone loves perks, and there's no better win-win situation for you and your customers than setting up a loyalty program. Whether your Loyal Customers earn points toward rewards, free gifts, or discounts, they'll appreciate being rewarded for coming back.
Use email marketing: Let your Loyal Customers know you value them by establishing a regular cadence for email marketing. Tell them about exciting new products, deals, announcements, contests, and more to keep them engaged with your brand.
Make them feel special: Your loyalest of customers will be the ones that feel like a VIP when it comes to your business. Send your biggest spenders handwritten thank-you notes, highlight them in case studies and social media posts, and give them exclusive access to new and exciting things.
Final Thoughts
With this information at your disposal, you're ready to set up your own ecommerce strategies to meet each type of shopper with exactly what they need to make a purchase decision. Take these suggestions into account, and you'll be well on your way to understanding your customers and what makes them tick.