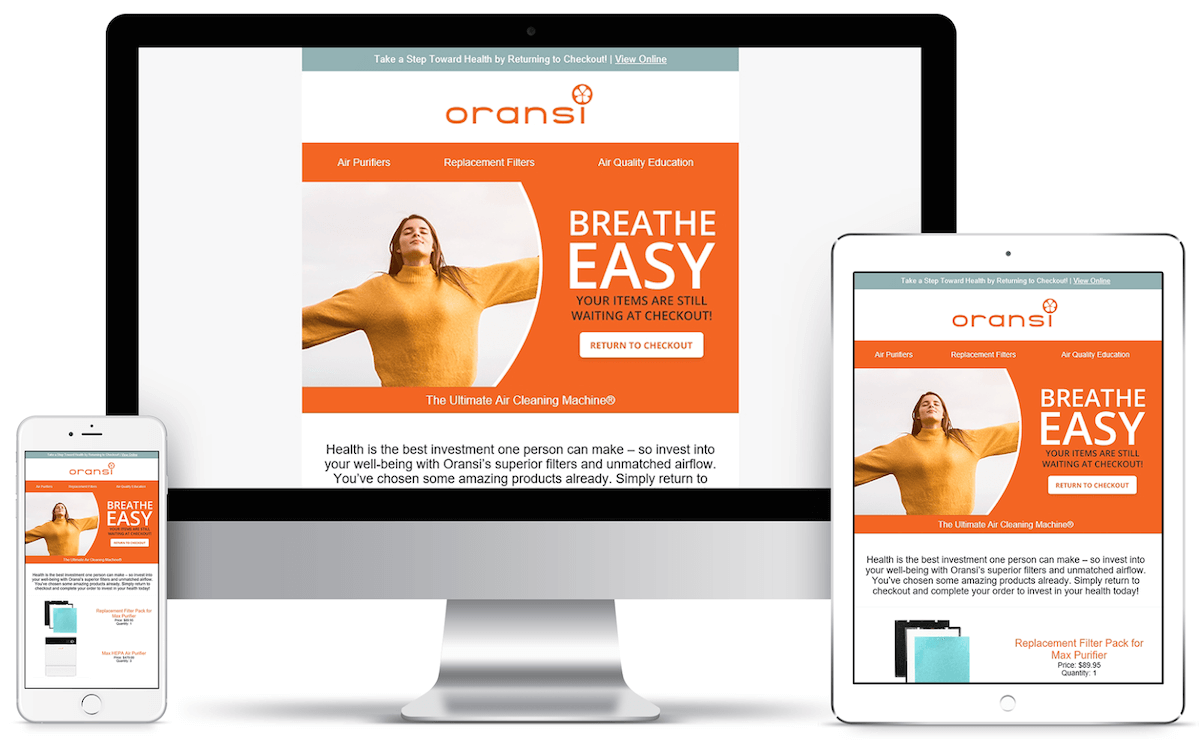 About Oransi
Oransi creates HEPA air purifiers for home use. The company began with an engineer's quest to achieve better indoor air quality. As a parent of an asthmatic son, Oransi CEO Peter Mann felt that the medication and air purifiers on the market were not improving his son's quality of life. Mann was determined to find a solution, and as a result, Oransi was born.
For over 10 years, Oransi has worked with leading American air filtration scientists to improve HEPA and carbon filtration technology. Their work has helped tens of thousands of American families like Peter's enjoy better indoor air quality.
Challenges
An underutilized email channel and minimal income generated from email campaigns: Understanding the impact that email campaigns can have for a business, Oransi knew that they needed to improve their email marketing strategy.
Shopping cart & ESP integration: Oransi decided to change their Email Service Provider (ESP) from Mailchimp to Klaviyo and needed support to ensure a smooth data migration. This also required seamless data integration between Volusion (Oransi's ecommerce platform) and Klayvio.
Re-engaging dormant subscribers ahead of the high season: Emailing the existing email list could have resulted in high spam, bounce, and unsubscribe rates due to a lack of audience engagement data.
Solutions
Seamless Volusion-Klaviyo Integration
It is no secret that migrations and integrations can be tricky. Luckily, data enthusiasts at Essence of Email and Volusion were up for the challenge and made the integration a success. Once the transition was complete, Oransi's email data worked perfectly with Volusion's shopping insights, and all of Mailchimp's data was seamlessly migrated to Klaviyo. Now, other Volusion merchants can also benefit from this advanced integration between Volusion and Klaviyo.
More shoppers use mobile devices to check their email and click through than other channels.  VOLT by Volusion is a full-featured ecommerce platform that builds the world's fastest ecommerce sites and is optimized for easy mobile checkout processes. This combination of speed and convenience on mobile devices helped Oransi capture and convert more mobile email traffic, increasing their email revenue from $5,000 to over $260,000 per month.
For more information on ESP migration, check out this free guide, which breaks down each step of the process.
Shortening Long Purchase Cycles with Automated Emails
Oransi's products are not usually bought on impulse. An air purifier is something customers typically buy for health reasons, so they take their time researching and comparing products to find the highest-quality option they can afford.
With this in mind, the Essence of Email team set up personalized, automated actions that supported customers throughout the purchasing process. The automated email flows generated 78% of the overall email revenue within the first month.
Welcoming new subscribers: A 10% discount on next orders incentivizes website users to subscribe to the Oransi newsletter. Newsletter subscribers are then added to the Welcome Flow and receive a four-email sequence that helps them get to know Oransi and their products. Their purpose is to introduce Oransi as a brand, inform recipients of important factors to consider when purchasing an air filter, share Oransi product reviews, and offer the recipient a product discount. The Welcome Flow has proven to be an incredibly effective method for Oransi and generated significantly more revenue than all their other automated flows combined.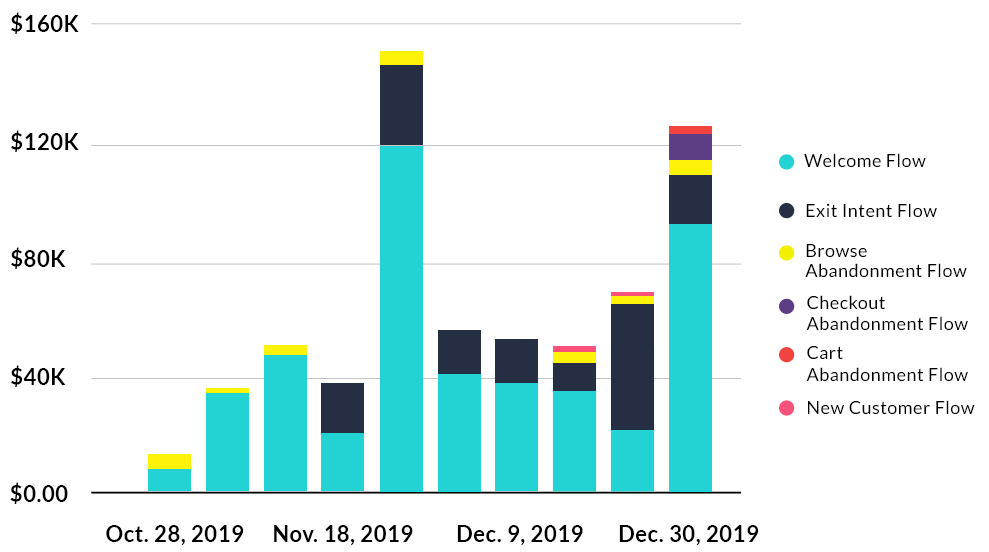 The Welcome Email Flow Outperformed All Other Automated Email Flows
Reducing abandonment: The Volusion-Klaviyo integration also tackles the issue of customers leaving after browsing product pages. The integration enables Oransi to send users follow-up emails regarding exit intent, browse abandonment, cart abandonment, and checkout abandonment.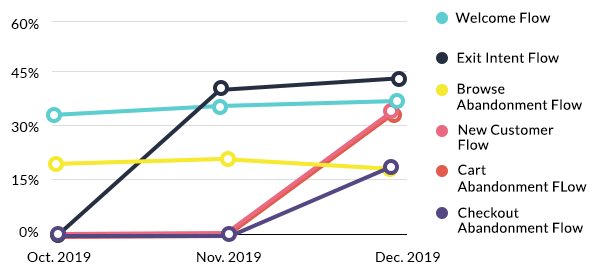 Click Through Rates in Automated Email Flow
The experts at Essence of Email used various strategies to optimize these automated email sequences. These included testing how soon users should be emailed once they stop browsing, as well as comparing 2-hour and 4-hour delays. The 2-hour variation came out as the clear winner.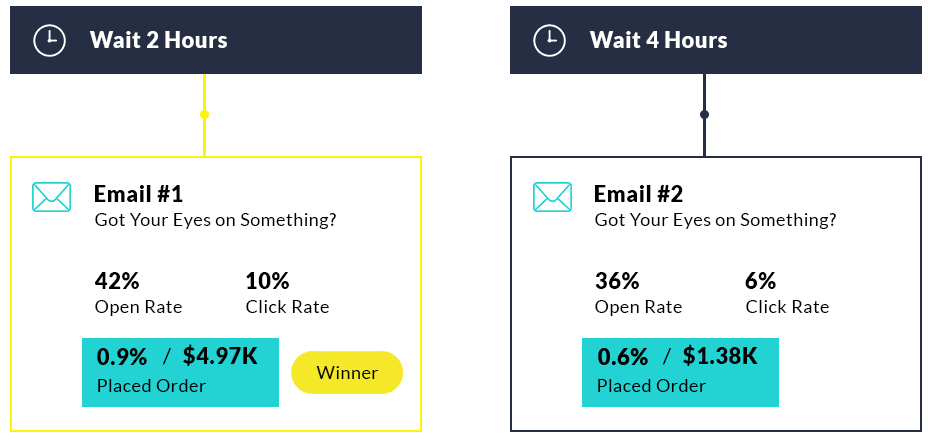 A/B Testing Email Delays in a Browse Abandonment Flow
Email Resend Tactics
As Black Friday/Cyber Monday (BFCM) is traditionally the busiest shopping period, it is the most important time of year for ecommerce stores like Oransi.
To optimize sales, Essence of Email ran a BFCM resend campaign in addition to the original BFCM campaign. In other words, subscribers who did not open the original promo were sent follow-up email promotions within the next 24 hours.
This resulted in an additional 20% email revenue compared to the revenue generated by the original BFCM campaign.
Re-Engaging Subscribers Ahead of the High Season
One difficulty faced by Oransi and the Essence of Email team was a lack of engagement data following the migration from Mailchimp to Klaviyo. Since no campaigns had been sent in the 90 days prior, the data was not available to import to the Klaviyo platform. Sending to an unsegmented email list could have resulted in high spam, bounce, and unsubscribe rates.
With no data available, Essence of Email began rebuilding the list through careful manual segmentation. A portion of the list was contacted during the first re-engagement push, while additional segments were messaged in follow-up campaigns. This allowed Oransi to slowly re-engage subscribers prior to BFCM while keeping open and click rates high. The open rate saw a minimal decrease from 21.9% to 20%, while the click rate increased from 1.7% to 1.9%. This showed that the gradual re-engagement of subscribers resulted in higher clicks.
Results
$624,000 email revenue in under three months
In December, just two months after the setup of the email program, email revenue outperformed all other revenue channels by 14%
Email resend tactics generated an additional 20% email revenue compared to the original BFCM campaign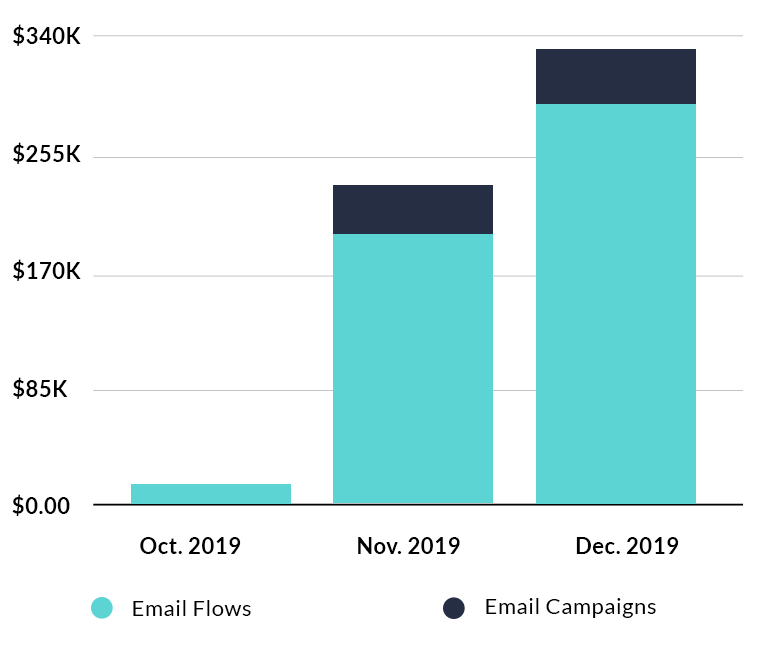 Revenue by Email Type
Since the setup of the email program, there has been a steady month-over-month growth in email revenue. In December, email generated 14% more revenue than all other revenue from the ecommerce store that month.
As shown in the graph above, automated email flows are significantly outperforming email campaigns. Having consistently profitable automated email flows in place allows Oransi to focus on other revenue channels.
Testimonial from Oransi's CEO, Peter Mann
"When we look at what has made a difference, we don't see any one specific action but rather a combination of actions that work together to produce solid results.  Earlier, we did not have a pop-up, and the addition has created greater engagement with shoppers.  The creative in the emails captures our brand well and provides the professional look that matches our site.  In addition, the A/B testing of emails has allowed us to further improve email campaign performance.
We had sent emails earlier with another marketing company, and while we had some decent sales activity, we were not tracking other key metrics like open rate, click through rate, etc.—and over time, our results suffered.  We have appreciated Essence of Email's approach of ensuring that our account is healthy and able to achieve maximum results for the long term.
We were introduced to Essence of Email by Volusion and have found both companies great to work with, and we recommend them both.  We love that Volusion's platform is mobile-first since the majority of online searches take place on mobile.  Site speed is also important to us, and Volusion has put significant effort into ensuring that our site pages load fast, ensuring a positive experience for our customers."