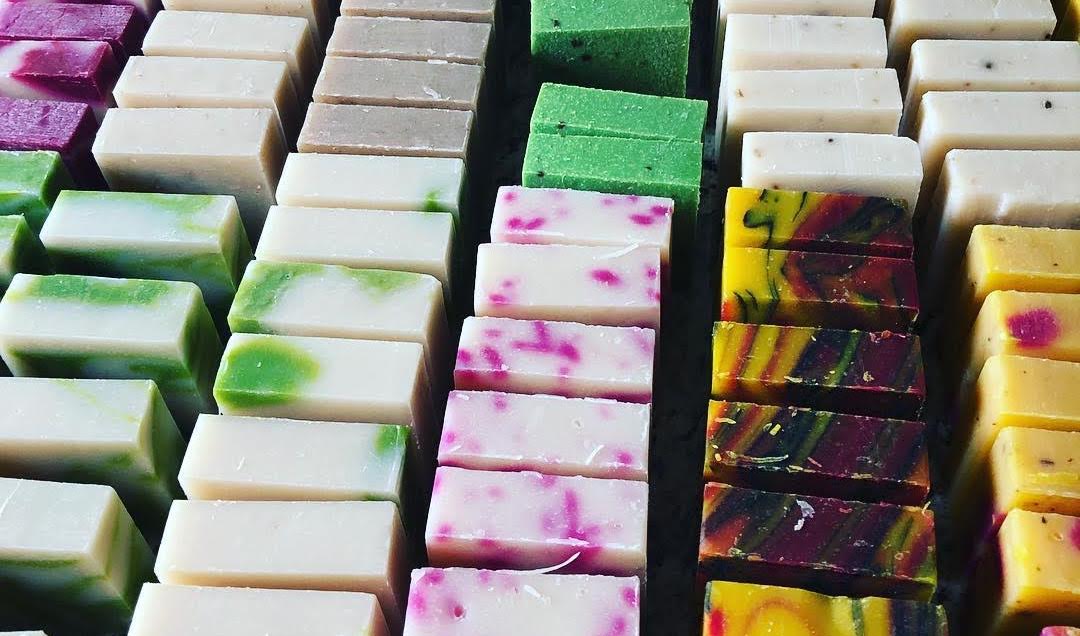 Each month we like to spotlight our merchants who have found success by running the businesses that they love. Read on to learn about this month's merchant: Nancy Daiutolo of Organic Soak!
What inspired you to start your store?
As a teen, I struggled desperately with my skin. I suffered from psoriasis and eczema, and once I hit adolescence, a SERIOUS case of oily skin and acne. As a result, I developed an obsession with any new skin care product on the market that claimed it would give me perfect, smooth, gorgeous skin.
None of them worked for me.
By the time I'd reached high school, I'd managed to get my skin somewhat back in order, using a combination of diet, natural products and concoctions I'd find in my latest edition of Seventeen Magazine. I learned as much as I could about skin, pores, nutrition, alkaline vs. acidic solutions—you name it. If it had to do with the epidermis, I knew more than the average Joe about it.
When it came time for me "do something with my life," I ended up going to college for business and marketing. I earned a degree back in 1997, and started my journey in a software company FILLED with all kinds of creative tech geniuses. I loved it. I thrived in the fast paced, cutting-edge environment. Pitching new products, marketing to new territories, strategizing, positioning—it was craaaazy fun. But the skin care bug never truly left me.
Eventually I got married, started my family, and ended up taking some time off from the frenetic corporate world. I decided to take my skin care interests to the next level by going back to school for cosmetology and esthetics. I loved it. So much that I even taught it for a few years. I learned SO MUCH MORE about skin and product ingredients. And with a license, I was able to take my "home concoctions" to a whole new level!
Shortly after the birth of my second child and a particularly severe resurgence of psoriasis that seemingly no on the shelf product could soothe, I had to resort to steroids...again. But with it came a flash of insight.
Because of my skin conditions, I've been passionate about learning all I could about skin, hair, product ingredients, natural solutions, diet, mindset, and more. I hold a professional license to provide services and also teach about hair and skin. And I'm also a marketer by trade. The answer (and my purpose) couldn't be more clear—it was time to create products of my own! There are SO MANY of us out there struggling with these skin conditions resulting from autoimmune disorders. It's time I not only helped myself, but gave back and helped others, too.
But I didn't want to stop at just making soothing, non-irritating skin safe products. There were already products like it on the market, and I found them to be overly earthy, bland, and/or with no scent at all. I wanted to smell like unicorns and rainbows, and I wanted the products I created to also LOOK beautiful too.
Let's face it, when you're dealing with autoimmune disorders resulting in nasty skin conditions that cause your skin to be red, inflamed, peel, flake off, and do other unpleasant things, the last thing you want to do is open a sterile looking container and slap some dirt-like smelling gunk on it. Having something gorgeous and feminine (and maybe even a little sassy) to remedy the not-so-great-for-the-self-esteem flares can work wonders.
So I developed and sourced products that encompass all of those things—natural, healthy for the skin and environment, gorgeous, indulgent, and luxurious. And that's how Organic Soak came to be. It's so good that even people WITHOUT any skin conditions at all love them and use them regularly!
What has been your greatest challenge in running your own business, and how did you overcome it?
My biggest challenge with starting Organic Soak was shifting from a "maker" mentality—one who develops organic products for bath, body, and home—to becoming an actual business owner who makes profitable business decisions.
When I started out, I made so many different scrubs, salts, lotions, candles, soaks, and more. I had a TON of scents available because I made every single thing I loved, instead of starting off with a few and niching down into what was truly in demand.
When you run a product company and make everything, you carry all the inventory and overhead costs. So starting off that big and broad cost me a lot of money, and it took me much longer to get some lift in the industry.
They were expensive lessons, but I've learned that you don't have to make and sell everything to be a successful company. In fact, it's far more beneficial to start with products that are in demand, and offer a few variations on scent to start. Once that takes off, then you can build and add to the product line.
What advice do you have for other people trying to build their store from scratch?
As a business owner, there's so much that goes into running a successful online store.
Accounting, inventory, supply chain, marketing—you need all of that. So when you're just building your store from scratch, follow the advice from above and start small so you learn how to do all of these necessary business things.
Then as you grow, start outsourcing where it makes sense. The faster you can offload those day to day tasks, you begin being able to work on the business rather than in it. And when you give yourself the time to shift from execution all day to more strategic planning, you can make solid plans to build and grow much more efficiently.
Are there any other business owners or brands that have inspired you, and what practices have you strived to adopt from them?
There are so many brands that I look to for inspiration! The Honest Company and Lush are my top two. I'm literally obsessed, lol. I love how they not only develop great, natural, eco-friendly products, but also do so much to give back to the communities. They have a strong conscience and focus on stewardship. I plan on incorporating some type of meaningful "give back" as well as Organic Soak continues to grow.
What does the future hold for your store?
I need to reign it in a bit with this question, lol! There is SO MUCH in store for the future for Organic Soak.
We'll be offering subscriptions very shortly that will eliminate the need for regular customers to have to go online and place orders manually through the website.
With a subscription, their favorite bath and body products will be delivered right to their doorsteps each month, packed with goodies of their choosing, or our products of the month. Customers will have full control over frequency, too. There will be no term commitments either, although shipping fees will be waived for subscriptions meeting certain price thresholds and 6-month recurring timeframes.
Stay tuned for more details on that! We'll be rolling that out in early 2020.
What do you like about Volusion?
What is there NOT to like about Volusion? This platform is so robust—and it just keeps getting better.
Everything I need to do to keep my business and inventory organized is available with Volusion. It's intuitive, easy to use, and is extremely well-documented. And in the event when I actually do have a question, you have the absolute BEST support staff around.
You guys go far beyond just ecommerce solutions, too. The software includes social media integrations, a shipping API, great out-of-the-box reporting, newsletter options, marketing tools, loyalty rewards, review capabilities—and I'm only scratching the surface of what's available. All of these tools have helped me—especially in the beginning—and I credit a lot of my early success to its ease of use and wonderful support.
Also, you offer additional services like web design (which I've taken advantage of), marketing support (which I'm going to be taking advantage of), and it integrates with so many 3rd party apps. Especially V2.
I'm not going anywhere. And I highly advise anyone thinking of starting an ecommerce company to start (and stay) with Volusion.
What's the Volusion feature you use most?
I use so many of the features, but I have to say I found the shipping api/integration with stamps.com the most life-changing. I've been with you guys for a while, and when I first launched I had to print my labels externally, which was a huge time suck. Now I process orders so quickly—with the click of a button shipping is paid, label is printed, and the orders are complete!
I sell a lot at shows and pop-up shops, and would definitely use the POS feature more if there were just a few little tweaks made to it :).
As we move into 2020, what's next for Organic Soak?
There is so much on the horizon for Organic Soak. Continued growth, expanded product lines, a subscription service as mentioned above, and more!
I'm truly grateful to be able to do what I do. This is a business, but it's also very personal to me. And because so many of the customers I meet through it share similar skin conditions, we bond pretty quickly. I've gained so much more than just a business with Organic Soak. I'll be holding onto that gratitude and keeping it front and center as I charge into 2020.