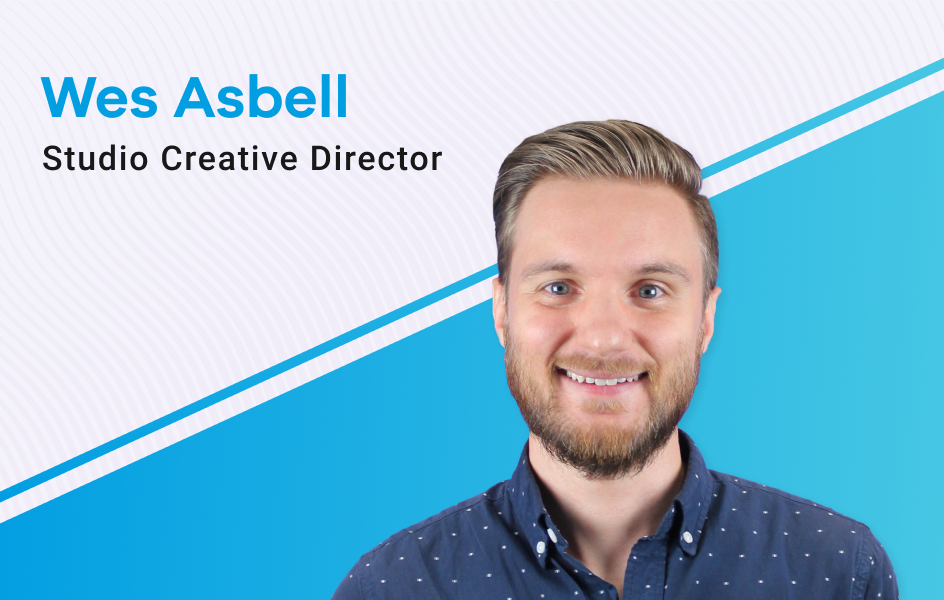 Each month, we're interviewing members of Volusion's leadership team to gain insight into the people behind the company. This month, we're talking with Volusion's Studio Creative Director, Wes Asbell.
How did your background prepare you for joining Volusion?
I worked in the restaurant and hospitality industry all through high school and college. Part of that time was spent working in a 5-star hotel, which taught me a lot about delivering high-quality, caring service to customers. So really from the start of my working life, service has always been ingrained in me. Delivering exceptional experiences and putting the customer first was central to everything I did and still do today.
Directly after college, I moved to California and worked for a startup as a Marketing Web Designer. That experience taught me so much about not only designing to make things look good and usable, but very importantly, about how design can be used for business objectives.
That combination of service experience and business-focused design made for a very helpful combination of skills when joining Volusion. I think back to a lot of my experience in the hospitality industry to guide my interactions with our Volusion merchants, and that experience even impacts my approach towards usability and design. I'm always thinking about the customer first, both our Volusion clients as our Studio customers and our ecommerce customers.
What were you most eager to work on when you came onboard?
Really, I was most excited to work on designs for a variety of different industries. The startup I worked for previously was in the security technology space, and let's just say it wasn't the MOST exciting type of design work. So the opportunity to work on designs for so many different industries, from pet supplies to hardware, sounded super fun.
I also went to school for business, so I've always loved that intersection of design and business goals. Volusion was and still is a great place to live in that space day in and day out. We almost get to create new digital businesses every single day. The best part is that we get to work on the fun part of the business. What's the brand like? How does it look? What's the experience like? Many times our merchants don't have images or a brand direction, which I love because I get to create it for them.
To this day, almost nine years later, I still love this about my job—working with businesses across all different industries to help make them more successful doing what I enjoy. There isn't much else I could ask for out of my work.
What is the best piece of professional advice you've ever received?
Follow your dharma.
Dharma is a concept in many different Asian teachings that can apply to a variety of different things in one's life, including what you do with your work.
Early in my career I had a mentor that taught me about dharma and how she applies it to her professional life. Essentially, this interpretation of "following your dharma" means to find that intersection of what you are both passionate about AND skilled at.
You may have heard the advice to "follow your passion" or "do what you are good at"—"following your dharma" would be to find where those two intersect.
That's what I've tried to do throughout my professional life. I love designing and creating, and I also love business and helping business owners. It's also a skill that I feel I am good at. So doing what I do every day at Volusion is the perfect intersection of my passions and skills, which is wonderful because I can enjoy what I do and do a good job at it.
What do you think are some of the biggest unrealized opportunities for ecommerce businesses at the moment?
The evolution and revolution of industrial ecommerce.
Many times when you think about ecommerce, you probably think about apparel brands or direct-to-consumer companies. I think there is a huge, changing segment of the market where industrial companies like hardware, parts, auto, and supplies companies are realizing they need to focus on ecommerce too.
These types of businesses might not be what you typically think of when you think of ecommerce, but they need help. Many of them haven't focused on their websites in years—if ever—and many of their customers aren't the most technologically-savvy, so an improved mobile experience and focus on usability is so important for them. They tend to need more advanced features like part finders and advanced filtering, and almost never have the tech skills to create these themselves.
Focusing on design and an improved ecommerce experience can also be a large differentiator for this type of industrial business as many of their competitors aren't focusing on it—yet.
I think we will see more and more "non-traditional" ecommerce companies continue to focus on their digital experiences and marketing in the coming years.
Does your team have anything exciting in the pipeline?
Grow with Studio is always listening to and learning from the businesses owners we work with. Our number one priority is making our clients more successful, so we are always looking for new ways to do that.
Part of that process is adjusting the services we offer and adding new value where we see a strong need. It's always an iterative process. So in the coming months we will be working to improve the services we currently provide and adding new ones to help improve site conversions and usability.