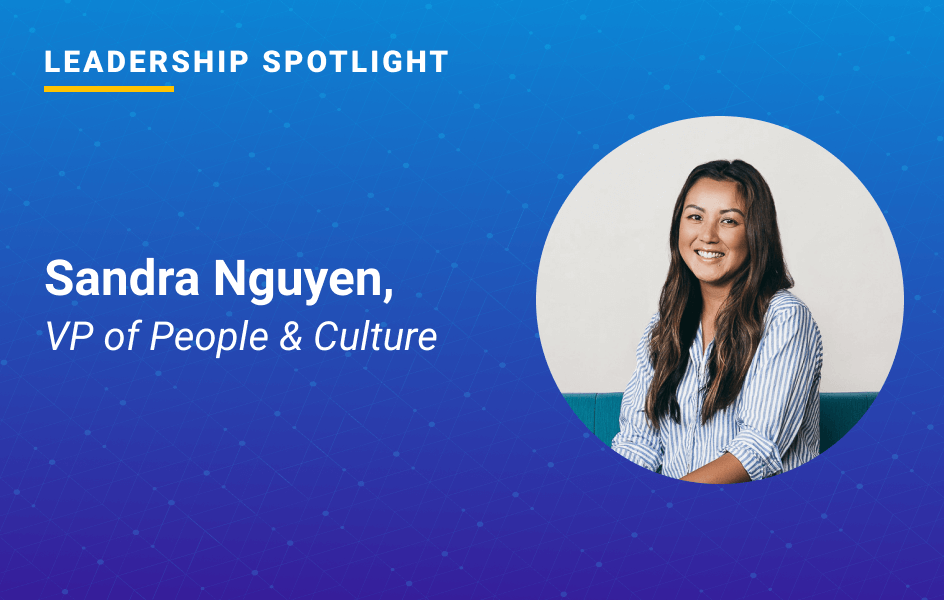 Each month, we're interviewing members of Volusion's leadership team to gain insight into the people behind the company. This month, we're talking with Volusion's VP of People & Culture, Sandra Nguyen.
How did your background prepare you for joining Volusion?
Prior to joining Volusion in 2007 (yes, 2007!) I was at Apple; however I think what truly prepared me for the People + Culture team was starting off at Volusion in a front line role (Sales). Being in Sales helped me gain a better understanding of the business side, which I feel has provided me with a very unique perspective for People + Culture and Volusion in general.
What is the best piece of professional advice you've ever received?
I had the privilege of attending a Dare to Lead workshop based on Brene Brown's research, and what really resonated with me (and I still use daily) is "brave work, tough conversations, and whole heart." I try to stay true to this and have found that it is key in leading effectively and with compassion.
Despite the current virtual working environment, how has Volusion helped employees continue providing a good experience for merchants?
We are thankful that we were able to pivot to 100% remote work so quickly in March, and that we have the resources to fully support our employees and merchants during this time. We have continued to offer virtual events—ranging from bingo to meditation—to encourage our team members to take a quick break from their daily tasks and maintain even more consistent communication. This way, we can ensure that we're all staying connected and engaged.
What are some ways ecommerce businesses can keep morale high within their teams in light of the pandemic?
With the new way of working, we have been very creative with finding ways to stay connected to each other, and I really do feel that has been very beneficial in helping keep morale high throughout our teams. We do video calls 99% of the time vs. just voice calls or communication through chat/email—seeing each other and being able to have that interaction is key, although it's still not the same as in-person meetings. I would encourage everyone to do video calls—it's so simple to do, but so much more meaningful and helps create a stronger feeling of connectedness. And we're pretty much used to seeing everyone in sweats by now :)
Does your team have anything exciting in the pipeline for Volusion?
With the evolution to more of a hybrid workforce, we are looking at how we can support our organization when it is safe to return to the workplace as we embrace a more flexible approach regarding where and when our team members work. Remote work has certainly become the norm, so with that, we're looking at how we can best support our employees who will continue being remote while also supporting those who want to return to the workplace—all while maintaining our culture and providing a seamless employee experience.