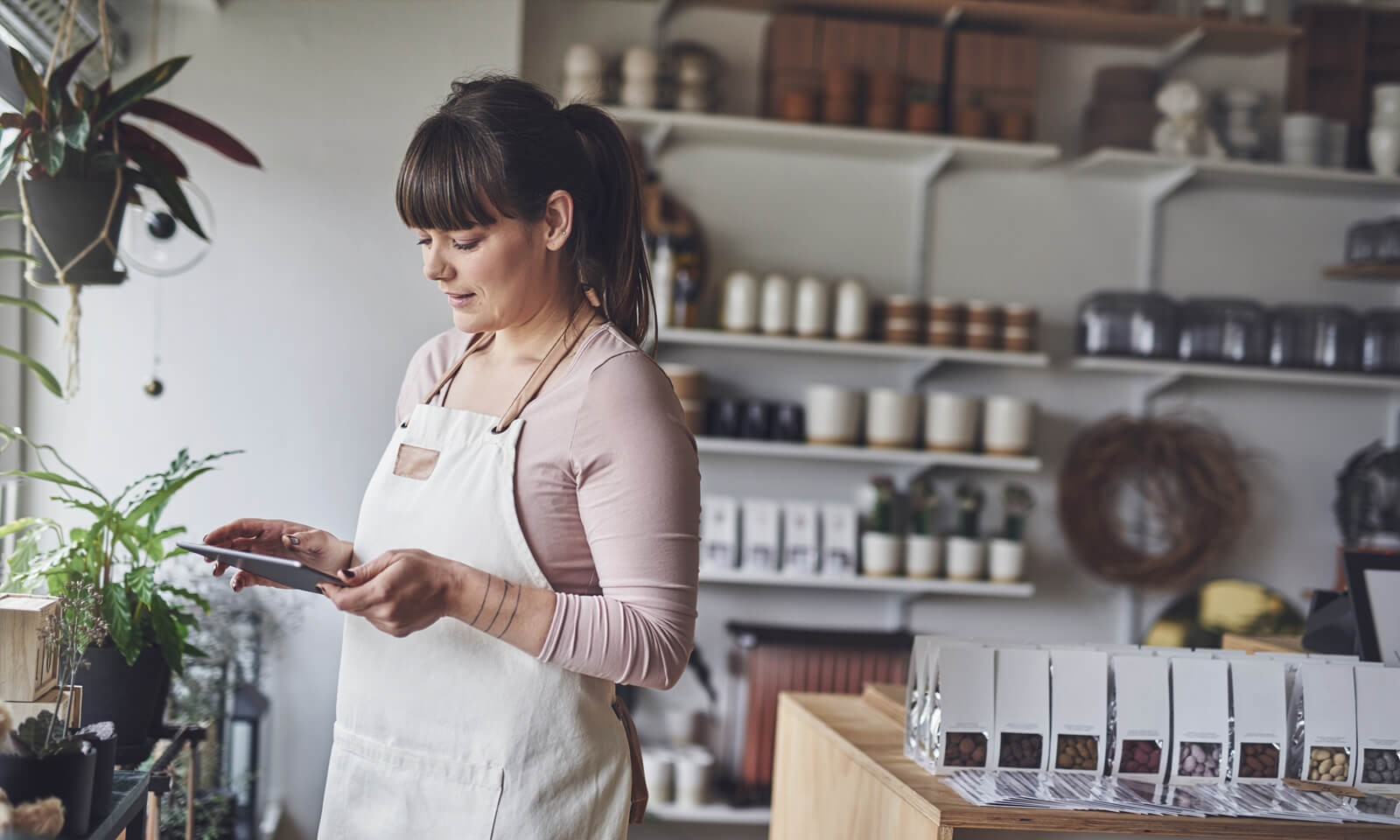 Are you ready to bring your brick and mortar business online? With 81% of Americans in possession of a smartphone, nearly three-quarters owning a desktop or laptop computer, and almost half owning a tablet or e-reader device, it's no wonder that online shopping trends continue to rise. Online shopping is not even limited to general merchandise, clothing, and electronics ⁠— you can now buy groceries and used cars online.
If you are looking for ways to convince yourself or your boss, even the most reputable sources have conflicting opinions based on the same data from the U.S. Department of Commerce. CNBC says the total market share of sales with general merchandise was higher online than in traditional department stores. Forbes, on the other hand, points out that this data only applied to a small sector of merchandise sales, and online sales were only a small percentage higher than offline sales.
Here is what we do know about consumer behavior. According to Consumer Barometer with Google, almost 50% of consumers look for local businesses online to plan a purchase or seek out a specific product. 80% of consumers who research local businesses online begin their quest with a search engine.

If you want to ensure that local customers can find your business online, you will need to build a website and a strong online presence. In this post, we'll show you how to successfully bring your brick and mortar into the digital age to increase both online and offline sales.
1. Build a website.
The first step to bringing your brick and mortar business online is to build a website. To build a website, you will need to choose a domain name and website builder.
Ideally, your domain name will match your brick and mortar business name.
The domain name you choose for your website is the address that customers will use to access your website on the internet. Ideally, your domain name will match your brick and mortar business name. You can purchase your domain name through services like Google, GoDaddy or through the website platform you choose.
The website builder you choose is the software that will allow you to design your website and display the content of your website to your website visitors. If your brick and mortar business wants to sell products online, there are a number of ecommerce website builders, including Volusion.
Volusion will host your website and online store with an unlimited number of products starting at only $26 per month. It also includes options for point of sale hardware so you can integrate your offline sales with your online technology, as well as a comprehensive management system to make processing and shipping orders simple.
If you don't want to sell products on your website, you can choose from several hosted website builders and content management systems. The most popular hosted solutions include Squarespace, Wix, Weebly, and WordPress. Each of these services offers hosted solutions that allow you to create your website content on your own domain for monthly pricing similar to Volusion.
2. Get high-quality photos of your products.
If your brick and mortar business sells products online, plan to invest in more than just your domain name, monthly website platform or hosting fees, and custom website design. To ensure that more website visitors want to buy your products, you will want to budget for a product photographer as well.
You can expect to spend, on average, between $10 - $25 per photo or $50 - $100 per hour.  
How much will product photography cost? It will depend on the number of products you sell, the level of detail you need for each product photo, and your photographer's level of experience. You can expect to spend, on average, between $10 - $25 per photo or $50 - $100 per hour.  
Even if your business doesn't sell products, you will still want some high-quality photos for your website that will likely require a professional photographer (or, try taking some yourself with these helpful tips). Customers researching a business that they plan to visit will appreciate high-quality photos of the exterior building, meeting rooms, waiting rooms, applicable facilities, and staff. Beautiful food photos of a restaurant's top dishes are sure to entice more customers into their dining rooms.
3. Establish your business on social media.
Want to get your business noticed on social media? The top three social media networks, based on the number of active monthly users are Facebook (2.38 billion), YouTube (1 billion+), and Instagram (1 billion+). Establishing your business on each of these networks, consistently posting content, and engaging with your customers will go a long way towards increasing brand awareness within your local community.
Social media networks like Facebook and Instagram also allow you to reach new customers through highly targeted advertising. If you're using business funding to get your brick and mortar online, you can invest some into advertising that targets audiences on Facebook and Instagram who live in, who are traveling in or who were recently in a specific location.
From there, you can dive into your ad audience's specific demographics, interests, and behaviors to ensure that your ad budget is spent on the people most likely to not only click upon your ad but actually convert into a paying customer.
4. Claim your local business listings.
Do a Google search for your brick and mortar business online. There is a good chance that you will find your business on sites like Yelp, Mapquest, Manta, YellowPages, Yahoo Local, and many others. You will want to claim your business on these sites ⁠— particularly the ones that appear on the first and second pages of Google search results for your business name.
Make sure that your business name, address, phone number and website URL is consistent on each business listing.
Once you've claimed your business listing on these sites, you will update your listing with your information. Make sure that your business name, address, phone number and website URL is consistent on each business listing, and that it matches the business name, address, and phone number found on your website and social media profiles.
Also be sure to add your business to Google, Yahoo, Bing, BBB and Yelp. Then do a search for your top local brick and mortar competitors on Google and make sure your business listing is available on those networks as well.
5. Encourage customers to review your business online.
Last but not least, be sure to encourage your customers to review your business online. You can do so by letting your customers know in-store and online that they can find you on Google, Facebook, Yelp, and similar networks.
Note that you can't give your customers incentives to review your business online, like offering discounts for positive reviews. And you can't get caught trying to skew your reviews towards the positive by only telling your happiest customers to review your business. If you're caught doing either, networks like Yelp will blatantly call your business out for it by adding a consumer alert to your business listing.
In Conclusion
Getting your brick and mortar online can improve your business in a number of ways. It will:
Increase your brand awareness and business' reach.
Enable you to reach new customers through targeted advertising.
Give more customers the chance to discover your products.
Allow customers the chance to shop your store 24/7.
Strengthen your business through word of mouth marketing.
Have any questions about making the move to ecommerce? Let us know in the comments!