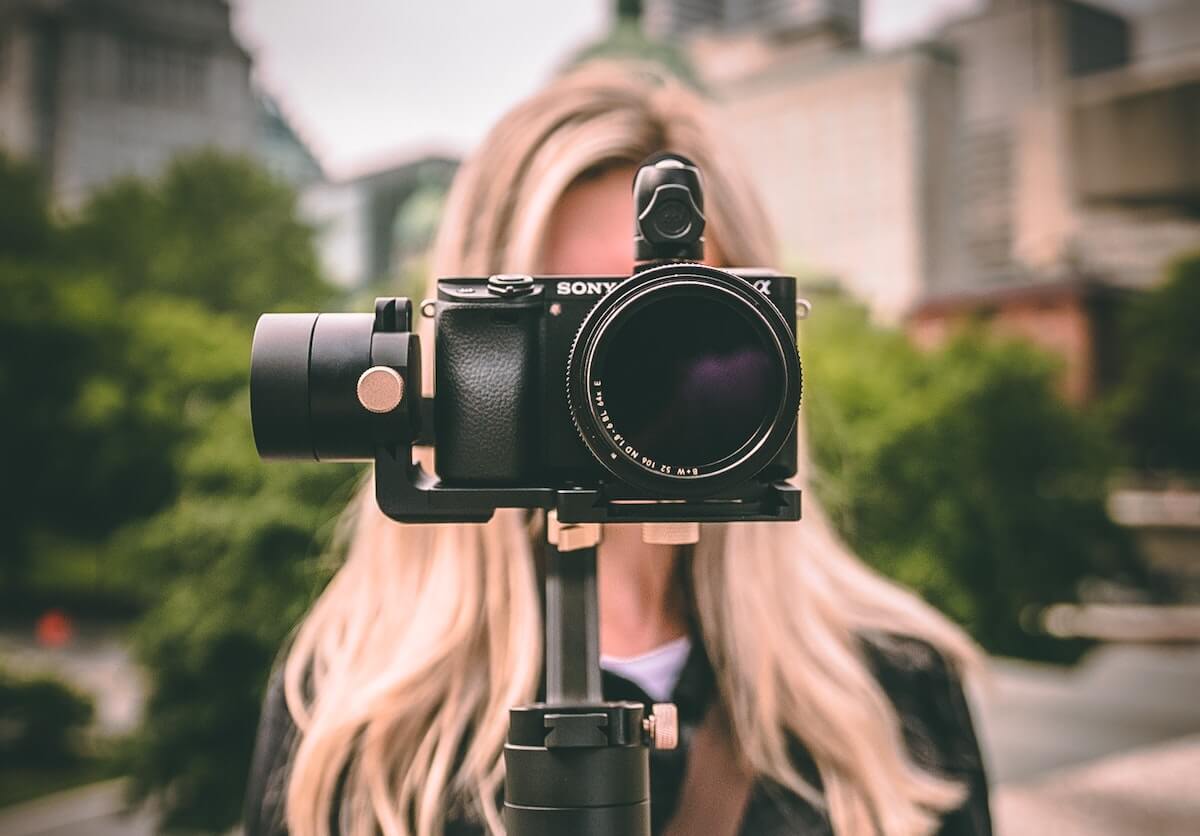 More and more people are shopping online each year. In fact, Statista estimates that the entire ecommerce industry may grow from $3.53 trillion in 2019 to $6.54 trillion in 2022.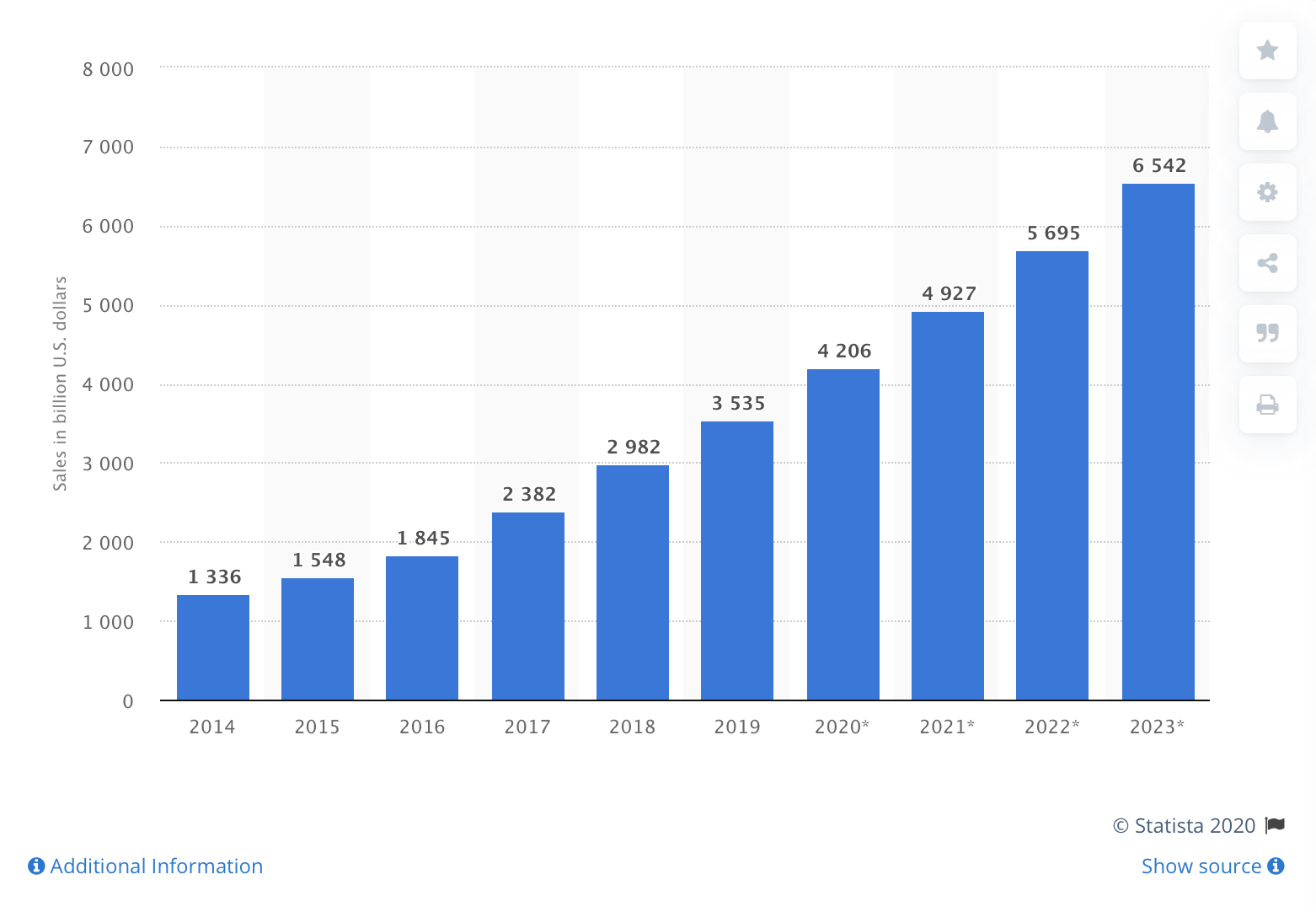 Image source
For business owners, it's never been easier to start an online store. But while it's easy to create a store and upload all of your products, promoting them requires more effort and skill. For your next marketing campaigns, why not invest in videos?
Why Use Videos in Your Marketing?
Data shows us that 51% of marketers believe video is the platform with the highest ROI, and those who use video have seen 49% faster revenue growth than marketers who don't use video. If that's not enough to convince you, then this might: YouTube was the top most-visited website in 2019, giving a home for marketing videos that stand to gain thousands, if not millions, of views.
If you're ready to start investing in video marketing for your online store, you'll need some creative ideas to get started. Here are 11 creative video ideas you should use to promote your ecommerce products.
Creative Video Ideas to Promote Ecommerce Products
Product Demos
Product videos, like this one from Slack, are one of the most important types of videos for any ecommerce marketer. A study by Cision showed that 73% of customers are more willing to purchase a product after watching a video explaining what it is and how it helps them. Create demo videos that show exactly what customers benefit from when they use the products on your store.
How It's Made
Encourage interest and pique curiosity with How It's Made videos showing audiences exactly how your products are created. LUSH is an excellent example of a brand that does exactly this. They constantly release LUSH How It's Made videos on bestsellers to give customers a behind-the-scenes look at what exactly is going inside their favorite products.
Aside from being educational and satisfying customer curiosity, another reason this video format can work well for your marketing campaigns is because it can highlight any unique materials or processes that make your products stand out from the competition.
Lookbook
Sometimes audiences need ideas on how to use your products before they're convinced to purchase. This makes lookbook videos an incredible way to showcase just that.
Many fashion brands use lookbooks in magazines, but others like Stradivarius have started releasing video versions to give consumers ideas on how to style or pair their new releases.
Lookbook videos can also serve as a video catalogue of new collections and releases, or it can simply showcase new ways to use something customers already have.
Short stories and skits
You can invoke emotion with long-form storytelling videos—videos that are generally 3 minutes or longer—to help you connect with audiences in ways that a 10-second ad might not be able to achieve. Branded storytelling content that performs well uses its products and brand simply as the elements in the video, but not the main focus itself.
Take this video from Purina, a short skit about a man who forges an inexplicable bond with a new puppy. The story doesn't mention Purina products by name, nor does it give a list of benefits to make a sale; however, that didn't stop it from connecting to animal-loving audiences around the world.
Influencer First Impressions
Tap a few influencers with a significant following to do first impression videos on any up-and-coming products from your brand. These videos are another great way to introduce hype among your niche community while getting trusted individuals in the field to give their initial thoughts and reactions to your new products.
For example, several tech brands, including Samsung, partner with different YouTube tech influencers who get first access to any new products launching in the year.
Be sure to choose influencers who are valuable and trusted within your niche, and don't be afraid to work with creators with smaller but more engaged followings. You can also encourage these influencers to explore different formats, like unboxing videos.
Brand Causes
If there's an important cause your brand stands for, you can use this as a central idea for videos. Rescue Chocolate is one of the best examples of this strategy.
When Montreal councillors passed a bill that would ban pitbull ownership and force countless dog owners to forcibly euthanize their pitbulls, the brand—known to donate profits to animal organizations—released a video to stand with people who didn't support the passage of the bill.
Because it stood for a cause that was important to its audience, it got several thousand shares, reactions, and applause from their community.
Customer Stories
Sometimes you can convince other consumers that your products are worth buying by showcasing success stories and testimonials by other consumers. Create video testimonials that show customers explaining how your products helped them overcome certain problems or achieve certain results.
Dove uses this tactic at length when proving the efficacy of their products, showing real women talking about real benefits one gets when using their brand.
How-To Videos
How-to videos are a great addition to your video repertoire and can ensure that you have a consistent stream of content. These high-value, informational videos can show your target customers how to achieve any results they might be looking for, and you can position your brand to be just what they need to accomplish it.
For example, Adidas uses video marketing to provide home workouts for consumers so that when a viewer wants to purchase new activewear, it's easier for Adidas to become the top-of-mind brand.
To find endless ideas for how-to videos for your brand, zoom in on any problems or pain points your audience might have related to your industry. Then you can create content that is a high-value solution in itself.
Music Videos
Music videos showcasing your products and the emotions you want consumers to attach to your brand can be a fantastic idea for videos. Some brands have partnered with noteworthy artists to do brand placements in their music videos, like this DNCE music video that integrated 3 Olive Vodka; however, you can still create a stunning music video using royalty-free or free-for-use music.
You can also use Instagram Stories to overlay music from Spotify on your videos—Spotify reports having over 50 million tracks in its entire library, and this number is only growing. Maximizing these integrated features can help you create stunning, unique videos and increase engagement.
Another reason music videos can work well for your brand is the rapidly increasing popularity of TikTok, with over 115 million total downloads as of March 2020. The app is the revived successor to musical.ly, known primarily for its musical and AI integrations that allow users and brands to easily film, edit, and share music-based videos.
Jump on the Bandwagon (Trend-jacking)
Are there any ongoing video challenges your brand can put its own unique spin on or participate in? If you keep your ear to the ground, you'll discover new internet challenges springing up on the regular.
When this happens, you can create content that jumps on the trend to help you reach a bigger audience currently consuming content around this challenge. Take the famous 2014 Ice Bucket Challenge, for example, in which even big names like McDonald's participated.
Sometimes a challenge is even able to highlight some unique benefits or features of your ecommerce products. Take the 2019 Vans Challenge that had people throwing their sneakers into the air and wondering if they'd land upright—any shoe brand that could rival Vans' heavy-duty rubber soles could have stepped up to the challenge with their own products to steal attention away from the name brand.
Parodies
Your ecommerce store can gain some extra sales—and even loyal customers—with a well-executed parody. Whether you're parodying other famous videos from other brands (this IKEA ad that parodies Apple product ads comes to mind) or pop culture references, there's no shortage of possibilities with parody videos.
To make sure your video attracts the customers you're looking for, be sure to create a parody based on something your target audience already knows or follows.
Your turn
Next time you're looking for ways to spice up your content and engage customers in more unique, compelling ways, refer to this list of creative video ideas to promote your ecommerce products. In the age of digital, just about anything goes, so don't be afraid to leap outside the box and keep experimenting on the video formats that may do well to attract your ideal customers.