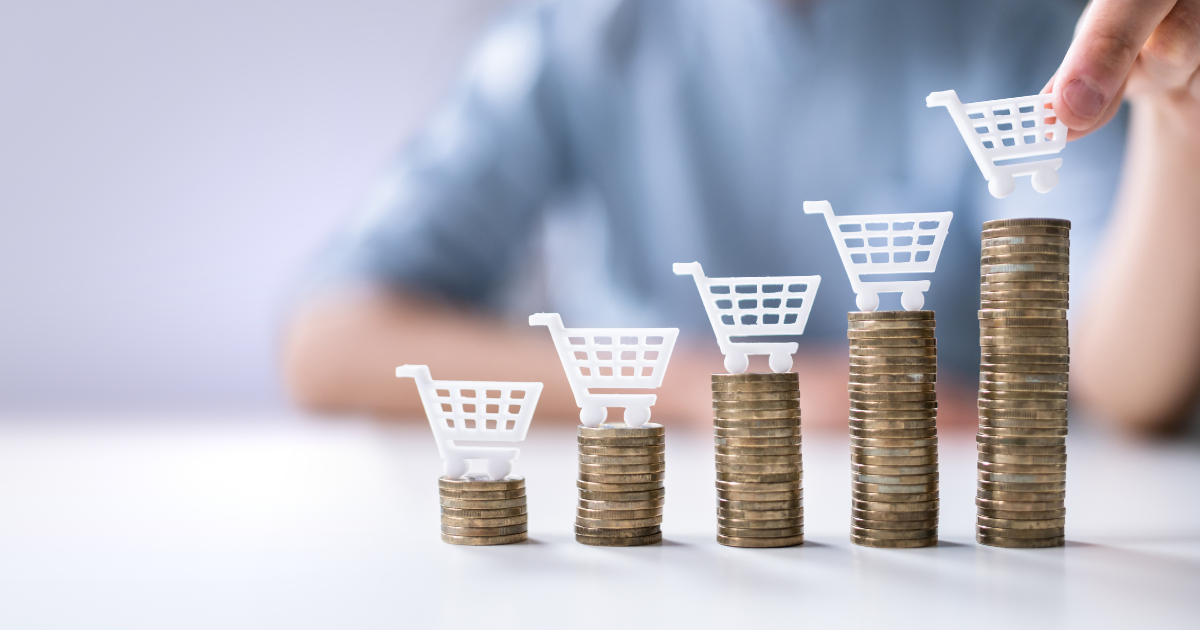 As the end of 2023 is rapidly approaching, it's essential to reflect on significant ecommerce trends that emerged this year, and how you can use these trends to increase your online store's sales in 2024.
3 Ecommerce Trends From 2023
This year, three ecommerce trends emerged that impacted how shoppers interact with online stores:
Flexible payment options - including Buy Now Pay Later (BNPL)
A customized customer experience
The growth of mobile shopping
Embracing Flexible Payments
More than ever, it's essential for your online store to offer flexible payment options. About 49% of total ecommerce sales throughout the world are completed using digital wallets. This makes it crucial to ensure your store offers flexible payment options through Stripe, PayPal, Apple Pay, Google Wallet, and Buy Now, Pay Later.
Customers expect to have the option to pay using a method that is most convenient for them, often through Apple Pay or Google Wallet on their phones. If your store doesn't offer flexible payment options, you could be missing out on sales.
We've seen that merchants who have implemented Stripe Link have a more streamlined experience and have seen 6.7% higher revenue in some cases.
A newer trend that gained in popularity this year is Buy Now, Pay Later. Customers love the flexibility of making payments over time, and this is helping merchants who offer this payment option increase their sales.
Customized Customer Experience
Your online store can increase its sales by offering a personalized customer experience. Personalized emails have an open rate that is 29% higher than non-personalized emails.
Creating a personalized experience for your customer is no longer just recommended, it's essential.
Businesses of all sizes can create a more customized customer experience by:
Knowing your customer base and segmenting them
Sharing user-generated content
Using automation through email marketing
Understanding Your Customer Base
The first step in creating a customized customer experience is to understand your clients. What struggles are they facing? What challenges are they trying to solve? Knowing their struggles will help you recommend the right products to solve their problems.
You can offer an even more personalized experience by segmenting your customers. Grouping them by industry, role, or another category lets you create content and messaging that directly resonates with them, and solves specific problems they are facing.
One way to get the information you need to segment your customers is by sending a survey. Ask them what challenges they are facing to get more insights.
Get User-Generated Content
Make your products and content more personalized by including customer reviews on your product pages, and customer-submitted photos of consumers using your products. This will make your content feel more genuine and give a more customized look and feel to your products. Plus, it will make customers more confident when purchasing your products.
Use Automation Tools to Personalize Emails
Adding a customer's name to an email can go a long way. Sending an email directly to a person helps draw their attention to the email and they are more likely to open it. If you have marketing automation tools at your disposal, you can also add other customized content to the email, like special deals and promotions, and products they've looked at or purchased before.
Using these techniques can result in major improvements to your online store - resulting in a 5-15% conversion rate and a 20-40% improvement in marketing open rates and customer satisfaction scores.
Mobile Shopping Is Here - And Growing
It's no secret that mobile shopping is big, but you might not realize how huge it is. Mobile commerce is estimated to make up about 70% of retail ecommerce sales by 2024.
This makes it essential to streamline your checkout process on mobile. Your online store should be built with a mobile-first approach - featuring large tappable buttons and simplified flows to make it easier for shoppers to checkout.
It's also essential to have a modern, clean design. Customers are more likely to trust making a purchase on a new, modern-looking site than an old, outdated one.
How To Utilize This Year's Trends in 2024
As 2024 nears, it's essential to account for this year's trends when strategizing how to increase sales in your online store next year.
Flexible Payments
You should offer your customers flexible payment options so they can complete a purchase using their preferred payment method. Volusion's Preferred Payment Solution is partnered with Stripe, giving you all of the benefits of offering today's most popular payment methods along with the security of a trusted provider.
You should also offer a Buy Now, Pay Later option, and make sure your checkout page is streamlined and easy to use.
Customized Customer Experience
Get to know your customer base. Using customer segmentation will help you create a personalized experience for your customers, and posting customer reviews and photos will help build trust with new customers.
You should also consider automating your marketing efforts in 2024. As an effective way to communicate with your customers, email automation offers options to send personalized product recommendations, special offers, and personalized content.
Mobile Shopping
As mobile shopping continues to grow in popularity, it's essential to have a mobile-first checkout process. Volusion's Premium Checkout solution gives customers a quick and easy way to make purchases.
You should also ensure you have a modern and clean design to give customers the confidence to make purchases on your site. And, as stated above, you should offer Apple Pay, Google Wallet, and Stripe Link for faster and easier checkout options.
Final Thoughts
Key trends emerged this year that will impact how customers shop in online stores in the future. To increase your sales, it's essential to offer diverse and easy payment options, a personalized approach to your marketing tactics, and a modern online store design.