How to start a successful online business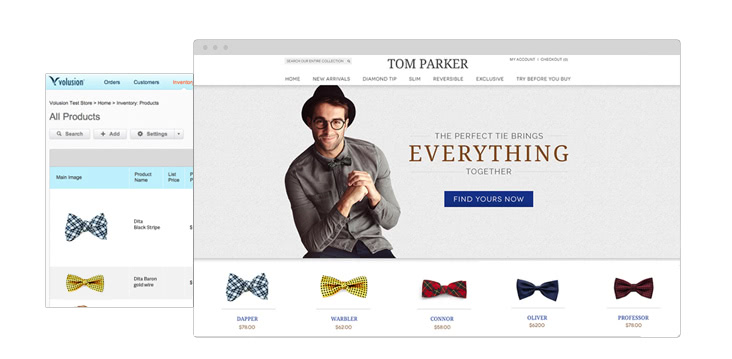 See why thousands of online business owners trust Volusion
Volusion offers the most comprehensive all-in-one ecommerce solution available. We take the technical confusion and frustration out of starting your online business so you can focus on providing the best products and services available. Beyond our software and ecommerce marketing services, we offer extensive educational and training resources to help you start your business off right.
Get started today with our free 14-day trial.
1) Secure your products
First, decide what products to sell. Our customers successfully offer everything from apparel to zucchini. Whatever your passion, make sure you can access your inventory from your garage, warehouse or with the help of a drop-shipper.
2) Get your domain name
Register a domain name so you can pick the perfect web address for customers to find you. Go ahead and secure your domain for several years, or find a premium domain to give your new online business a quick boost.
3) Sign up for a free trial
Test drive our industry-leading ecommerce solution by signing up for a free, 14-day trial. Become familiar with the software and start building your store--no credit card or obligation required. Best of all, when you're ready, everything from your trial will transfer seamlessly over to your live store.
4) Pick your plan
Whether you're selling one product or one million, we've got an ecommerce plan that meets your needs. Each plan comes with a mountain of features to help your online business grow. Starting at only $15/month, you'll never see a transaction fee from us.
5) Build your online store
Load your products, pick a theme, and add the finishing touches. If you need help setting up, we offer unlimited 24x7 in-house phone support, along with tons of online training and support materials to make sure you succeed.
6) Get paid
You can accept customer payment via PayPal® or by accepting credit cards directly on your site. Volusion Credit Card Processing offers the ultimate payment solution, all with friendly support and a fully integrated gateway. Check out our rates to see why so many merchants use our payment services to bring home the bacon.
You're ready for business!
That's it! Give yourself a pat on the back for a successful launch – now start promoting your business and processing orders.
Need some help designing your site or driving traffic to your new online store? We've got you covered. Our team of Volusion marketing experts can help manage your search engine optimization and paid search campaigns. We also have a team of highly talented designers to assist with a premium themes, branding or custom web design project.
It's time to stop thinking and start doing – open your online business with Volusion. Start your free trial today.