Overview
Thank you for checking out Volusion!

Starting a business can be an overwhelming task with an enormous learning curve for fledgling founders. So many questions arise:
How do I build a website to sell products?
How do I control inventory?
How do I manage payments with credit cards?
How do I know if I'm compliant with security regulations?
How can I get my store setup and selling quickly and cost effectively?
How much will it cost to manage my store every month?
Volusion is the trusted solution for thousands of aspiring entrepreneurs. We exist to make it as painfree as possible for budding businesses to start up and succeed. Our all-in-one ecommerce solution allows merchants to create, manage and grow profitable online stores. View just a few of our successful stores here.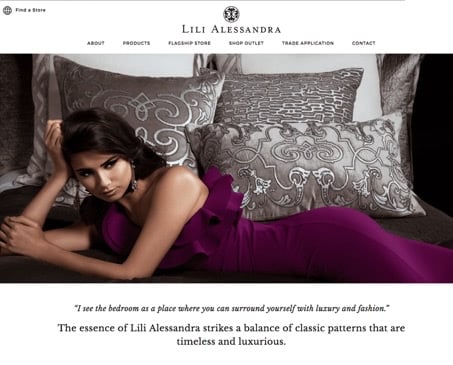 How We Do It
Nothing matters more to us than our customers. We're grateful that they value us, too. Here are the main reasons why they trust us to help them launch and grow their businesses:
Basics + Bells & Whistles
With a 9:1 feature-ratio advantage over most other ecommerce companies, our powerful platform comes equipped with the tools merchants need to sell and succeed, like multi-channel integration, a robust CRM system and advanced SEO capabilities.
Safety First
We enable reliable and secure transactions on a business owner's domain (not a questionable third-party checkout), with 99.9% uptime, PCI certification and fraud score protection.
Non-stop Support
Our merchants know that we always have their backs, with access to 24/7 live support from real, knowledgeable people; 500+ help articles; 350+ video tutorials and 1000+ best-practice blogs.
Better Billing
Merchants appreciate that partnering with us means they keep more of their profits. Unlike other ecommerce companies, we never charge fees for processing transactions. Instead, we operate strictly on a bandwidth basis, charging only for what a business needs.
In-House Expertise
Volusion has more than 50 in-house security, sales conversion, digital marketing and design experts who are tasked with making merchants more successful - which helps explain why Volusion merchants make on average 5.2X more revenue than our biggest competitor.
Performance & Support
Volusion is committed to providing enterprise-quality website performance and support to small and medium businesses.
24 Hour Customer Support
Our customers' sites never shut down, and neither does our customer support. Whenever they need us, we'll be ready to help.
Secure Site
SSL certificates provide site-wide https, ensuring that all Volusion stores are protected from cyber threats… and Google-friendly, to boot.
Secure Domain Checkout
Оur checkout process ensures that customer transactions and credit card information is never compromised.
PCI Certified
With stronger security than the standard PCI compliance, we are certified to ensure that credit card information is managed in the most secure environment.
99.9% Uptime
Our customers' stores are open for business 99.9% of the time, maximizing their opportunity to sell.
Firewall Settings
Our merchants can choose who can and can't visit their sites, by customizing their firewall settings.
"Beautiful website themes. Platform is very easy to use. And we LOVE your customer service. Your staff is always very knowledgeable and so pleasant to talk to. Honestly the best customer service we've ever had with a web company."

- Marta, Sausage Maker
Design
We help businesses look beautiful. Our themes are professionally designed by ecommerce experts to attract customers, establish brand trust and create a seamless shopping experience that results in sales.
Mobile Friendly
More and more people shop on their phones, so all of our premium themes are responsive to ensure a great user experience.
Ecommerce First
Our design experts understand shopper needs and behaviors. They create streamlined shopping experiences designed to promote purchases.
Designed To Sell
We present products in the most desirable and orderly fashion for full marketability.
Flexible
Our themes are fully customizable so merchants can make their mark and create a look that's as unique as their brand.
Affordable
Founders want to make money, not spend it. So our premium themes are only $180, and we offer many free options, as well.
We Can Help
Many business owners don't have the time or know-how to create professional websites, so we have in-house experts who can take it off their plates.
"We worked with Volusion to redesign Capital Teas and we couldn't be happier with our decision! The design team was very easy to communicate with and had a high level of attention to detail from start to finish."

- Capital Teas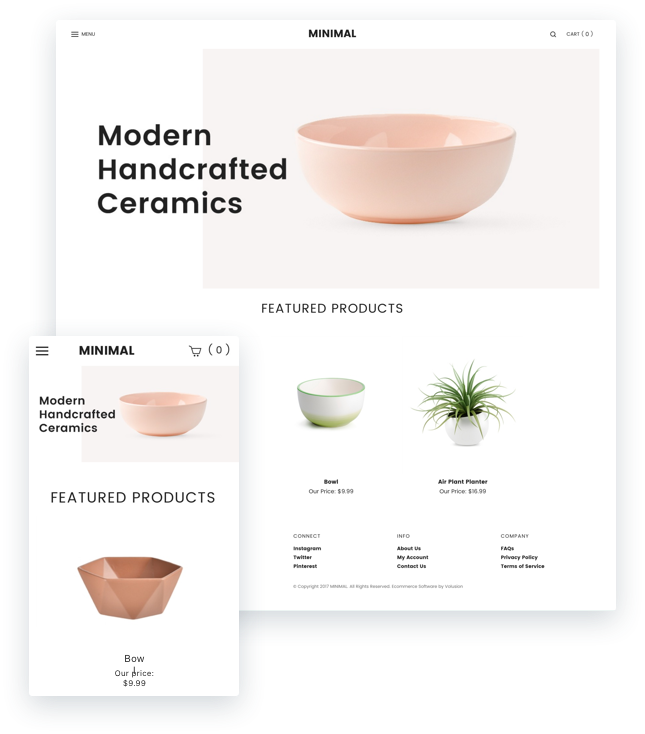 Editing Tools
Starting a business shouldn't mean having to learn to code a website. Our platform works for developers and internet novices alike, and comes complete with a toolbox that makes it easy for merchants to customize their store content.
Style Editor
Store owners can make frontend changes to their store's colors and fonts on the fly, right from within their store admin. No backend coding required.
Content Builder
Our drag-and-drop functionality enables merchants to customize their content with a few clicks.
Easy Editor
Merchants can make quick changes to store pages and product listings. No coding needed.
Navigation Editor
Merchants can choose from a variety of navigation styles to help their customers browse and buy with ease.
Store Builder
This tool offers merchants a no-fuss way to add categories, subcategories and products, upload images, manage SEO and more.
CSS Editor
This feature allows developers (who know how to code) unlock access to full-scale content customization.
"We're very excited and feel very fortunate to work with a partner like Volusion, who developed our website. This year we expect to do more in online sales than ever before."

- Rex, Jon Hart Design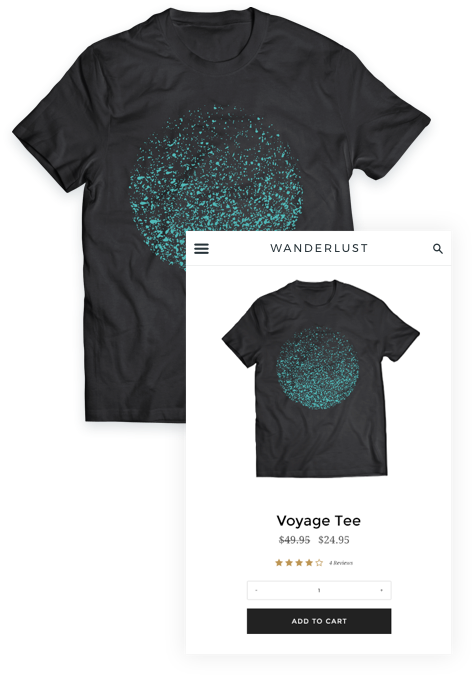 Ecommerce Essentials
Part of making entrepreneurship easier for our customers is equipping them with the features and functionality they need to succeed. We never charge extra for them.
Custom Domain
Merchants can set up a custom domain name/URL that lets shoppers — and search engines — find their site easily.
Barcode Generator
Store owners can create custom barcodes for their products to make inventory management a breeze.
Large Inventories
No problem! Volusion can handle thousands of SKUs with ease.
Import Products Via CSV
Inventory can be managed quickly and easily by simply uploading a CSV file.
Vendor Codes
We enable merchants to create custom codes for vendors, which simplifies and speeds up their stock management.
Inventory Management
Our inventory management system displays product status, tracks stock reorder quantity levels, provides quantity verification and sends low-stock alarms.
POs
Volusion offers a no-fuss way to send POs to vendors, making it simple for merchants to manage their stock.
Warehouses
We make it easy for ecommerce entrepreneurs to set up warehouse locations and calculate shipping rates.
Product Variant Pricing
Our pricing feature allows store owners to set their own dollar amount on product inventory.
Tax Rate Calculator
Store owners can calculate tax in real time with our handy calculator.
Easy Order Processing
We make it possible for merchants to easily process site, phone and mobile orders.
Define Currency
Businesses can sell across the globe with our advanced currency tools.
Gateway and Payment Processing
We allow stores to accept all types of payment methods: credit cards, cash / in store, wire payment, electronic checks and money orders, Amazon, Google Wallet, PayPal and Stripe.
Recurring Pricing
Merchants will never miss a monthly payment for a product when they set up recurring payment collections.
Customer Account-Management
Our insightful system allows account managers to see customer purchase history and contact information.
Bot Captcha Functionality
This optional feature for forms enables merchants to eliminate bot spam from their customer data.
CRM
Merchants can manage sales tickets and route them to specific departments, if needed.
Savvy Shipping
Store owners can set their shipping rates and configure options to require a signature, offer special discounts and provide flat-rate options.
Drop Shipping
Our drop shipping integration allows merchants to ship directly from the supplier to the customer, which saves them the cost of stocking inventory.
Manage Returns
Our simple and intuitive system takes the headache out of returns management.
Store Management Mobile App
We enable busy entrepreneurs to efficiently and effectively run their businesses from anywhere.
Admin Permissions
Store owners completely control access to their Admin, and can set up user admin roles and permissions to delegate responsibilities to their team members.
Admin History
We keep a record of our customers' Admin History to help them track changes to their business and monitor security.
"I'm so glad I built my business on Volusion. They've got great customer service and they're constantly improving their platform, so it makes my business look really great online."

- Dareth, USA Bride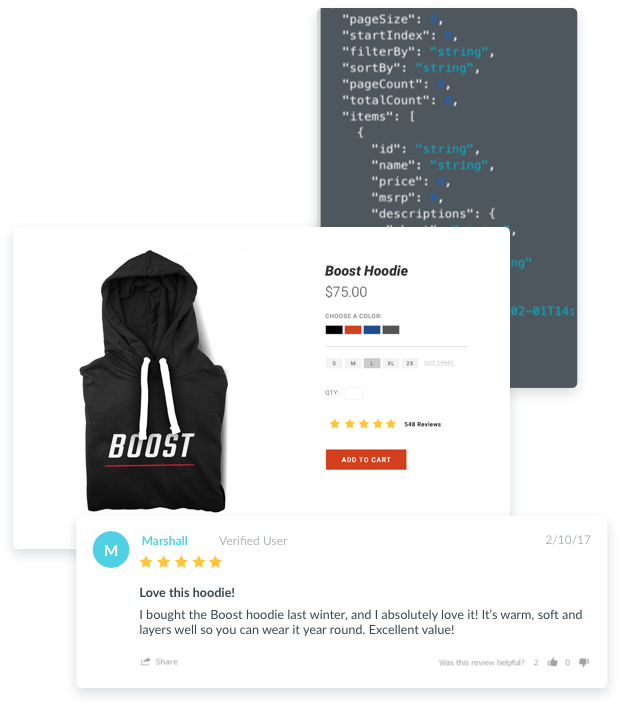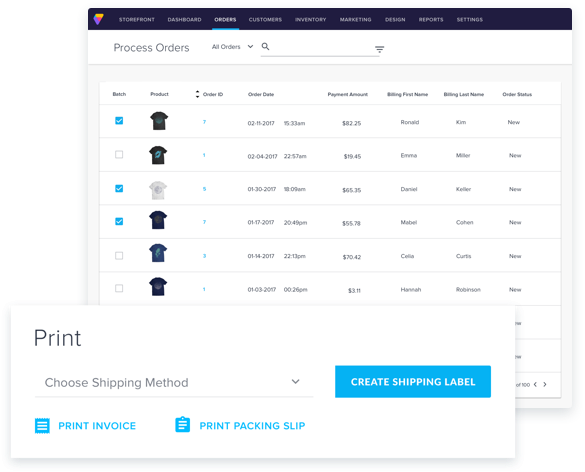 Volusion Pricing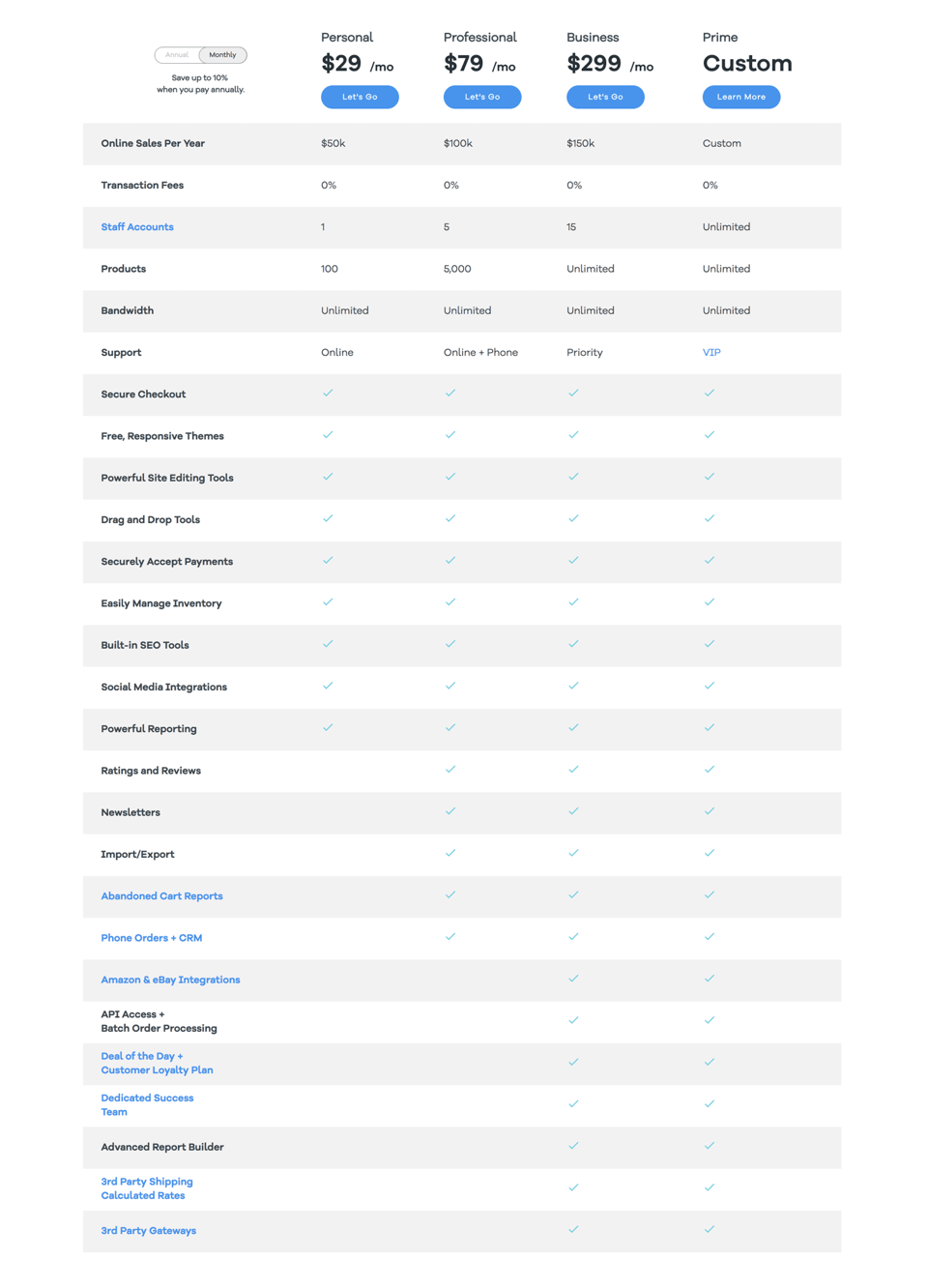 Volusion offers flexible pricing based on individual business needs. Merchants select their plan based on their required inventory, support and bandwidth and can seamlessly move between plans as their business grows.
To learn more about our fixed fee and customized pricing solutions email Connect@Volusion.com.
Built-in Marketing
We provide all the tools needed to effectively market products and drive revenue.
Logo + Favicon Upload
Brand promotion is a breeze with our built-in tools for displaying logos and favicons.
Powerful SEO
Search engine optimization is built into Volusion stores with easy management of all metadata — descriptions, title tags, URLs and more — to keep business pages, products and categories SEO-friendly. Product variants also canonical to one URL, increasing your product page's SEO power.
Dynamic Sitemap
Volusion updates sitemaps when products or pages are added so that search engines can properly index them for customers to find it.
Robots.txt
Our editable robots.txt file allows business owners to prevent certain pages from being crawled by search engines.
Admin Social Management
Link social media accounts directly to your Volusion store and post to Facebook and Twitter right from the store admin.
Newsletters
Our expert design team can create customized, engaging newsletters for business owners to keep customers in the know.
Remarketing Emails
Volusion keeps track of shoppers who abandon their carts, and allows store owners to send follow-up emails to recapture their interest.
Gift Cards
Volusion enables merchants to easily generate gift cards, which are always in season, but especially popular around the holidays.
Deal of the Day
Create special daily offers — that distribute via email and social media — to entice shoppers and encourage return site visits.
Deals and Discounts
Customize discount start times, duration, percentage or dollar amount to keep customers coming back for more.
Advanced Discounting
Discounts can be set up with different code names and usages, and linked to specific products, categories or the store itself.
Affiliate Program
Assemble an army of affiliates to help them sell more products.
Custom Domain
Set up a custom domain name/URL that lets shoppers — and search engines — find your site easily.
ROI Tracking
We offer our customers comprehensive ROI tracking, based on affiliates, ad campaigns and newsletters.
Detailed Reporting
Reports on product and category views, live and abandoned carts, purchases and CRM tickets help owners adjust their strategy and make better business decisions.
Sell on Facebook, eBay and Amazon
Volusion stores can be expanded to Facebook, eBay, Amazon and beyond. Facebook store management can be done right from the Volusion admin.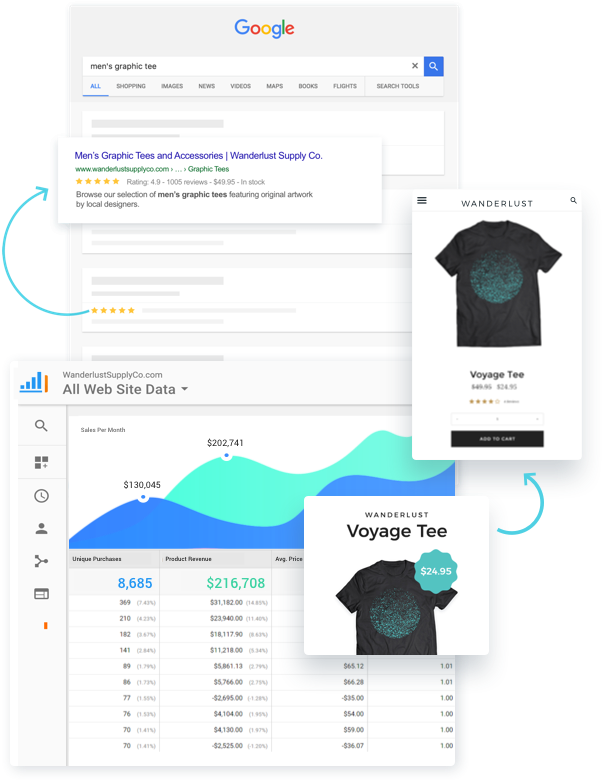 Conversion Features
We know that a store is only successful if it's selling. That's why our themes and features are designed to effectively move shoppers through the purchase funnel — and deliver a great shopping experience along the way.
Homepage Slideshow
Merchants can grab customers' attention by displaying multiple products and promotions front and center on their homepage, using our slideshow feature.
Search Functionality
Our advanced search tools help customers find what they're looking for quickly and easily.
High-conversion Product Pages
Business owners can enhance their store pages with multiple photos, videos and item details that engage shoppers and convert to sales.
Product Display Customization
Shoppers have instant access to all the info they need to make an informed purchase: product reviews, social sharing, availability notifications and a Recent History feature.
Customer Reviews
Store owners can keep an eye on shopper satisfaction and win over new business with customer reviews and easy management.
Customer Knowledge Base
Businesses can provide personalized customer service and answer questions related to its products.
Related Products
Merchants can gently nudge customers to consider products that are related to items they've already added to their carts or purchased.
Optimized One Page Checkout
A thoroughly tested, one-page checkout process for fewer abandoned carts.
"We've had amazing results using Volusion. This year we're going to wind up doing more volume in our Volusion site than our brick and mortar store."

- Lili Alessandra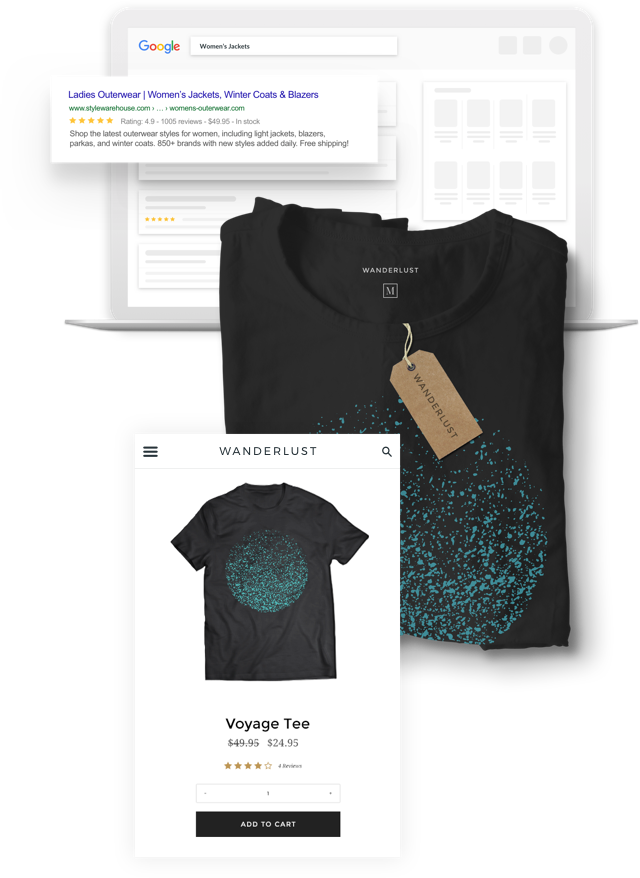 More In Store
We are very excited to announce that we've launched the next generation of the Volusion platform, which we are calling V2. V2 was built from the ground up on new core technology. This new tech stack allows us to evolve the product at a record pace and harness the latest retail technologies. It will enable us to offer the best possible ecommerce solutions that scale, adapt and exceed expectations for years to come.
With V2, customers can expect world class reporting, enhanced content management (including a blog) and integrations that will drive growth for their business. We have our eye explicitly on top-quality integrations with Shippo, PayPal, Stripe, Zapier, Yopto, Square, Xero and Amazon, just to name a few.
V2 is currently available as an optional, no-cost pathway for current Volusion customers and we are on-boarding brand new businesses every day. While it does not offer feature parity to our current platform, it has exceptional UI and speed. In time, V2 will likely become the preferred version of Volusion, but until then we will continue to support and improve our current platform.
We invite you to review V2 and welcome any feedback. Please contact us if you are interested in scheduling a preview.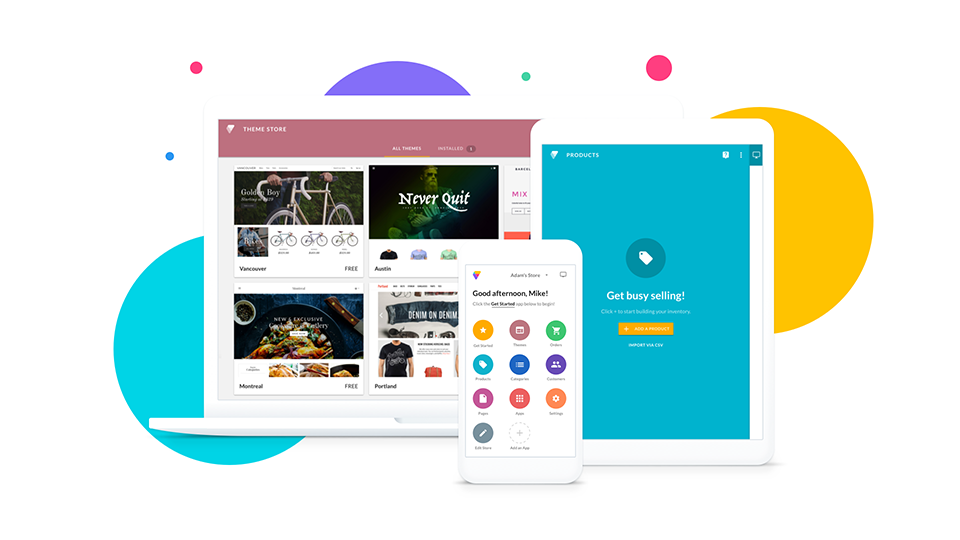 Contact Information
If you have questions or would like more information about the Volusion platform, please contact our PR team!
Stephanie Cooley
Dotted Line Communications
volusion@dottedlinecomm.com
Learn More
Learn more about Volusion's vision and mission and consider joining forces with us.
Download logo files, typefaces, images and more from our Brand Kit.
Stay up to date on Volusion advancements, industry trends and internet memes.
Follow us on
Facebook and
Twitter
Connect on

LinkedIn
Check out #VolusionLife on

Instagram