Ecommerce Holiday Planning
Getting Your Ecommerce Store Ready for the Holidays
Chapter 1
Deck The Digital Halls: Holiday Design
Brick-and-mortar stores like Macy's are notorious for their holiday window displays and decor. But why should they have all the fun?
Adding holiday cheer to your website is a great way to welcome shoppers, and remind them to put down their eggnog and pick up their wallets.
Here are a few simple suggestions to give your store festive flair, get customers in the holiday shopping spirit, and convert first-time seasonal buyers into loyal, year-round patrons.
Add Some Holiday Color
Add splashes of red and green and/or a seasonal background image. Keep your brand in mind and think about what's appropriate for your products and customers.
The Home Depot adjusted their holiday colors from their traditional orange and gray color scheme to make their site more festive.
You can stay true to your brand by toning down or "cooling" your color scheme for the holiday season. Tones such as blues, greens, and purples convey a "wintery" feeling without screaming "Christmas." You can then sparingly add more traditional holiday reds and greens for buttons or to highlight special details.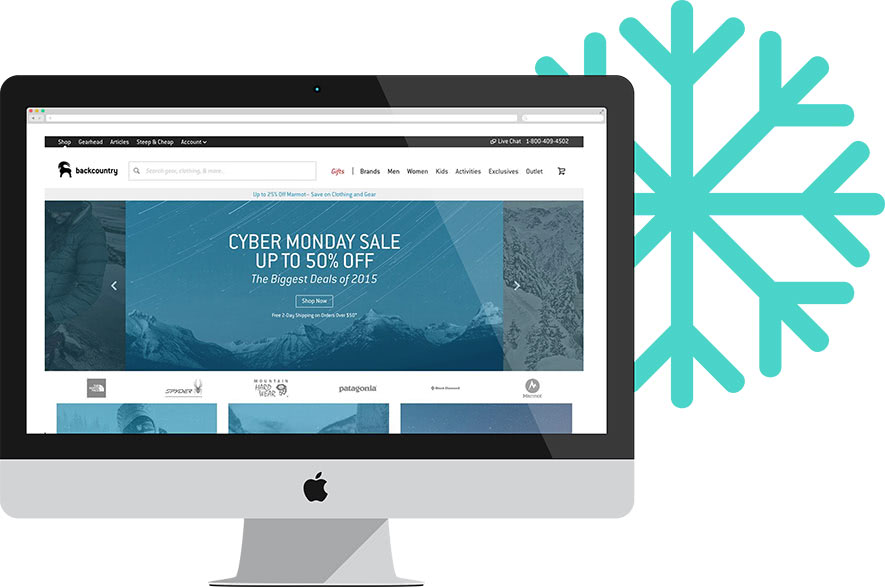 Backcountry chose some great winter-themed images to set the tone of their site. They also gave their images a "cool" blue color filter to tie the theme together.
Swap In Winter Shots
Winter images are an effective and popular way for online retailers to exude holiday spirit without redesigning their entire site or changing their color scheme.
Choose from a wide variety of scenic winter and holiday-inspired photos in our Business Tools section. Our Studio team also offers custom design starting at just $150 for one image or $500 for a 5-pack. Images of snow-capped mountains or a family frolicking in the snow can create a majestic or joyful mood and inspire shoppers.
Winter-themed images work for most, if not all, types of industries and products. And because they reflect the season, not the holidays, they transition perfectly into the new year.
Incorporate Holiday Graphics
Graphics are a great way to spread holiday cheer onsite and highlight special sales. Consider adding illustrations to your slideshow and banners, or a subtle pattern to your background.
Change your icons to make them more thematic. For example, your shipping icon may appear as a gift box for the season, or your shopping cart could be displayed as a stocking.
Try altering your logo temporarily to include a string of lights, or place it atop a mound of snow.
Before making any graphic changes, consider your brand and your target audience. Then keep it simple. Just a few graphic changes can have a big impact.
Use A Festive Font
Some fonts are more festive than others. Choosing just one decorative font can help tie everything together cohesively (with a nice red bow).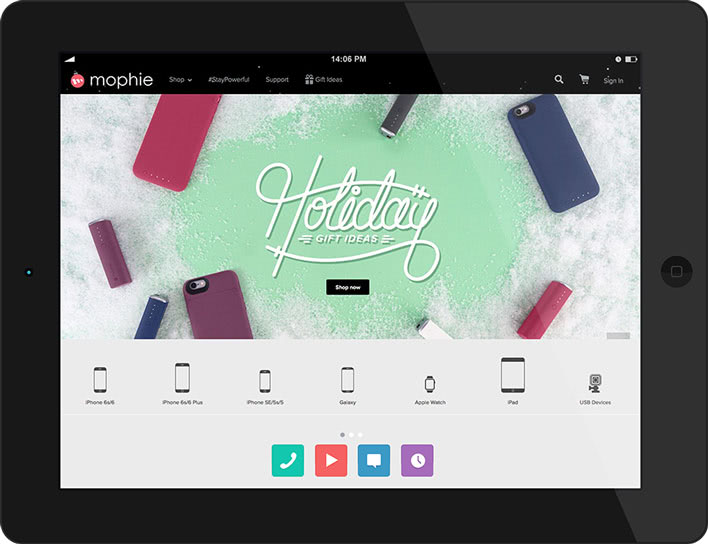 In addition to some fun holiday graphics and wintery images, Mophie chose a friendly, festive font to create a unique holiday style.
Here are some free festive fonts you can use. Just click on the images below.
Make Merry On Social Media
Updating your store's social media accounts for the holidays is an easy way to engage your followers. To create a consistent, branded look and feel, we recommend using the same holiday or winter-themed images and graphics from your website as your cover photo and profile pictures on all social media accounts.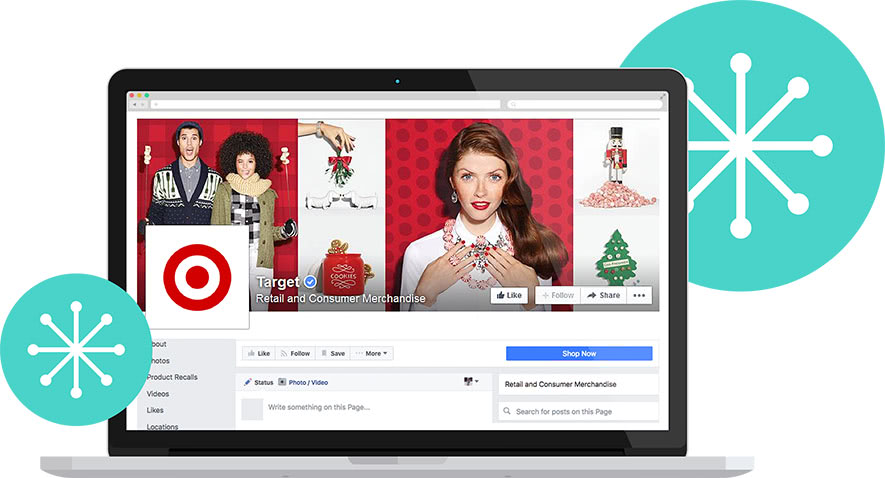 Target combined their holiday-themed product photos with some other holiday-themed images and graphics for their Facebook cover photo to create a consistent holiday style.
For image-based social media (Instagram and Pinterest), post pictures of your products in holiday settings, such as under a tree or next to a snowy window. Be sure to include a cheerful holiday message to remind users to shop your store for great holiday gifts.
Try It Free for 14 Days
No credit card required. Cancel anytime.