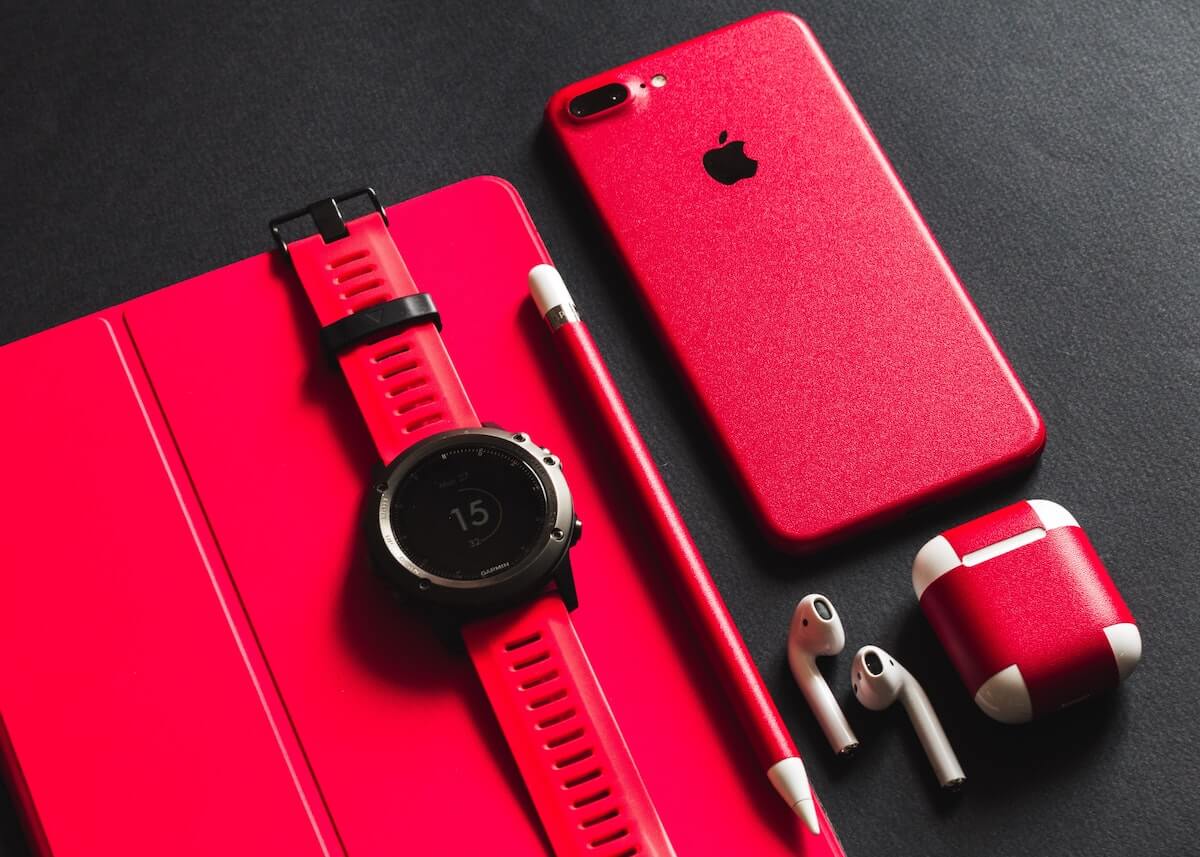 Whether you already have an established ecommerce business or you're looking to enter the space soon, you likely know that the biggest challenge you face in selling products online is knowing what to sell.
There is no shortage of ecommerce shopping options out there today, from behemoths like Amazon to niche sellers on sites like Etsy. Every seller is in competition to serve the needs of consumers, more of whom will flock to online shopping than ever before in a post-pandemic world. How can you know what products are trending so you can stay a step ahead of the sales curve?
Let's assume that you've covered all the other steps required to carve out your space in this competitive industry. You have a website, brand materials, and shipping and fulfillment capabilities. If you don't, you know how to spin these things up once you settle on a product line or lines. What you're looking for now are products to sell.
There are some useful tactics you can use to identify trending products before they reach their absolute peak and begin to lose demand. There was a time, for example, when everyone seemed to want a fidget spinner—but if you tried to jump on that wave now, you'd go nowhere.
With that in mind, let's review the best ways to find trending products to sell online.
Use search tools like Google Trends and YouTube
Search engines, and the tools associated with them, are a great way to see what people are searching for and how popular those searches are becoming.
As we all know, there is no more powerful search engine (and perhaps window to the rest of the internet) than Google. If enough people search for the same keywords on Google, that keyword will start trending. You can use the accompanying Google Trends tool to track those trends.
Let's go back to the fidget spinner example. Here's how Google Trends shows interest in this one search term over the past five years: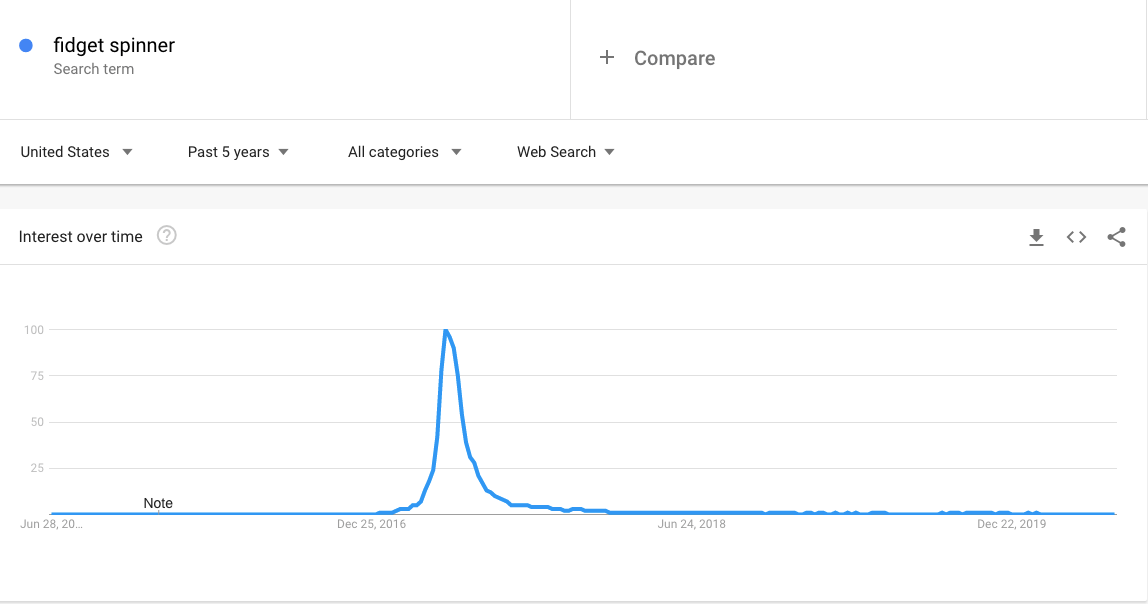 As we can see, there was a specific period of time during which interest in fidget spinners exploded. If you were searching for this term in March 2016, you might have seen the early uptick of interest in this product. Finding a supplier for fidget spinners and capitalizing on the trend could have been an easy way to score a quick ecommerce victory.
But, much like the stock market, if you only caught on to the fidget spinner trend by the time it was peaking, you may have been left holding onto excess inventory as interest dwindled.
Keeping that in mind, use Google Trends' Explore and Trending pages to identify emerging trends before they reach their peak. An inventory management system that allows you to quickly pull necessary stock as needed (rather than try to predict the curve of the trend) is crucial here.
Another way to take advantage of spiking interest in trends without taking on too much risk is to start a dropshipping ecommerce business, where you ship goods directly to customers from third-party suppliers (rather than holding the inventory yourself).  
A less scientific but more interesting way to use search engines to your advantage is to use YouTube. Google owns YouTube, but the latter is a popular search engine for video content in its own right. Searching for the best new products in your niche or expected niche on YouTube, and filtering results for only, say, the previous month, will highlight new hot items that are starting to catch on among the influencer and online review crowd.
Review social media hashtags, influencers, and trending posts
Social media: It's not just for selfies. With a discerning eye toward what's appearing most often on the posts of consumers and influencers alike, you can get ahead of the biggest trends before they go mainstream.
Jump on any of the major social media networks—such as Instagram, Twitter, or the resurgent Pinterest. Review their Explore or Trending pages to see what's on the rise. You can also see which hashtags have the most overall posts on each platform, which can tell you whether a keyword has been saturated or is beginning to hit its stride.
A more targeted way to use social media is to follow specific accounts within your selling niche. For example, finding influencers in the world of men's fashion and seeing what new products they're promoting is a great way to gauge interest in a product. Is a particular post from that influencer seeing a ton of engagement? Is this product brand new, or even just a new take from an existing brand? (Everyone knows that Head & Shoulders makes shampoo, but did you know they recently unveiled styling products?)
Cross-referencing posts from a few different influencers, micro-influencers, and even posts that show up in the trending sections of these platforms will give you a sense of what's becoming popular. Then it's up to you to combine those findings with data from Google Trends or other market research to see if these products are on the upswing or if the time to capitalize on them has passed.
Work backward from trending news stories
Another great way to get ahead of trending products is to consider what types of products are relevant to the larger news trends of the day.
The kinds of products and services we want change with the times and are a reflection of the culture we live in today. That's certainly the case when a pandemic turns the world upside down, affecting the way people work, shop, and live.
With that in mind, let's consider how the pandemic has impacted our lives—and thus, what we're looking to buy.
During the height of the first wave of pandemic in the U.S., many gyms and fitness centers were forced to close—and as a result, there was an uptick in interest around staying healthy and fit at home. Barbershops and hair salons also closed—and many had to take self-grooming and care into their own hands, with family members cutting each other's hair or people attempting to self-dye their roots. There was also a huge spike in the number of people adopting pets from animal shelters. Think of all the pet-centric items, from dog beds to cat trees, that thousands of people suddenly wanted or needed. Then, of course, there's the most ubiquitous "new" product to see a spike in demand as a result of the pandemic: stylish masks and face coverings for everyday wear.
Few news stories will affect an entire nation (not to mention the planet) the way the pandemic did. But looking for stories that have impacted society at-large and have the potential to shift consumer behavior will help you think about "trending products" in a new light. In fact, you might be at the vanguard of a new trend if you are able to identify how a product aligns with the changing times.
As before, it's worth your time to cross-reference whatever you think of with results from Google Trends and social media activity. This way, you'll see if your potential new product is actually on the rise, has already crested, or will fizzle out before it becomes a hit.
The bottom line
Like many things in the world of ecommerce, finding a trending product to sell before it's already "trending" mixes science with art. You have to combine hard numbers from tools like Google Trends and Instagram with insights and impressions from YouTube and news articles. You won't identify a best-seller every time, but staying ahead of what's trending can help you supplement your existing catalog with a rotating cast of hot-off-the-press items that will keep your ecommerce business exciting and fresh.