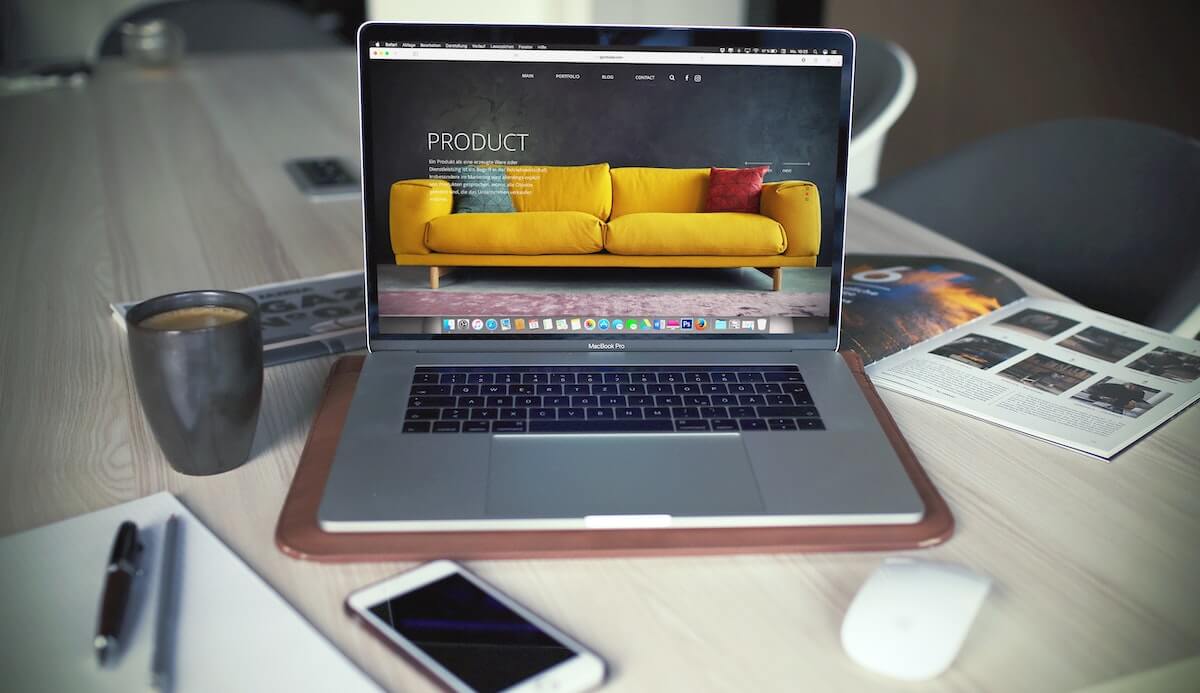 Starting an ecommerce business is a multi-step process, and one of the most important steps is setting up a website and accompanying online storefront. As you iron out additional details—like determining which entity formation to incorporate as and drafting a business plan—you may want to explore different elements of the ecommerce website. What site elements should be present to ensure the best possible customer experience while also translating to sales? Read on to find out.
1. A clear header and footer
This may sound like a fairly obvious necessity for an ecommerce website homepage. However, many home pages for these sites utilize an endless scroll feature. This means that you keep scrolling to see featured products and recommended products, but may struggle to get to, or even find, the ecommerce site's about pages or contact information.
Successful ecommerce websites have a clear header and footer on their homepage. These should be user-friendly across all devices, from desktop computers to tablets. Items in the ecommerce header may include, but aren't limited to, the following:
Name of the business and its company logo
Dropdown menus for category pages
Customer login button
Shopping cart avatar
Search bar
Additional items for header inclusion may include a wish list and dropdown menu for language options.
What should be in the footer?
Contact information, including a mailing address or P.O. Box, phone number, and email address
FAQ information, including returns and exchanges, order tracking, and shipping information
Terms and conditions
Privacy policy
Social media links (these may be featured in the header or footer)
Link to subscribe to the company e-newsletter
2. Category pages
Customers new to your ecommerce site will likely begin navigating it through category pages, so make sure that these are neatly organized. Clicking a dropdown menu in a specific category should filter and sort the products in it accordingly.
For example, if your ecommerce site sells clothing, clicking on the "Women" category should sort out relevant products like dresses, blouses, and pants. You may also choose to add a bar that shows the number of products per page. This same bar may also list products according to price or newest in the shop.
3. Optimized product pages
Nothing should be complicated once you get to the product page of the item you want to purchase. Each product page should include the following elements:
Product title
Brief description of the product
High resolution photo(s) of the product
Price
Payment methods, including credit cards, PayPal, and Venmo options
Color and sizing options (optional)
Shipping information
Add to Cart button to ensure a CTA for your shopping cart. You may also include a Wish List button if you're not ready to buy right now
Social media sharing buttons
4. Customer reviews
Product pages are also making room for two key elements of the shopping experience: customer reviews and related products.
Customer reviews allow customers to rate the product, usually using a five-star system. They may also leave comments about the product and share photos of what the product looks like, piquing the interest of customers viewing the product's page.
5. Related products
Related products are items that customers might also be interested in purchasing. Showing related products allows ecommerce business owners to cross-sell the initial product to the customer, plus a few other items that may be a good fit based on previous purchases.
6. Guest checkout
Customers may not have the time to sign up for an account with your ecommerce website while completing checkout, and that's okay. Offer them the ability to do a Guest Checkout instead. This allows the customer to check out without needing to create a full account. It also helps to prevent shopping carts from being abandoned on the website.
7. Return policy
As mentioned earlier, the return policy may be found in the footer of your ecommerce website's homepage. Make sure this is clearly written and easy for all customers to understand.
8. Company blog
What's the latest news in your ecommerce business? You can share the latest and greatest information about your business or industry via the company blog. Use this space to highlight new inventory available on your website.
Get creative with your content! Create DIY videos that show how to use your products.  Interview a popular influencer (and regular customer) in a podcast. Write a blog post about changes coming to the business and ask customers for their feedback. Encourage customers to reach out if there's anything they want to see—feedback is the ultimate must-have for ensuring long-term ecommerce business success.