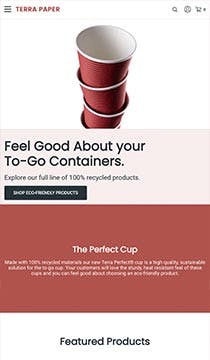 Terra Paper
Free
Terra Paper offers businesses a clean and straightforward canvas for selling. Highlights of this theme include space for a company mission, separate "featured products" and "categories" blocks, and a more in-depth "about us" section. Eco-friendly businesses will love Terra Paper's simple, yet functional design that focuses on the impact of the products.

We Can Help!
Want some additional assistance getting your new theme just right? Talk to one of our consultants about working directly with a designer or implementation specialist.
We have a number of theme services that will make this process fast and easy – not to mention beautiful.