CASE STUDIES - Eastern Leaf
Eastern Leaf
Working with Studio's Creative Services team gave Eastern Leaf a fresh, clean and modern ecommerce site that their customers love.
Grow Your Business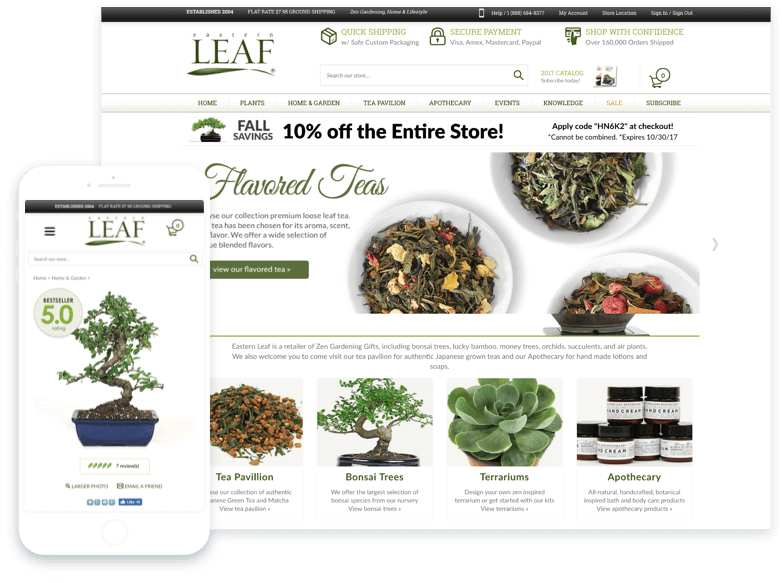 OVERVIEW
Specializing in bonsai trees and zen gardens, Eastern Leaf approached Studio for a design overhaul of their site.
After starting out selling lucky bamboo arrangements at local farmers markets, Eastern Leaf has grown into a trusted source for high-quality bonsai trees, money trees, orchids and more. They have appeared in numerous publications and continue to hold high expectations for their products and customer service.
Website
www.EasternLeaf.com
Design Package
Custom Design
Primary Goal
Fresh, modern & on-brand homepage
Results
+ 44%
Increase in total revenue
+ 1388%
Increase in mobile transactions
+ 17%
Increase in average time on page

The main goal of the Eastern Leaf redesign was a light, fresh look and focus on mobile.
Challenges
The homepage needed to seamlessly incorporate more information without feeling visually cluttered. The new design also needed to represent Eastern Leaf's established branding that would resonate with their loyal customer base, while incorporating a fresh, clean look.
Our Approach
A Custom Design package met all of Eastern Leaf's needs for an overhaul of their site. Studio's Creative Services team designed a layout for the homepage that allowed for a lot of elements while still feeling well organized. Familiar but fresh branding was also a major consideration for the direction of the design.
Specifically, Studio focused on:  
Shifting the homepage to an informational focus
Blending the design into a seamless mobile experience
Maintaining the brand's authority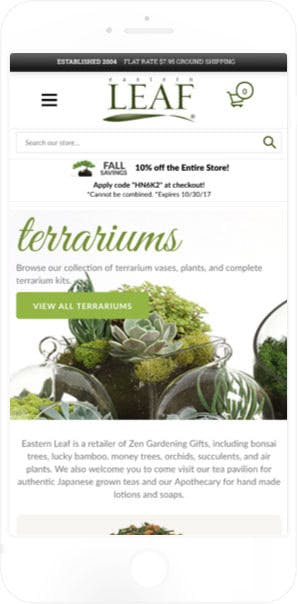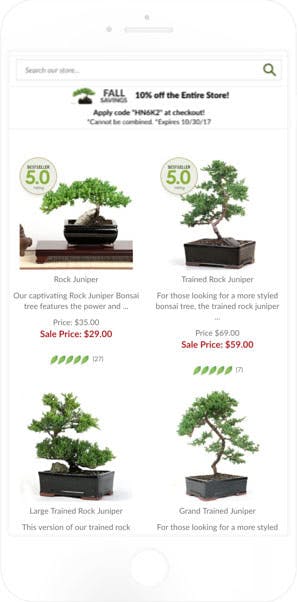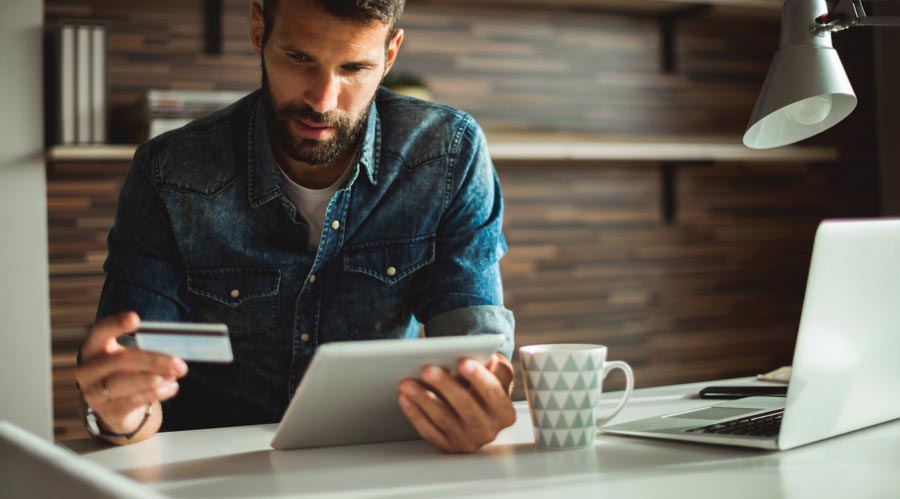 Free 14 Day Trial
Start Selling Today
We've got everything you need to build, sell and
grow your very own online business
Start For Free
Explore More Case Studies
STAY UP TO DATE
Sign up for the Volusion Newsletter
Get more industry inspiration, tips and exclusive
offers sent straight to your inbox.
Thanks for signing up!
Your request has been successfully submitted.