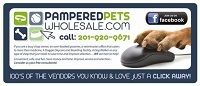 Build your online store with Volusion
Make your business work for you with Volusion and PetDropShipper. Get 50% off your first month with a purchase of a Personal, Professional, and Business plans. Use code Pilot50 at checkout. 

For questions, about Volusion please reach out to vpartners@volusion.com or 1-800-646-3517. For questions, about site building using Petdropshipper Call: Janene at 201-620-7400 or info@petdropshipper.com. 
Create Your Store Faster Than Anywhere Else
Get Everything You Need for Your Online Store
Create Your Store
Free Responsive Themes
In-Page Content Editor
Access to the CSS for Custom Editing
Easily Add Product Categories
Sell Your Products
Paypal + Stripe Payment Processing
Unlimited Product Options
Inventory + Order Managment
Auto Calculate Shipping + Tax rates
Grow Your Business
Built-In SEO Tools
Simple Social Management
At-a-Glance Reporting Tools
Create Discounts + Send Newsletters