Volusion Marketing Services vs Others
Is your paid search agency really focused on your success?
Volusion Marketing Services is an in-house agency dedicated exclusively to helping Volusion stores grow their online business. We are experienced digital marketing experts specializing in ecommerce store success.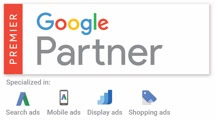 Check Out Our Side by Side Comparison Chart
We Prioritize Your Success
While other agencies are driven by their own sales and profitability, our measure of success is our clients'
revenue growth because when our merchants are successful, so are we. We want your store to stay with us for many years to come. That's why we invest in marketers with real expertise and experience.
Typical Digital Agency
Business Model
Exclusively serve Volusion merchants; higher investment in ecommerce marketing expertise
Want as many paying clients as possible; higher investment in sales staff than marketing expertise
AdWords Account Ownership
Yes
Yes
Google Premier Partner
Yes
No
Ecommerce Expertise
Ecommerce experts with priority access to internal Volusion teams
Limited Volusion Resources
Pricing
Competitive and backed by our team expertise and experience
Low cost due to junior marketers
Client Average Tenure
2.4 Years
1 Year
Specialist Average Tenure
4.7 Years
1.5 Years
Marketing Experience
7 Years
2 Years
Our professional design, marketing and consulting services have
helped over 5,000 customers generate more business. Take a look at some of their stories below!