Try Volusion free for 14 days
No fees, no commitment, no credit card.
Sell More with Amazon Integration
Amazon is only a piece of the puzzle that is successful ecommerce;
a well-oiled, innovative store is also critical for online success.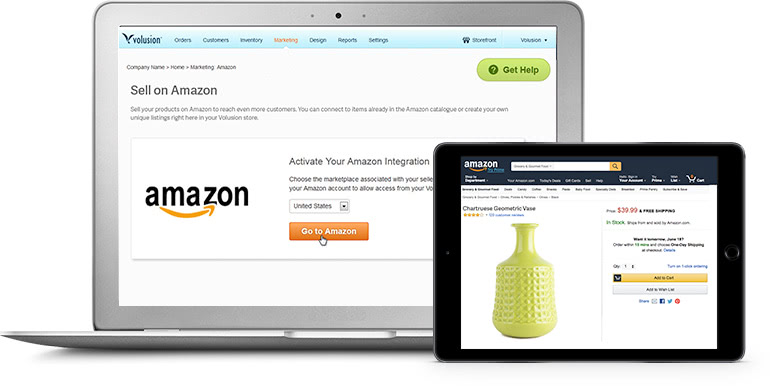 Here at Volusion we fit these two pieces together, enabling you to maximize your potential with our store-to-Amazon integration.
With our easy-to-use-software, you can market your products to millions of Amazon customers directly from your webstore.
This means that you're selling in two places at once, all with no extra effort.
How Volusion + Amazon Works
We don't mean to brag, but Volusion has truly made ecommerce easy. Our software allows you to smoothly integrate your store with Amazon and list products for free. It's simple to manage your Amazon listings and inventory directly from your online store, so there's no need to jet back and forth between sites.

Easy Setup, Easy Sales
You don't have to be a tech pro to run a high-powered online business.
Since our Amazon integration is built directly into Volusion's award-winning ecommerce solution, you can save time and avoid hassles by quickly searching the Amazon catalog from your Volusion store.
With Volusion + Amazon, you can locate items, match your products with Amazon's and quickly add new products on Amazon's existing product information.
The best part is, you can do all the work right from your Volusion dashboard.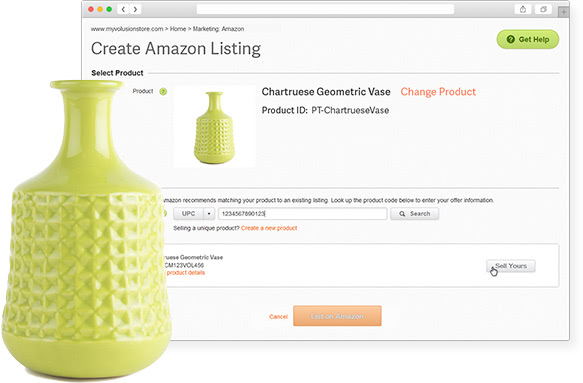 Start selling more with Volusion's
best-in-class Amazon integration
Try it free for 14 days. No fees, no commitment, no credit card.
Get started