Ecommerce Holiday Planning
Getting Your Ecommerce Store Ready for the Holidays
Chapter 4
Season's Greetings: Email Marketing
Email marketing is like sending your customers a paperless Christmas card. You can simply say "Happy Holidays", or offer a special discount or other promotion to drive them back to your store.
When done well, email marketing is a highly-effective, low-cost way to reach customers when they're already in the holiday spirit.
Aside from adding to your bottom line, it can help you establish a rapport with customers that will last long after January 1.
There are a number of free and paid email service providers (ESPs) that make it simple to message your customers, including Constant Contact, MailChimp, Benchmark, and Vertical Response.
Just follow our tips below, and you'll be more than ready to wish your customers a Merry Everything.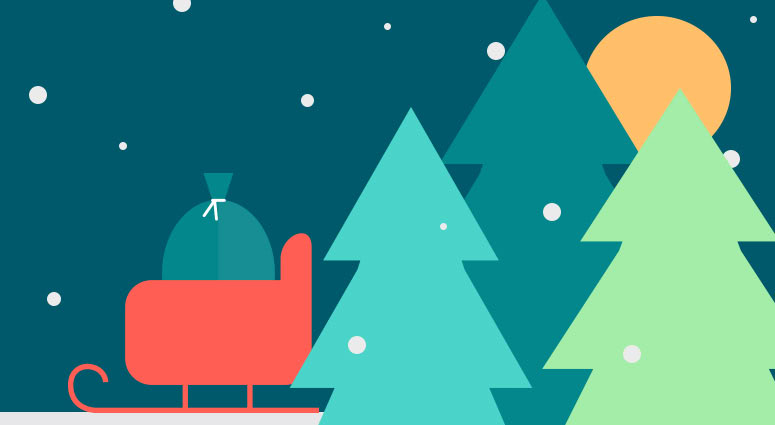 Set Seasonal Goals
Your holiday email-marketing goals should differ from the goals you set for the rest of the year. They should focus on driving sales.
When shoppers are in spending mode, you'll want to capture their attention with messages that speak directly to their intention. That's not to say that every email has to advertise a sale, but every email should promote your products in some fashion.
Setting your goals is the first step to deciding on a number of other important factors, including target audience, design, messaging, and call-to-action.
Capture Email Addresses
Hopefully you've been collecting email addresses long before shopping season, and you will likely continue to aggregate new users as holidays approach.
The best way to capture a shopper's email address is to invite them to sign up for emails at certain touch-points on your site, such as at the point of sale.
Other opportunities to encourage shoppers to opt-in to email is in customer surveys, when they're signing up for loyalty programs, and when you're providing engaging and shareable content.
Segment Your Shoppers
Unless all of your shoppers are exactly alike (they're not), a one-size-fits-all email marketing strategy won't do.
By creating different segments for your addressable users, you can tailor messaging and design to be most relevant to them. The results: better open rates, click-through rates, and conversion (and lower opt-out percentages).
Here are a few very basic segmentation techniques that you can use for email marketing campaigns:
Demographics: Target your users with specific products (and even email messaging or design elements) based on their gender, age, and location.

Psychographics: Target users based upon their lifestyle choices, attitudes, aspirations, and interests. This information is usually a bit harder to obtain, unless the customer self-expresses it.

Past Purchases: Knowing what your customers have previously purchased can help you provide upsell recommendations and cross-sell related products.

Abandoned Shopping Carts: Almost 70% of shoppers abandon their carts. That represents a huge opportunity to target customers who were close to purchasing, and incentivize them to come back and close the deal.
Make It Pop
The challenge with emails in general (but especially around the holidays) is standing out from the other retailers who will, inevitably, be sending similar messages to your customers. You don't want to get lost in a crowded inbox or sent to the dreaded spam bin.
To get eyes on your email, you've got to make it pop. Here are a few guidelines to help:
Subject Lines: Use short, engaging subject lines (<50 characters). Lead with the benefit and avoid using overly "salesy" hooks, such as "prize," "free," "bonus", and "buy" as they can cause your email to be flagged as spam. For the same reason, limit your use of all caps (oft interpreted as shouting at your users) and exclamation points.

Design: Don't overload your emails with images. We recommend using a clean design that follows best practices and draws readers' eyes to the most important areas. Make the aesthetic festive, but on-brand; revisit Ch. 1 for refresher on holiday design.

Messaging: Keep your copy minimal and pointed. Make sure it informs, inspires, and is reflective of your brand voice. Create a clear and compelling call-to-action at the top of the email. Include both a clickable image/button and a link.
Track Your Results & Optimize
How successful your holiday campaign is will depend on a few key performance indicators (KPIs):
Open rate: the percentage of addressable users who opened and viewed your message
Click-through rate (CTR): the percentage of email recipients who clicked on a button/link to arrive at your landing page
Conversion rate: the percentage of people who arrived at your landing page and completed an action (to become a "lead," make a purchase, etc.)
Once you've tracked these metrics and established a baseline, you can test different elements of your email to see how it affects your campaign's success. Just be sure to only test one element at a time so you can isolate what contributed to your success or set you back:
Subject line
Style, voice, and narrative of messaging
Calls to action
Images
Design layout
Try It Free for 14 Days
No credit card required. Cancel anytime.