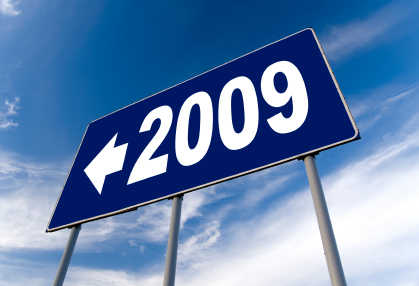 Take a look at our 2009 Year In Review regarding the world of ecommerce. There have been quite a few interesting developments that will affect online sales in 2010!
What a year this has been. We've elected a new President here in the States, the Steelers won the Super Bowl and for some reason Jon and Kate (not their eight) stole our attention for months. And as we turned the pages on our calendars, the world of ecommerce was morphing and changing before our very eyes. There were definitely lots of ups and downs, so take a moment to reflect on the happenings for some key lessons moving into 2010.
Here are my top five major developments of 2K9:
The Recession
Yes, the "R" word takes one of the top spots on anyone's year-end list. Fortunately for our sector, the ecommerce industry didn't take as big of a hit as our friends in retail. Coupon usage in the United States hit its peak this year, with redemption rates at its highest levels since 1992. Inmar, a coupon processing firm, expects the number of redeemed coupons to hit 3.2 billion this year.
This means that your customers have become more price-conscious and are expecting deals. Customers are also comparison shopping a lot more than before. In order to keep up, make sure you're highlighting your promotions and putting a focus on customer loyalty. Find a way to separate yourself from the competition with unique branding, competitive pricing and a stellar product offering so you'll keep customers on your site.
The Emergence of Social Media's Legitimacy
Social media is here and it's here to stay. Econsultancy states that 67% of web users interact with social networking communities, spending more time here than on personal email. Twitter has absolutely blown up, Facebook is still growing and millions of videos are added to YouTube every day.
Are you a part of this mind-boggling whirlwind of activity? You better be. What used to be a medium that was fun to dabble in 2008 has now become a full-fledged arm of companies' communications efforts. Your customers expect to interact with you on social media sites, just as they expect you to answer the phone with questions. Go ahead and get started on your ecommerce social media plan now.
High Expectations for Customer Service
Expectations for instant gratification have never been as instant as in 2009. Customers demand real-time service and want immediate responses to their questions. This year, there was an emergence of vocal customers through all social media channels, either praising or blasting the service from different companies. In other words, it's not so much about the product anymore – 2009 showed us that it's all about the experience.
Now's the time to take a look at your customer service strategy. Try using your Live Chat software with your online store. Decide whether or not you'll be using social networks as customer service lines. Check your email more often and ask your customers what they expect and how they want to be served.
The Rise in Search Competition
More and more sites are added to the web each and every day. This makes it more and more important for you to rise above the clutter to attract customers to your store. One of the best ways to do this is through paid search and search engine optimization (SEO) tactics. Forrester Research reports that almost 80% of all companies expect to increase SEO spend over the next three years. Over 60% expect to increase paid search dollars.
But don't fret – there's lots you can do to help. Our software provides you with lots of great SEO tools to help your online business receive more prominence. The search engines have also made it much easier to create paid search campaigns and there are tons of professionals that can help along the way.
We're on the Brink of Something Big, Huge and Awesome
Ecommerce isn't just the little brother of sales anymore – we're hitting our stride moving forward. Online holiday sales skyrocketed this year, despite the previously mentioned "R word." More and more people went online to make their purchases in 2009 and confidence in online shopping is on the rise. Take a look at the following graph, provided by eMarketer. It shows that ecommerce sales took a very slight hit this year, but it's a tiny price to pay for the boom that's set to come (7.5% growth in 2010 – WHOA!):
This year was a nice round-off to a decade of discovery in the world of ecommerce. We've fumbled through getting products online and turned it into a fine-tuned machine that attracts billions of dollars in sales each year. So to you, my friends, take these lessons from 2009 and keep on growing with us into the New Year.
It's going to be a good one.
-Matt Winn, Marketing Associate
How was your 2009? What other trends have you seen or think were left out? What are your opinions on this list? Any projections for 2010? Share your thoughts below!