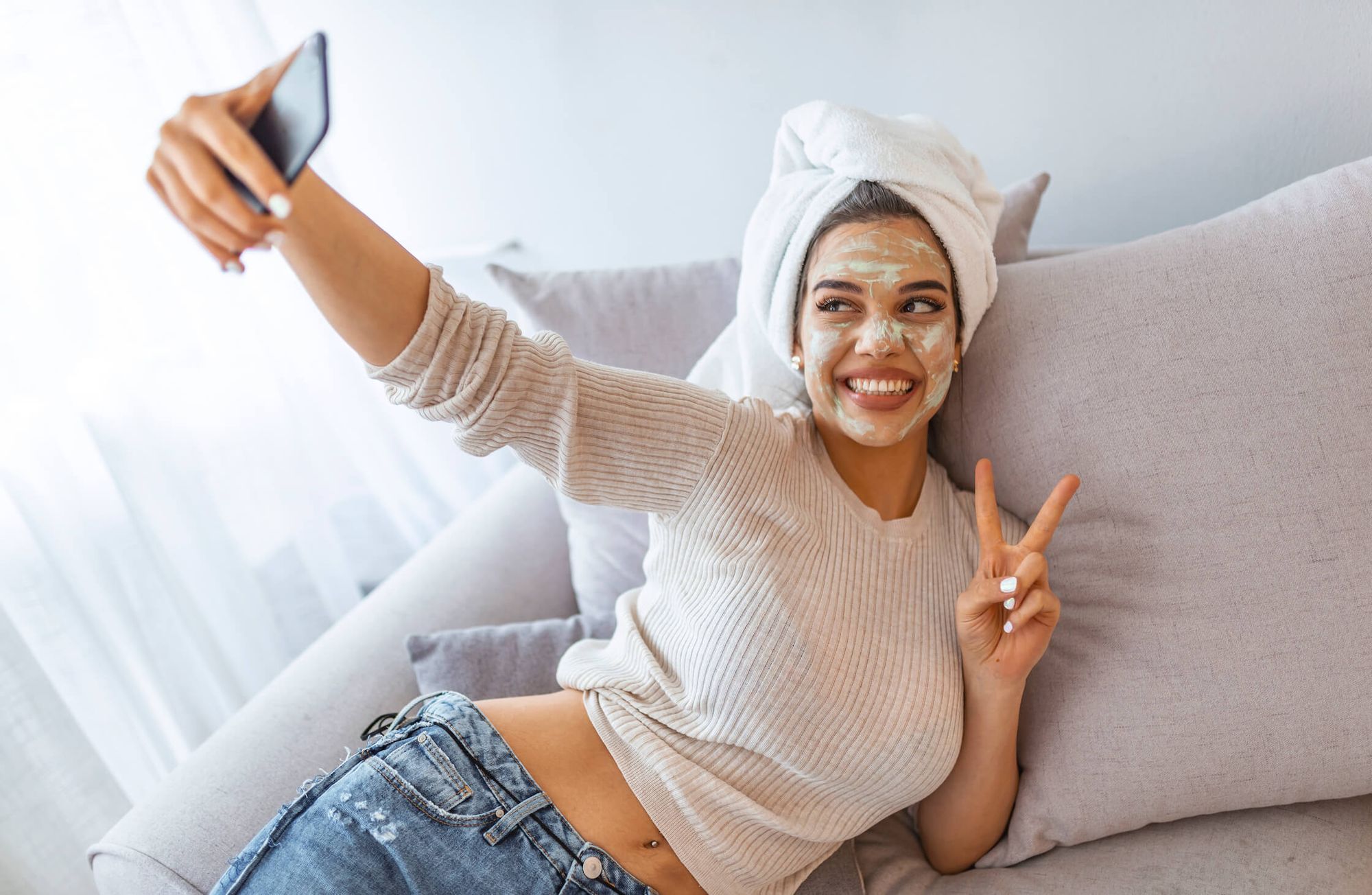 Consumers today are much more cynical than they were in the past—in fact, 71% of consumers stated that they have little faith that brands will deliver on their promises. This means it's more difficult than ever for online businesses themselves to convince shoppers how great their products are, and why they should be purchased.
In general, people tend to trust their peers more than companies. This makes it difficult for marketers especially, who have little to no influence over everyday consumers. Luckily, there is a great method brands can use to tout their products with that peer-approved feel that sounds less disingenuous: encouraging and leveraging user-generated content.
What is user-generated content?
User-generated content (UGC) refers to the various forms of content produced by a user, social media follower, or fan of a business or brand rather than the actual brand itself. This content is typically provided for free by the user as a contribution from some sort of external web property.
UGC can include items like blog posts, online discussion forums, social media mentions, unboxing videos, written reviews, wikis, podcasts, or any other form of unpaid advertisement. This third-party content can live on your brand's web properties or on other non-branded sites.
How does user-generated content benefit online businesses?
Aside from the fact that companies that incorporate user-generated content into their sites see an 18% increase in revenue on average, users themselves look for it as a signal that they can trust the business. Here are a few specific benefits of user-generated content.
1. Creates a Direct Line to Customers
First (and most obviously), UGC gives you a direct line of contact with your actual happy customers who have used your products and created their own content. This builds your relationship with them specifically so that they'll feel compelled to create more user-generated content later—or even participate in any in-house campaigns you put together.
Having a few valuable customers that you keep in contact with is also a great way to ensure that you're always getting feedback on any changes that are occurring with your business. By giving them extra attention and treating them like VIPs of your business, you can even work toward turning them into brand ambassadors.
2. Contributes to Social Proof & Authenticity
Because of their distrust of companies and greater trust in peers, customers like to look for social proof indicators before making a purchase from a new company. Social proof consists of any evidence that other consumers have had a positive experience with the company or product—typically seen in customer reviews, influencer marketing, social media posts, etc.
Social proof helps companies appear more authentic, and authenticity is what modern consumers crave. UGC improves your authenticity because it shows real people engaging with your company, not just company-driven content. While company-driven content isn't bad, it's incomplete without showcasing your loyal followers too.
3. Strengthens Brand Awareness
Users who create their own content are likely to share it with their own networks as well, widening your brand's audience and allowing for more brand awareness. And by simply tagging them back, you can easily gain more direct access to their networks. Consider this post from shoe company Keds: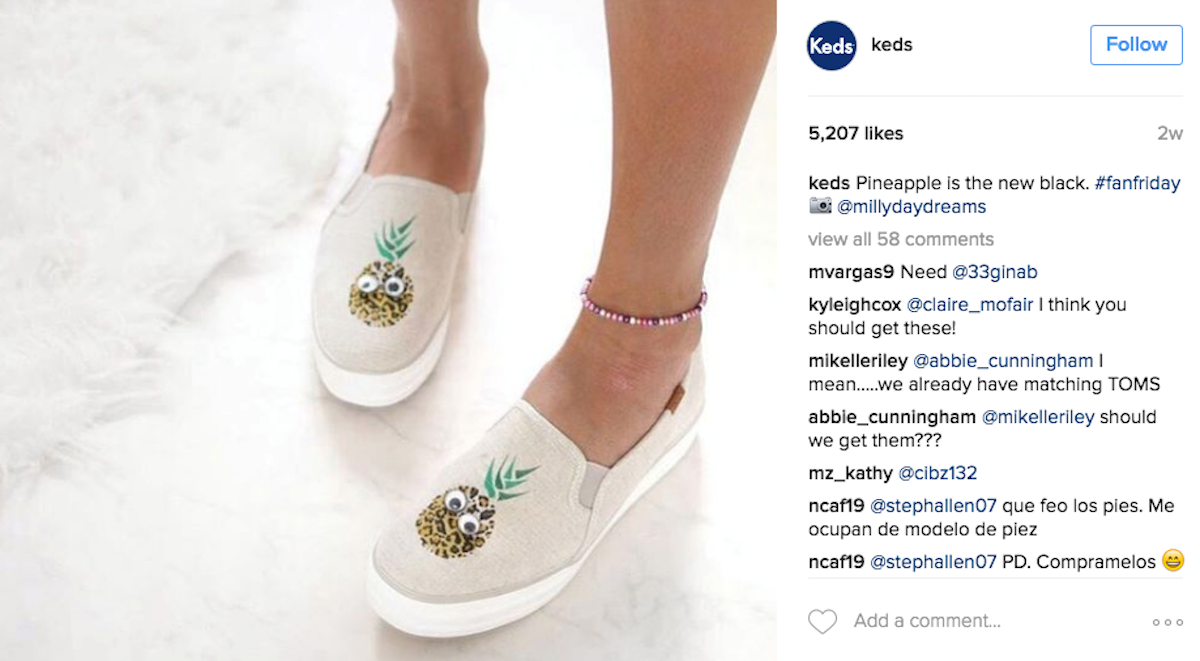 In this example, Keds uses the hashtag #fanfriday to share Instagram photos of their loyal customers tagging the brand in their own feed. Not only is this a great way to show appreciation for your customers, but you're also getting in front of the user's audience. The user mentioned here has an audience of more than 10,000—that's a huge amount of eyes on your brand that you wouldn't normally have received.
4. Diversifies Content & Increases SEO Value
From photo to video, user-generated content can come in many different formats that you can leverage on your landing pages, marketing materials, advertisements, and more. User-generated content can have a big impact on making your landing pages more vibrant and creative so that shoppers feel less inundated with marketing-speak.
You can even build up your SEO value by featuring UGC on places like your brand's social media pages. The more shared content, search visibility, targeted keywords, and links coming to your site, the more likely you are to see higher organic traffic. Content from other sources pointing back to your site gives search engines more to index and associate with your brand.
5. Boosts Engagement
The majority of a brand's engagement occurs on social media. Unfortunately, social media engagement (in terms of likes and shares) has decreased immensely over the past few years with no sign of slowing down. As the landscape becomes more "pay to play," driving organic, natural engagement is becoming harder than ever.
But one method is standing the test of time: sharing user-generated content on social media. UGC has a 6.9x higher engagement rate than brand-generated posts on social media. Not only does it boost engagement; focusing on user-generated content on social media also helps your brand produce tons of social posts without having to spend time and energy developing them yourself.
How can your business increase user-generated content?
Clearly, user-generated content can be a powerful tool for brands looking to improve multiple areas of their business. But getting customers to create content themselves can seem like a daunting task. Here are a few actions you can take to increase the amount of user-generated content available for your brand.
1. Send Feedback & Review Emails
One of the easiest ways to start a conversation with customers about your company and products is to ask them for feedback and/or reviews. Customers love feeling like their input is making a difference, so asking for it specifically makes them feel valued.
Start by sending out feedback and review emails at a specific point after a sale. This will get customers thinking about the positive experience they've had with your products so far. (And if they've had a negative experience, it will allow you to resolve the issue sooner rather than later.)
2. Hold Contests
Social media networks like Instagram are ideal for holding contests. Here, you can ask users to share your branded hashtag or tag you with their content relating to the contest—think back to the Keds example above, but incorporate a prize for getting featured. This is a simple and fun way to get more eyes on your brand and gives your new customers a chance to interact.
To get more user-generated content, you need to be proactive by creating opportunities for people to engage and in turn, boost customer experience. Before you hold a contest, make sure you check the social network's terms and regulations beforehand. And remember, it should be simple, fun, and pleasurable to share to other networks.
3. Repurpose What You Have
User-generated content comes in many formats, from Instagram posts tagging your brand products to videos on YouTube showcasing them in action. This type of content is often very high quality too. The beauty of it all is that you can repurpose UGC into almost any format.
Turn users' social photos tagging your brand into a slideshow or video, or turn their soundbites or audio testimonials into a podcast. Use user-generated content in your overall email marketing strategy by repurposing your blog posts with customer contributions, or by sharing social media posts in a snippet in your email newsletter.
The options are truly limitless when it comes to repurposing content and making user-generated content flow across various platforms. Repurposing content is one of the easiest ways to improve your content promotion process, one of the most underrated aspects of content marketing.
Final Thoughts
User-generated content is incredible social proof that you should be leveraging, but knowing how to use well it is critical. Start by re-sharing it on social media—this will appeal to your current followers by re-sharing their content and will serve as positive social proof for new followers. Using UGC on landing pages will also improve time on site, SEO, and social signals. Finally, start repurposing fan-made content into multiple formats that you can use on all of your platforms.