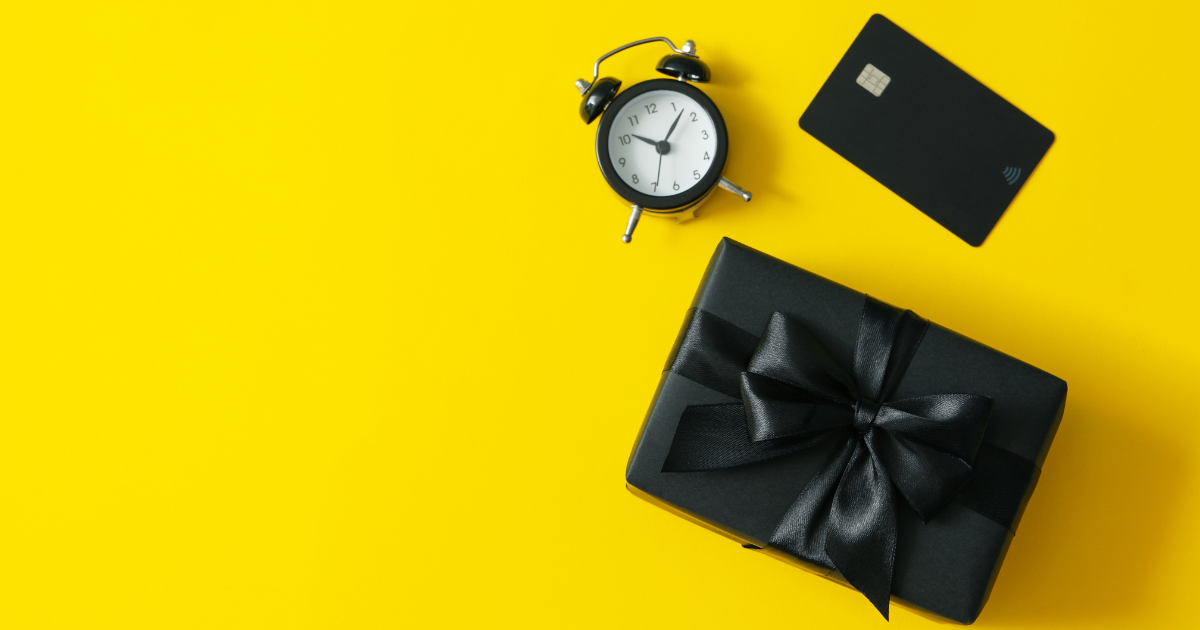 The biggest shopping weekend of the year is almost here, which means it's time for ecommerce businesses to prepare for increased traffic and—hopefully—sales. 2023's lineup sees Black Friday falling on November 24th, with Small Business Saturday taking place on November 25th and Cyber Monday following on November 27th.
Recent online shopping growth trends—combined with a years-long upward trajectory in Black Friday ecommerce activity—means that online sales this holiday sales weekend are bound to shatter records. Online store owners can maximize their profits by planning their sales strategy in advance, however, when it comes down to the wire, implementing last minute strategies before the big shopping weekend can prove to be beneficial as well. Below, we walk through four last minute tips to ensure that your ecommerce business enjoys a successful Black Friday and Cyber Monday.
1. Plan Sales & Discounts Strategically
While it's tempting to implement blanket discounts at high rates to attract as many shoppers as possible, it's far more advantageous to plan your discounts with purpose. Consider setting up a separate discount strategy for each of these holidays to differentiate them from one another. For example, Black Friday could feature hourly discount codes valid for the first 10 buyers, Saturday could feature bundled discounts, and Cyber Monday could feature tiered discounts based on the dollar amount spent. You could also offer a separate perk available across the entire sales weekend to unify it, such as free shipping over a certain dollar amount.
Offering a variety of discount types spaced across the entire weekend will bring shoppers back again and again as they become excited about the variety of savings opportunities. It will also give you an opportunity to analyze each sales strategy's effectiveness separately so you can easily see which types of sales should be reused in the future, and which should be retired or reworked.
2. Obtain Marketing Email Permissions
The more qualified visitors you can attract to your website leading up to Black Friday, the larger the audience you can target with your customized Black Friday and Cyber Monday content during peak times.
The increased traffic to your site, driven by people searching for the best deals, inevitably leads to a higher number of abandoned shopping carts. Securing permission to market to these potential customers in advance, through incentivized sign-ups on your website and social media platforms, positions you to recover abandoned sales. This involves using targeted emails to encourage those who left items in their carts to return to your site.
All it takes is offering them a compelling reason to provide their email address, making them reachable throughout the Black Friday period. You can entice sign-ups by offering valuable giveaways, trial subscriptions, exclusive content, and more. These serve as lead magnets that users receive in exchange for their email address and consent to receive marketing emails.
3. Notify Shoppers That You're Participating
Holding a sales event is a futile endeavor if shoppers aren't aware that it's happening. Make sure you announce that you are participating in these sales events across as many of your available channels as possible. Social media campaigns and email campaigns are the easiest ways to get information about your sales out to fans and existing customers.
To attract online shoppers who aren't already familiar with your store, ramp up your SEO strategy and implement pay-per click ads in the weeks preceding the sales. As a final touch, place a countdown widget on your online store so that site visitors who happen upon it leading up to the holiday weekend have an incentive to return.
4. Tell Customers What To Buy
While some shoppers prefer to search an online store for an item they already have in mind, others will want suggestions for what to purchase during your sales event. To help them hone in on the perfect products, create a Gift Guide ahead of time that highlights items that are among your most popular, seem most relevant to the season, or will be featured in your sales.
Additionally, if you don't have it set up already, create a prominent "Suggested Items" category or carousel in your online store that includes the types of products mentioned above. This will give site visitors who have not previously viewed your Gift Guide a pool of relevant products to choose from, and will help site visitors who have already viewed your Gift Guide find featured items more quickly.
In Conclusion
By taking the time to implement these last minute strategies, your store has a greater chance of exceeding your sales holiday goals. Happy selling!