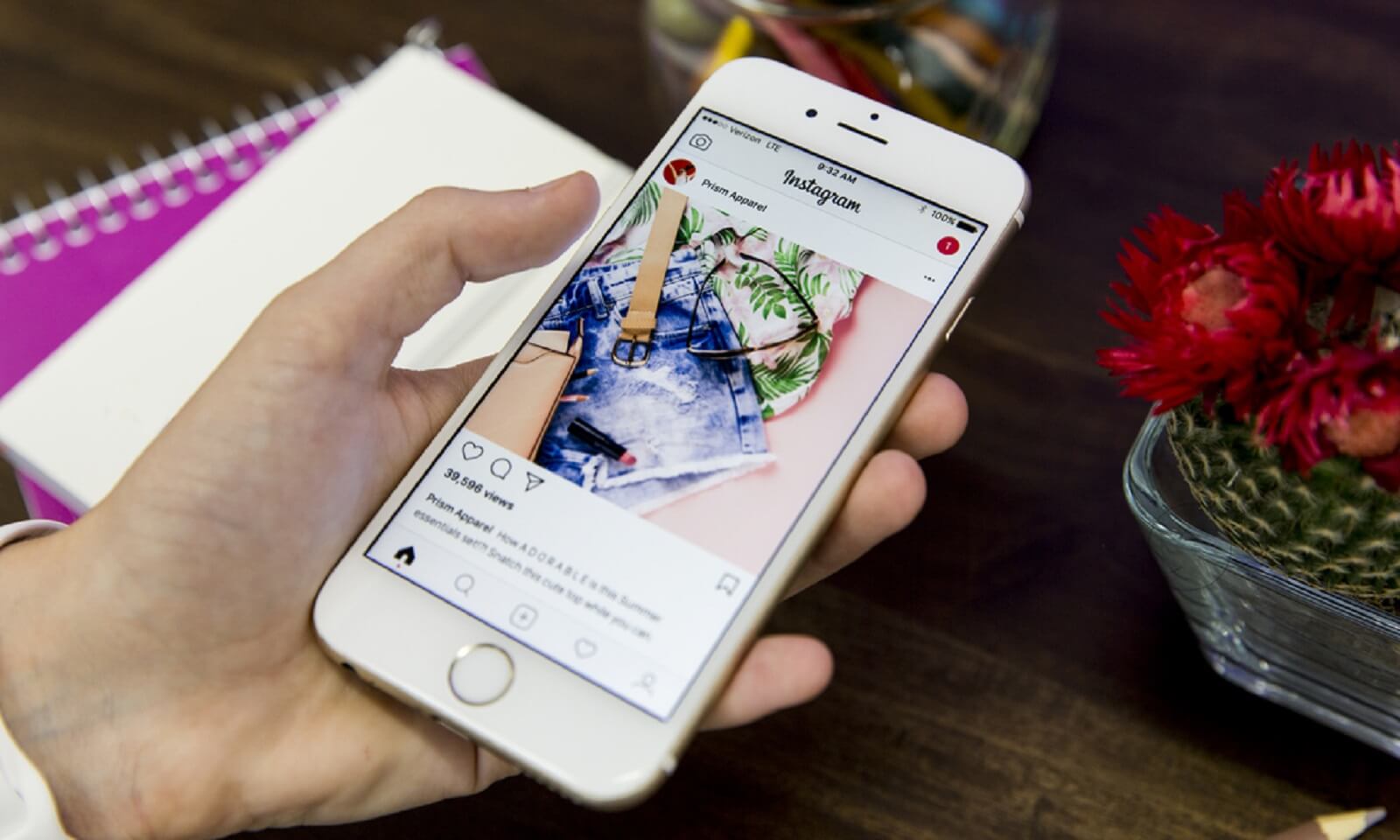 Selling your products on your website is no longer the only way to turn a profit. With the ever growing popularity of social commerce, there have never been more ways to sell online and promote your brand. With over 700 million users, Instagram is quickly becoming the social commerce powerhouse. About 80 percent of Instagrammers follow a business on Instagram and 60 percent say they use it to discover new products. Because of this, more brands are beginning to promote and sell their products on and the social network.
While these stats are enough for any business owner to jump up and start creating an Instagram account, it's important to consider your audience. Instagram will not necessarily work for every business. Because this network places a big focus on aesthetics and photos, it makes sense that the industries that do well tend to be more visual. For instance, a business selling athleisure gear has a higher chance of success than, say, someone selling networking cables.
Not sure if your business has a chance to sell on Instagram? We generally recommend that merchants in the following industries will see the most success: Apparel and Beauty, Home Goods,Outdoor and Sporting Goods, Auto, and Food and Beverages.
So, how do you begin to start selling products on Instagram? Let's dive into our 10 important tips!
Make sure you have a business account. Instagram Business accounts provide more information about your brand, as well as an analytics tool to measure your success.

Post high quality photos and videos. Instagram is highly visual, so having professional-looking product photos is key for gaining followers and increasing engagement.

Focus on storytelling to boost engagement. People follow brands on Instagram for three reasons: They post great photos, they support an interesting cause or they tell stories that people can relate to. Real time marketing and social story telling is what gets people engaging and talking about your brand.

Utilize user generated content. Both Millennials and Gen X shoppers prefer to make purchases based on what their friends already endorse, especially on Instagram. They are more likely to trust a brand if they see real consumers using the products in real life. Utilizing user photos in ads and on Instagram adds credibility to your brand, which, in turn, increases awareness and boosts conversions.

Create compelling Instagram ads. Take all those great user generated photos and use them in your ads! West Elm started using user generated content in their ads and found that people converted at a rate 3x greater than normal stock photos.

Rely on brand ambassadors and influencers to spread awareness. Let the people who already love your product do the selling on the ground floor. Partner with Instagram influencers or bloggers with large followings to promote your products and stretch your reach even further. Like we said before, most consumers believe that content posted by other consumers are more honest than super branded content.

Converse with customers. Retain current customers by featuring their photos on your profile or commenting on their posts. Establishing a relationship with your customers will keep them coming back to buy more!

Find new customers through hashtag discovery. Along with paid advertising, you can also find new customers through hashtag mining. Check out relevant hashtags and look for users also posting content with those tags. Give them a follow and try striking up a conversation. This will help more potential customers discover your brand organically.

Update your profile link often. Make sure your profile link reflects your current sales or products you want to promote.

Offer special discounts for Instagram followers. Shoppers like to feel special. Offering a small discount to a group of shoppers on a single network will enforce brand loyalty and prompt sales.
Sell More With Instagram Stories
Instagram Stories are not only a great way to showcase what's going on behind-the-scenes of your business, they are also an excellent tool that can help spur interest by giving customers a sneak peek at new products, giveaways or sales. Teasing these promotions in your Stories can be extremely beneficial and prompt users to keep coming back to check for updates. Because Stories prominently sit at the top of the Instagram Feed, they're also easily noticeable. Stories also the perfect way to post time-sensitive content that you may not want living on your profile.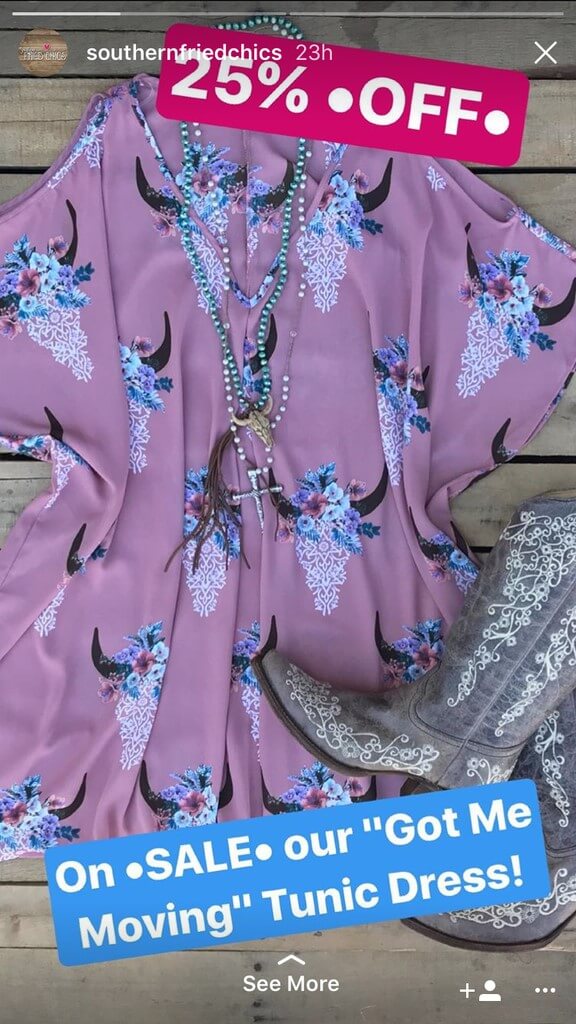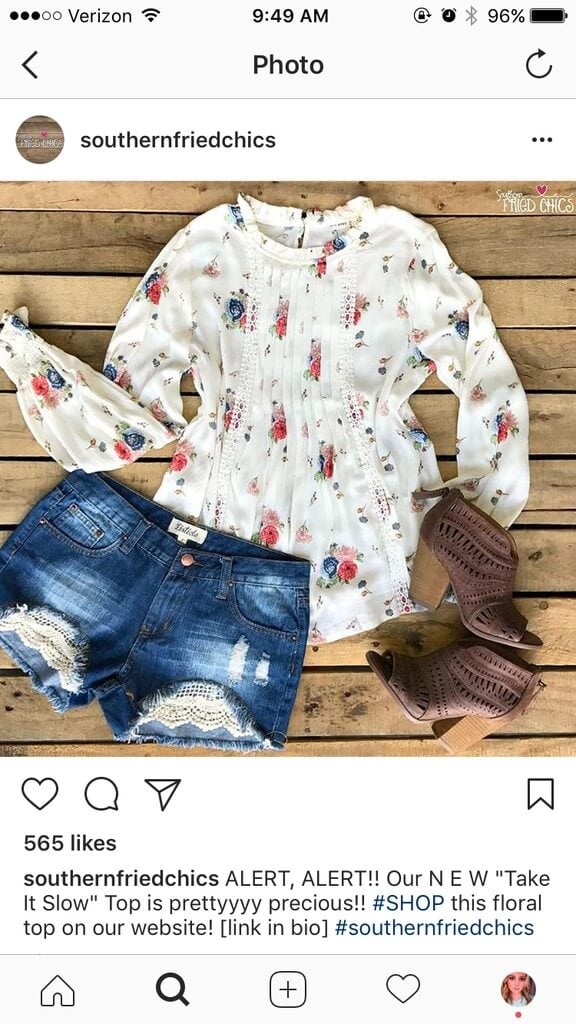 Take a look at our example above from Southern Fried Chics! They used their Instagram Story to tease a flash sale for one of their dresses. In doing this, they were able to get in front of their audience and lead followers back to their site by including a link in the story. Instagram has been testing a few different features to help brand content stand out more. One of their most recent updates included rolling out the ability to add links to Stories. Unfortunately, this feature is not available for all brand accounts yet. Currently, you have to have a verified account OR have over 10k Instagram followers to use the link feature. But don't fret, I'm sure it won't be long before it's introduced to ALL brand profiles.
If you're just starting out and you don't have over 10k Instagram fans just yet, you can still create a seamless experience for shoppers by utilizing other tools, such as LiketoKnow.it, Like2Buy or Yotpo's shoppable Instagram solution. Both of these options allow brands to create an easy shopping experience outside the app that then redirects people back to their ecommerce site.
Again, take a look at our second example above. The post on the right includes a complete look, which provides much-needed context and visualization for shoppers. Whether a shopper likes one item from this post or multiple, Southern Fried Chics makes it easy to shop this particular look by directing people to click the link in their bio. While placing your domain URL in the bio may suffice in some cases, it's best to avoid purchasing barriers like forcing shoppers to search for each item on their own. Instead, LiketoKnow.it and Like2Buy both lead shoppers to a gallery filled with your Instagram posts that link back to your products, providing a simple purchasing experience.
Instagram Testing Shopping Feature
Though there are plenty of tools that you can help to grow revenue and increase sales from Instagram, the platform is also testing its own shopping feature. Last November, the network started testing a new experience that would allow brands to tag products within posts and direct shoppers to the product page. So far right now, this feature is only available to a few select brands, such as Kate Spade. However, in an announcement on their blog, Instagram said it would be rolling out shopping features to "thousands of businesses that sell apparel, jewelry or beauty products in the coming weeks." Again, make sure you have an Instagram Business account to be notified when this feature becomes available!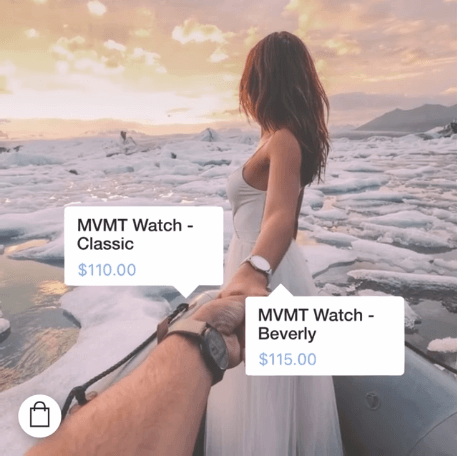 **Have you had success selling your products on Instagram? Tell us what strategies worked for you and be sure to give Volusion a follow! **