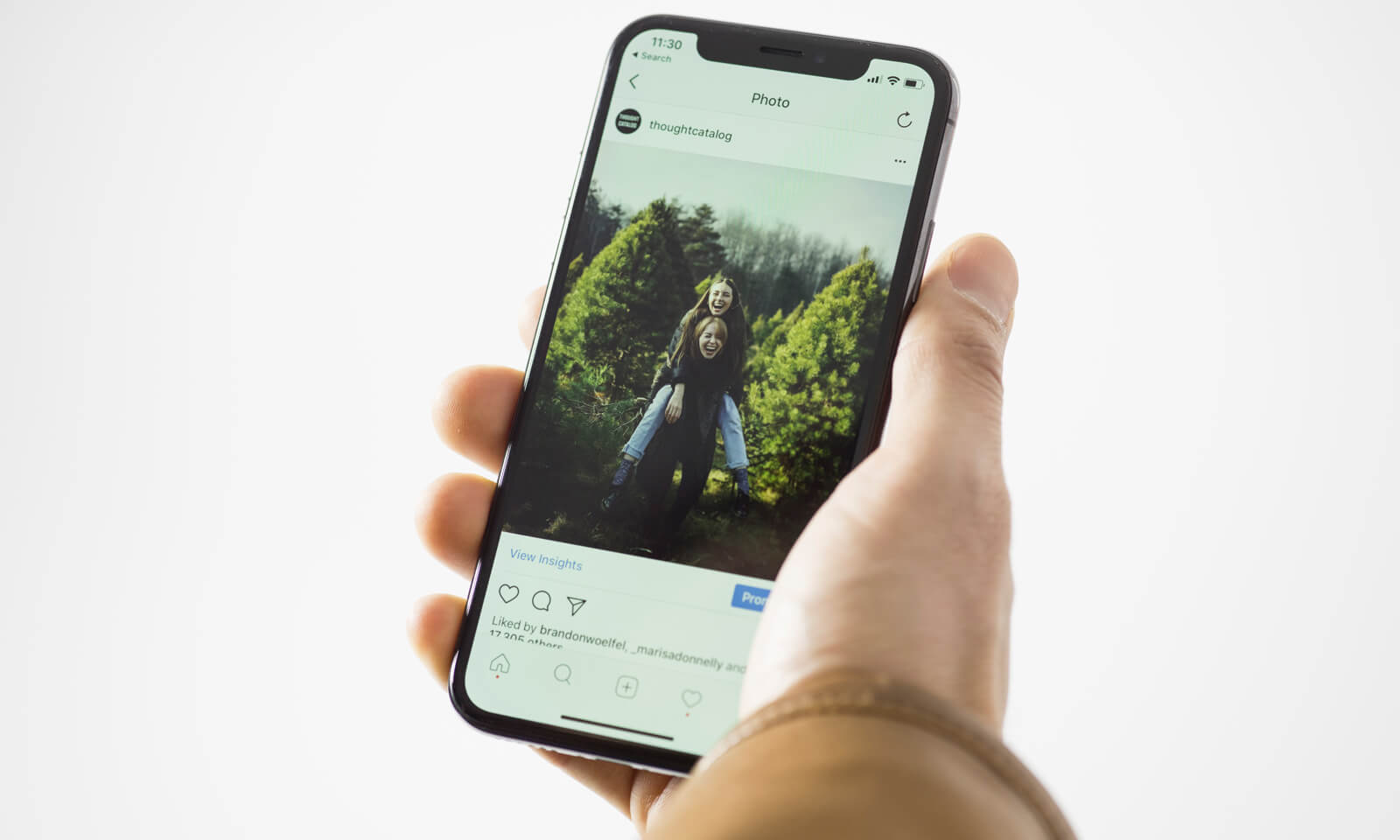 If you're an ecommerce business and you're neglecting to work Instagram into your overall strategy, then you're missing out on a huge opportunity. The visual sharing platform's growth statistics alone are incredible, especially compared to the slowing or faltering kings of social media. In fact, Instagram just hit its one billion user milestone this past summer — and based on the way it's trending, the growth isn't showing any signs of stopping.
Aside from the numbers, however, Instagram has developed a culture and following that is distinct from any other social media platform. For one thing, it's still (comparatively) immune to clickbait, perhaps because its algorithm leans more on "likes" than "shares" (when it comes to audience behavior, there's a huge difference! We'll get into that in a bit). For another, it's unique in the social media world for being a highly visual platform where content still matters. Unlike Facebook, it can't lean on content alone; but unlike Pinterest, it allows users to tell and participate in substantial stories. To call it a visual platform is selling it short; this is a meaningful hybrid platform, one where the photos capture attention but the captions keep people invested.
For ecommerce shops that are a good fit for Instagram, there's a huge opportunity to meet a new audience.
That means it pulls in a different audience from the other social media platforms, which have different goals and behaviors. So, for ecommerce shops that are a good fit for Instagram, there's a huge opportunity to meet a new audience and participate in their community in a way that resonates with both them and your brand.
This guide is for ecommerce store owners (or prospective ones) who are hoping to use Instagram to boost their brand and generate sales. If you're hoping to make money using Instagram as an influencer or content producer, this guide isn't tailored for you, but the best practices, content suggestions and branding advice will be largely applicable to you as you develop your own personal "brand." Plus, understanding where the businesses you're working with are coming from, and what they're looking for when they assess their prospective influencers, will be helpful in shaping the highlights you communicate to your partners. So, stick around! The water is great over here.
Is Instagram Right for Your Business?
Before we get into the "How," let's explore whether Instagram is the right option for your business. Remember that success on any social media platform requires a sizeable investment: of time, first and foremost, and usually money (and if you're following the "time is money" mantra, then it always takes money). So, that means it's okay to ask critical questions about whether investing in this or any social media strategy is the right fit for your ecommerce business.
Here are some questions that will help you determine the fit:
Are my products highly visual and consumer-friendly?
Although Instagram does excel with hybrid content (visual photos accompanied by great copy), it's first and foremost a visual platform. Before Instagram ever became the branding powerhouse that it is now, it was a photo-sharing platform; and in adherence to the original spirit of the app, its users want to see photos. So it's not surprising that the brands that do best on Instagram are extremely consumer-friendly: fashion, beauty, food, home decor, travel, and artisanal or handmade shops can all clean up on Instagram.
A little creative thinking can make a brand shine even when we wouldn't instantly think of its products as highly visual.
That said, consumer-friendly products that are poorly-photographed won't win you any love; and a little creative thinking can make a brand shine even when we wouldn't instantly think of its products as highly visual. Let's take Coke, for example. How many fun photographs could you possibly take of a glass or can of Coke? Well, when you decide to focus on the people who drink Coke instead of the Coke itself, a whole lot. Coca-Cola's Instagram page showcases the diversity of its audience while cultivating a lifestyle that seems joyful and free-spirited. And it's working, to the tune of 2.5 million Instagram followers. So, the more important question is this next one:
Can I produce a lot of visually-appealing content?
Think realistically about your ability to produce simple, powerful imagery that tells a compelling story. Do you have access to the right tools, photographs and user-generated content to do this? If you're not showcasing your products, do you have the ability to create a lifestyle or brand identity that isn't too big of a reach? If not, a different platform might be a better fit for your business.
Does my audience overlap with Instagram's?
Here's a snapshot of Instagram's user base as of July 2018. Note that the majority of users are between the ages of 18 and 34, meaning Millennials make up the brunt of their audience. Are Millennials a significant part of your own target audience? Then Instagram might be a great fit. Gen-Xers have enough of a presence on the platform to make an Instagram strategy work, but once you get to Boomers, you're looking at a very thin slice of market share.
Note, too, that within the Millennial base, the numbers actually skew slightly male. This doesn't mean Millennial women aren't a valuable demographic on the platform; it just runs counter to a lot of conventional wisdom about who social media users are. For all intents and purposes, the two genders are on the platform in equal numbers — so you don't get to use either one as a reason to rule out Instagram!
Is my competition using Instagram?
Although this one isn't a hard and fast rule, it can be a handy litmus test. If your competitors are using Instagram, there's probably a reason they're putting effort into the strategy. If they're not, it might mean you shouldn't either, but it might also mean you have an opportunity to sneak into a space where the competition is sparse.
If you're not spending enough time to develop and run a strategy, then any time you do spend on it is essentially wasted.
Do I have the time to manage an Instagram strategy?
Finally, one of the most important questions: do you actually have the time and/or resources to develop this strategy enough to see results? If you're paying a freelance social media specialist, do you really think that one hour per month is enough to budget for? And if you're not paying a specialist and you can only budget one hour per month of your own time, is that likely to produce any ROI? Probably not. If you're not spending enough time to develop and run a strategy, then any time you do spend on it is essentially wasted. At that point, it would be better to invest that time into a revenue stream you're developing more thoroughly.
The Basics
If your business passed the test, then welcome to mastering the basics of Instagram!
First, if you haven't set up a personal account on Instagram yet, do so immediately — and use it. This isn't so you can cross-promote your business account; it's so you can actually develop an understanding of how people use the platform and what type of content they're interested in. The intuition that develops through personal use is worth a million "how to's!"

Next, familiarize yourself with Instagram for business. This video will get you off to a great start. Got it? Good. It's time to set your business account up on Instagram!
Optimizing Your Business Profile
There are a wealth of Instagram best practices that can guide you toward success within the space, and that starts the moment you choose a handle and optimize your profile. Let's run through some best practices to consider during the setup phase:
Your Handle
Hopefully, this one will be easy for you. Your handle should be your shop name, and it should stay consistent in as many places as possible, from your website URL to your YouTube page. When you choose a name for your business, it's always important to check on its trademark status and cruise through social media accounts to see if the handles are taken.
If your business name is taken, the safest bet is to avoid confusion by getting as close as you can.
If your business name is taken, the safest bet is to avoid confusion by getting as close as you can, using your business name and adding "Shop" or another modifier onto the end. Depending on what you sell, this could include "Bakery," "Workshop," "Sundries," "Bath and Body," "Decor…" the sky's the limit! Well, 30 characters is the actual limit.
Other best practices when you're picking a handle: if you're using multiple words, make sure that the words are recognizable as separate words even when they're mashed together, and that they don't combine to create an accidental new word. At worst, this can result in a lot of embarrassment — a company named Pen Island would have a pretty tough time with their handle — but it's much more common to just confuse people a little by warping what they expect to read (for example, "that's unthinkable" would read as "that sun thinkable" if you mashed the words together).
Your Business Description/Bio
Your business bio can include up to 150 characters. That's one to three sentences, tops. It's an important way to let people know who you are and to get them intrigued, so make it count! Because you don't have a lot of room, aim for clarity first and foremost, then punch it up with marketing-savvy language that your brand would use. At minimum, include:
Who you are and what you do
A call to action and a link to your website
Your bio is the only section on Instagram where clickable links are allowed, so taking advantage of the opportunity is a "must." Your website URL itself is probably the best option, but for businesses who will be frequently changing their destination link, a bit.ly link also works great. Bit.ly links allow you to change the destination behind the scenes while keeping the link on your bio consistent.
You can also play with creating a specific offer to add some extra "oomph" to your CTA. And emojis (within reason reason) work well in this section, too!
Finally, use the profile picture option as a way to showcase your brand logo, making sure that the image is high-quality and optimized for the platform.
When To Post
Once your business profile is set up and optimized, it's time to get started! Before we cover the all-important "what to post," let's get some logistics out of the way first: when should you post, and how often?
As a general rule of thumb, people use Instagram more often during the weekends.
There aren't any hard-and-fast rules about this one, although a lot of analysis has been done into the times when people are most active on Instagram. As a general rule of thumb, people use Instagram more often during the weekends, so that's a good starting point if you're looking for engagement. That said, it's not uncommon for people to use social media while they're taking a break at work; and depending on the job, many people are actually on social media more often during the week days, using the weekends as their time to "unplug." The best thing you can do at the beginning is test out several days and times, making note of which ones are getting more engagement.
Posting Frequency
How much posting is too much posting? On Instagram, because of the volume of content that people follow and the swiftness with which low-engagement content gets deprioritized, the bar for "too much" is pretty high. In fact, frequency is strongly correlated with engagement, meaning the more often you post, the more engagement you'll see.
Posting frequency is also correlated with a faster growth of followers, as this chart from Tailwind tidily shows: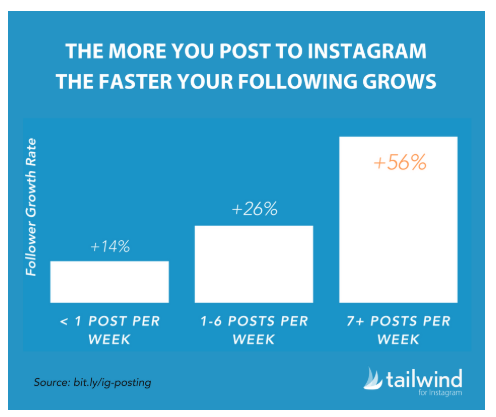 Notice, though, that it only takes one post per day to see significant gains. One post daily is an excellent goal to start with, and then you can experiment and refine from there as you grow your audience. Additionally, be sure to try and post your content at optimal times.
What To Post
Now for the heart of the Instagram strategy: the content that you'll share. It's important not to think of Instagram as a visual platform, but as a visually-driven content platform. It's the combination of imagery, words and engagement that create a successful Instagram campaign. As you're developing overarching content ideas for your Instagram posts (we'll tackle photos and captions individually), consider the following:
The stories you tell should be visually-driven. If you have a fantastic story but can't think of an attention-grabbing image to accompany it, your content won't do well on Instagram. Fortunately, great stories and great imagery usually go hand-in-hand, as long as you're willing to think creatively.

Focus on originality. An average-quality candid is worth more than a high-quality stock photo. The Instagram audience doesn't care about whether an image is professional; they just want it to be interesting. That said, do follow photography best practices whenever possible.
The Instagram audience doesn't care about whether an image is professional; they just want it to be interesting.
Consider a theme. It can help with your brand identity and content ideas if you think about the themes that you want your content to embody. It doesn't have to be complicated; this will just provide some continuity and direction. Returning to the Coke example, one of their themes is the simple and effective, "People who drink Coke."

Remember the 80/20 rule. Because ecommerce stores have a wealth of relevant, available content in the form of high-quality product photos, it's tempting to bombard people with promotions and pictures of your products. Unfortunately, your audience won't find a steady diet of product photos and promotional material very interesting. That's why many social media strategists stick to the 80/20 rule: for every promotional post you create, you should have four posts that don't directly promote your products. This doesn't mean you can't talk about your company or explore themes that are related to what you sell, though!

Show what's happening behind the scenes. People love to see the human side of businesses. A great way to keep the focus on your business without veering into promotional territory is to give people a glimpse into what it's like to run your business! From action shots of your employees to how you make your products to your favorite office pets, behind-the-scenes windows are always a great way to connect to people.
Content all comes back to one thing: knowing your customers.
Understand your customers. There are many different forms that successful Instagram content can take, and it all comes back to one thing: knowing your customers. What kind of content do they relate to? What do they want to see and read? Knowing your customer creates a sense of trust between the two of you that boosts your success on social media.

Respond to viral stories or use current memes (if brand-appropriate). Engage with what's happening today. People don't want to feel like someone just wrote a bunch of posts in advance and put it on an automatic schedule. It's perfectly fine to do that to create consistency and efficiency, but that doesn't mean you get to drop off of Instagram until it's time to schedule the next batch. Show your customers that you're there, observing and listening.

Run contests. This is a great way to boost engagement! Have your customers submit their own photos of a product or interpretations of a theme in exchange for a prize, making sure to hashtag it with a contest/brand hashtag you'll create.
Every contest entry is another piece of user-generated content!
Leverage user-generated content. This is another great reason to run a contest; every entry is another piece of user-generated content! However, many brands successfully leverage user-generated content without running contests. If people enjoy taking photos with your brand, you're in a great position to re-use those photos (ask for permission, of course).
Picture-Perfect Imagery
Armed with your content strategy, you should have a much easier time creating and wrangling imagery. As you do so, keep the following best practices in mind:
Quality: Instagram doesn't show content chronologically anymore; instead, it favors posts with high popularity and engagement. That means you can't expect to be seen if you're using imagery that isn't interesting to people, and it's pretty hard to feel compelled by a blurry or grainy photo. Make sure that all of your images are the appropriate resolution for the platform. Not sure where to start? Use Picodash to discover influencers and understand what type of imagery performs the best.
We recommend avoiding filters at least when you're showing product photos.
Filters: To use a filter or not to use one? It depends on who your audience is. We recommend avoiding filters at least when you're showing product photos, because you want to depict the color and contrast of your products as clearly and accurately as possible. If you do opt to use filters, consider first this Canva study on America's favorite (and least favorite) Instagram filters.

Photos vs graphics: Again, this is brand-dependent. Both can perform well on Instagram, but steer clear of "lazy" graphics like templated illustrations and generic inspirational quotes. Sometimes photos can work best for brands simply because it forces them to get out and actively engage in the content creation process.
Captions
No picture is complete without its other half: the caption. This 2,000-character piece of real estate is where you share your brand voice and tell your story. Keep the following guidelines in mind.
Length: Depending on your brand and audience, the best practices for post length can really run the gamut. A study from Sprout Social reveals that 138 to 150 characters is the magic number for your captions, and ad captions clock in slightly lower at 125 characters.
You get 2,000 words to tell the story of your photo in a way that speaks to your audience.
Content: For topic ideas, the rules we covered above apply. You get 2,000 words to tell the story of your photo in a way that speaks to your audience. Emojis, used sparingly, can be a great visual addition. It's also a great idea to ask questions or add a CTA to captions, to engage your audience. Invite your audience into the conversation; don't just talk at them.
Hashtags
You'll be using hashtags on your posts to "tag" them by subject; when a user clicks on a given hashtag, they'll find all of the posts tagged with the same hashtag. Best practices are going to be a lot easier to follow if you just forget what you know about hashtags for a second (that's how people get found, right? More is better, right?) and go back to the beginning, starting with why the hashtag exists.
The hashtag wasn't created for brands or self-promotion; it was organizational. It was a way for strangers to group themselves around the topics they enjoy, and to introduce you to all of them if you enjoy that topic, too. If I'm really into red pandas, I'll click on the #redpanda hashtag on one photo (or search for it) and will be transported to an adorable world full of hundreds of different photos taken by hundreds of different people, all tagged with #redpanda. That's useful!
Now think about people who want to stay up to date on breaking news or see the reactions to a particular meme, so they click on those hashtags. Also useful! What if they want to see how other people are wearing a particular brand or product, so they click on a brand hashtag? Or they want to see contest entries, so they click on a contest hashtag? Still useful! Now, what if they're looking for red pandas so they click on #redpanda and get to a plain red t-shirt from your brand? Not useful. And if it's not useful they won't engage with it, which means Instagram's algorithm will cotton on and stop promoting your picture for that hashtag.
You can't just tag your posts with anything because you want to "be found".
So, the main thing to know is that you can't just tag your posts with anything because you want to "be found"; you need to feel confident that your picture is a useful representation of that hashtag.
More specific best practices include:
Keep your number of hashtags between 5 and 10 (leaning toward 5), because while it's possible to add 20+ hashtags, it looks spammy to both people and algorithms.

Create your own dedicated brand hashtag, and use it consistently.

Do some research and find popular hashtags in your niche so you can tailor content to those, while keeping in mind that if it's too broad or popular, you might get lost in the noise.

Be mindful of context; sometimes your use of a word doesn't match the average user intent for the word. For example, you might call your products "naked" because they're packaging-free, but if you use #naked as a hashtag, you're going to put your brand in front of an audience that isn't searching for eco-friendliness. You could, however, take a recycled page out of Lush's book and create a viral packaging-free campaign around a hashtag like #gonaked.

Another common mistake is breaking up a hashtag to the point where it's too broad or nonsensical. For example, you could tag your red panda picture #redpanda and then, just for good measure, add the tags #red and #panda. Red is way too broad to get you anywhere, and #panda is better but not ideal, since when most people think "panda" they're thinking about the giant panda (the fluffy black-and-white kind).
Videos and Stories
Once you get a handle (see what we did there?) on basic content, you may choose to up your game with videos and Stories. Instagram lets you post videos of up to 60 seconds, and a Newswhip study reveals that videos spark a higher number of comments and engagement than photos. Your videos don't need to be the quality of a professional commercial, but they do need to have a purpose and tell a story.
There's also the Stories feature, which is Instagram's answer to Snapchat. These appear in the user's feed like a video/photo playlist, but they disappear after 24 hours. The novelty and transience appeals to some audiences, especially the people who also love Snapchat. Using the Stories feature can be trickier for brands given that they want to make their content as "sticky" as possible, but many brands can and do use it successfully. Photo slideshows with text overlays are a great start.
Stories are especially perfect for those times when you have a lot of photos you love, but you don't want to fatigue your audience on the topic.
Stories are especially perfect for those times when you have a lot of photos you love, but you don't want to fatigue your audience on the topic. For example, a company Christmas party featuring photos of employees would be a great use of the Stories feature, whereas in your feed itself you'd probably want to focus on just posting a few of the best shots. While Instagram does allow for multi-photo "swipe through" posts, it isn't a photo album; people self-edit and curate their content and only post the highlights. So whenever you need a photo album, the Stories feature is one solution. Stories are also great for time-sensitive, one-day-only promotions.
Growing Your Audience
Best practices and great content can take you a long way, but at the end of the day, you still need to grow an audience that converts if you're hoping to make money using Instagram. Once you get your strategy lined up, start finding your first followers by promoting your Instagram account to existing customers and — more importantly — following and interacting with people who fit into your target audience. You can find them through hashtags, keyword searches, other accounts they follow, or their other social media profiles. The key is to interact; don't just follow and "like." Participate in the conversations that are important to your niche audience.
You can also use geotagging and the "location" feature to tag your posts so they can be found by a local audience. If you start to get stuck, paid ads are a good way to get over the plateaus, especially those early plateaus: it's hard to get an audience engaged when you don't have an audience, so you can smooth over the growing pains with ads that your target audience will see.
Showing your audience that you're really hearing them is the best way to keep them motivated to interact.
When someone does comment on one of your posts, don't leave those comments unaddressed! If your post asks a question, for example, and someone answers it thoughtfully, you don't get to check off your "engagement points" box and call the conversation over. Respond to what they said. Showing your audience that you're really hearing them is the best way to keep them motivated to interact. Think of it as a friendship, with ongoing responsibilities that occasionally change over time.
Influencers
Finally, one of the best ways to turbo-charge your reach on Instagram is to reach out to influencers. We used to use "influencer" in the informal sense — someone who has a huge following and a lot of influence — but over time, influencing has evolved into its own industry. An influencer will provide personalized content about your products or brand in exchange for - depending on their reach and yours - everything from free products to an exchange in shoutouts to hundreds of dollars per post. Influencers work hard at what they do, and for many, it's a full-time job. As such, there are certain rules to follow that will keep people on both sides of the bargain happy.
Just because an influencer has tons of followers doesn't mean their audience is the same as yours.
First, just because an influencer has tons of followers doesn't mean their audience is the same as yours. Make sure to find the ones who have influence within your niche by doing a little research via hashtags, Instagram searches, and good ol' Google. When you're evaluating prospective Influencers, don't just look at their number of followers, which can be bought; look at their level and quality of engagement. A true influencer with have a healthy amount of conversation happening on most of their posts - this is more than just an automated "Love it!" - and they'll be actively engaged in the conversation. Once you find a fit, reach out to them and ask if they'd be interested in sharing your product with their followers.
At that point, they'll let you know what their terms are. If your brand has a huge following as well, they may be interested in doing an "exchange:" you give their brand a shout-out; they give yours one. More likely, they'll probably have different rates for different types of sponsored posts. You could also create your own affiliate program that pays a certain commission for all conversions through the influencer's post, but keep in mind you'll have to do a lot of legwork on your end to find people who will give the affiliate program a try.
Typically, paying for a sponsored post means the influencer will feature a product from your brand, say a little bit about why they like it, and then they'll tag you, add hashtags if applicable, and tell their audience how to find you.
When an influencer endorses your product, they've earned buyer trust for you.
If you go this route and your target influencer has over 5,000 followers with high engagement, don't balk at their pricing. You're literally buying the influence they have over an audience of prospective buyers, which makes this a very effective form of advertising. With traditional advertising, the burden is still on you to gain the audience's trust. When an influencer endorses your product, they've earned that trust for you.
Measuring Success
It's difficult to directly measure success on social media because you can never know the true extent of the revenue halo that awareness creates. So the number of followers, likes, referral visits and direct revenue is a great start, but they tell an incomplete story. Those are just the visible parts of the story. But how many people will see your post today and remember your brand a year from now when they need the product? It's harder to track that kind of stuff.
In many ways, then, engagement is the most accurate way to measure your brand's influence over your audience. If people are interacting with your posts and updates, that means they're compelled — and that's what you want, even if they don't buy something right away. If not, it doesn't matter how many followers you have; they're not going to be interested enough to convert. If you're seeing low engagement, don't worry! This fast-paced platform is built for experimenting and re-strategizing until you hit the sweet spot.
You'll want to measure the success of not just your own efforts but also your influencers' efforts on your behalf.
You'll want to measure the success of not just your own efforts but also your influencers' efforts on your behalf. Use the same metrics by which you measure your own posts, adjusting your "bar" as needed based on the amount you're spending. That way you can start to notice which type of people and posts resonate, so you can budget accordingly moving forward.
Good luck, have fun, and be authentic!
What questions do you have about selling on Instagram? Ask them in the comments!