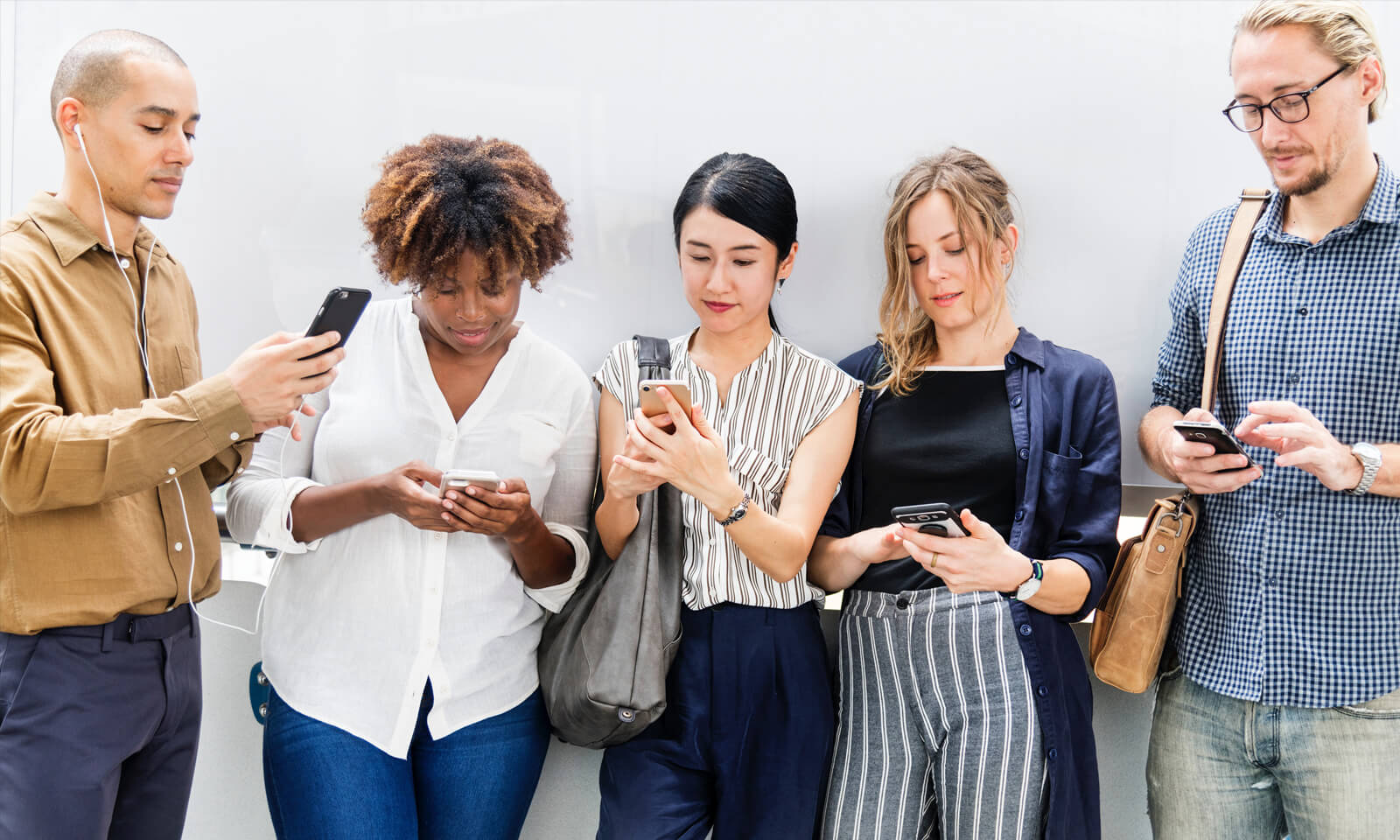 What are the best social media channels for my business? Should I even use social media for business? Yes. You should definitely consider using social media for your business.
Social media has given brands the power to learn on a first-hand basis about what is relevant to consumers, allowing them to build campaigns tailoring specific interests for relevant groups. It has also given brands the ability to build stronger and deeper connections with target groups, as they engage directly with audiences, and feedback can be received almost instantaneously. Most importantly, social media allows businesses to tell their brand story in a creative and innovate way. Whether it'd be through a fun campaign or rich content, social media has the capacity to allow your brand to be seen from an entirely different angle — thus, allowing your business the potential to acquire more target groups than ever before.
Here we have provided an easy guide, listing the top social media platforms to help you choose which social media channels are best for your business. As you are reading through these, keep in mind your particular target groups, industry, business type, budgets, and location.
Facebook
Facebook, launched in 2004, is by far the most powerful social media channel for business. With more than 1 billion users, Facebook allows users to connect with friends and family and to stay current on topics that matter to them. Within the last couple of years, Facebook has opened its doors to advertising, completely revolutionizing the way brands market to their customers. Unlike a lot of other platforms, Facebook advertising is very successful because it allows you to retarget based on their pixel.
Things you can do with Facebook for Business:
Connect and engage directly with your audience through business pages, messages, comments, and/or likes
Create your ads with precise targeting capabilities such as demographics, location, particular interests, behaviors, connections, existing customers (custom audiences), or lookalike audiences (similar to your custom audiences)
Strategize with creative ad formats and placements such as newsfeed, mobile, desktop, audience network, and Instagram
Optimize your ads with different objectives such as driving people to your website, conversions, local awareness, brand awareness, page likes, event responses, coupon claims, lead generation, and app installment
Advertise across multiple devices including mobile
Measure performance of ads through advanced analytics and metrics
Spend ad dollars at your own pace with flexible budgeting
Instagram
Instagram is the second fastest growing mobile application with an extremely powerful global presence. It launched eight years ago and currently houses more than 1 billion monthly active users. Being a company of Facebook, research suggests that 1 in every 5 minutes of mobile usage time is spent on both Facebook and Instagram. But even though they are the same company, their user groups differ quite drastically.
Instagram is a visual platform used for uploading beautiful and crafted photos and/or videos. People use Instagram on a more personal level for visual inspiration and personal discovery. About 47% of the content featured in user newsfeeds is from people they do not know, which is a huge opportunity for brands. Instagram has given businesses the ability to portray their brand under a whole different light and more as a lifestyle concept, allowing target groups to focus on brands that otherwise would have never even considered. It is a great space for businesses to create brand awareness by crafting their brand story and portraying it in a highly unique and creative way. Another nice thing about Instagram is that you do not have to create a profile to advertise through it, you can also simply do it through Facebook.
Things you can do with Instagram for Business:
Drive high levels of brand awareness with creative ad formats such as compelling photos, videos, and carousel
Connect and engage directly with your audience through official Instagram profile- e.g. messages, follows, comments, and/or likes
Use all of the same targeting capabilities mentioned for Facebook since advertising is done through there
Optimize your ads with different objectives and action buttons such as driving people to your website, conversions, mass brand awareness, mobile app engagement and installs, reach and frequency, and post engagement
Measure performance of ads through data available on Facebook (Facebook has promised users that in a couple of months it will feature advanced analytics and metrics uniquely for Instagram)
Use in conjunction with Facebook to have unified management and an expanded audience set
Spend ad dollars at your own pace with flexible budgeting also available through Facebook advertising
Twitter
Twitter, launched in 2006, has approximately 300 million users. It is more commonly recognized as the "chatterbox" or the "modern newsroom" of social media. People use it to share their thoughts and opinions, as well as to learn about current updates or happenings around the world from direct sources. Businesses and even governments have taken advantage of this functionality to connect with target groups and build stronger and more reliable relationships. For example, brands use it inform their customers of events, sales, business updates, and more.
Things you can do with Twitter for Business:
Increase your brand awareness by communicating directly with your audience on a frequent basis- e.g. tweets, retweets, replies, likes, mentions, and hashtags
Empower the image of your brand through customer service by responding to customer comments, concerns, questions, and feedback
Network with relevant influencers and brand advocates
Get updated on current happenings around the world and your industry
Use different campaign objectives such as to gain website traffic, increase online purchases, mobile app downloads, and gather high quality leads from a landing page
Build unique target audiences by using language, gender, interests, behaviors, geography, devices, keywords, and followers
Measure performance of tweet ads through available metrics and analytics
Snapchat
Snapchat, which is also one of the fastest growing mobile applications, is a short-image messaging and multimedia channel. It was launched in 2011 and currently has about 100 million worldwide users. In Snapchat, about 10 billion videos are viewed on a daily basis. People use Snapchat not only to communicate with friends and family in a fun and creative way, but to also stay updated on current news and events, and to explore content from celebrities or video editorials from recognized publishers such as Cosmopolitan or CNN. Users typically snap a short video or photo of a particular moment and send it to one of their followers.
If you have a young target group, then Snapchat is definitely even better for your business. According to research, Snapchat manages to reach 41% of 18-34 year olds in the United States against television time's meager reach of 6%. Overall, this channel is great for storytelling your brand's message in a creative and highly visual way.
Things you can do with Snapchat for Business:
Increase your brand awareness and engagement level with your target group through highly creative and visual content
Advertise in three different ways: Snap Ads, Sponsored Geofilters, or Sponsored Lenses
Choose different advertising objectives such as video and direct response
Reach young target groups
Get your advertising products designed by the same Snapchat team that designs consumer products
Pinterest
Pinterest, which launched in 2010, currently has 200 million monthly users. It is called "the world's catalog of ideas" because it is an image sharing website that allows users to create digital pin board collections of inspirations or things they like. For example, a lot of users refer to Pinterest to find unique food recipes or to find how-to's on specific things. Users can also pin items from a particular fashion website to one of their boards in Pinterest, allowing their followers to then interact with the pins.
About 60 percent of the content featured on Pinterest is from commerce sites, which is a great opportunity for businesses.  Being a channel that has visually inspiring content, Pinterest is especially great for businesses that are in fashion, interior design, culinary, gardening, home furnishing, and travel.
Things you can do with Pinterest for Business:
Increase your brand's visibility and brand awareness through promoted pins and by integrating your website with Pinterest so your items can be "pinned"
Drive higher levels of conversions, about 87% of pinners have purchased a product because of Pinterest
Learn about audience behavior and trends
Target and re-target your promoted pins to specific groups of people through available options and/or your own business data
Raise your referral traffic, about 5% of all referral traffic comes from Pinterest
Build deeper connections with audience group by inspiring them with uniquely curated boards
Reach target groups that have more purchasing power, Pinterest users have a 9% higher average income than non-users
Measure performance of promoted pins through available metrics and analytics
Which social media platforms are you currently using for your business? Have any stories or questions? Let us know in the comments below!