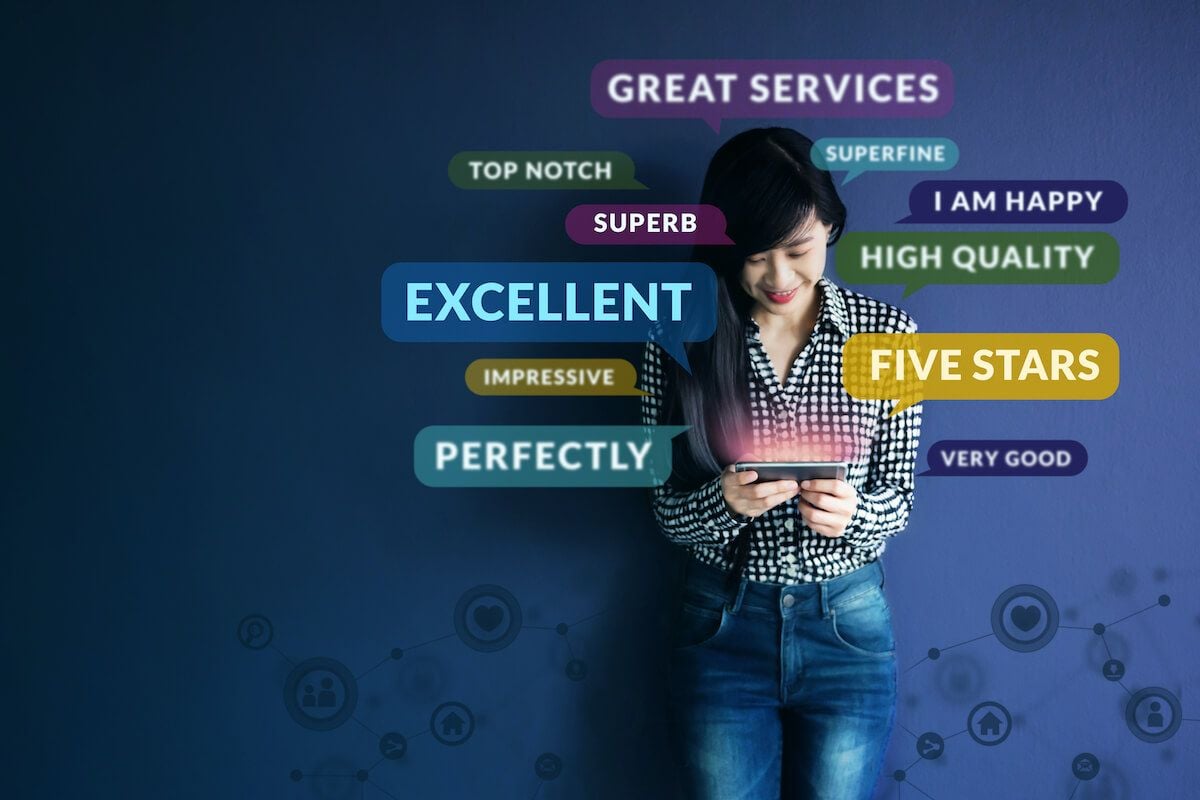 Online reviews of your business and its products are great tools for generating trust in your business. Consider these statistics: 93% of consumers say that reading online reviews had an influence on their purchase decisions, and customers are willing to spend 31% more on a business that has excellent customer reviews. Whether they appear on your website itself, your social media pages, on other sites where your products are sold, on popular review sites like the BBB or Google My Business, the importance of good (and recent) customer reviews cannot be overstated.
The difficulty comes when trying to source reviews for your business or products—only the most passionate people leave reviews unprompted, and most passionate reviews occur after a poor experience. Getting positive reviews for your business, then, should be a priority for online business owners trying to stay ahead of their competition. Read on to learn the best ways to generate reviews for your business as a part of your reputation management strategy.
Ways to Increase Ecommerce Reviews Directly
Getting those first new reviews under your belt can be a challenge; however, once you've experimented a bit to see what works, you'll have an easy time finding ways to streamline the process. Here are a few ways to start sourcing reviews directly.
1. Ask friends & family to leave positive reviews
If you are just starting out and haven't had any customers yet who can leave reviews, try asking friends and family for assistance. We don't suggest asking them to write glowing reviews without having tried your products—some review platforms penalize for fake reviews, and some fake reviews are easy for customers to spot anyway. Have a few people close to you go through the entire purchase process—order from your site, have the item delivered, and use the item—and then write an informative review about their experience. This is also a great way to work out any issues in your process early on. When responding to their review, acknowledge the connection as well—it could go a long way towards showing how "real" your brand is.
2. Email customers soon after every purchase
Once your customer has received their order, you should plan to follow up within a specified amount of time to inquire about their experience. This is also a great time to ask them to review their purchase. Countless Customer Relationship Management (CRM) tools exist that can help you automate this process, and your ecommerce provider may even integrate with a few or have capabilities built in that can handle this process for you. Keep in mind the amount of time it may take for customers to use your product and form an opinion about its value—an item that can be tested immediately upon receipt may benefit from a review request email sooner than an item that takes a month before results can be seen.
3. Encourage customer service to ask happy customers for reviews
Asking for reviews when there is already a line of communication established is the easiest and most effective way to generate reviews for your business. Let your Customer Service team know that driving online reviews are a priority for the company. After every interaction that ends with a positive result, have your representatives ask the customer to leave a review for your business or product. This personal, one-on-one approach is guaranteed to drive more reviews than any impersonal method. You can even incentivize your team to get customers to post reviews with cash rewards for each review a team member achieves or by holding monthly competitions for who can drive the most.
4. Use third-party User-Generated Content (UGC) software
Another great way to increase reviews is by using third party providers, such as Bazaarvoice, Reevoo, or PowerRatings. Some of these sites allow you to send your products to a pool of reviewers for the specific purpose of writing an unbiased review about their experience. The results generated by these third parties are reliable, authenticated reviews made by actual customers who have purchased products or services from the site—increasing your number of reviews directly.
5. Hire social influencers to review your products
Social media has allowed people to not only connect with one another from anywhere in the world, but also become their own profitable online brands. While influencers themselves greatly profit from the arrangement, they also expose their followers to brands and products that they support (or that pay for their support). While we suggest going for the big names since they can provide the most exposure, smaller influencers can also be beneficial. You may get much more traction and effort from someone with a lesser known name—think tens of thousands of followers rather than hundreds of thousands or millions. However, if you're going big, be prepared to make the process as simple and seamless as possible, as the time of more popular influencers is worth more money.
Ways to Increase Ecommerce Reviews Indirectly
If you feel like you don't have the time to focus on direct methods to gain ecommerce reviews, here are a few steps you can take to increase your reviews in a less direct way that may tie in to much of your existing strategy already.
1. Maintain an accurate online presence
First, make sure your business and products are listed accurately across all appropriate platforms. For your business, this means making sure that you can be found on the BBB, Google My Business, any social media platforms frequented by your target audience, and any industry-specific directories where your audience may be looking for products like yours. Once you have a presence established on each, ensure that your information on those sites is accurate, and that reviews are enabled when possible. In terms of your products, make sure that all third-party sites you sell your products on have accurate information and that reviews are enabled (if possible) as well. With these actions undertaken, any customers who come across your listings will see reviews enabled and may be inspired to share their experience.
2. Provide exceptional quality & service
Since passionate customers are the most likely to leave reviews, make sure your customers are passionate about you—in a positive way. To achieve this, maintain a high product quality, and package your orders with extra flair to boost excitement when buyers receive packages from you. Also make sure that you are able to provide outstanding customer service with an overall goal of complete customer satisfaction. If customers see that you are willing to go above and beyond for them, they will be more willing to tell people about their positive experience.
3. Delight loyal customers with special brand initiatives
Impressing customers to the point of leaving positive reviews is a noble goal; however, some customers are not impressed often—and some can't be impressed at all. Consider the 80/20 Rule: 80% of your business most likely comes from 20% of your customers. This gives you a much smaller—and more manageable—pool of people to impress who will be more likely to advocate for your business online. Focus on rewarding your most loyal customers with special deals, giveaways, and other initiatives that make them feel valued and keep them coming back for more. The more positive experiences like this that they have with your brand, the more likely they will be to recommend it to others.
4. Engage with customers on social media
The immense popularity of social media sites like Facebook, Twitter, Pinterest, and others have made them ideal platforms with which you can connect with your customers. Your online customers are more likely to leave product or service feedback on these channels instead of your ecommerce site because they are already signed in and using them, so the barrier to entry is much lower. By demonstrating regular engagement with your followers on these pages, you encourage even more engagement from them—which can oftentimes be in the form of reviews or feedback.
Ways to Increase the Likelihood of Follow-Through
Some customers may initially seem open to writing reviews, but may forget or lose interest before actually doing so. Here are a few ways to encourage follow-through by making the process easy and beneficial for the customer.
1. Suggest multiple review page options
If you ask a customer to write a review on your Facebook page but they do not have an account with Facebook, you will never get a review. If, however, you ask them for a review and list a few different options for where to post it—such as Facebook, Google, or your website—there is a higher likelihood that one (or more) of those options will be more accessible to them. Providing different options increases the likelihood that the customer can leave a review, naturally increasing the number of customers who follow through with doing so.
2. Provide direct links to review pages
When asking customers for a review via email, chat, or any other digital messaging system, provide direct links to the review forms you are hoping they will fill out to make the process as seamless as possible for them. Making customers jump through hoops to find the correct listing is a complicated, drawn-out, and overall poor experience that will result in no reviews at all. You are asking your customers for a favor—the least you can do is make sure it is easy to fulfill.
3. Offer incentives for reviews (carefully)
Offering a freebie or discount for reviews can definitely generate more interest in doing so; however, it is generally considered a bad practice. Many review sites penalize businesses that incentivize reviews—not to mention it's a huge trust-killer for your customers to learn that the reviews they are reading are likely biased. However, you can still reward customers who have left you great reviews by surprising them with a "thank you" after the review has been posted. This in turn can inspire them to tell their friends to leave positive reviews as well—at the very least, it will boost that customer's perception of your brand, which can go a long way.
In Conclusion
Soliciting ecommerce reviews can seem daunting. However, there are strategies with varying levels of involvement that can increase your likelihood of generating more reviews for your business or products. The more time you invest in a review strategy, the more ROI you are likely to see overall.