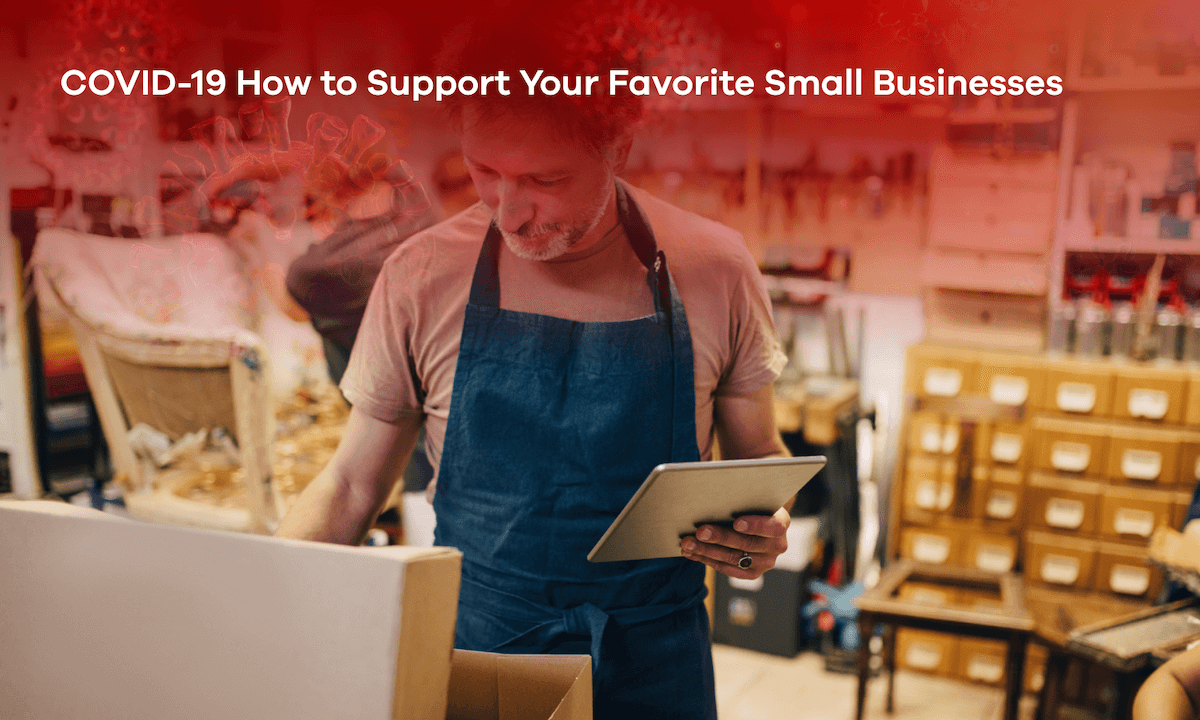 As champions for small businesses, we at Volusion are committed to providing you with helpful information and resources for navigating the COVID-19 pandemic. In this post, we suggest ways to support local and small businesses in these trying times.
How to Support Small Business Right Now
With shoppers restricted to their homes, small businesses are feeling the financial strain of lower-than-normal operations. Check out the links below for tips on how to help out:
Industry News
Charitable
Support Volusion Small Businesses
It's a great time to band together and help your favorite local and small businesses by ordering or purchasing from them if you can. Looking for additional small businesses to support? Here are a few Volusion merchants accepting orders:
Apparel
Lamaze offers organic baby clothes at a friendly price. A portion of the proceeds from your purchase goes to Lamaze International, a non-profit dedicated to educating new moms.
URchic provides unique, luxe fashion at an affordable price point. They offer free shipping on all orders over $100.
THADDEA is the branded sports apparel pioneer for the "Heroic." They offer 20% off your first order.
Bath & Beauty
TerraNova sells simple, true body care using premium plant ingredients, fresh evocative fragrances, and authentic formulas that perform. They are offering a free bar of soap with every order to encourage hand-washing.
Meadowlake Farm Skincare creates truly natural skin care using organic honey and beeswax from the family farm as its foundation. They offer free shipping on orders over $75.
BA STAR Makeup provides performance makeup for dancers and cheerleaders. They offer free shipping on orders over $55.
Crafting
Quiltin4Fun sells the best quilting thread, pantographs, and other quilting items. They offer free shipping on all orders over $125.
Poplollies Boutique stocks and ships over 700 different beads and jewelry findings. Enjoy their free shipping on all orders over $70.
BobRoss.com offers painting supplies, books & DVDs, and swag related to the famous Joy of Painting host, Bob Ross.
Food & Beverage
The Sausage Maker carries everything you need to make the perfect sausage, including casings, seasonings, stuffers, and more. They offer free shipping on all orders over $75.
Kiffle Kitchen Bakery is the world's largest producer of authentic hand-rolled kiffles and other bakery treats. All of their products freeze great for up to 6 months.
Gourmet Canadia offers Gourmet Canadiana, Cheena, and Maple Terroir brands of authentic Canadian specialty food products. Enjoy their 25% off site-wide sale until April 30, 2020.
Home & Decor
The Down Comforter Store sells 100% cruelty free duck and goose down pillows made in Denmark. They offer free shipping and a deal of the day.
Affordable Art 101 specializes in rare prints by famous artists at wholesale prices. They offer a 30 day money-back satisfaction guarantee.
Pillow Decor provides throw pillows and inserts in a wide range of colors, sizes, and styles. Their products will put the perfect finishing touches on your rooms' decor.
Pet Care
North Coast Pets provides natural pet products for the health of your animals at wholesale prices. They offer gift certificates for sale as well.
Edible Animal Treats is dedicated to providing pets with top quality, healthy, safe, and fun products. All materials are sourced exclusively from North America.
The Pish Pad Store sells professional grooming supplies and luxury dog products for show dogs, loveable mutts, and every pup in between. They offer free shipping on all orders.
Sports & Recreation
Skates.com carries the finest in skating equipment and accessories to provide you with the best skating experience. They offer free shipping on select skates over $100.
Element Outfitters sells a full selection of camping, hiking, fishing, running, biking, hunting, paddling, and more. They offer free shipping on orders of $50 or more.
Hitting World specializes in bringing you the highest-quality softball and baseball equipment for all ages and skill levels. They offer discounts for teams and organizations.
Miscellaneous
Supplies Outlet sells the best quality printer ink and toner at the best rates. They offer 15% off your first order.
Hobby Meisters carries the latest kids' toys from Marvel, Ghostbusters, Disney, and every fantasy company in between to charm any age. They offer Bundle Packs for mega savings.
Eastern Leaf is a retailer of Zen Gardening Gifts, including bonsai trees, lucky bamboo, money trees, orchids, succulents, and air plants. They offer free shipping on orders over $100.