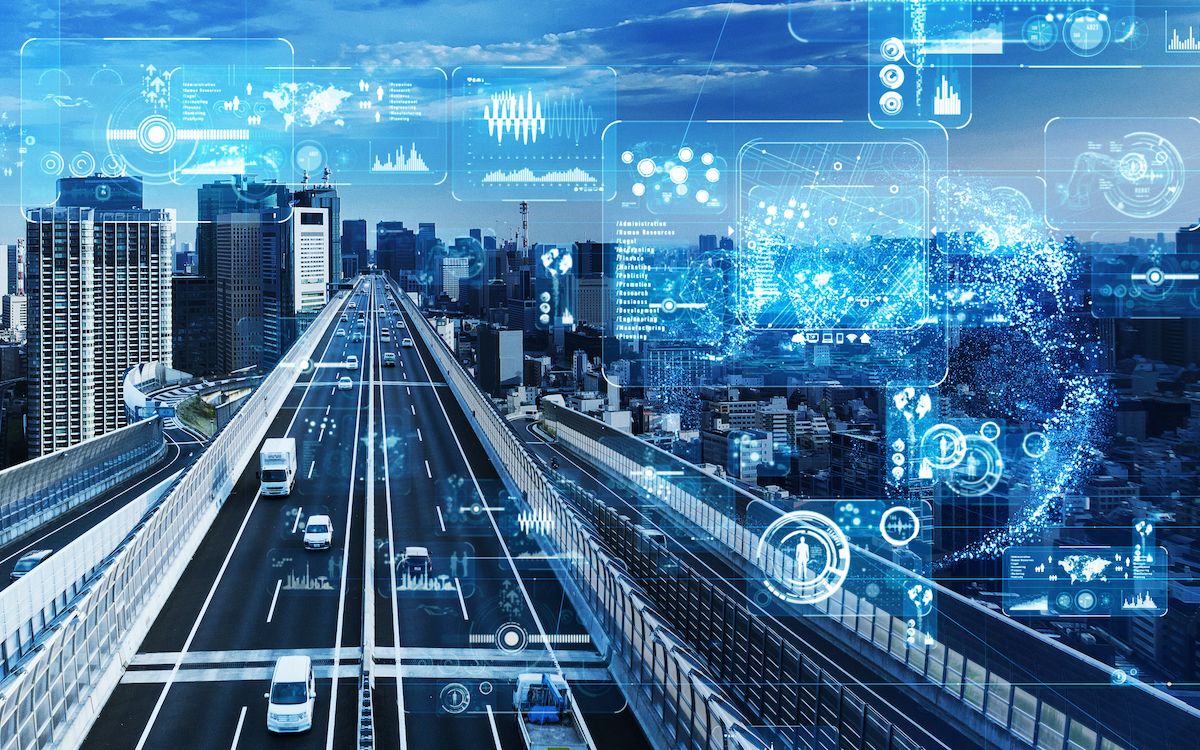 The term "big data" is no longer just a buzzword thrown around by sophisticated marketers. Metrics are crucial for every aspect of your business—especially your website. With the right analytics, you can wield data like a sword to help you build a successful online store and fight the war that is online marketing.
The right data provides valuable insights to help you identify your audience, understand their needs, and improve the overall customer experience, consequently improving your business revenues. But what exactly is web traffic, and how do you track it? Why is website traffic tracking crucial? And finally, what tools can you use for this? Let's find out.
Website Traffic Analysis: What Is It?
Website traffic refers to the volume of users (and their information) that visit your website. Website traffic analysis is the process of collecting, analyzing, and reporting the data to assess the relationship between these visitors and your website components, such as web pages, photos, and videos.
At face value, the higher the traffic, the better it is for a website. However, the reality is different. High web traffic does not always translate to more conversions or increased sales, which is why website traffic analysis is crucial. It helps you analyze the data and understand:
Who your website visitors are
The amount of time they spend on your site
Which content they're interacting with while on your site
What path they take to conversion
Why they leave before making a purchase
What offsite channels bring in what amount of traffic
Benefits of Keeping Track of Your Web Traffic
The latest and most accurate data forms the backbone of any successful marketing strategy. By keeping track of how your website is performing, you can see which marketing efforts are working, which need improvement, and which are not working and need to be stopped. If you're keeping track of business profit and expenditures and noticing that expenses are higher, the source of the problem can often be traced back to the effectiveness of your marketing campaigns and how much traffic you're bringing into your site in the first place.
Here are some of the metrics that help you stay informed:
Traffic sources: Where are the visitors originating from?
The number of visits: Are there any repeat visitors? How many times did they visit?
Page views: What pages did they view? How many times did they view these pages?
Unique visitors: Are there any visitors visiting for the first time?
Average time on page: How long is each visitor spending on your page?
Bounce rate: Are visitors leaving without interacting with your website?
Conversion rate: How many visitors are making a purchase before leaving your page?
This data is crucial to help you know how well your website is doing.
In summary, website traffic analysis helps you identify the weak points of your website and marketing strategy. This data can help guide ongoing development efforts.
5 Top Website Traffic Analysis Tools
Now that you know what website traffic analysis is and how it benefits your business, let's look at some of the best website analysis tools on the market today.
1. Semrush

When discussing traffic analysis tools, Semrush is among the most prominent names. This tool gives some of the most accurate web traffic results and top-tier keyword analytics. Additionally, you can use it to analyze competitor websites to see where you rank and what they are doing better than you.
Semrush has a short trial period, after which you can upgrade to a Pro plan and pay $119/month.
Highlights:
Allows you to filter traffic reports by regions
Provides detailed visitor insights
2. SimilarWeb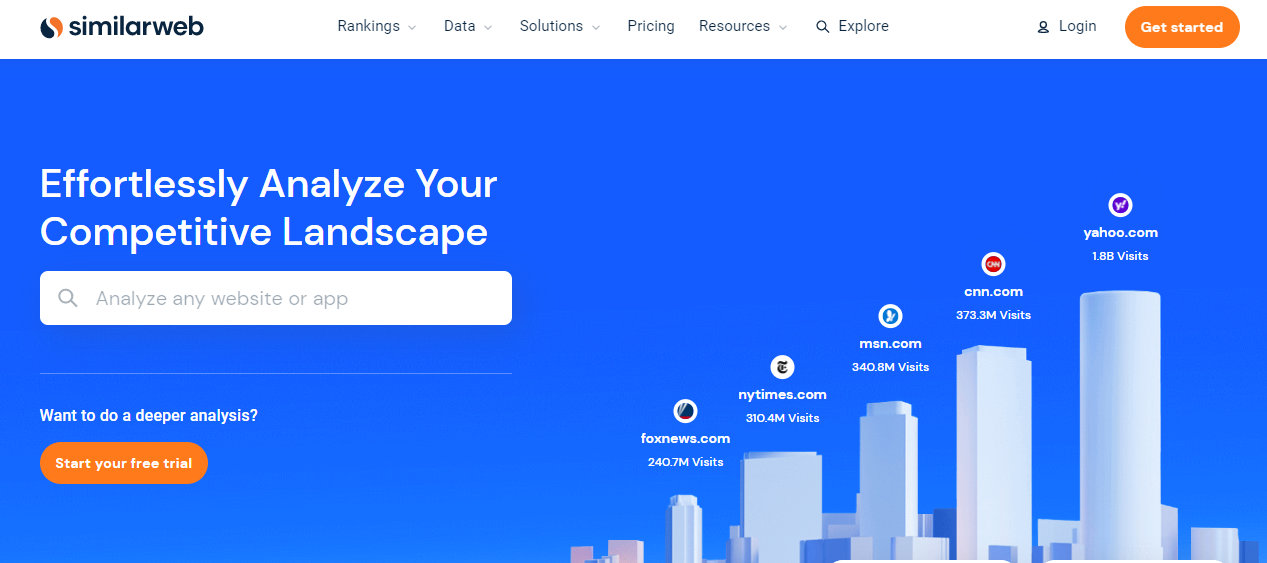 SimilarWeb is the easiest and fastest tool to use when checking your website's performance and analyzing your market share.
The free trial plan is limited to 5 results per metric, 1 month of app data, and 3 months of web traffic data. The paid version, starting from $199/mo, gives you a full view of your website analytics.
Highlights:
Affiliate marketing feature to help you track your partnerships
Advanced reporting feature that allows you to monitor your paid ads
SEO optimization tools for better content
3. Serpstat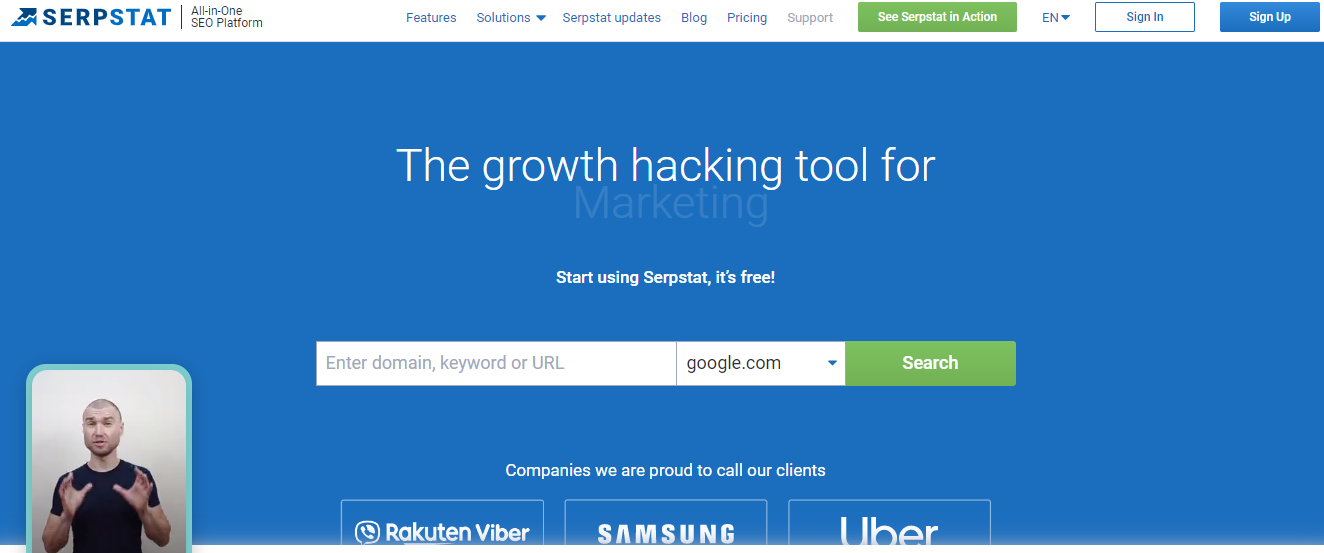 Serpstat is a comprehensive yet reliable tool that allows you to track, organize, and analyze your website's performance data. It will give you all the information you need to improve your online visibility, drive more traffic to your site, generate more leads, and increase your sales.
Although most of Serpstat's features are the same as Semrush, their pricing is quite favorable. The free version allows you to view only a portion of the data generated, but you can upgrade to the Pro version for as little as $69 per month.
Highlights:
Advertisement analysis functionality allows you to track your competitors
You can customize campaigns based on customer locations and geographies
4. Ahrefs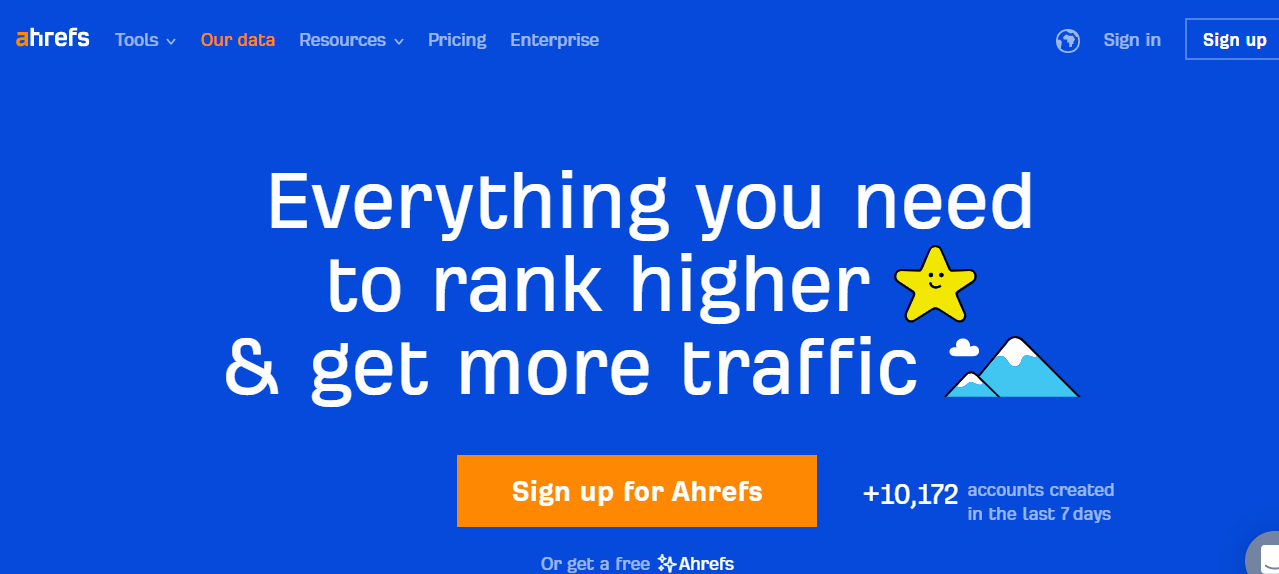 Ahrefs is another wholesome website traffic tool with vast features such as link building, keyword research, rank tracking, and site audits. It also has competitor analysis features. The tool is famous for providing users with quick and maximum data accuracy.
Ahrefs Webmaster Tool is free and allows you to use only Site Audit and Site Explorer features. The paid version gives you full access and will range from $99/month to $999/month.
Highlights:
Very simple and user-friendly interface
The free version allows you to check your competitor's website traffic unlimited times
5. Google Analytics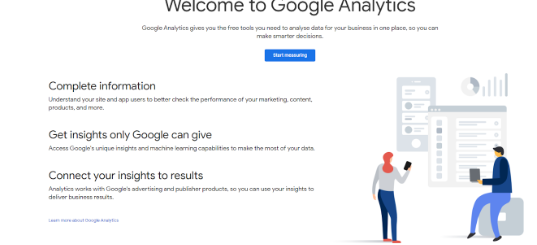 Google Analytics is arguably the best free website traffic analysis tool. It helps you analyze web traffic data and build a complete picture of your visitor's preferences. It also gives you access to various insightful data, such as acquisition reports, conversion reports, audit reports, real-time tracking, and more, all for free.
Highlights:
Compatible with most websites
Compatible with various Google tools, including Google Ads, Adsense, Display & Video 360, and Ad Manager
Increase Your Conversions With Website Traffic Analysis Tools
When it comes to online marketing, web traffic is essential, but it's not the only thing that matters. Website traffic analysis gives you the information you need to create a successful website and online marketing strategy. It allows you to identify critical trends, prioritize development patterns, and optimize your site to ensure that it's performing well and leading to conversions.