You've already developed a content strategy for your ecommerce business and produced a small library of content you know is valuable to your target audience. But now you're stuck figuring out one of the hardest challenges of content marketing: how do you get your content in front of the people it's supposed to help?
For ecommerce brands looking to drive more traffic, build more links, and improve their search engine optimization (SEO), one of the most effective tactics to consider is building content relationships.
What is a Content Relationship?
A content relationship is a connection you make with another brand or content creator that helps you improve upon and promote your own content. Content relationships are at the heart of the growing field of influencer marketing, in which brands partner with influencers to reach a larger audience. But working with influencers is just the tip of the iceberg.
There are a number of different content relationship strategies you can use to help your content go further and increase awareness of your ecommerce brand. And as a nice added benefit, when you work on building content relationships, you inevitably make new friends along the way.
Strategies for Building Content Relationships
Lots of businesses try to promote content and earn links by emailing strangers asking them to add a link to a page on their website. If you run a blog on your ecommerce site, you've probably gotten dozens of these emails yourself. The problem is, asking strangers for favors rarely works. What reason do they have to help you?
In contrast, practicing strategies focused on actually building relationships that are mutually beneficial does often result in earning new links and gaining new partners in promotion. There are a few key ways to do that.
Guest posting
What's a challenge every blog owner faces? Constantly creating fresh, high-quality content.
Guest posting is a smart strategy for building new content relationships because you're helping someone else solve a problem while gaining promotional benefits for your website at the same time. As long as you do it well and provide a blog post that's genuinely valuable to the website's target audience, you're giving them something of value for free.
In return, you get featured on a website that puts your ideas and brand in front of an all-new audience, some of whom will follow you back to your site. And in many cases, you get a backlink out of the deal as well.
Guest posting requires real work though. The websites worth getting published on get submissions from a lot of different writers, many of which deliver spammy, low-quality content. To be considered, you have to prove that you've done your homework to get to know their site and are willing to put in the work to write a really great piece.
Here's a step-by-step rundown of how to create and implement a guest posting strategy.
Step 1: Identify relevant guest blog posting sites.
Look for blogs that are in your industry, in related topic areas, or that share your target audience. A good place to start here is to think about the industry blogs you like reading and those you see your colleagues sharing, then look to see if they ever publish guest posts. Put the blogs that do into a spreadsheet where you can include notes about each one.
Supplement your list with additional blogs by doing some Googling. Match your top industry and topic keywords with terms like "guest blog," "submission guidelines," and "write for us." Each result that shows up is worth looking into.
As you start building out your list, do be discerning. Guest blogging takes a lot of work, and you want each blog you target to be worth your time. Establish a clear criteria for what you want in a guest blogging site based on your goals. Some possibilities include:
Degree of relevance: Assign each blog a rating based on how closely they cover topics relevant to your business and audience. In some cases, a blog that's only mildly popular but extremely relevant could be worth as much as one that's very popular, but only tangentially related to your industry.
Number of readers: This isn't usually publicly available information, but find out what you can. Some websites will boast how many regular readers or subscribers they have. And for those that don't, there are traffic estimation tools that can help you get an idea.
Level of engagement: If the blog has a comments section, how active is it? Do people regularly share their posts on social media? Engagement is a pretty good sign that people are actively consuming new content on the blog.
SEO authority: To gauge a website's value for link building, check its domain authority. There are several free tools you can use for this.
Fill in your spreadsheet with notes on each criteria so you can weigh how valuable different sites are and determine how to prioritize them.
Step 2: Research each blog thoroughly.
Popular guest blog posting sites get a lot of pitches and submissions, but many of them are irrelevant or low quality. One of the best ways to set yourself apart and increase the likelihood of getting a response is to commit to getting to know the blog.
Read a bunch of posts. Make note of which ones are the most popular with readers. Get familiar with the writing style. In order to know what type of post will resonate on the site, you need to know the site well.
During this phase of your strategy, start to get on the blog owner's radar by commenting on blog posts you really like with insightful responses, and sharing them on your social media networks. Guest blog posting sites are more likely to respond to pitches from someone who looks familiar than from a total stranger, so this increases your odds.
Step 3: Read the guest blogging guidelines.
Check if the guest blog posting site has submission guidelines. And if so, always read them in full before you reach out. If you don't follow the guidelines, you're basically guaranteeing that your pitch will be disregarded.
Step 4: Brainstorm ideas to pitch.
Use what you learned in the research phase to brainstorm topics you know fall within the blog's purview. Try to come up with topics you're both confident you have expertise in, and believe will be highly valuable to their audience. Take a minute to check if the blog has covered the topic before. If you pitch something they wrote about last month, you won't get very far.
Step 5: Pitch your idea.
Think about why your topic idea is valuable to their target audience. That should be the center of the case you make in your pitch. Write an email that includes:
A line that makes it clear you're familiar with the blog: the more specific the better. Consider referencing a recent post you loved, for instance.
A couple of lines (a paragraph at most) that describes your topic idea and why you think it's a good fit for their blog: provide a suggested headline, and talk about the problem it will help their readers solve. Include research that backs up your argument, if possible (editors love stats).
A little bit of information on your credentials: This is secondary to presenting a great idea, but can further strengthen your case that you know what you're talking about. It can be other blogs you've been published on or the number of years you've been working in the industry.
Step 6: Write an amazing post.
If your pitch is accepted, now it's time to dazzle them. Write a blog post that's well researched, and includes specific useful tips and examples. Match the style and tone of the posts you've read on the blog, and proofread it a few times before you hit send.
They may request some additional edits before the post goes up. Do your best to bring the piece in line with their vision.
Anticipate a certain number of rejections and non-responses to your pitches. Not every idea you have will hit. But when a guest post does get published, it not only brings your expertise to a new audience, it starts a relationship with someone notable in your industry. That's a big win.
Content syndication
Content syndication is when a website republishes content that's been previously published elsewhere. Websites that want to bring a steady stream of content to their visitors use content syndication as a way to keep the volume up. And for brands that want a way to get more views on content they've already created, it's a way to reach more people.
You've probably seen examples of content syndication out in the wild. When you're reading your favorite blog and see a post with a note saying it was "originally published at" another site, that's syndicated content.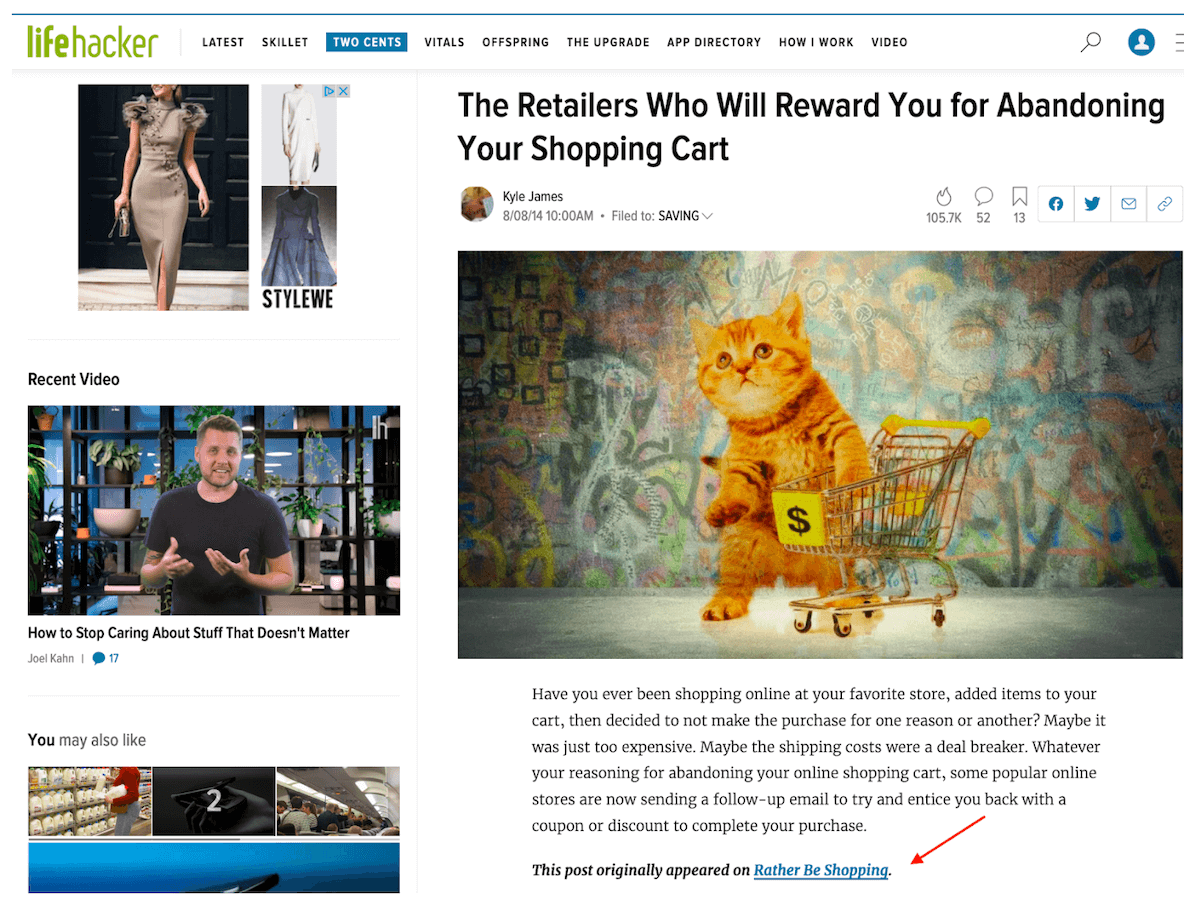 Content syndication is a good option for building content relationships for the same reason guest posting is. You're supplying a website that needs fresh content with a piece that will be valuable to their readers. And if a syndicated piece does well on the site, you've helped them drive new traffic and increase engagement—all for almost no effort on their part.
But that still doesn't mean just any website will syndicate your content. Content syndication sites are mostly interested in getting content from brands or writers that have a proven record of creating great content. In other words, if you haven't done much guest posting yet or haven't built up brand recognition in other ways, you may have a hard time convincing the editors of a popular site to even read your emails, much less republish your content.
Often this strategy makes more sense to employ after you've already spent some time building content relationships and gaining recognition.
The steps to getting featured on content syndication sites are similar to those for guest posting.
Step 1: Identify relevant sites that syndicate content.
If you can find evidence a website has published syndicated content before, that suggests you're more likely to have success with them now. Brafton helpfully compiled a list of sites that accept syndicated content you can use as a starting point. But it's from 2010, so you'll have to do some research to figure out which of the sites are still around and syndicating content.
To find out if a specific site has republished content from other places before, use Google. You can limit a Google search to just one website by using site:websitename.com, then tack on terms like "originally published on" and "originally appeared on," and see what comes up.
Step 2: Select your best articles that are relevant to the site's audience.
A necessary part of this step is already having content they're likely to want. Review your past blog posts and figure out which ones would fit with the kind of stuff you regularly see on that publication. Then out of those, read back through and determine which ones are the best examples of your work.
You want to put your best foot forward here, so make sure any content you suggest is something you're proud of.
Step 3: Figure out who the site's editor is and how to contact them.
Some websites will list their editors and contact information on the About page or a Masthead. Other times, if you spend much time reading the site, it will be obvious which of the writers is also the site's primary editor. In cases where you have to do a little more digging though, LinkedIn is your friend.
On LinkedIn, find the company page of the blog you want to reach out to, and then click on the link that shows the number of employees. You can then do a search of those employees based on job title.
Click on All Filters, then scroll down and try adding the word "editor" to the title field. If it's a business blog, try "content" and look for someone with a title like "Content Strategist" or "Content Marketing Manager," since they're likely running the blog.
The person might have their email address included in their contact information on LinkedIn, but more likely you'll have to turn to an email finding tool like Hunter or Norbert.
Step 4: Write your pitch.
A good pitch for content syndication should be short and to the point, while making a case for why your content is a good fit for their site. Point out that you've noticed other content they've republished, so they know you've done your homework. Provide a brief description of your credentials, such as how many readers your blog has or how well a past guest post performed. Also include a few good examples of posts you think their readers would appreciate.
Step 5: See if they're interested in regular syndication.
If your pitch gets accepted, see if you can extend the relationship and turn it into a regular thing. This is especially a good option to try if you have evidence that the initial pieces they republished performed well for them. Follow up thanking them for republishing your posts, and ask if they'd be open to you sending over your best posts every month or a few times a year.
They'll get regular content from someone they know delivers quality, and you'll get an extra platform to reach a larger audience and drive more traffic back to your site. That's exactly the kind of mutually beneficial situation that building content relationships is all about.
Content collaborations
Alone, your ecommerce business has limited resources to give to content creation and promotion, and you only have the specific audience you've managed to build up to this point. But if you join your efforts with another company in your space, suddenly your resources and audience increase—possibly doubling or more.
That's the idea behind content collaborations. Some of the most valuable types of content require a lot of resources. For example, building a really valuable app or tool you release for free can be a great way to earn links, increase press attention, and drive traffic to your website from relevant visitors as a result. But many ecommerce businesses don't have the resources to do it on their own.
Step 1: Clarify your idea.
Before you start talking to other businesses about going in together on a content project, brainstorm project ideas that would be good for your brand and audience. Are there questions your audience has that you can answer with original research? Is there an app you could create that helps them in a tangible way—or is it just fun?
Once you start your collaboration, your idea may morph and evolve. But having a good idea to bring to the table puts you in a stronger position getting started.
Step 2: Identify relevant businesses.
A great partner in a content collaboration will be a business that:
Has the same audience as you
Is in a similar or related industry
Isn't a direct competitor
Think about the types of businesses in your larger industry that may fit this criteria, and start researching specific companies to consider.
Contacting a stranger to suggest tackling a big project together is a long shot—that's a big ask for someone that doesn't know you. So start by looking to your own network. Are there people you know from conferences, events, or even social media communities whose businesses would be a good fit for a content collaboration?
If not, start doing online research to find specific businesses that have potential. Check the business About page and LinkedIn to identify the best contact for pitching your content collaboration.
Step 3: Reach out with your idea.
Send an email making the case for why you think you should work together. Point out that you share a target audience. Then explain how the content project you have in mind will provide them something of value, and how you believe it will benefit both your brands. Then suggest a meeting to start discussing the details of working together.
Step 4: Create a clear agreement.
Once you get a positive response from a business, it's important to manage collaborative content agreements with clarity and professionalism. Even if you provided the original idea, treat the relationship as a collaboration from the moment you bring them in. Listen to their ideas, and let the project take shape based on input from both parties.
Once you have a clear idea of the project you'll be pursuing, craft a written agreement. You want to lay out in specific terms who's responsible for what, who will own the rights for what you create together, and what will happen if either of you backs out before the project's complete. If either or both of you will be making a significant financial investment in the content project, bring in a lawyer to help you get the terms right and make sure you cover all your bases.
Step 5: Plan out and execute your project.
Work together to create a clear timeline of steps and deadlines that covers both the creation phase and your promotion plans. Stay in regular communication as you move through each of the steps defined, and document all the details in writing as you go.
Once you've created your collaborative content together, work at least as hard to promote it as you did to create it. For the work you did together to pay off, you need to get it in front of people.
Using expert sources
This is a much simpler content relationship strategy, but still effective. Every piece of content you create can be strengthened with the input of a relevant expert. This goes for blog posts, ebooks, videos, and webinars.
When planning out your content calendar, make part of your process seeking out expert quotes and interviews for many of your content pieces. This can take a few different forms:
Basing a blog post around an interview with an expert.
Creating a blog post that's an expert roundup of tips from relevant professionals.
Interviewing experts to feature in an ebook or guide
Asking an expert to join you for a webinar on a topic relevant to your audience.
Setting up a video interview with an expert—this one could potentially be live, and include getting questions in real time from your audience.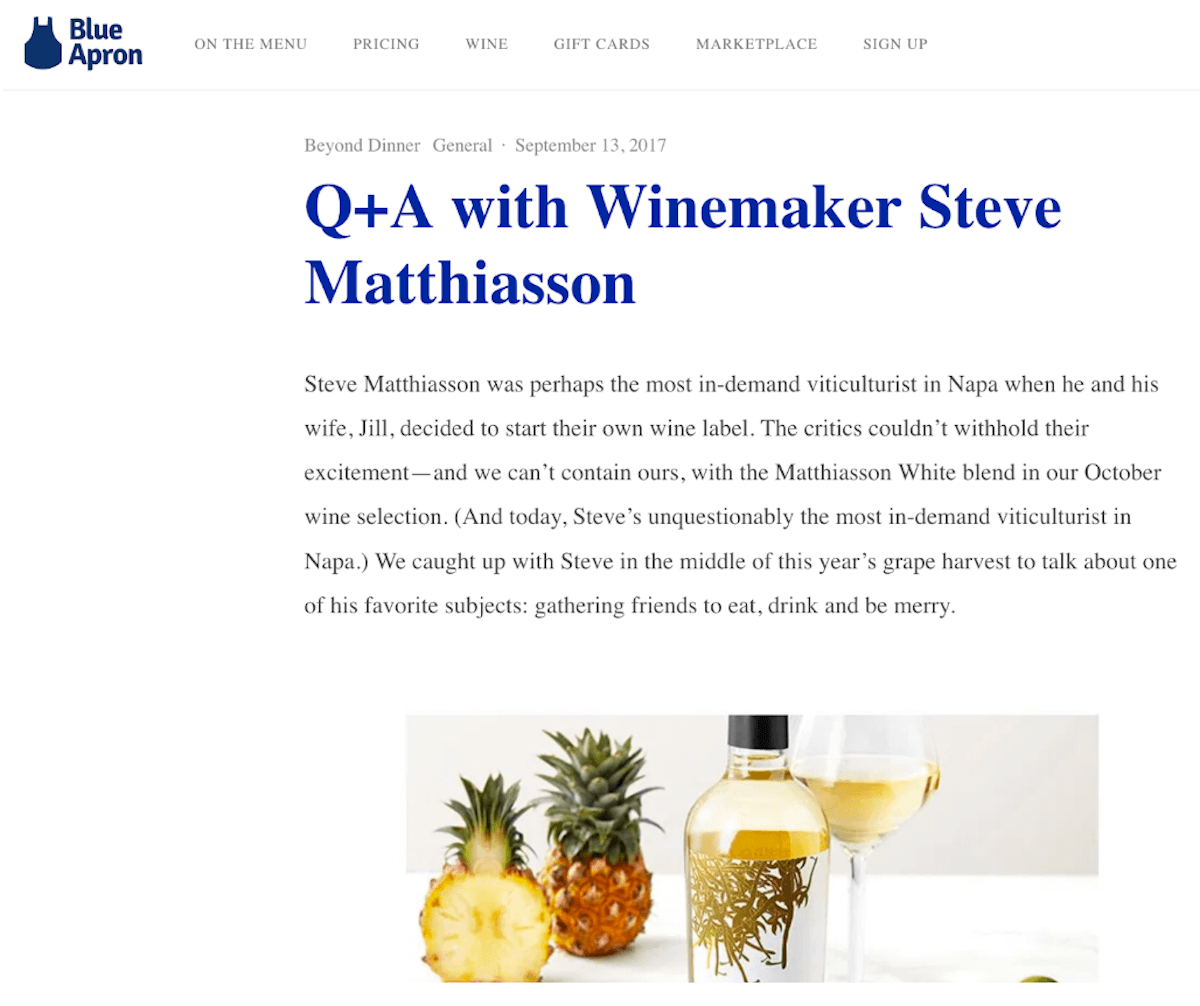 This tactic works for building content relationships because it gives your sources a chance to show their expertise and get a backlink to their website. At the same time, their input makes your content more valuable to your audience. And because they're likely to share the pieces they're quoted in, your content gains new reach as well.
This is also a good way to get onto the radar of influencers in your industry, and people you may want to guest post with. A lot of the content collaboration strategies we've covered here will work better if you're not contacting someone cold. If they recognize your name from some past interaction, they're more likely to consider any pitch you send. A quote for a blog post is a low-stakes ask an influencer can provide within a few minutes, so it's a good way to get your foot in the door.
There are a few different ways to find expert sources for this tactic.
Method 1: Look to your network.
Asking someone you've already met to be an expert source for your content is a good way to solidify the relationship. Consider the people you've met from past jobs, contacts from businesses in your community, and people you've met through networking events. Do any of them have unique expertise that can benefit your audience?
Method 2: Use a source database.
There are a number of services that help match writers with expert sources. You provide details on what you're looking for, they send those details out to their database, and experts come to you with their insights.
The most popular service for this is Help a Reporter Out, which has a huge database of expert sources (and PR people representing sources). ProfNet is a similar option, and SheSource is a good choice for anyone who wants to feature more women experts.
Method 3: Identify relevant industry influencers.
Pay attention to who you see writing about the topics you cover. Who in your industry is getting a lot of shares and attention on their content? They're a good expert source for yours.
Industry influencers are a strategic choice for this, because if they promote the content you feature them in, it can be a big boost to your content. And they're often working to build up their online authority, so a chance to be featured as an expert works for their goals too.
If you don't have enough clear influencers on your radar already, influencer marketing tools like BuzzSumo and FollowerWonk will help you identify the people with the most followers and engagement that are talking about the topics you cover.
Start keeping a list of people who could be good expert sources with a note about what their expertise is. Moving forward, it will make it easier to have a centralized place to look, rather than having to find a relevant expert each time you need one.
User-generated content
Most of the strategies for content relationships covered so far focus on making connections with other businesses or influencers in your industry. But the most powerful voices for building trust with your audience and creating an authentic brand are the people who use your products. Nothing you can say about your products will be as convincing to a prospect as hearing from another customer about them.
User-generated content (UGC) is content created by your customers that you can use to promote your brand. 79% of consumers say UGC has an effect on their purchasing decisions. It's a powerful tool—if you can yield it effectively.
There are several strategies you can employ to encourage customers to create more UGC about your products, and make the content they've created go further.
Method 1: Create a social listening strategy.
If you sell products your customers genuinely love, they may be already generating content you can use in your marketing—you just have to find it first. With the sheer number of social media platforms and how fast-moving they tend to be, it can be hard to catch every mention of your brand and products out there—unless you take a strategic approach to it.
Create a strategy around monitoring mentions of your brand and products on social media. Social listening products simplify the process of tracking what people are saying about you across multiple platforms. When you spot mentions of your brand:
Respond to increase engagement. Thank them for positive mentions as a way to show you're listening and care about their feedback. If it's a negative comment, use it as an opportunity to make things right in a public forum by acknowledging and fixing the issue.
Consider using what they've said in your content or ads. Check if they're OK with you quoting them in your marketing materials. You can embed the update they shared on your website, or feature it in a promoted post on the platform.
Customer reviews are the other main public format customers use to provide feedback. Shoppers consider reviews a good way to get an authentic look at what your products are really like. 91% of customers say they trust reviews as much as recommendations from friends and family.
That makes them a powerful way to add some social proof into your content. After every order, send a post-purchase email with links to the main review sites to encourage more of your customers to leave a review for you.
Then closely monitor the reviews that come in on the different sites. When a customer leaves a positive review, especially one that gets into the specifics of why they love your products, consider ways to incorporate it into your marketing strategy. That could mean highlighting it on your website, sharing it on your social media feeds, or taking the content of the review as inspiration for a piece of content to add to your strategy.
Method 3: Encourage customers to share photos or videos.
Customers are often happy to share visuals related to wearing or using products they buy. Find a way to encourage yours to do so.
Sephora has a gallery on their website where people submit images of the "looks" they've created using Sephora makeup products. Madewell launched the #everydaymadewell hashtag on Instagram to urge customers to share photos of themselves wearing their clothes. And GoPro famously used a successful UGC strategy to get customers sharing videos (shot with GoPro cameras) of themselves on adventures of various sorts.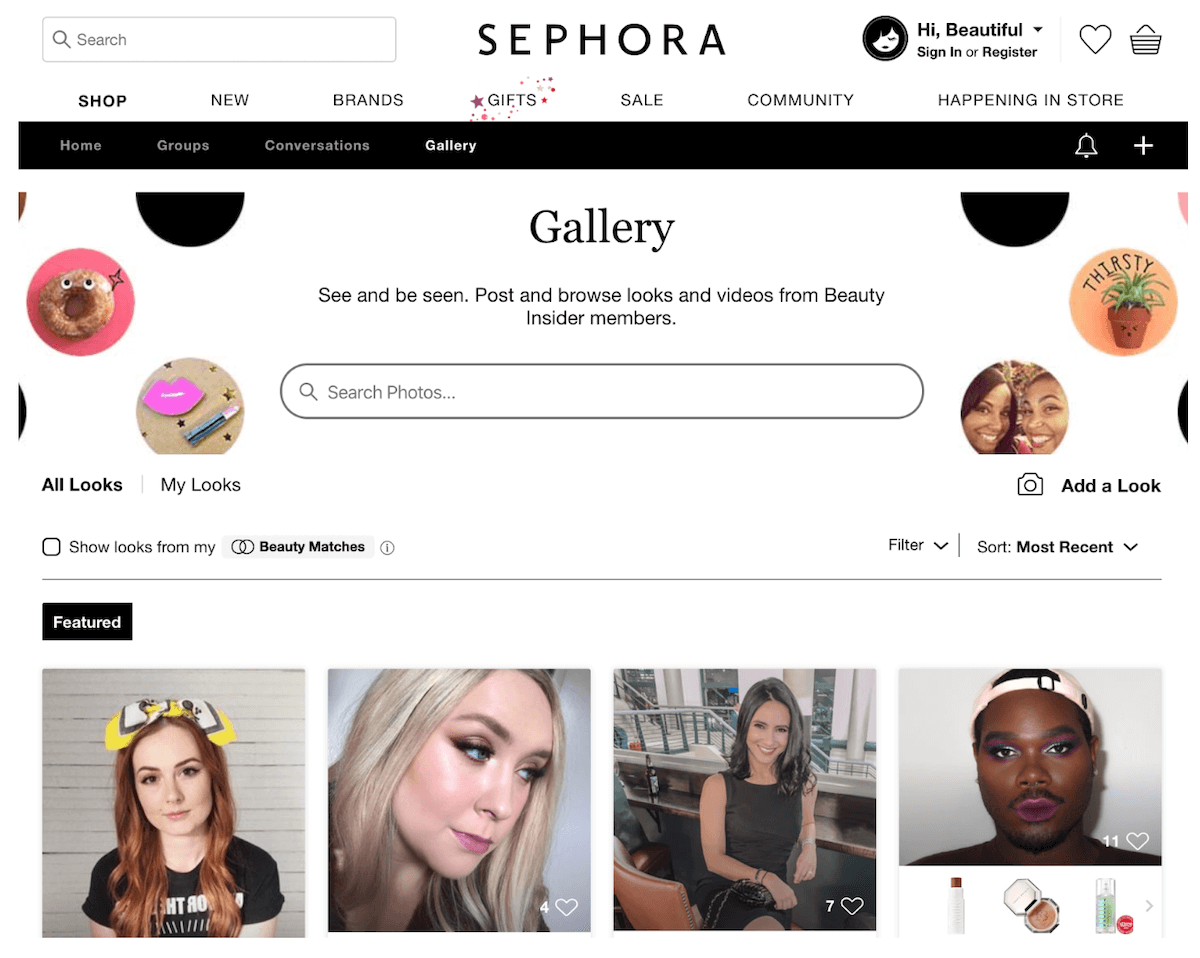 A lot of consumers use social media because they want to be seen by a larger network of people. Brands boosting their content is a way for them to extend their own reach and show off something about themselves—their skill with makeup, the really cool adventures they go on, etc. You can help them do that while gaining free social proof for your product at the same time.
Method 4: Build a customer community.
A customer community provides value to its members because it connects them to each other. They can potentially make friends with other people they have something in common with, and learn tips from each other on using your products well. For you, a community offers the benefit of getting more feedback from your customers in a context where they feel comfortable being honest about their feelings on both your products and related topics.
Naked Wines has built online communities where customers can provide recommendations for wine pairings, interact directly with wine makers, and even one where members are encouraged to post only when tipsy (they cheekily insist on a two-drink minimum). Customers create content within the groups that's of value to other members, increasing the engagement they have with the brand, and giving them a reason to return to the website more often.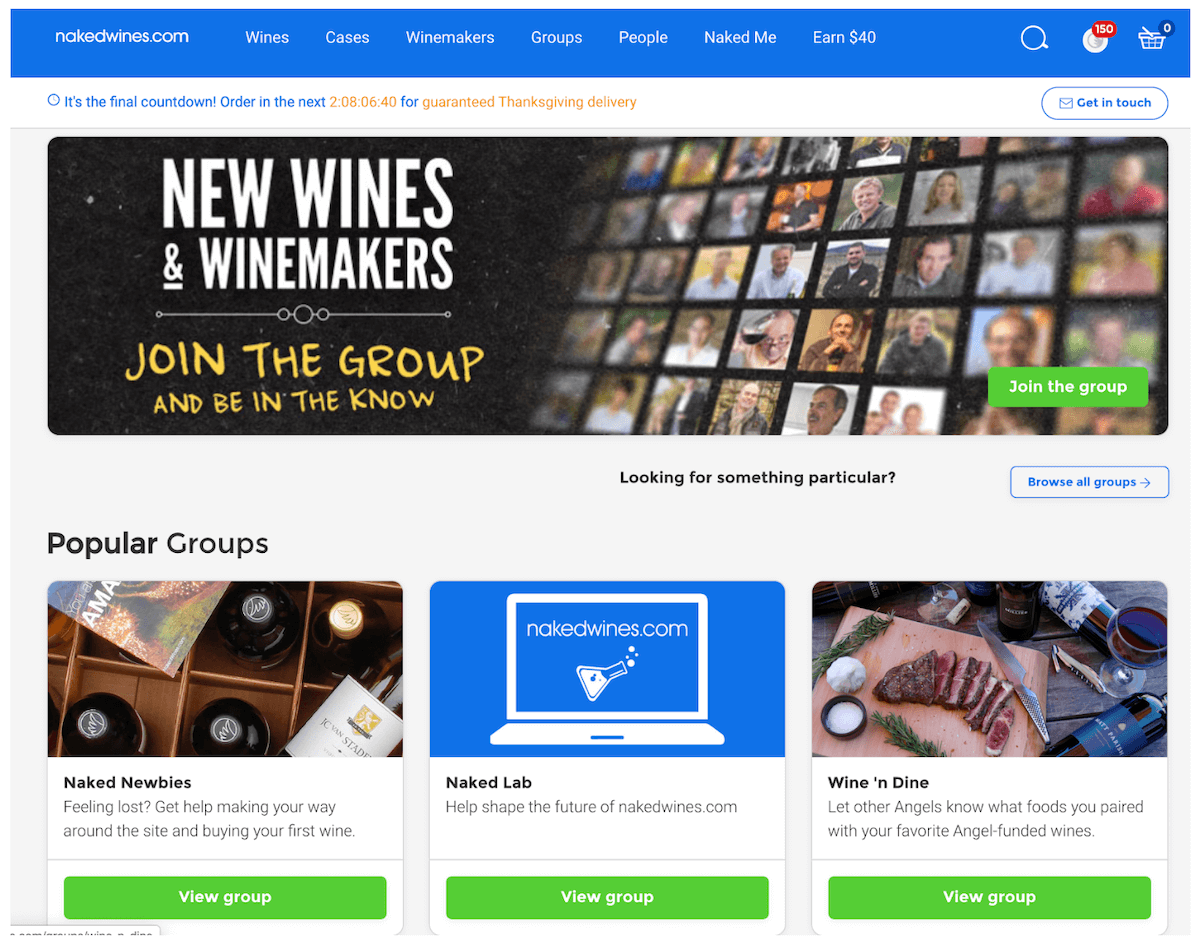 Method 5: Recruit customer advocates for content creation.
All four of the UGC strategies mentioned so far have an extra benefit to your company: they reveal who your most enthusiastic customers are. The people sharing their praise for your products on social media, sharing pictures and video of themselves using your products, leaving positive reviews, and participating in your customer community are the people who love your products the most.
Identify the customers who seem especially excited about your brand, and reach out to them about working with you to develop new content. Customer interviews can make great blog posts and videos, or you can feature a customer's story on your blog. If a customer advocate has expertise your audience can benefit from, invite them to be a featured guest on a webinar.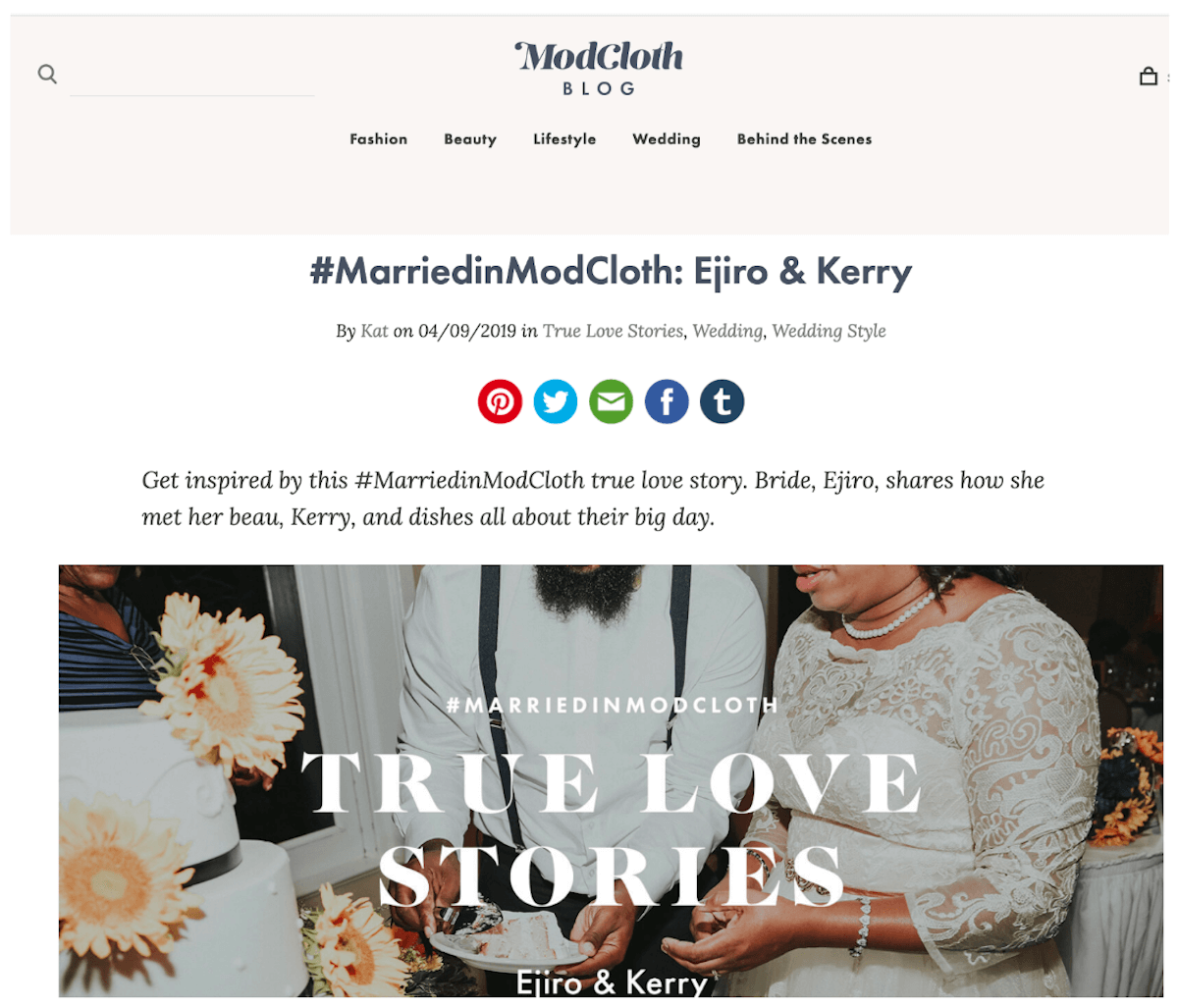 This works to solidify your relationship with loyal customers. It also shows prospects how much you care about your customers, and how much they care about you.
Ways to Make Content Relationships Go Further
Relationships don't start and stop at one interaction. The point is to try to develop a more long-term connection with the people and brands you start content relationships with. The strategies suggested can be strengthened by taking some additional steps to make your collaborations pay off.
Alert anyone featured when content is published.
Each time you publish a piece of content that features someone you have a content relationship with, let them know! Send an email with the link, or include their handle when you share it on social (or both). They have to know it's out there before they can share it with their own networks.
Promote it on social media.
Make sure you get the piece out there and in front of as many people as possible. When a piece of content involves a collaboration, you're not just promoting your own brand with it, you're promoting them too. You want it to be clear the content has all your support behind it. This is true for any content on your own website, but even more important for any guest posts or syndicated content published on other sites. Doing your part to drive more traffic to their site is another way to provide value to them and strengthen the relationship.
Keep the relationship going.
Make a point to check back in periodically. For sites you guest post on, consider pitching a new idea or approaching the site owner about collaborating on content together now that they know you. For content syndication, get in touch to suggest new pieces that may be a good fit for their site. For people you feature as sources or those who created UGC, follow up to encourage them to contribute again.
And share their stuff on social media. It's both a way to give something back and to stay on their radar in between the times you're actively in communication.
Learn from your analytics.
Not all of the benefits of content relationships can be measured—you can't place a clear number on the value of developing friendships. But some benefits can. Content relationships should help you get more eyes on your content and increase your followers.
For each strategy you pursue, clarify your goals and determine the best key performance indicators (KPIs) to track. That will likely mean:
Checking how much traffic a guest post or syndicated content piece drives to your website, and how many of the visitors from it convert.
Tracking how social shares and traffic for pieces that feature experts compare to those that don't.
Checking if UGC campaigns increase the number of followers, mentions, and engagement metrics for your brand on social.
If you deploy UGC on your site, measuring if there's a change in conversions or an uptick in views of the products featured in the content.
These metrics can help you quantify the value of your content relationships, and help you determine where to put the most effort in your collaboration strategies moving forward.
Conclusion
Content relationships are a crucial part of doing content marketing effectively. It's one of the most powerful tactics available to ensure that more people see and engage with your content. And it's a marketing tactic that relies on building mutually beneficial connections in your industry—something that's an unalloyed good for all involved.