US dropshipping is getting a lot of attention in 2019, and for good reason. Six-figure businesses are being built using the best US-based dropshipping suppliers. Here's why you should stop dropshipping products from China and how to start dropshipping higher quality products from the US. That way you can start an entire business without ever touching your inventory.
What Is Dropshipping?
Dropshipping is a retail fulfilment method for ecommerce shop owners. Instead of manufacturing, storing, shipping and processing your products, third-party suppliers handle it all.

All you need to do is choose the products you want to sell and list them on an ecommerce store. A dropshipping business offloads the responsibilities of fulfillment, leaving you with more time to focus on marketing your business without being buried in operational details.
Dropshipping is pretty easy to understand once the steps are laid out for you. If these guys can figure out how to create a successful dropshipping store packed with tees and hoodies, anyone can.
In 2017 alone, 23% of online sales were fulfilled via dropshipping.
As a consumer, you've likely purchased plenty of products from dropshipping businesses without realizing it. In 2017 alone, 23% of online sales were fulfilled via dropshipping, which amounts to $85.1 billion. With ecommerce growing by about 17% every year, it's projected that the popularity of dropshipping as a fulfillment model will continue to increase.
With dropshipping, all of the fulfillment and logistics of consumer-packaged goods are completed by a third-party only after a sale is made. This third-party is called the supplier and is shared amongst multiple ecommerce businesses.
Dropshipping fulfillment means:
The dropshipping supplier manages product inventory.
They store and cover warehousing of the product  inventory.
They handle shipping of orders.
They handle processing of returns.
They manage and execute restocking.
These operational tasks are time consuming for a shop owner, who has more lucrative tasks to manage.
Sellers who are looking to get started quickly with relatively low cost should look to dropshipping. By outsourcing these operational needs and investing no money in initial inventory, store owners can focus on marketing the product and spending available time on their customer acquisition channels to grow overall sales. To give you an idea of where dropshipping companies place their time, some of those customer acquisition channels are:
Facebook paid and organic marketing
Instagram paid and organic marketing (including influencer marketing)
Google PPC (pay-per-click) marketing
YouTube PPC  marketing (including YouTube influencer marketing)
Reddit PPC marketing
Quora
Pinterest
Content/SEO
In addition to customer acquisition, being able to focus your full effort on customer experience is a benefit of owning a dropshipping business. When you're managing the fulfillment of your products, you risk managing your inventory as well as supplying your inventory, which can lead to halting or delaying your marketing efforts and slowing sales. Meanwhile, when dropshipping, your suppliers will have a large quantity of product available. There's no stopping you. This allows you to place all available attention on the marketing channels that work, to grow or scale them up quickly.
Dropshipping has its downsides, though. The biggest one is that you're competing with many other store owners who offer your exact product. This means more consumers will see the product you've chosen to sell more regularly than if you had developed the product yourself or had exclusivity with the producer of the product. Because of that you have to be confident that you have a clear and competitive marketing plan to compete against other store owners.
Another downside is that there are fees associated with dropshipping, which are determined based on the product or supplier. Those fees can eat into your businesses profit margins and cause further stress on how effective your marketing efforts are. You need to spend the time ensuring you have an advantage over your competitors.
This doesn't mean you need a lot of money to get started. You can easily start a dropshipping business with less than $500. And location won't be an issue, either. Your supplier will be handling all of your inventory, shipping and processing. So you can feel free to start your office or headquarters wherever you see fit.
Advantages to starting a dropshipping business:
You don't need a lot of money to get started.
You don't have to buy any initial inventory.
It's easy to find products you have a deep understanding of.
It's easy to grow your sales alongside available inventory.
Fulfillment operations are outsourced.
Manufacturing is handled by a third-party.
A smaller percentage of goods have the potential to be damaged during the shipping process, due to the fact that the risk is on the fulfillment center and is "changing hands" less times.
Shipping costs are cheaper as third-party suppliers get bulk rates.
Why store owners and merchants are looking for US-Based dropshipping:
Dropshipping started long before the internet revolutionized it. The business model has been around since the 1950s. Mail order businesses sent catalogs to consumers to have them purchase products by mail or by phone. These products were distributed by the supplier that the catalog was working with.
As the internet and ecommerce started to grow, so did competition. Dropshipping professionals started looking at faster ways to turn a profit. One of the dropshipping companies that became very popular around 2014 was AliExpress.
AliExpress is a consumer product marketplace based out of China. Most of the products on AliExpress are extremely inexpensive. It is also relatively easy to connect AliExpress to your online store and use them as a supplier. Many AliExpress products started to get marketed through social channels and even places like Amazon.
Products from AliExpress are often low quality.
However, this brought its own set of problems. Products from AliExpress are often low quality. Sometimes they cost only pennies to produce. American consumers caught on to this quickly, and sales dropped. Now store owners and merchants are restarting. They are looking at domestic dropshipping suppliers and brands as a more traditional route of dropshipping. While the products may not be manufactured in the United States, their quality is much higher because the product development has been directed by a US-based producer.
It also can take 2 - 4 weeks for overseas dropshipping products to ship to your consumer. Slow product fulfillment leads to unhappy customers, which leads to poor customer retention and negative customer reviews. It's a downward spiral.
In general, once overseas dropshipping products have arrived on your customers' doorsteps, it tends to feel like this: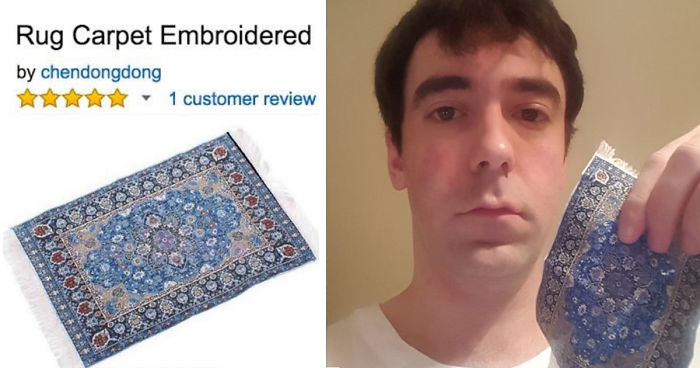 When considering using an overseas dropshipping supplier like AliExpress, you should keep a few things in mind:
Your distributor is located overseas, which means your customers will have to send return packaging with import duties and they'll have long return times, which will impact your overall customer experience. (What is customer experience?)
Product quality is generally much lower than products from U.S. dropshipping suppliers
Overseas dropshippers almost never accept returns, which also makes for a poor customer experience
Generally speaking, larger Average Order Value (AOV) comes with using US suppliers.
In short: Don't waste your time dropshipping from China. Using a USA-based dropshipping supplier creates more jobs across the country, reinforcing the strength of local communities and creating a more stable national economy. It is also makes for a much better customer experience.
How to calculate your net profit margin & understanding average order value
In order to calculate your net profit margin on the products you're dropshipping, use this formula:
(Your Price) - (Product Manufacturer Price) - (Dropshipping Fees) - (Marketing Cost) = Net Profit Margin.
Say you've chosen a watch from a dropshipper that costs $0.99. While AliExpress doesn't have a dropshipping fee, other suppliers will, and you might expect a $0.99 fee per order. You sell the watch for $20.00. It costs you $15.00 in marketing costs. This leaves $3.01 as your net profit margin.
The sweet spot that we recommend are products that sell between $40 and $80.
In this hypothetical scenario, you earned an okay profit. But often lower-quality products cost more in marketing, because you're looking for a very specific audience, and it takes more advertising in order to convert your customer. So you may end up with no net profit. The sweet spot that we recommend are products that sell between $40 and $80.
Your Average Order Value should be monitored just as closely as your net profit margin. AOV is calculated by sales per order. It can help shop owners track buyer patterns and advertising habits to determine future product pricing. The higher AOV, the more money you are getting out of every customer — and your marketing efforts.
A tip from the professionals on increasing your stores AOV:
If you have a thriving ecommerce store, supplementing products with dropshipped inventory is a great way to increase AOV. For example, say your store sells  children's apparel. Adding dropshipped toys is a proven tactic to up your AOV.
84% of ecommerce retailers cite the initial stages of finding and securing a good supplier to be the biggest obstacle to getting their business going.
The top-performing ecommerce businesses have an AOV of $102. In order to grow your own average figure, you have to choose a high-quality, reliable dropshipping supplier. However, 84% of ecommerce retailers cite the initial stages of finding and securing a good supplier to be the biggest obstacle to getting their business going.
Here are a few questions to ask your dropshipping supplier:
Under what specific conditions do they accept returns?
How long after a sale are returns accepted?
Will the supplier cover the return shipping fees or will the merchant be responsible?
Does the supplier accept mistake orders (clothing and shoes bought in the wrong size, etc.) or only damaged products?
How is their overall return process handled?
These questions will give you better insight on why professional dropshippers have moved away from AliExpress and other overseas suppliers. They are choosing to focus on US-based dropshipping suppliers because returns are easier, shipping is shorter and products are higher in quality.
Tips for selecting the right suppliers and products for your ecommerce shop:
Research the top-selling products on sites like Amazon, Walmart and Target. Use tools like Ahrefs to research product search volume. Or go to each of the merchants' "bestsellers" list to start.
Find products with 4.5 star ratings and up.
Avoid branded products to avoid selling knockoffs.
Read through the comment sections to make sure the buyer feedback is mostly positive.
Find a product with high-quality, unbranded photos of the product being sold.
Select products with relatively low prices so you can sell them for a significantly higher price and make a larger net profit margin.
Unique ways to find U.S. dropshipping suppliers:
There's more than one way to find a US-based dropshipping supplier. Shop owners can work with businesses who offer print-on-demand products such as books, t-shirts, hats, posters and artwork.
Print-on-demand is similar to dropshipping, but the biggest difference is that the product isn't actually manufactured until a customer purchases it.
Print-on-demand is similar to dropshipping, but the biggest difference is that the product isn't actually manufactured until a customer purchases it, so you might have longer shipping times.
Many print-on-demand providers offer you the ability to have custom branding on your packaging. This stops the customer from feeling as though they purchased the product from someone other than you.
When integrating these print-on-demand suppliers into your store, you will have to invest time in either learning basic programming or hiring a professional with web development experience. In order for customers to purchase the products from your store and send purchase orders to the print-on-demand suppliers, you'll have to use an API or Application Programming Interface.
An API lets your store communicate with the print-on-demand supplier through executable code. It will send secure information like the customer's shipping address and which product was ordered in order to prepare for manufacturing. Anticipate that if you don't have any web development experience there may be an additional cost in hiring someone with this skill to assist you in the setup.
We particularly like Printful, which has a wide variety of men's and women's apparel available for print-on-demand. They even have home goods, which offers a unique opportunity as well.
Tips for making money online with U.S. dropshipping suppliers:
Choose your niche carefully. Don't assume that cobbling together a mass of random products on one site will lead to success. Utilize Google Trends to determine what people are looking for and to better understand current market demand. Then search for those products online to determine if and how the current supply is meeting that demand. Search blog articles and online guides in order to determine the best products to sell online.
Other tips to consider:
Import select products (try 25) when you're first starting out with your ecommerce shop. That way, you can launch your store earlier. When using a dropshipping supplier, you can easily add more products any time you choose.
Order product samples to make sure the quality is high enough to sell to your customers. And use those product samples for custom photography.
Avoid underpricing products. Do not price items too closely to what you paid for them. Consider your costs of marketing and business expenses.
Offer your customers limited time promotional offers, to drive a sense of urgency to purchase. Create seasonal bundles to motivate customers to buy as many of your products as possible.
Spend an hour a day on your store's customer experience, like your product pages.
Monitor your competition. Check their prices. Check their sales. Learn from their mistakes and replicate their successes.
Pivot when required. If your shop is not making a profit, remove old products and add new products until you discover what you sell the best.

USA dropshipping supplier list
Finding products to sell through USA dropshipping suppliers can be difficult, but we've picked some of the most inspiring  brands, products and suppliers that you can start working with right now. Here are some of the products and categories to get your research started:
Home Goods Suppliers
| Brands | Supplier | Pricing | Products We Like |
| --- | --- | --- | --- |
| Home Roots Decor | Home Roots | Wholesale Pricing | Sheepskin Rugs, Barstools, Decorative Pillows |
| Wyndham House | B&F / Maxam Wholesale | $100 minimum first order. Wholesale pricing, $3.50 dropshipping fee | Bamboo Sheet Sets, Luxury Bedding |
Hunting & Fishing Supplies
| Brands | Supplier | Pricing | Products We Like |
| --- | --- | --- | --- |
| Hogue, Berkley | Green Supply | Wholesale pricing, $1.50 fee per order, freight shipping | Polarized Hunting & Fishing Sunglasses |
| Eagle Claw, Strike King Company | Burch Fishing & Tackle | $199 annual fee, plus shipping cost | Eagle Claw Hooks, Eagle Claw Jigs, Spinning Reels |
| Predator Tactics | Zanders | Wholesale pricing | Predator Hunting Game Calls (Lanyards) |
| Fin Finder | Kinsey | Need to become an approved seller before pricing is determined | Bowfishing Bows, Bowfishing Arrows |
Pet Suppliers
Brands
Supplier
Pricing
Products We Like
Jiffy, Wellpet, My Favorite Chicken
US Direct
$0.50 to $2.00 per order of any size
Dog Treats, Dog Collars, Holiday Specific Products
Brands Specific to CoolPetStuff
CoolPetStuff
No fee
Sports Team Dog Collars, Sports Team Dog Jerseys
Mirage Pet Products
Mirage Pet Products
Wholesale Pricing
No Fee
Ethical, Zoo Med Labs, Miller
TopDawg
No fee
Fish, Bird, & Ranch Supplies
Survival & Camping Suppliers
| Brands | Supplier | Pricing | Products We Like |
| --- | --- | --- | --- |
| Blackhawk, Microtech | Sportsman's Supply | No Fee | Camping Knives, BBQ Pellets, Camping Cooking Pans |
| Zippo, Bear Archery, Belts | US Direct | $0.50 to $2.00 per order of any size | Bows, Lighters, Lanterns, Safety Vests |
| Coleman | Green Supply | Wholesale Pricing, $1.50 fee | Sleeping Bags, Air Pumps, Blankets |
Bath, Body, & Fragrance Suppliers
Brands
Supplier
Pricing
Products We Like
Alaffia, Beauty Without Cruelty
Honest Green
Tiered percentage based on pricing at the volume you sell
Cruelty Free Body Lotions, Authentic African Soaps
Hugo Boss, Calvin Klein
FragranceX
Wholesale Pricing
Men's Fragrances
Christian Dior, Gianni Versace
FragranceNet
Wholesale Pricing
Women's Fragrances, General Apothecary
Consumer Electronics Suppliers
| Brands | Supplier | Pricing | Products We Like |
| --- | --- | --- | --- |
| Petra Industries, Garmin | Petra Industries | Wholesale pricing, $3 per order | Headphones, Automotive and Marine Amplifiers |
| Sea Dog, Bluefin | CWR Electronics | No fees | Underwater LED Lighting, Solar Panels |
| Battery Technology | US Direct | $0.50 to $2.00 per order of any size | Thinkpad Batteries |
Health, CBD, & Supplement Suppliers
| Brands | Supplier | Pricing | Products We Like |
| --- | --- | --- | --- |
| Happee Spice | Happee Spice | 20% off MSRP | CBD Vape Oil |
| Umcka, Nature's Way | Bangalla | Contact Bangalla for pricing | Umcka Cold & Flu, Nature's Way Zinc |
| Optimum Nutrition | Europa Sports Products | Wholesale Pricing | Optimum Whey Protein (Water Additive) |
You've got the products, now what? Show customers your expertise.
With dropshipping you never have to commit to buying the products you're selling until they've sold. That means you can list them on your site and see how well they resonate with your audience the very same day.
With dropshipping you never have to commit to buying the products you're selling until they've sold.
When a product is popular, you can add more products your customers might enjoy. When something is performing poorly, you can remove it from the site and move your vision in another direction. You can figure out what your specific customers are responding to and then tailor everything about your shop to their needs.
A tip from the professionals on product descriptions:
When crafting the perfect product description, write a list of all your customers' potential objections against purchasing that product. Ensure that your product descriptions speak to each one of those objections in a storytelling format.
Good deals are not enough to keep customers coming back.
Good deals are not enough to keep customers coming back. Focus on the smaller details that will build brand loyalty. Make sure your ecommerce store looks aesthetically pleasing. Consider adding a robust FAQ page, information regarding your shipping and return policies and integrating shoppable Instagram galleries from your social channel.
Make your shop a place customers trust. Make it clear you are an expert in whatever category your store falls under, whether that be makeup, books or gardening. Most importantly, make it easy for your customers to purchase from you.
How to increase the chances of a customer purchasing from you:
Write unique and detailed product descriptions to appeal to your specific audience. This will help your ecommerce shop's SEO in the long run, as those descriptions may contain keywords your future customers are searching for on Google.
Price products appropriately. Raise prices enough so you make a profit, but don't raise them too high and risk customers turning to another supplier. Make sure you're analyzing your traffic and conversions as a basic way of measuring your products pricing.
Consider offering free shipping to customers who have made purchases from your store in the past.
Most ecommerce stores convert their traffic at a rate of around 1-2% on average. The more traffic on your site, the more likely you're going to convert a visit into a sale. Without the hassle of packaging, shipping and logistics, you have much more time to focus on branding, testing ads, and growing your site traffic.
Focus on strengthening your SEO for Google by writing content on your site related to your product categories. Build trust with existing customers through outstanding customer experience. Write thank you emails to every customer. Provide discount codes for customers for their next purchase.
How to develop brand loyalty:
When a customer emails you with a question, respond as quickly as possible. At the latest, only take twenty-four hours to answer.
Do monthly giveaways on social media as an incentive to follow the brand.
Send loyal customers thank you cards to make them feel appreciated.
Create informative blog content that will help your customers.
Let your customers know that they are valued, to convince them to keep coming back and tell their friends about you.
Consider all the ways to get the attention of potential customers, including social media.
86% of marketers use both paid and organic tactics in their social media strategies. You can create relatable, organic videos on Facebook, Instagram and Google in order to catch attention from customers. You can also pay for Facebook ads, Instagram ads or work on acquiring partnerships with the brands you offer as a way for them to mention your store.
No matter what, make sure you get your company name out there.
No matter what, make sure you get your company name out there. Be active on your social channels on a regular basis even if you aren't seeing immediate engagement. For Instagram and Facebook in particular, the more you post, the more likely you are to appear in feeds.
How to create organic social media content:
Cut down on promotions in order to build your brand personality and voice.
Join trending conversations via hashtags in order to boost your visibility.
Delete or publicly reply (in a kind way) to unwanted comments that do not align with your brand.
Create a username that's easy for customers to remember and upload a recognizable brand photo. Make sure these details remain consistent across every social media account to build familiarity.
Try to create evergreen content so your posts don't have an expiration date.
Focus on quality over quantity of posts. The average Facebook user is subjected to around 1,500 stories per day. However, Facebook only displays around 300 on feeds each day. This means the quality of posts is more important than the frequency of posts past a certain threshold.
Align your content with the platform and the mindset and interests of the consumers on that platform.
Tips for creating paid social media content, or ads:
Know your campaign and objective.
Select the right social platform for your audience.
Only boost your best, highest-quality content.
Target the right demographic in regard to age and interests.
Test and fail quickly, and save marketing budget for only when that advertisement is converting your visitors into customers.
Partner with influencers. Pay them to wear, use and post about your products on their feeds.
Key takeaways from this article:
Dropshipping is the fulfillment model of nearly 33% of online stores. In 2017 alone, 23% of online sales were fulfilled via dropshipping, which amounts to $85.1 billion.
You don't need a lot of money to start a dropshipping business. You can easily begin with less than $500.
Use a USA dropshipping supplier for easier returns and shorter shipping times. Don't waste your time dropshipping from China. The products are low quality and have long shipping times. A USA dropshipping supplier means shorter shipping times & easier returns — and you'll be helping create more jobs across the country.
The top performing ecommerce businesses have an average order value of $102. A high-quality dropshipping supplier will grow your average order value.
Social media advertising can also help grow your business. 86% of marketers use both paid and organic tactics in their social media strategies. You can create relatable, organic videos on Facebook, Instagram and Google in order to catch attention from customers.
Without taking the time to store, ship and return products, you will have more time to market your shop and provide customer service to raise your future AOV and net profit margins.
Overall, manufacturers who use dropshipping are 18.33% more profitable than manufacturers who rely on conventional channels, since they're not as dependent on the inventory space of retailers. This means both manufacturers and shop owners will profit from dropshipping.
We hope this guide gave you insight and inspiration for your US-based dropshipping store. Remember to get creative about what products you offer. The most unique products — ones that you also have a lot of knowledge about — are oftentimes the ones that do the best.
Have any questions about dropshipping or how to find the best US dropshipping suppliers? Let us know in the comments!