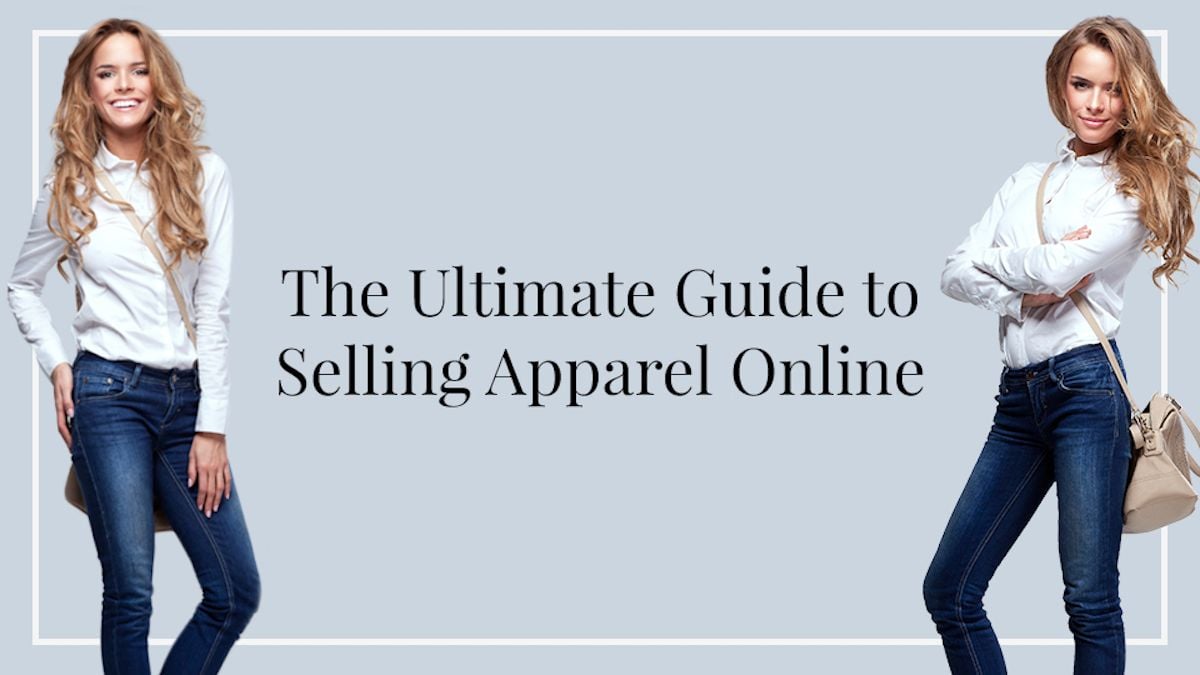 As far as worldwide obsessions go, fashion is probably at the top. Yes, we need clothes for practical reasons—but fashion goes beyond that. Clothing is a way to share who we are without saying a word.
In 2020, the U.S. apparel industry topped $1.5 trillion dollars. As an ecommerce merchant within such an enormous industry, you're sure to face some competition. In this guide, you'll learn how to sell clothes online through advanced marketing techniques, maximizing your success.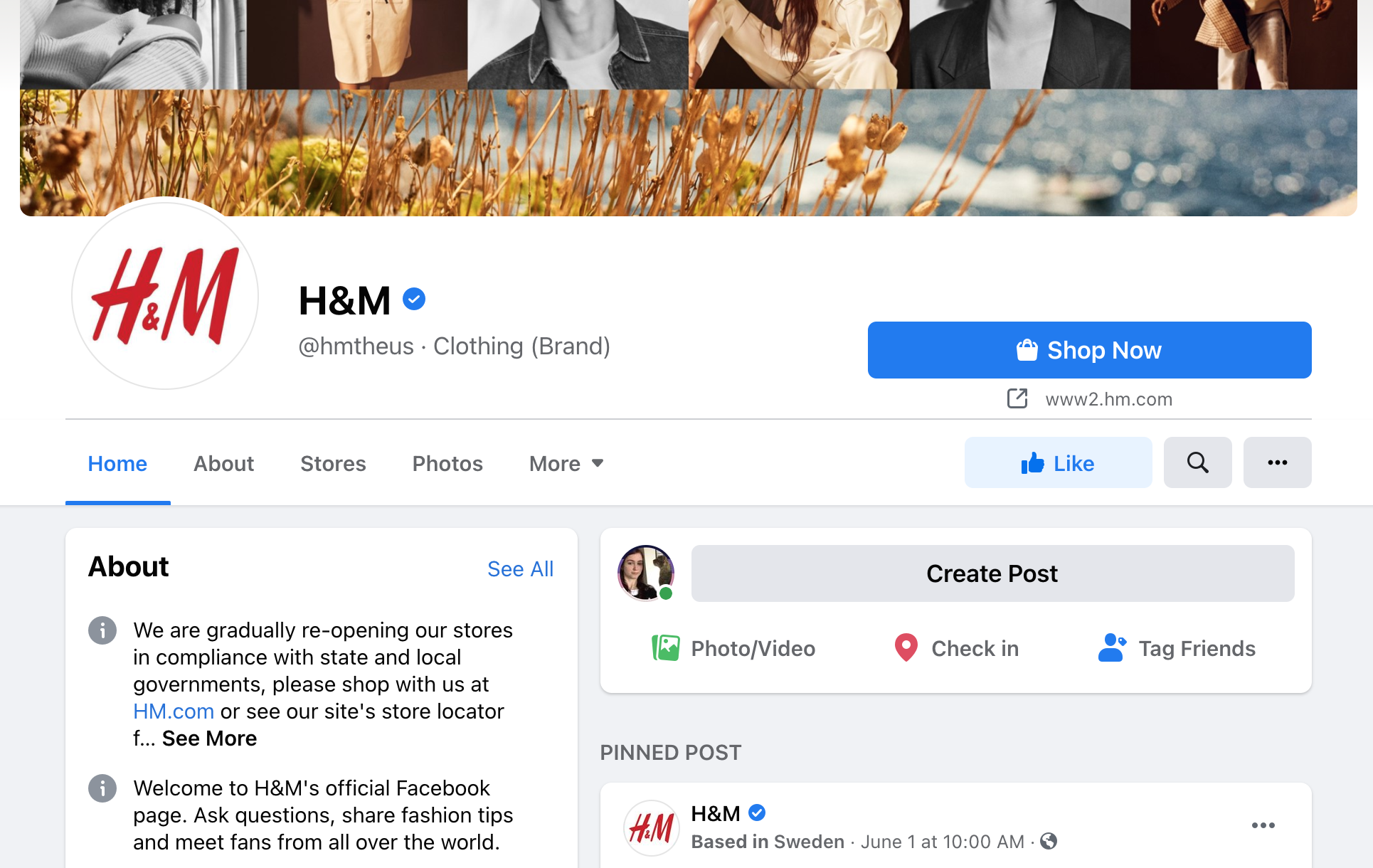 1. Make a Splash on Social Media
The adage "A picture is worth a thousand words" rings true for both major brands and small businesses in the fashion and apparel industry. This industry, built on the notion that aesthetic is everything, is now even more reliant on visuals because the latest social networks have birthed a new obsession with pictures and visual content.
That's where social media marketing comes in. Social media allows apparel brands to not only showcase their products in a visually appealing way, but interact with their customers as well—a crucial skill in an industry where customer feedback and loyalty determines business longevity. Social networks like Facebook, Pinterest, Polyvore, and Instagram help fuel fashion-related buzz with the click of a button. For major brands and blossoming businesses, it's no secret that social media is now a necessity to engage customers and promote products to a much larger audience.
Social media is also a key factor in purchasing decisions. In fact, over 71% of consumers say that they are more likely to purchase a product based on social media referrals.
Advantages of Establishing a Social Media Presence
Increases brand loyalty
Drives traffic to websites
Promotes good customer service
Increases customer engagement
Provides more conversion opportunities
Provides access to more accurate customer insights
Allows brands to promote products to more people
Creating a social media presence starts with more than just a thought—it requires research. It's important to know which platforms are best suited for different demographics. For instance, Pinterest is a great network for women ages 20-65, whereas Instagram is better for teens and young adults. Fashion brands should decide which networks to use based on their target audience and the type of content they wish to share. Because the fashion industry relies on aesthetics, it's best to focus on platforms with the ability to host and share highly visual content. This will allow brands to showcase their products and photos more efficiently.
Top 5 Visual Social Media Platforms for Fashion or Apparel-Oriented Businesses
Facebook is generally considered the "every man" of social media, which makes it a great starting point for apparel companies. Its demographics are evenly split up, so it's a good platform to use if your clothing appeals to a broad spectrum of people. Use Facebook to build a following, announce sales, and genuinely interact with your customers.
Facebook also boasts one of the best social advertising platforms on the market today. Facebook ads are not only affordable, but they are also versatile and effective. These ads allow brands to place ads right in front of their target audience while encouraging a call-to-action. Whether it's liking a Facebook page or going to the website, Facebook ads always prompt the user to act, which potentially leads to higher conversions.
Pinterest and Polyvore are very popular among fashionistas and professionals in the apparel industry. Consumers use these networks for fashion inspiration and product discovery. Polyvore allows users to participate in site-wide contests to gain recognition for being an authority on fashion. It allows brands the opportunity to be discovered and interact with consumers who are genuinely interested in apparel. High-quality images linking directly to product pages or trend alert blog posts are some of the best performers on Pinterest, while collages featuring products from multiple stores usually fare best on Polyvore. Don't forget to use these two networks together, as well: Polyvore Sets are pinnable, and pinning these Sets to Pinterest can help you cross-promote your social profiles.
Like Facebook, Pinterest also has a social advertising program. Promoted Pins allow brands and businesses to promote a pin to a targeted audience at an affordable price. Though the targeting preferences are not as sophisticated as Facebook, it still places ads in front of relevant consumers.
Tumblr and Instagram are best for building brand recognition. These networks can help brands reach younger demographics through more personal avenues. Though both platforms offer social advertising plans, they are relatively new and have not been adequately tested for effectiveness, especially with smaller brands.
Tumblr supports a wide range of media. From GIFs and videos to photos and audio files, Tumblr lets brands tell their story in many different ways. It's also a great place to interact with fashion bloggers.
Because Instagram only hosts photos and short videos, this network is best for creating photo caption contests or other content to post on main social pages. When it comes to marketing, these networks are more supplemental and should only be used in addition to Facebook or Pinterest.
Social Media Best Practices
Simply creating a social media profile doesn't guarantee success. It's crucial to monitor engagement rates and interact with fans or followers on a regular basis. Of course, this is easier said than done, especially for those in the apparel industry. Time constraints and busy schedules are rampant, but dedicating 15 minutes per day to managing social profiles can do a world of wonders. Try using the tips below as a guide:
Respond to comments and inquiries in a timely manner.
Be personal! Tailor your message to your specific audience.
Create and post images. Don't just post pictures from your website—create custom graphics that highlight your brand's personality and showcase your clothing in real life. Tools like Canva and PicMonkey can help with this.
Expose the behind-the-scenes aspect of your industry. Sometimes seeing the effort that goes into making a clothing item or stocking a particular product sparks interest and prompts a purchase.
Conduct giveaways and unique contests. Use holidays and sales cycles to influence your giveaways. Don't be afraid to have fun with it.
Promote discounts and giveaways in social media advertisements.
Stagger content and don't post duplicates. Duplicate content is not just bad for SEO; it's also a waste on social media. Even if it's just changing a few words, make sure you're not constantly posting the same content on different platforms.
Listen to customer feedback and make an effort to truly understand your audience.
Post information relevant to your audience, not just internal company news or new products.
Schedule posts ahead to save time with free tools like Loomly, Hootsuite, Tweetdeck, Facebook Scheduler, and Buffer.
Use relevant hashtags on Pinterest, Instagram and Tumblr, but don't go overboard. Using too many hashtags could have a negative effect.
Ensure messaging appeals to your target market.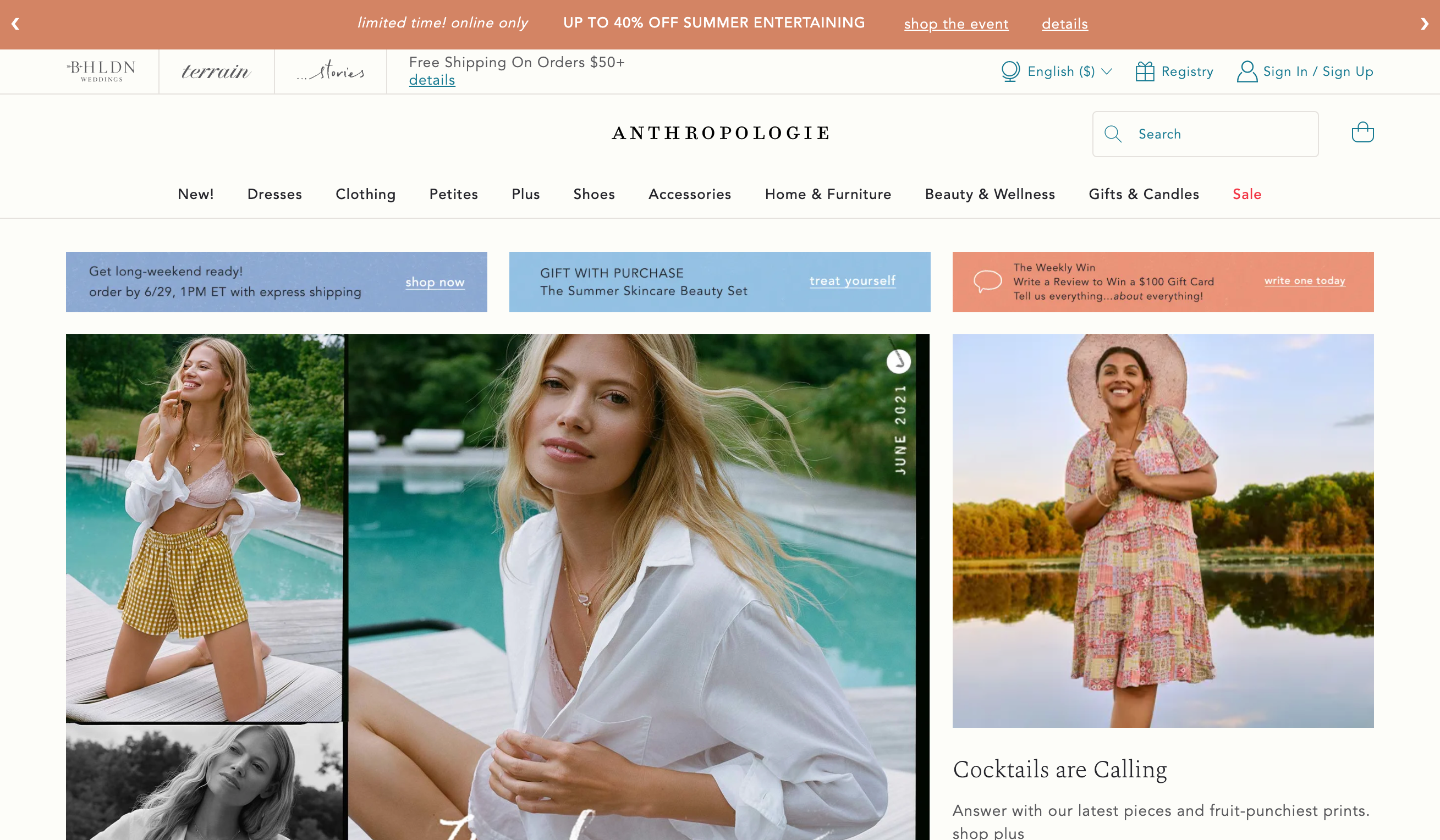 2. Design a Fashion-Forward Site
Appearance is everything in the apparel industry, which is why it is so critical to make smart design choices for your online store. Keep these best practices in mind when designing for your online apparel store:
a. Use large, professional photography
It is so important to have large, beautiful photography when you're selling clothing. Visually showcasing the latest collection and styles will entice your visitors to shop further into the site. Hire a professional photographer to provide striking images of all your products.
b. Embrace a minimalist approach
Keeping a clean design will draw attention to your products and allow them to speak for themselves. A minimalist approach also provides you with more versatility. As seasons and collections change, you can update those images without worrying about clashing with the clean, minimal look.
c. Showcase seasonal sales & trends
The apparel industry is unique because fashion trends change so quickly. Stay on top of seasonal trends and sales, and update your site accordingly.
d. Promote with social media
Apparel shoppers love to use social media as they shop. Whether it's sharing on Instagram or saving it on their Pinterest board, social media is highly integrated into the shopping experience. Help make the sharing process seamless by promoting your social profiles and encouraging engagement. A great way to promote your social profiles is to provide a space for them in your design.
e. Use a clear navigation structure
It is essential to keep your navigation structure clear and easy to use. Make sure your category names are straightforward and to the point. Take a look at your competitors and see what works best for them. Do some user-testing to make sure you are providing the best in usability for your customers.
f. Allow customers to shop by occasion
For a shopper coming to your site looking for cocktail dress for a wedding or a swimsuit for their next pool party, providing a visual graphic will encourage them to click further and shop for what they need.
g. Create a lookbook page
Creating a lookbook of your latest collection is a wonderful way to visually display your newest products. You can then link these images to specific product pages to allow your visitors to purchase that fashion item.
h. Look for inspiration
To stay ahead of the game, it's a good idea to look at other sites for inspiration. What are your competitors doing? This will help you make the right design decisions for your store.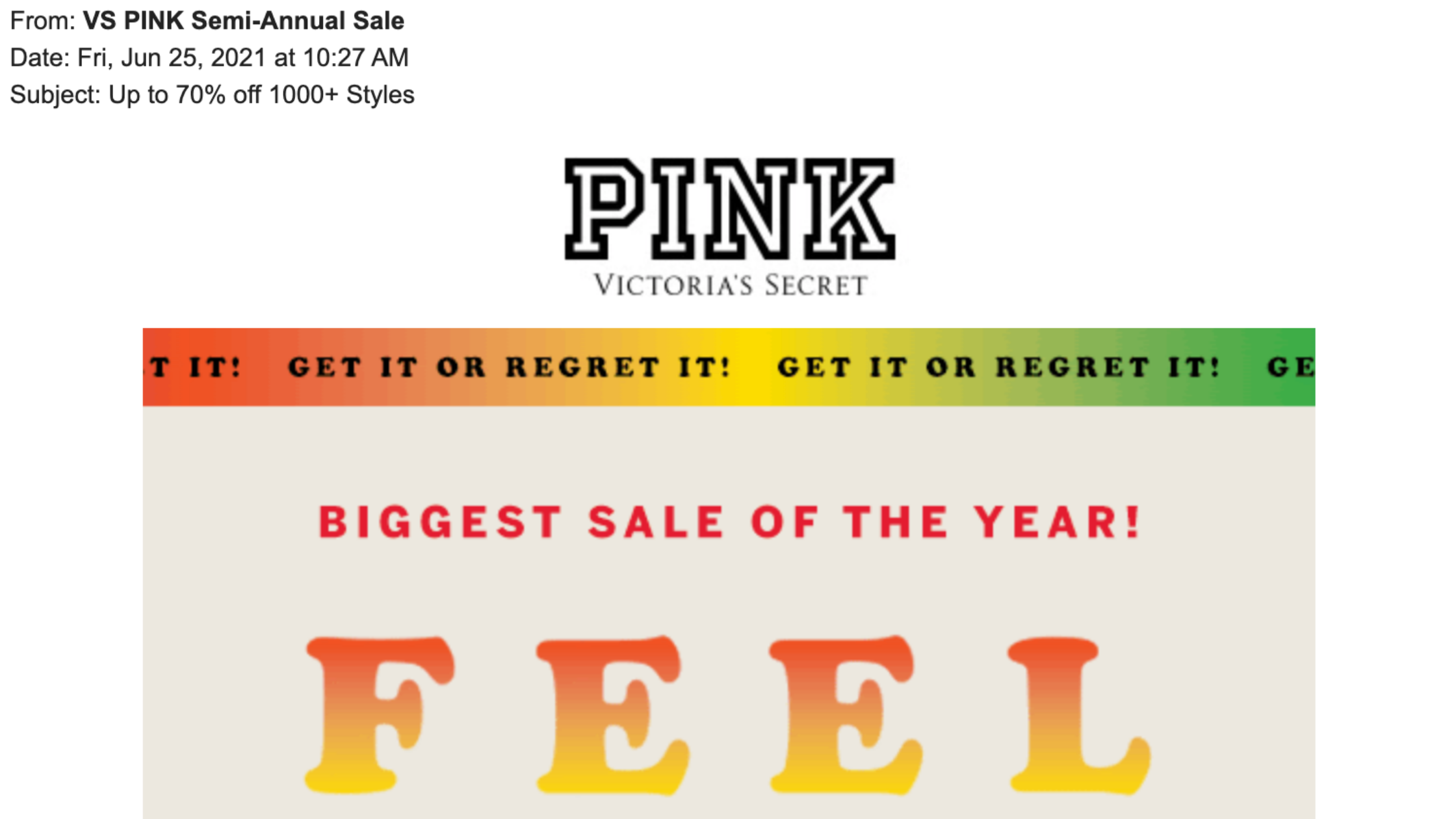 3. Use Email Marketing to Boost Sales
Email marketing is a great opportunity to reach your customers who opt in to be a part of your company. This unique tactic allows you to highlight other marketing efforts like showcasing social media, highlighting blog articles, and even giving email-only promotions. In addition to all of the great benefits this marketing channel has to offer, here are some key areas to focus on in the apparel industry.
a. Ensure consistent branding & formatting
The apparel industry is saturated, but you can rise to the top in your subscriber's minds by making sure you look the part compared to the big-hitter national brands. You want to make sure that your email aesthetic matches your website's defined branding standards. By reinforcing this, you can maintain the branded feel and build trust with your subscribers so they know they're reading information from the company they have come to know so well. When they click to your site, your branding should be maintained, encouraging them to continue browsing instead of bouncing back to their inbox and perhaps clicking on a competitor's email instead.
Also, make sure the formatting is correct in all email providers and even between mobile and desktop inboxes. Nothing can scream distrust like wonky code and broken images. If your email template does not have a clean and trustworthy aesthetic, why would subscribers click through to your site? They would believe that your site (and possibly even your products) have that same untrustworthy quality.
b. Send out timely content
Due to the apparel industry's competitive landscape, it is imperative that companies stay on top of trends and seasonal changes. Using email marketing to highlight your company's new arrivals or industry trends help subscribers feel like they're receiving VIP access into the fashion industry. You will become an authority and a fashion resource. Subscribers will know they can rely on you first to break the news and purchase straight from the source, all with one email!
c. Segment your subscribers
Email list segmentation is a low-cost way to boost your conversion rate and relate to your subscribers. Your subscribers have naturally provided their information based around their email address when they interact with your site. You can learn more information such as their names, products they've purchased, their location, and more.
For example, segment your email list to those who have purchased tops in the past and send just those email addresses an email with a promotional code for a discount off tops for a limited time only. By segmenting your email list, you are building a more customized experience for your subscribers and increasing the likeliness of making the sale.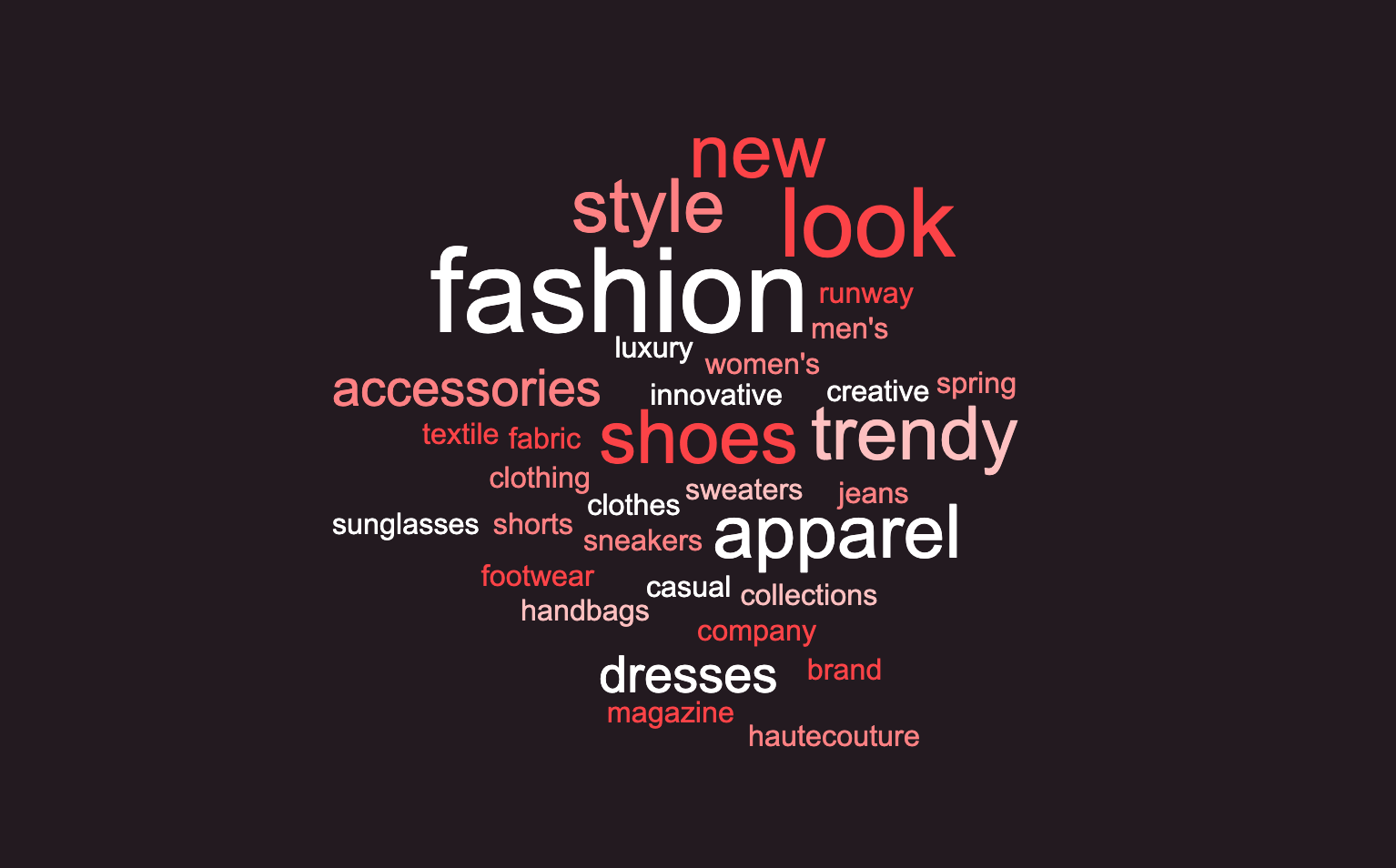 4. Target Seasonal and Long-Tail Keywords with SEO
If you have a store online, you probably realize that SEO is absolutely vital to finding long-term success. However, you may not realize that SEO for clothing stores can be very different from other industries. Follow these best practices to help your store sell more apparel online.
a. Take the time to research keywords
Everyone in the fashion industry knows what a cut-throat and competitive landscape it can be. With so many independent sellers and big box stores with lower margins and huge marketing budgets, it can be hard to make a name for yourself and stand out from the crowd.
A sample search query on Google for "children's shoes" is the perfect example of the steep competition for short-tail keywords. Top results include stores like DSW, Stride Rite, Zappos, Target, and Shoe Carnival. In fact, it is multiple pages into our search that we find any small or medium sized stores listed. No matter how great their SEO may be, they will never be able to compete with the size and reliability that land larger stores their premium real estate. Diversifying with longer-tail, more descriptive search terms may connect an independent seller with the exact audience they are looking for. For example, "glitter shoes for girls" or "light up sneakers for little boys" would find significantly lower competition than the much more generic "children's shoes."
When you start your keyword research, begin with your homepage, moving into main category pages, sub-category pages, and eventually down to products. Be sure that the keywords chosen are describing exactly what is on the page, ensuring that your shoppers will be satisfied when they arrive.
Capitalizing on seasonality, holidays, or trends in your keywords is another great way to gain competitive traffic to your store. It may mean that you have to optimize your category pages more than once, but it also means that if customers are browsing by a certain season or year for a designer, they are more likely to find it in your offering than at a competitor's store. Try thinking ahead to next season's trends or special events and include those themes in your keywords, and you will multiply your odds of your target demographic arriving at your store.
b. Optimize your Product and Category pages
It is a common misconception to think that once you open your online store and list your products, orders will start pouring in. In actuality, optimizing your categories and products for search engines is much more complicated than that. Your store may sell clothing, jewelry, footwear, and accessories for men, women, and children. How can you possibly optimize just your homepage or a category in a way that matches what each of them is looking for when they shop online?
Although it may be time consuming, it is very important to add unique title tags, meta descriptions, and product descriptions when uploading a new product line or set of seasonal items. This will drastically increase your chances of appearing in search results when people search for exactly your product offering. Additionally, your chances of appearing in search results with no product description are significantly decreased, so you'll want to put your best foot forward.
But a word to the wise—do not try to cut corners by copying manufacturer's descriptions of your products. This is what the SEO community calls "duplicate content" and may result in your website being punished. Instead, write thoughtful, descriptive content that will help your customer understand the value of your products and make their purchasing decisions. Help your customer understand how to style their new green tunic or where to wear that red cocktail dress. Bottom line: Use your product descriptions to give your customer all of the information he or she might need in order to make a purchase.
These descriptions are for your customer, not the search engines, so you'll want to display your content in a way that is easy for your shopper to scan and digest—with H1 and H2 headings and lists, if applicable. Take the lessons you learned about keyword research and apply them to the title tags, meta descriptions, and product descriptions, and ensure you are labeling your items in the same way that shoppers are searching for them.
c. Reach out to bloggers in fashion & clothing niches
Despite all of the money spent in the advertising industry—reportedly $242 billion in 2020—sometimes word-of-mouth advertising from a trusted friend has a significantly greater ability to influence shopper behavior. And with the proliferation of recent style and lifestyle blogs, it is easy to feel like a personal relationship is built between blogger and reader. A fashion blogger is a more accessible and approachable style icon of our day than a celebrity walking to the red carpet of the Met Ball, with seemingly "normal" men and women sharing their style choices on their blogs or social media channels.
When shoppers head to the internet to research a desired item, many look to their favorite bloggers for daily style inspiration. A BlogHer social media survey showed that 70% of online shoppers learn about new companies or brands through blog posts more than ads. A whopping 61% of those people report that they've made purchases based on those recommendations.
But how can you form a blogger outreach style that works for you, especially with a limited marketing budget? First, not all blogger posts are sponsored, or paid, posts. While some of the most influential style bloggers with legions of followers can command hefty paychecks for a sponsored blog post or social mention, there are other ways to earn product reviews, mentions, and links back to your store from bloggers. You can consider niche bloggers with an audience that is tailor-focused to your store's brand, leveraging the writer's own expertise and passion—not just their follower base.
Try reaching out with a message offering a free product in return for a review or a mention in a related post. You might also send them a complete post pitch, with an idea of how to tie in your store's clothing for an upcoming holiday or event. An important note to consider is to always ask for a link back to the specific item or to your store's home page. Finally, remember that many bloggers are writing as a full time job, and offer a win-win solution in exchange for their time and effort.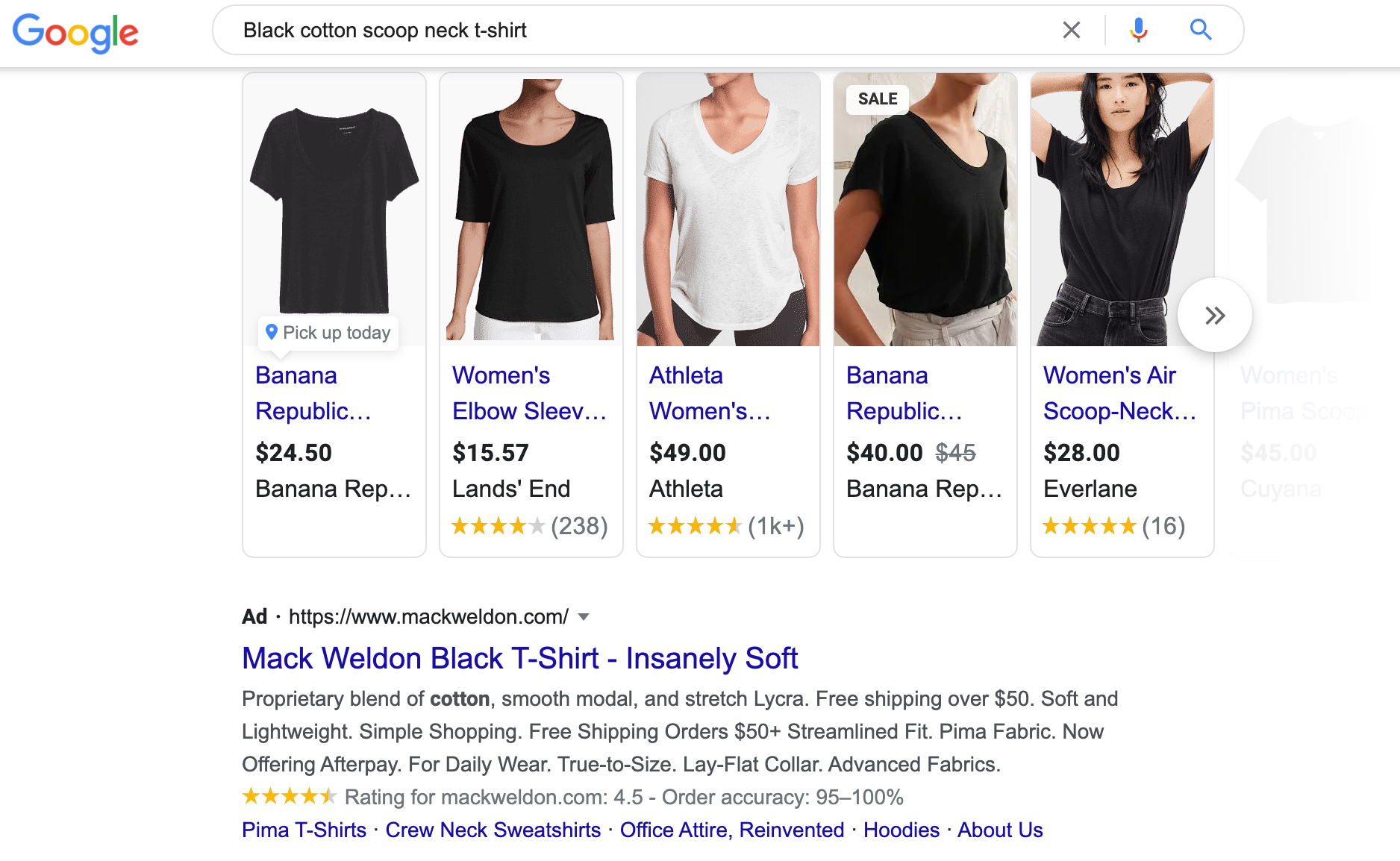 5. Implement PPC Best Practices
Selling and describing apparel through text-based ads can seem like a daunting task, but with the right strategy, selling apparel through PPC ads can be a breeze. Just apply a few of the suggestions below to your PPC efforts to usher the right traffic to your store and convert happy customers.
a. Use the right keywords
While selling apparel online is competitive, the use of the right keywords can really set your store apart. When selecting keywords, consider the following:
Bid on brands: Do you sell items from well-known brands? Try bidding on keywords with both the product and the brand in the keyword (ex. "Greys anatomy white dr lab coat")
Be descriptive: Be sure to describe your products as much as possible. While you may sell black T-shirts, try focusing on what makes that product stand out. Think about the material, cut, and other aspects to include in your keyword (ex. "Black cotton scoop neck t-shirt")
Stay away from broad terms: Shift focus away from too-general keywords. Visitors will stop on your site; however, they'll be more likely to bounce back to the search results when they don't find what they're looking for (ex. "shirts")
b. Filter irrelevant traffic with negative keywords
Taking advantage of negative keywords is a must-do for any PPC strategy. By placing descriptive negative keywords in a campaign, you'll prevent irrelevant traffic from triggering your ads while saving that ad spend for the searches that matter most. When selecting negative keywords, consider the following:
Negate big box stores: Websites such as Walmart, Target, and Amazon are difficult to compete with. Use broad negative keywords for large national competitors as well as smaller competitors to prevent ads from triggering for users searching product + store.
Size matters: Add negative keywords for sizes not available in your store. For example, petite, plus, and wide widths are often found in specialty stores. If your store does not provide the size, then add the size(s) to the negative keyword list (ex. 8p, 24, 8ww)
c. Stand out from the rest
Ads are the first impression of your business for the searcher. Create a great first impression by garnering the most real estate on the search results page and using powerful calls to action to help your ads stand out from the rest.
Emphasize promotions: Percentage off and free shipping promotions perform well. Add these and other promotions to ad copy to help give your existing sales a quick boost.
Talk to your audience: Calls to action are important to include in all advertising efforts. Try speaking directly to your audience in ads to encourage them to order from your store (ex. Order now & look great faster.)
Create a sense of urgency: Use countdown extensions to urge users on the fence to follow through with their purchase during the final days of a sale.
d. Land users on relevant pages
Landing pages are crucial for advertising apparel. Try organizing landing pages as a top level category page with appropriate subcategories within one click. Each ad group should land users on pages relevant to their search. For example, make sure a general shoe ad group lands users on a general footwear category page. The category page should also have options available for high heels, flats, running shoes, etc. Review keyword lists and ads per ad group to ensure that ads send users to the appropriate landing pages.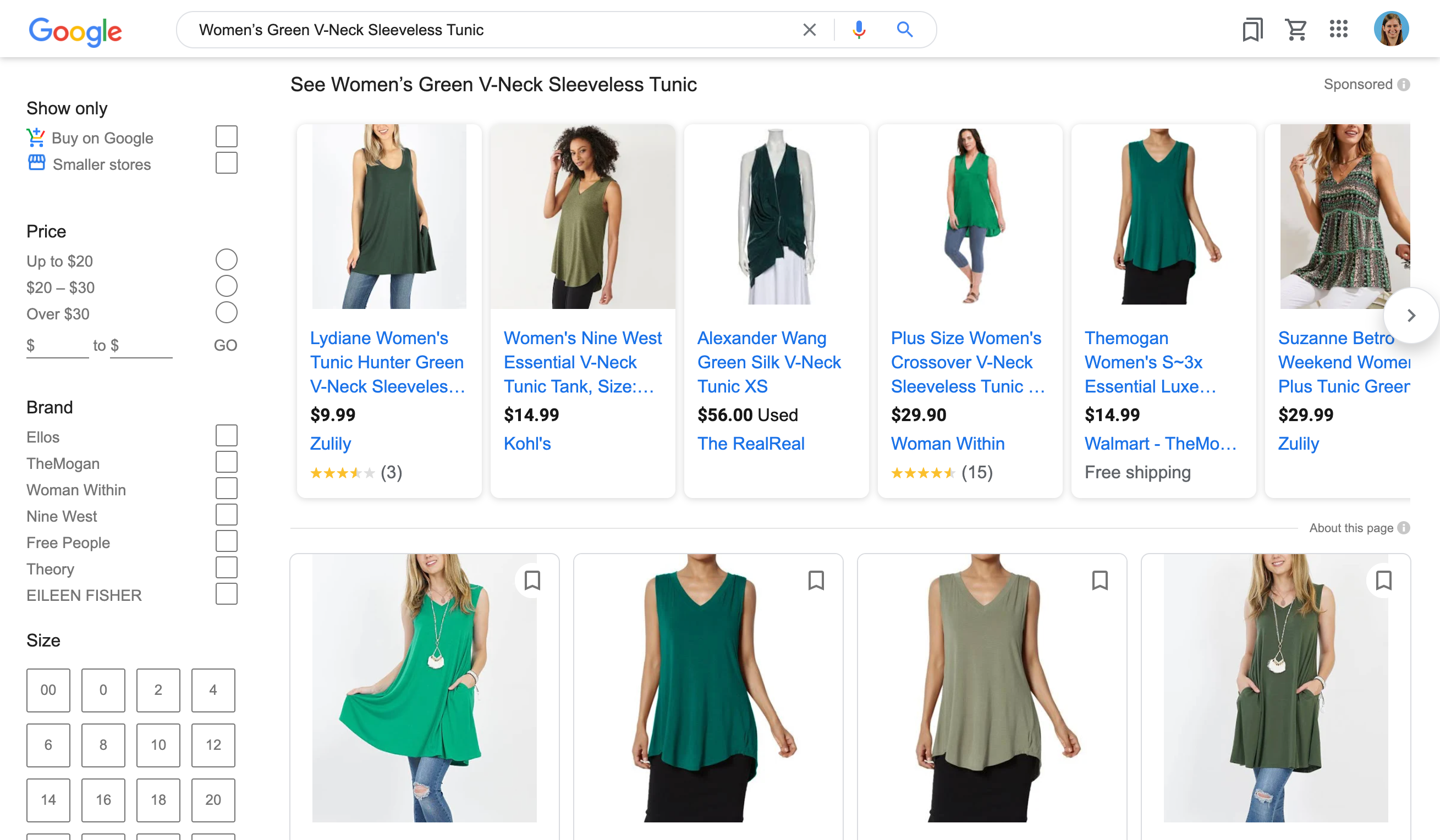 6. Sell More Clothes with Shopping Feeds
Google Shopping is one of the best marketing channels to display apparel products. Because apparel is an industry that can cause customers to easily get distracted, shopping feeds are great for showing them relevant information so they can make a quick decision. Since it is paid, it is a good way to get traffic and conversions, but you'll want to follow these best practices to get the best return on your investment.
a. Use high-quality images that display your clothes
Shopping feeds have the advantage of using pictures to advertise your apparel items. Use quality images so that customers can see exactly what they will be receiving. It is ideal to have pictures of clothing being modeled; clothes can look quite different laid out than actually worn. In a competitive industry such as apparel, it is important to stand out in any way possible.
b. Ensure your titles are descriptive
It may seem attractive to use product titles such as "Fly Away with Me Top" for your apparel, but for shopping feeds it is important to be descriptive instead of creative. A title like "Women's Green V-Neck Sleeveless Tunic" will work better. This will capture a variety of searches as well as target the buyer who knows they want a sleeveless green tunic.
c. Include promotions when applicable
Whether we like it or not, price is a big factor when buyers are comparison shopping. For this reason, items should be competitively priced. Customers will be more forgiving if you offer free shipping or a discount. Make sure to include any discounts you're offering in the ad promotion—this will show when customers hover over the "Special Offer" section of the ad. This difference can be enough for shoppers to click on your ad over a competitor's, getting you one step closer to making the sale.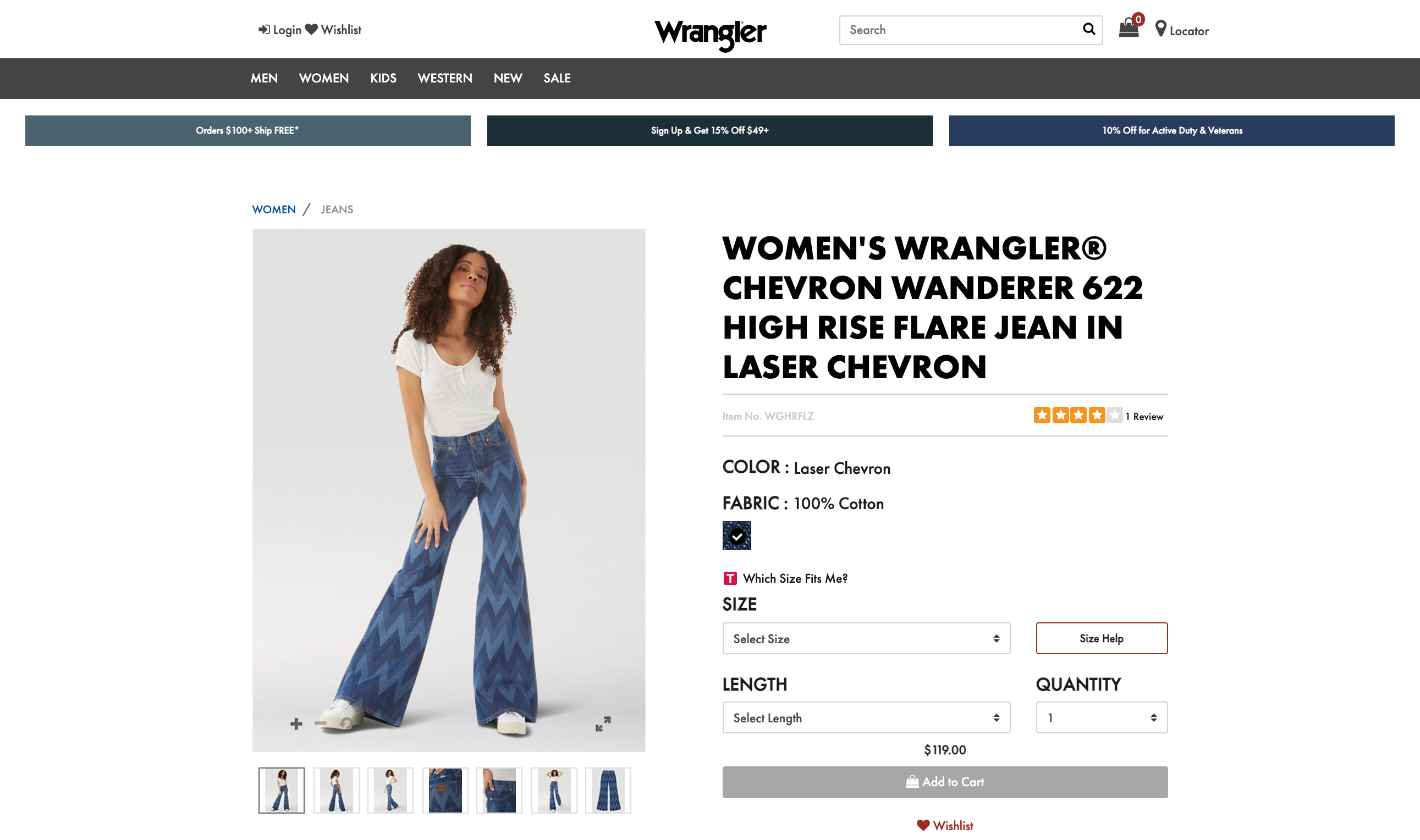 7. Optimize Conversions with a CRO Strategy
Conversion rate optimization is imperative for all ecommerce sites regardless of industry or target audience. It is best that your customers are clear on the company, goals, and where to proceed next. On top of industry best practices, there are a few tricks you can have in your back pocket to catapult your store as a frontrunner in the apparel industry while boosting your site's conversions.
a. Invest in quality product photos
Your product photos are your time to shine. A site could be gorgeously designed, but if the product photos fall short, so will conversions. Make sure that the photo quality is high resolution with bright lighting on a professional background. It's always best to show different views and angles of the product on either a model or a mannequin. If there are any details that a customer might want to see, be sure to include a zoomed in shot of that, too. The goal is to make the customer feel sure of the product so they won't hesitate while in the shopping cart or comparison shopping with competitors.
Think about it: If you were shopping online and found the same top on two different websites for the same price, but the first site has only one unprofessional photo of the garment from the front, and the second site has multiple photos on a clean white background, which one would you be more likely to purchase from? If you're like most customers, you'd purchase from the second site because you're more likely to trust them with your purchase.
b. Encourage customers to share
Word-of-mouth marketing is one of the greatest ways to get exposure at no cost. One easy way to leverage word-of-mouth marketing is to encourage your customers to share on your site and provide them the ability to be transparent with others. You can help boost your site's conversion rate by giving your customers a platform to share the products and their experiences. Allow customers to share selfies or photos of them wearing their new products and write reviews directly on the product pages. This is marketing right on your product pages for potential new customers while they are shopping and tells visitors that others received their products un-damaged, the products are high-quality and true to product specs, and they didn't need to return them. Potential customers can see other people just like them wearing and loving their new garments as well.
c. Provide information to build confidence
The product page is one of the last touchpoints you have with your visitors before they make the final decision to purchase, so provide them with all the pertinent information they need to build their confidence and convert. Be sure to provide them with unique, detailed product descriptions that include dimensions, style details, fiber content, and washing instructions. For additional information, include size guides so they can be sure the product will fit coupled with an easy-to-find return policy just in case it doesn't work out. Other great things you can do is open the door for creativity by providing look-books or style guides so they can start imagining how they are going to wear your products with their current wardrobes.
Final Thoughts
Fashion and ecommerce are a match made in heaven—it just takes the right know-how to make your site successful. Follow the practices outlined in this guide to ensure that your fashion business is set up for success.
Special thanks to past and present Volusion employees Samantha Rupert (Social Media), Monica Chow (Design), Natalie Stambro (Marketing), Grace Karon (SEO), Chelsea Cepeda (PPC), Jahnvi Patel (Shopping Feeds), Julianne Coyne (SEO), and Meg Nanson (SEO) for their significant contributions to this guide.