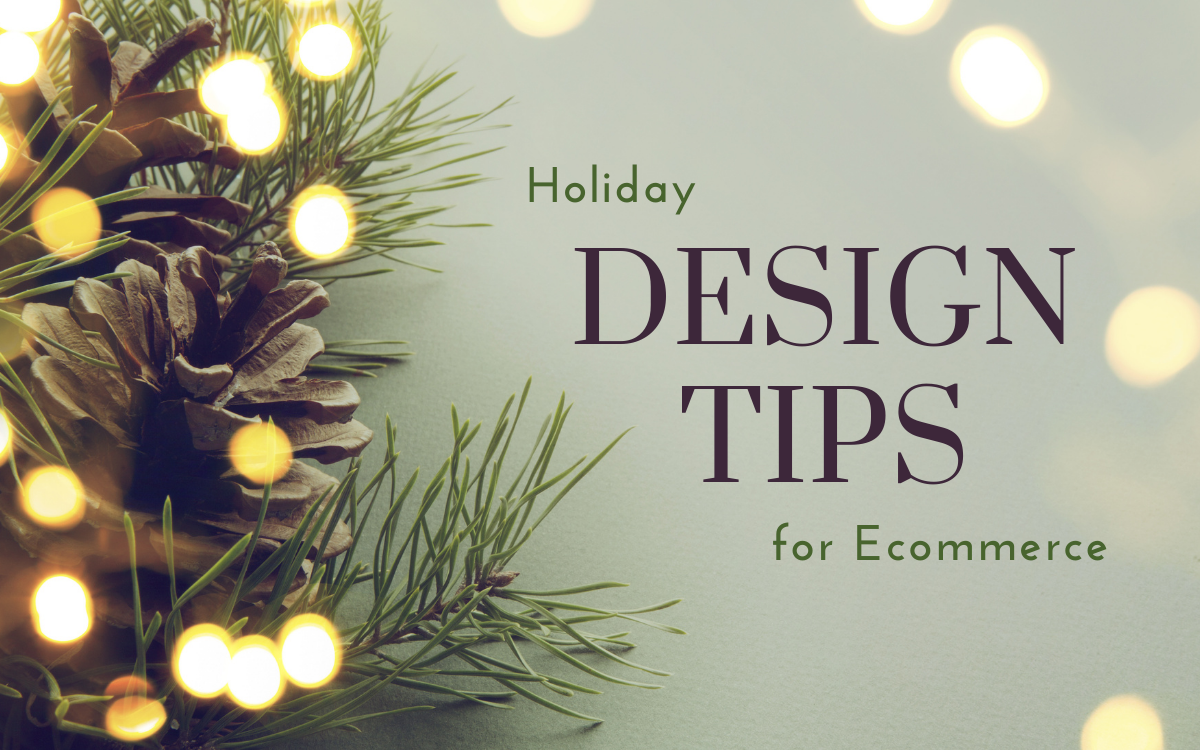 With the holidays fast approaching, it's time to start thinking about how your online store will prepare visually for the season. Using holiday-related graphics and imagery on your site and promotional material is a great way to take advantage of the holiday spirit and inspire more sales, so it's a holiday planning step you don't want to miss. Here are a few important things to consider when deciding how to plan your ecommerce business's holiday design.
1. Refresh Your Storefront's Homepage
Arguably the most important step you can take is updating your store's homepage in a way that reflects the holiday season. This doesn't need to be a major redesign project (unless your overall design is a bit outdated)—even something simple like a new hero image or slideshow can help the site feel fresh and current with the season.
Change your homepage promos to highlight holiday-specific things (ex: products that can be gifts, links to gift guides, a simple holiday message, etc.) to show that your store is ready for holiday shoppers. Aligning with the season demonstrates to customers that you are excited about the same things they are, humanizing your brand in the process.
2. Incorporate Seasonal Lifestyle Images
Another simple action you can take to update your site design for the holidays is switching out the lifestyle images you typically use for ones that relate more to the holidays. For example, if you sell dog harnesses and leashes, this could be as simple as taking new photos of dogs going for a walk and using your products in a wintery setting, or with sweaters on. Showing your products being used in a setting similar to what your customers are experiencing at the time makes your offerings feel more relevant to them in the moment.
3. Use Festive Fonts on Promotional Materials
Typography is another important aspect of design that can elicit completely different feelings and emotions depending on what style is used. While your business likely has specific fonts tied to its branding or style guide for the majority of your site, you do have some freedom when it comes to promotional material. Do a Google search for holiday-related fonts for some inspiration, and download free fonts from Google Fonts to use throughout your holiday-related banners, ads, and more.
4. Deck Out Your Social Media Profiles
Social media is a great place to let your holiday spirit out because of its innate social and playful nature. To keep your business in-step with what's trending, change your profile and cover photos across each channel to match each holiday as it occurs, and make sure any posts you make have graphics and/or imagery that complement the holidays to keep up the theme. This will also help with making sure your brand feels current and relevant.
5. Keep Your Branding Consistent
While decorating your home for the holidays may result in a complete transformation, you don't want to do a complete design overhaul when it comes to "decorating" your online business for the holidays. Make sure that many permanent elements of your brand shine through your holiday design updates to maintain some brand consistency. This way, customers know that they're still purchasing from the same business they know and love and not a new, similar business that is just extremely festive.
Final Thoughts
Most businesses find joining in the collective surge of warm, fuzzy emotions that occur every holiday season to be very lucrative. By adjusting some of your ecommerce store's design elements to match the holidays occurring throughout the season, you too can inspire more sales during the major shopping months.