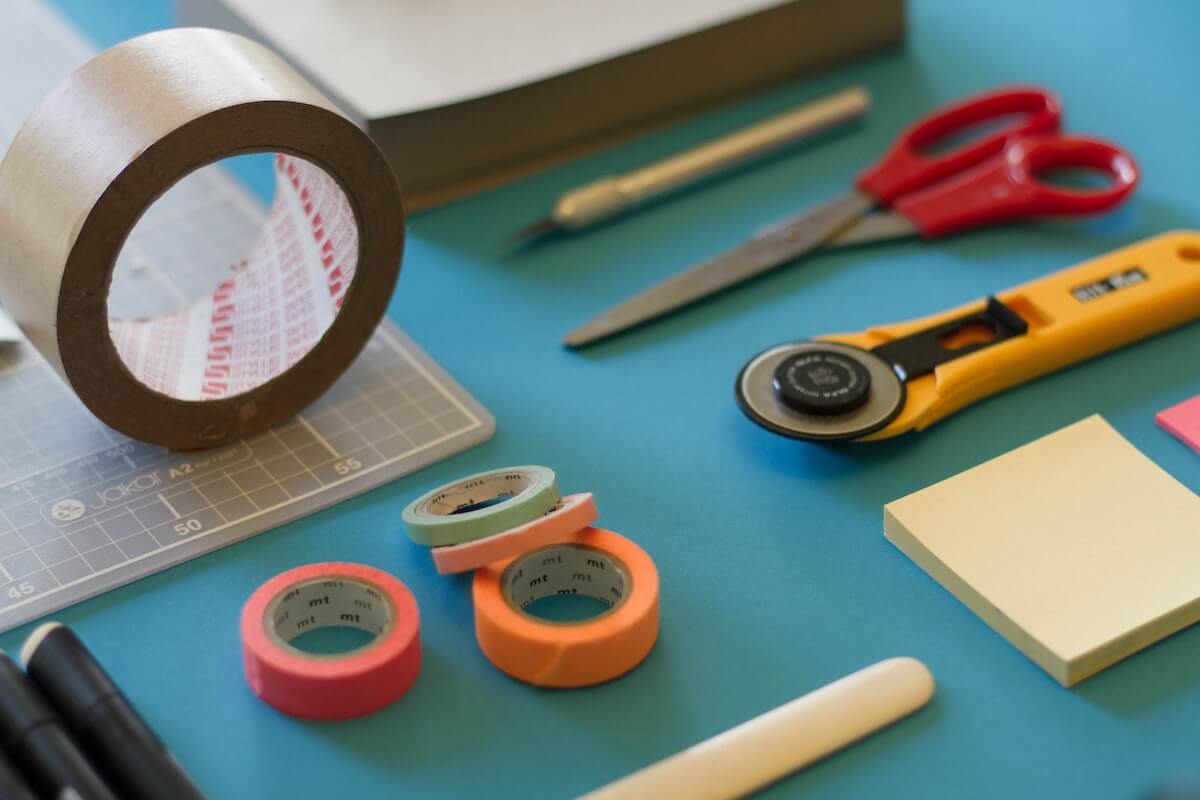 Being a freelancer has its perks, including choosing your clients, having a flexible schedule, and enjoying the freedom to work from anywhere. However, these perks lose meaning fast if your revenue isn't growing as you'd like it to.
You want to get more work done while building a long-term business. However, repetitive tasks are holding you back, preventing you from focusing on what actually grows your business: finding new and better-paying clients.
The solution? Freelancing tools.
80% of businesses in the US use at least one software tool, and for good reason: these tools help them automate recurring tasks. In this post, we'll talk about nine tools you aren't using that are sabotaging your revenue.
1. Boost Your Search Engine Rankings and Authority With SEO Tools
Do you know what keywords your clients are using to look for freelancers who provide the services you're offering? Do you know where to get high-quality backlinks to help you outrank your competitors on Google? What about how to optimize content for organic, relevant traffic?
SEO is vital to freelancing and building your brand. Unfortunately, many ignore SEO when trying to freelance because it is perceived as a tactic that takes years to drive results. But this isn't true—according to Higher Visibility's data, it takes just three months to see SEO results and begin driving big organic leads to your business.
It all starts with an SEO tool. Personally, I love Ahrefs, but there are countless SEO tools out there that can help you with various tasks, from keyword research to content optimization and more.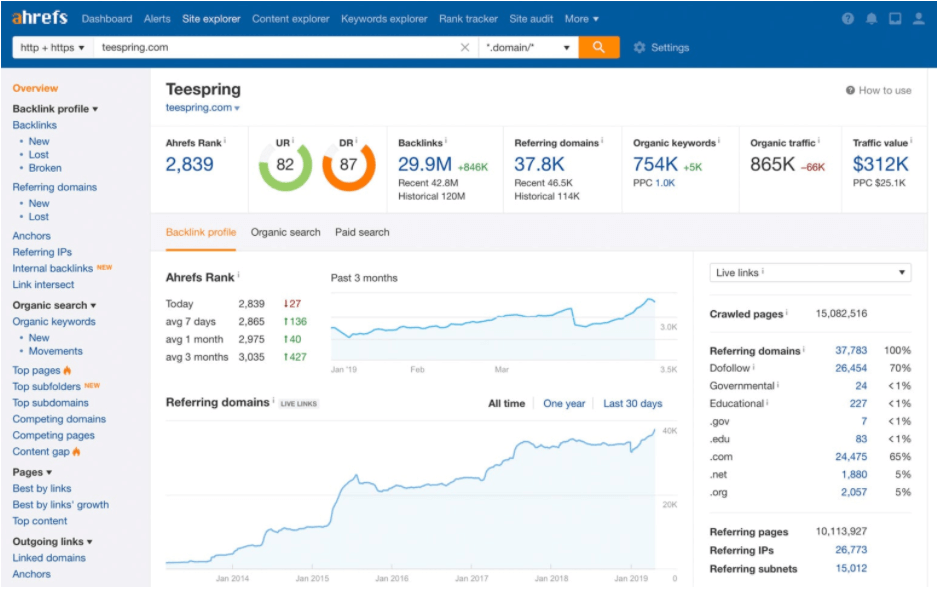 Image Source: Ahrefs
2. Design Beautiful Infographics With Infogram
Do you ever run out of words when explaining concepts in your blog content, and all you want to do is to visualize it but can't find a tool that has the functionality you're looking for?
Enter Infogram. It helps ease your frustrations through:
A drag-and-drop editor that enables you to create images for your content faster.
A library of images and icons and GIFs so you don't have to create visuals from scratch.
An API that integrates with different tools, allowing you to import the data you collect and visualize it.
For example, if you're creating a case study describing the results you got for a client, words aren't all you need to pass your message across. 65% of your prospects remember written content that is backed up with compelling visuals three days later. However, only 10% will remember written content that doesn't have any visuals after three days.
With Infogram, you can also design beautiful blog header images. For example, check out this blog header designed using Infogram from Adventure For Less: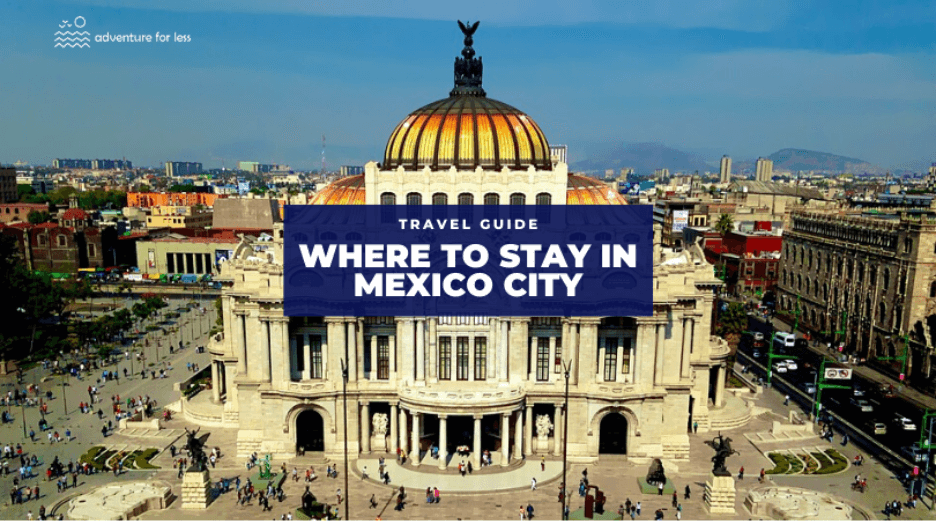 Image Source: Adventure For Less
To convince prospects who are still on the fence, you need to back up your case study and content marketing with compelling visuals.
3. Provide An Exceptional Buying Experience Using Drift
Your website, unlike a location-based office, is always open for business—prospects will visit it anytime. If they need information, clarification, or even to reach out to you, but there's no one to help them if they get stuck, they will leave. They may not come back again, and for them, that's a bad buying experience.
Drift allows you to create a chatbot that helps you automate critical stages of your sales funnel, helping you get hold of the prospects you lose because they visited your website, got stuck and frustrated, and then left.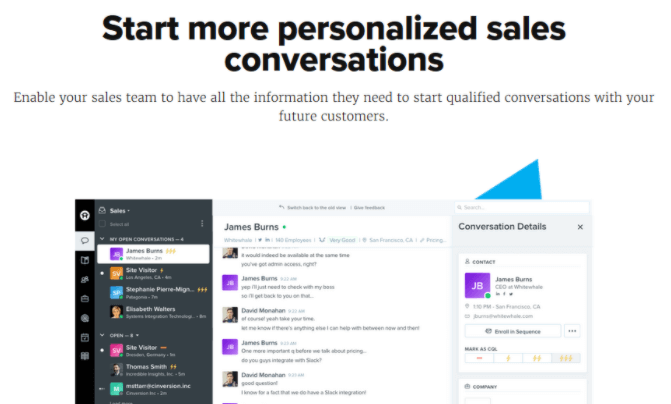 Image Source: Drift
With a chatbot, you will:
Help your web visitors to book meetings with you on your website whether you're there or not.
Qualify and generate leads at scale without using lead forms on your website.
Respond to questions from your buyers immediately.
Once you're able to get hold of the prospects you're losing, your revenue will grow. When your clients know you for providing a great buying experience, you earn their trust, loyalty, and likelihood to refer friends.
4. Deliver A Great Onboarding Experience Thanks To Forms on Fire
Having that e-book on your site is a great move, but it's not ideal for prospects who don't know you yet. Early-stage awareness prospects are hesitant to provide their contact information for an e-book—to them, you're asking too much, too early. Besides, they might not see the value of an e-book right now.
Use a quiz to teach them more about themselves and create interest in your services. Take a look at how Spruce does it with their website visitors: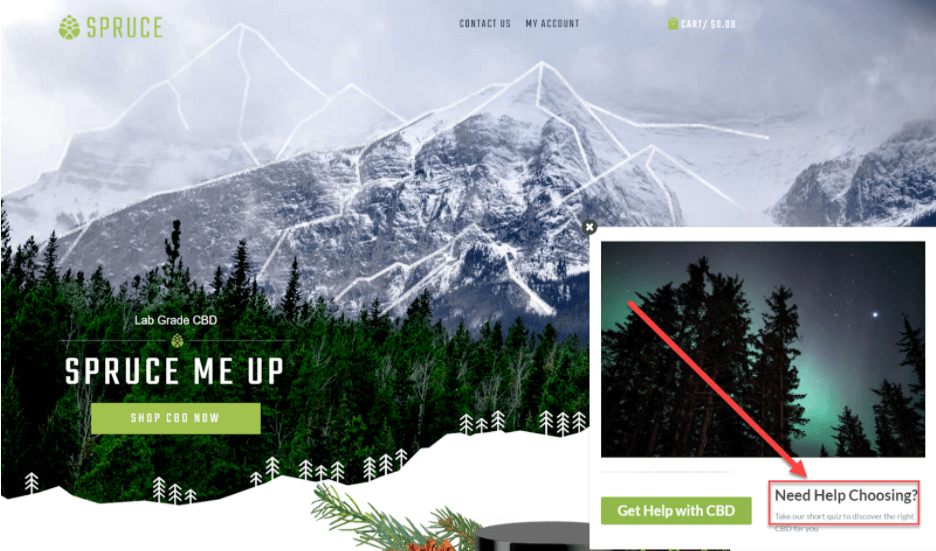 Image Source: Spruce
You need different lead generation funnels to help you get hold of more leads. Your tool to achieve your own success? Forms on Fire.
Create beautiful forms for your quizzes and capture data that allows you to segment your leads.
Integrate with the tools you're already using for better functionality.
5. Pay Your Team Faster Using Paystubs
Whenever you're slammed with work, you'll need help. Most likely, you'll end up hiring a virtual assistant or another freelancer.
Do you experience back-and-forth emails and confirmation of completed tasks, but then counter-check everything on your end?
If so, then you're losing valuable time you could be spending on work that will bring in revenue. To put an end to that, use PayStubs 365 to help your virtual assistants and freelancers send in their invoices so you can pay them faster and go on with your work. Besides, you need to prove that you are paying them in case disputes arise.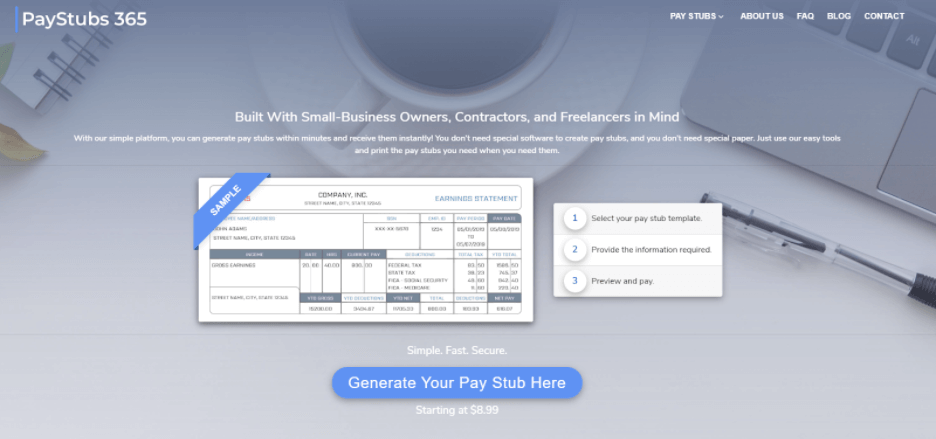 Image Source: PayStubs 365
6. Manage All Your Passwords Using Lastpass
While using all these tools we're talking about, you'll need to protect them from two issues:
Unauthorized access (unless you share costs with someone else, no one should use tools you're paying for).
Having to reset your passwords continuously because you forgot them.
This is why millions of people use Lastpass to manage their passwords on different tools and sites.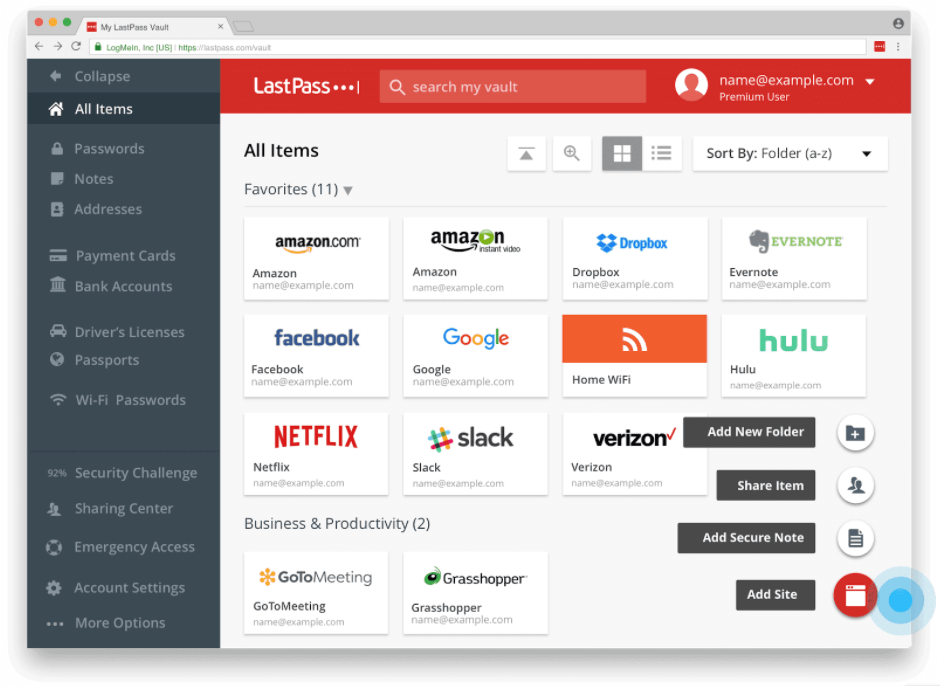 Image Source: Lastpass
Using this tool, you can save all your login details and use secure passwords to different sites in one place:
When you want to log in, place your cursor on any tool or site, then click the "launch" button. Your site will autofill all your login details, and all you have to do is log in.
Invite your team members into Lastpass and allow them to log in on selected sites without having to share your login details with them. This way, you'll never worry about having to reset your passwords or have someone access a site you don't want them to access.
7. Run Successful Outbound Campaigns Using Reply.io
If you get most of your clients through an outbound sales campaign, you'll need to have a tool that helps you do that effectively to save yourself time and money.
Your outbound sales process requires you to look for prospects, find their email addresses, and then reach out to them. You can do your outbound sales campaigns in half the time using Reply.io:
Using their Chrome extension, simply head over to LinkedIn, click on a prospect's name, and save their details (which includes their email addresses).
Automatically add your prospects to an email sequence.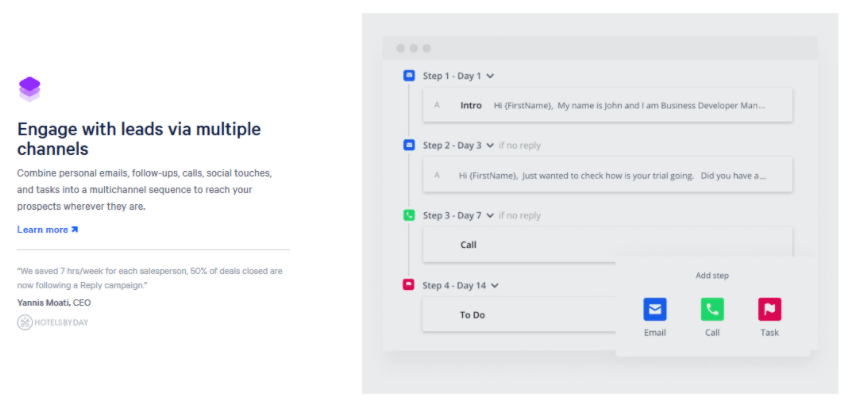 Image Source: Reply.io
However, that's not all you're getting. Reply makes sure that your email arrives in your prospect's primary inbox, meaning that you only have to think about creating better subject lines and better email copy to get more conversions.
What does that mean? No more spending hours and days smart guessing email combinations to come up with a list of potential prospects—and you won't have to hire anyone to do that for you.
8. Nurture Your Leads Using Rightinbox
When it comes to conversions and getting a good ROI from your marketing efforts, email marketing still remains your best bet. In addition to having a strategy to nurture the leads you get, you need a tool that fits into your work style to make your work easier.

Image Source: Rightinbox
That tool is Rightinbox. There are a ton of features, but the most notable ones are:
Schedule emails and them from your Gmail account thanks to its one-click integration feature.
Set up email sequences to nurture your leads and follow up on sales calls.
Create notes (that only you can see) to help you remember crucial information about your clients—such as specific requests on projects—so you stay on top of relevant details.
9. Keep Track of All Your Revenue Using Freshbooks
Getting paid on time is a big deal. Late payments and having to follow up with clients who can't (or won't) pay is a huge time suck that ends up affecting your productivity.
Freshbooks invoice templates and tools lets you take charge of all your revenue by helping you:
Create a billing schedule for your long-term clients.
Track the amount of time you spend on your client's projects to help you stay focused on essential tasks.
Create better project estimates, so you get paid what you're worth.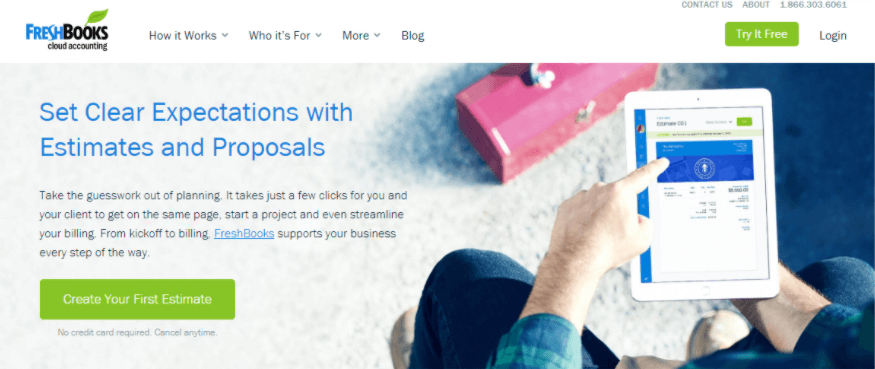 Image Source: Freshbooks
These features (and more) help you know why you missed your revenue goals.
Conclusion
What would happen if you knew that you'd grow your revenue by $500 each month? Freelancing and all its perks would have more meaning to you, and you'd be bold enough to take bigger risks, look for better clients, and deliver more work in less time—all because you're using tools that help you grow.
So, how do you get there? Set an income goal for the coming month, then choose ONE tool to use to make this happen. Soon enough, you'll have figured out that freelancing tools are crucial to growing your revenue predictably.