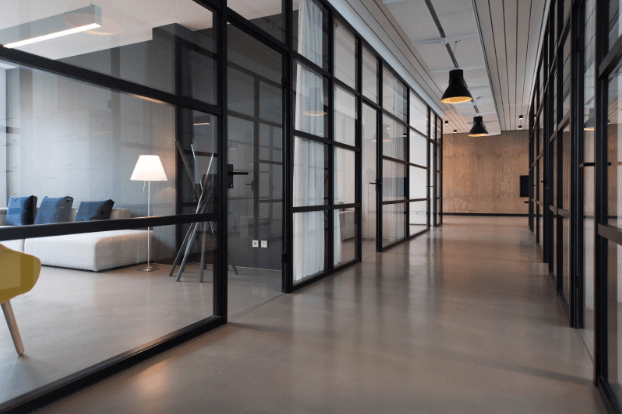 A recent report by Statista estimated that some 22,400 coworking spaces would exist worldwide by the end of 2019. This finding is not without good cause—coworking has become a major trend among businesses, mostly for the unique benefits coworking spaces offer that you might not be able to enjoy with traditional office leases. Keep reading to see the benefits of renting a coworking space, as well as things you should consider when choosing a coworking space for your own business.
Benefits of renting a coworking space
Renting this type of space comes with a variety of advantages. Some of the benefits of renting a coworking space include:
Lower overhead costs. Because many coworking spaces come complete with many different benefits—including cleaning services, office equipment, and security—you eliminate the need to spend on these items as your own overheads.
More flexible terms. Traditional office leases often stipulate renting out a full year before you can alter or sever a contract. With coworking spaces, terms are usually more flexible and sensitive to the needs of smaller business owners.
Higher ROI. With all the amenities and benefits from a great coworking space, your business can see higher returns on investment over time. You also get to save more money than if you needed to rent and maintain your own traditional office space.
Increased productivity. Your business can benefit from coworking spaces when you don't need to focus on different tasks, like hiring cleaning services or security staff. Because cost—including opportunity cost—for different processes are divided among other coworking members and renters, you get to focus only on what drives your business forward.
Things to consider when choosing a coworking space to rent
It's easy to want to jump right into the first space you find, but the better option is to take your time finding the space that will work best for your needs. Consider the following items when researching coworking spaces:
Your budget
In an interview with Visme, digital marketing director Leah Faul notes that one of the biggest mistakes she's seen entrepreneurs make is investing in the wrong things. As an entrepreneur, it might be easy to get whisked away by the promise of "big investments mean big returns."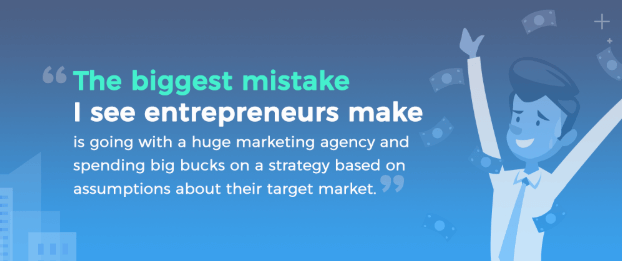 Many startups and small businesses invest too much in the wrong things, like big marketing campaigns with no guaranteed ROI. (Image source: Visme)
The most important thing you'll want to consider for a coworking space is your budget. Luckily, there are so many spaces in the market today that it's easy to find different solutions for different budgets.
A few things besides your coworking space that you might anticipate spending on during your first year of business include:
Website hosting
Inventory expenses (if any)
Salaries of employees
Business permits and licenses
Budget for outsourcing to freelancers, who can help you save cost on labor—especially while you're a new business
How you plan to use it
Know why you want to have a coworking space in the first place and determine what amenities you might need most. For example, some businesses, though small, may need more space for storing things like prototypes. Others may only need the coworking space as a place to meet and actually work.
Who are the other businesses renting
Knowing the existing clientele of the coworking space can be an important factor for considering which one to spring for. After all, if you see a few businesses in the same industry as yours renting a space with this provider, you can assume that it includes amenities your business may also benefit from.
One of the benefits of coworking is being able to network with other small businesses and startups. If you were looking for a digital marketing agency, you may meet one right in your chosen coworking space.
Level of privacy
Many coworking spaces offer private rooms and offices of varying sizes. Some of these are available for even small teams, such as teams of two or three.
You'll also want to look for any private meeting rooms and conference centers you might be able to use, either for free or for an added fee. Additionally, consider coworking spaces that have free call booths that let you make private calls and have conversations without worrying about being overheard.
Ambiance
Ambiance plays a major role in keeping productive in coworking spaces. After all, not all coworking spaces are created equal.
Noise is one part of ambiance you can't ignore. Some spaces might be noisier than others, with loud music playing over speakers or teams brainstorming in common areas.
You may also want to choose a coworking space with lots of natural light or good alternative light sources, especially if you want to stay alert and awake as you and your teammates work.
If website photos aren't enough to get a good feel for a space, ask about day pass options. Many coworking spaces offer a free one-day pass so you can see what it's like to actually be working in their space.
Amenities and benefits
Several coworking spaces have a ton of different amenities and benefits, like free coffee and tea, printing and copier services, receptionist services, and the like. Consider what your needs entail and look at spaces that will cover these needs.
To really get a grasp of your business's unique needs, also speak with your teammates to get to know what amenities they would like to see in your prospective coworking space.
Location
Location is definitely a major factor to consider—you'll of course want to get a coworking membership in a space near you. But if you travel a lot or have remote team members, you may benefit most from a coworking space that has several locations to make the most of your membership.
Novel Coworking is an example of a coworking space with more than one location. They have locations across several cities, and a membership gets members access to any of their nationwide branches.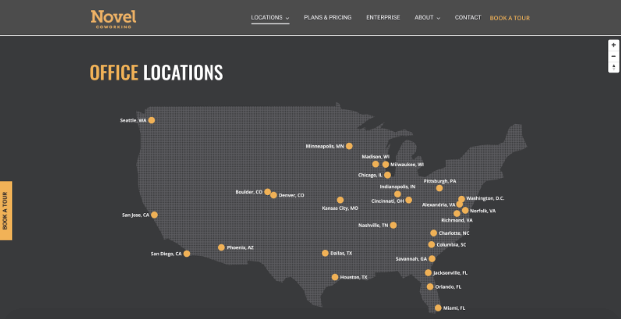 Choose a coworking space that lets you access multiple locations with just one membership. (Screenshot from Novel Coworking)
Amount of space provided
You can find coworking spaces in all sizes—some cater to smaller businesses, freelancers, and young startups, so only have room for small teams; others can accommodate bigger teams, and provide rented office space together with their amenities. To get the most out of your hunt for the perfect coworking space for you and your business, be sure to book walking tours of the space.
Renting terms
Some coworking spaces allow you to pay in quarterly or yearly installments, while others only let you pay monthly. Some also tell you to lease your space one month at a time, while others might require you to sign up for a lease or membership of at least three months.
Take a look at the terms for rent in all your prospective spaces and see which ones suit your comfort level and needs most. Be sure to ask about any fees that aren't covered in the rent as well—some coworking spaces may charge extra for using conference rooms or for printing services, for example.
Hours of operation
Last but not least, you'll want to know the operating hours your coworking space has. Many, though not all, currently support 24/7 operating hours, but a few coworking spaces only give you 24/7 access if you have a dedicated office.
Even if the space is open 24/7, note that their business hours—or hours with support for tech or reception—are often limited. If you feel you're in a fast-paced environment that needs to work as quickly as you do, try looking for a coworking space that not only lets you access the space for 24 hours, but also has service hours around the clock.
Key Takeaways
Choosing the best coworking space might take time, but consider it an essential investment for your business. After all, you don't want to sign a lease for a space you might end up not liking. Use this list of things to consider when renting a coworking space so that you can maximize your budget, be more productive, and grow your business in the long run.