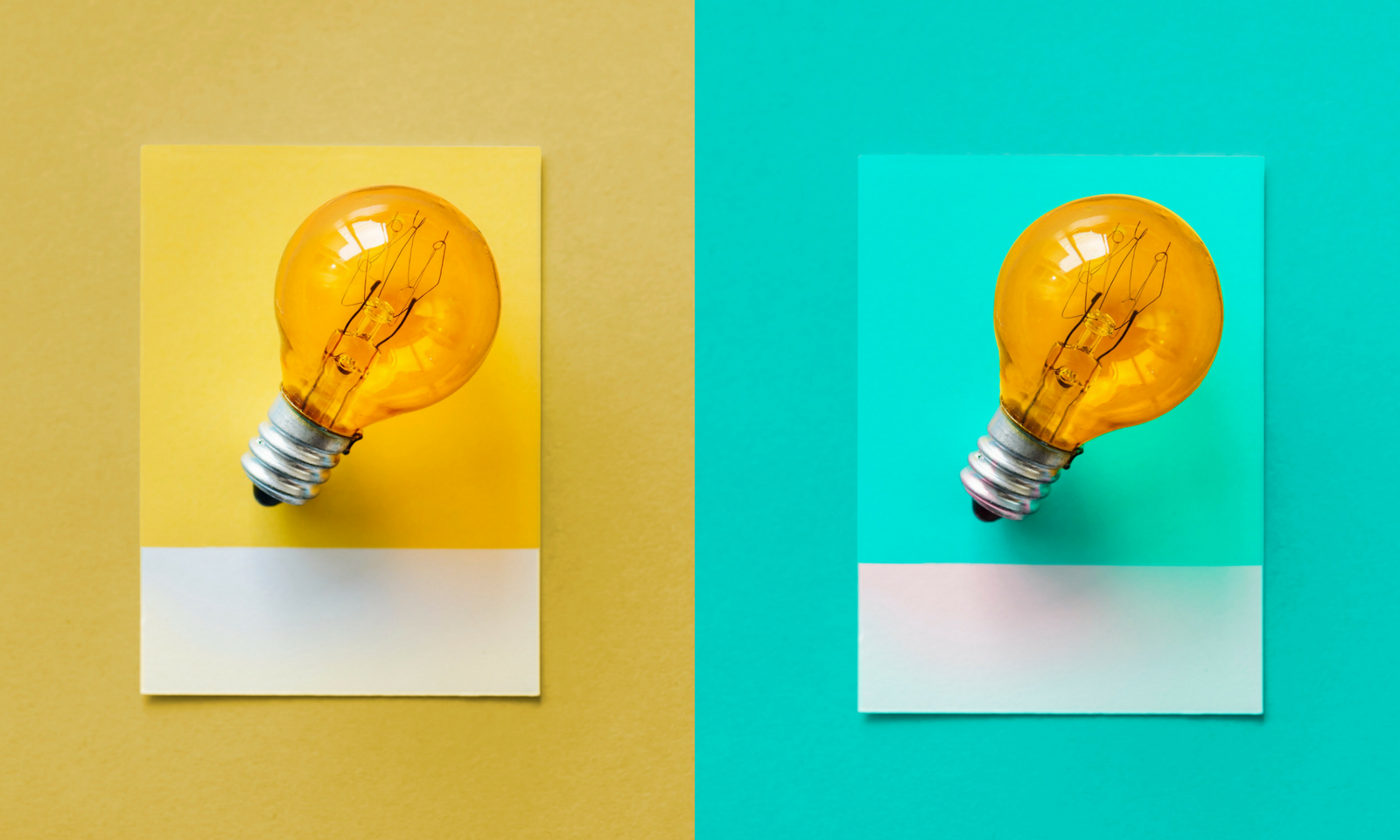 Okay, it's happened. A little light bulb flashed on in your brain and you've discovered a "bright idea"! You want to create and sell a new product. Congrats! Most of us wish we could be so lucky. But getting started is an entirely other endeavor. So, where do you start? How do you take that little light bulb and turn it into something useful like a lamp?
The first step is to understand exactly what you want your product to look like. Maybe your idea is to create a customizable planner. Maybe it's to create a stain-resistant pillow or blanket. Maybe it's a high-tech golf club. Who will buy the product? What need does it solve? Start thinking about how people will use your product.
1. Research Your Competition
Once you know how your product will look and who you may think will want to purchase this type of product, it's time to do some spying on your competition to see if your assumptions are correct! Are there products directly competing with yours? What does the indirect competition look like for products that are related?
When launching a new product, make sure you know what else is out there! Who else is selling products similar to you? What is the price point for competitor's products? How are they marketing their products? Knowing what your competition is doing will help you decide how to make your products stand out, as well as learning tips from them!
2. Find Your Target Audience
Start by checking up on your competition's social channels. Social channels like Facebook, Instagram, Pinterest and Twitter are the most intimate ways brands can interact with their customers, making them a great place to start your audience research. Pay close attention to the people who are engaging with their content. What types of customers are commenting and liking their posts? Are they mostly women? What age demographic do they fit in? What are their concerns with your competitors' products? What do they like? Do they complain about prices or think they're reasonable?
Hashtags can be very telling.
Another trick is checking up on the hashtags they are using in their Instagram or Twitter posts. Hashtags can be very telling. Not only can you mine these and save them for your own brand account later, but it will also provide insights into what type of people they are trying to attract to their posts. All of this will help you paint a picture of who exactly your target audience is. After all, having a great product isn't enough if you don't know who would buy it.
3. Use Storytelling To Motivate Consumers
Gathering all this information will further help you develop a story around your product. In this day and age, consumers want to feel connected to the product, especially if it's an invention that answers a specific need or fills a void in the market. It's time to put your thinking cap on and get creative! Here's where you can use the information you gathered about your unique product indicators (UPIs) in your competitive research. Whatever makes your product stand out is exactly what you want to highlight in your marketing. Whether your pricing is competitive or you use organic ingredients, you want to give consumers as many reasons as possible to choose your product over another.
Your UPIs — combined with a great story — can give you an edge over other competitors. Depending on what your product is, you may need to get creative about explaining how customers can use it. Video tutorials and high-quality photos are going to be extremely helpful in this situation. No one is going to buy a product if they don't understand how to use it. Creating videos doesn't have to be expensive or time-consuming. If you're looking for some pointers on how to create great videos, check out this guide.
Tying your product to a philanthropic cause that makes sense for your brand could increase interest.
Another angle is promoting your personal story. Do you have an interesting past? Did something happen in your life that compelled you to create this product? Some of the best brands have stories that serve as the foundation for their businesses. Some brands, like TOMS or Ivory Ella, might even take it a step further and donate a portion of their sales to a specific organization. Social responsibility has become increasingly important in a consumer landscape that values giving back. Tying your product to a philanthropic cause that makes sense for your brand could increase interest.
Whatever your story is, you must weave it into every aspect of your marketing plan. From your website and social channels to your paid advertisements, this story should be used as your first brand theme.
4. Create A Marketing Plan
Now that you have your product, you settled on your story and you know your audience, it's time to devise a marketing plan to turn your big idea into something that will actually make you money. At this stage, you've probably already spent a heap of money on product creation, inventory, website design and more, but, as they say, you have to spend money to make money, right?
First, you need to brainstorm which marketing channels you want to use. This will depend on the information about your audience you researched earlier in the process. You want to market your product in the places your audience is most engaging. This might mean social media, email, paid advertising, etc. But before diving into paid promotion, let's go over some ways you can prep your ecommerce store and your products for better organic visibility.
Search engine optimization is totally free. The only thing you have to spend on SEO is time. We've written a DIY SEO ebook to make it easier for your to optimize your site for search engines all on your own. Optimizing your category pages and product pages with keywords and high quality content is the easiest way to get organic traffic to your store. It can boost your site's visibility in the search results and eventually capture potential customers that are already searching for something similar on Google.
Your social media presence indirectly impacts your authority.
Social media works hand-in-hand with SEO. Search engines, like Google, take a brand's authority into account when ranking them in the search engine results page. Your social media presence indirectly impacts your authority. Having engaging content on your social profiles and a healthy number of followers can positively affect your SEO. But besides that, consumers value social media heavily in the consideration phase. Most customers go on social to research brands and products…and eventually buy. In fact, 76% of consumers said they have purchased a product after seeing a brand's social media post. Devising a social media marketing strategy, which includes organic management and some paid ads, can generate a lot of buzz around your brand.
Now, on to paid promotion. Pay-per-click (PPC) and Comparison Shopping Engine (CSE) ads can help you reach a large amount of potential customers. But they aren't always perfect for new products. If your product can easily be described by keywords, great! PPC and CSE ads are probably a great option for you to test out. If your product needs a bit more explanation, using display and video ads will better allow you to showcase the features of your new product. You can use Google's Display Network and YouTube ads to show image and video ads to potential customers.
To help build your list, provide an incentive for people to sign up.
When you get started, you may not quite have an email list built up, but make sure to put a signup form on your website! Potential customers can sign up for more information, and be notified once your product launches. To help build your list, provide an incentive for people to sign up. This could be a discount on your product once it launches, free shipping, or some other creative idea.
If your product fits into a certain niche, research trade shows that you might want to attend. It can help you showcase your product to potential customers or resellers and get you some additional exposure. It's also a great place to check out your competition!
And finally, one of the most effective ways to get the word out about your new product is simply by telling people. Don't be shy! Tell your family and friends. Tell your Facebook friends. Ask others to spread the word. Join groups in your community that will help you spread the word. Network, network, network. Word of mouth marketing is effective and it feels personal, which helps the trust factor.
5. Launch Your Product
A lot of work goes into introducing a new product to the market, but that doesn't mean your work ends the day of the launch. Launch day is one of the most important aspects of the entire process, so it's important to make sure you get it right. Consider doing a soft launch with some family members or friends to get necessary feedback on your product before you announce it to the world. This may help minimize the number of snafus on the actual launch day.
Once you're finally ready to launch, allow your product to take center stage. One of the best ways to drive buzz around a new product is to turn your launch into an event, complete with a giveaway or contest to win free products. Use your social channels as billboards for the event and promote the launch with paid ads to your target audience. Use Instagram to collaborate with influencers in exchange for free products and allow them to show your product off to their followers. These ideas will help to boost awareness around your product and your brand so you can set up your business for long-term success!
If you're looking to launch a new product on your Volusion store, our in-house services team would be happy to help with your product's set-up and promotion. Reach out to us today at 512-215-5603 to learn more!
Did you find our guide helpful or want to share a story from your latest product launch? Tell us in the comments below!