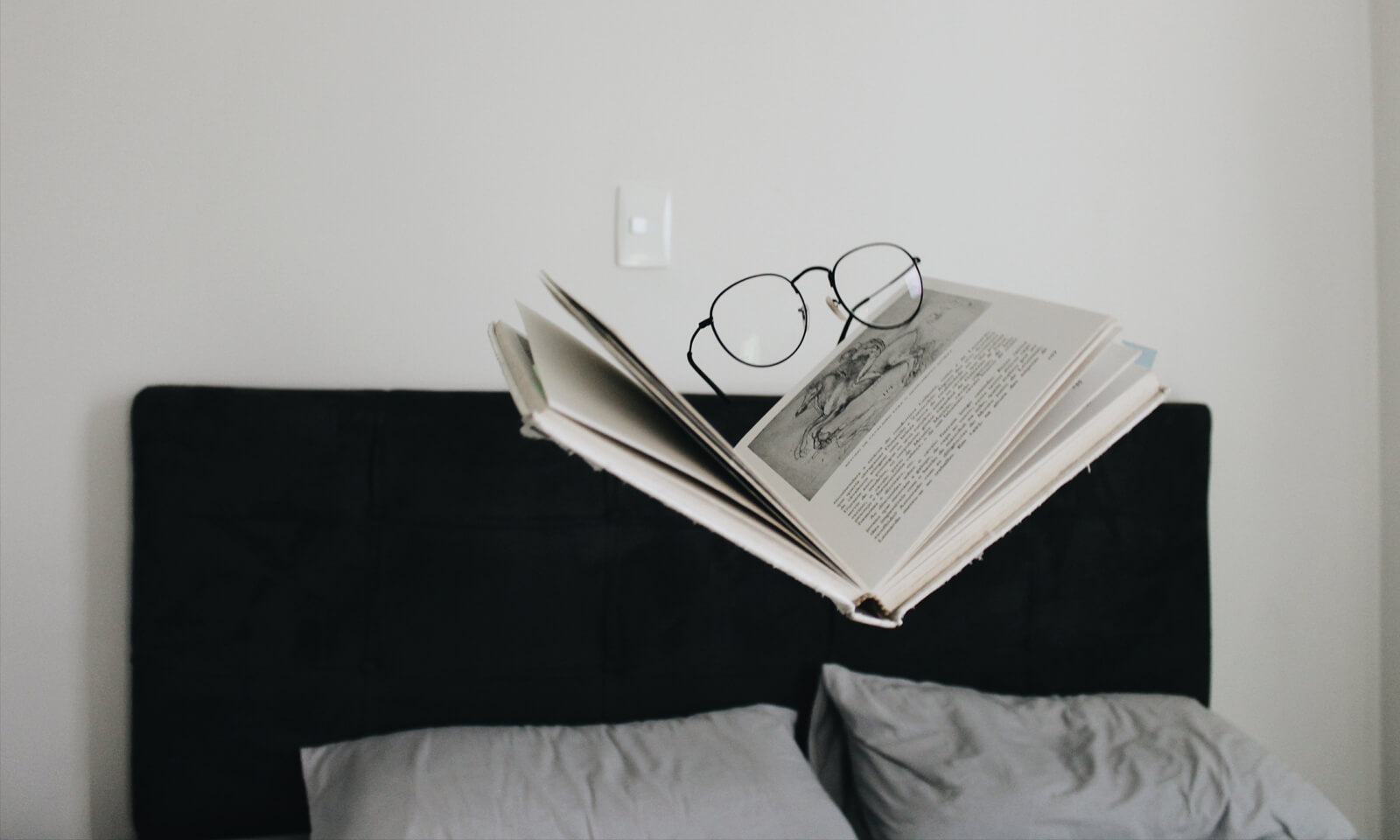 If you've felt lost, frustrated, or overwhelmed while trying to build an SEO strategy for your business, you're not alone. There are thousands of SEO blogs, articles, webinars, and videos covering every aspect of SEO, from initial keyword research to highly technical optimization; however, they rarely do a good job of presenting information in an orderly, easy-to-follow format. Even experienced SEOs often feel like they're trying to "boil the ocean"—that there are simply too many keywords to research, too many factors to consider, and too much work to do.
This is where a good SEO book can be your lifeline. The biggest advantage of an SEO book is its structure—by simplifying, summarizing, and presenting SEO knowledge to you in an orderly, self-contained format, the best SEO books will walk you through creating an organic growth strategy for your business. This structure and guidance will give you a much better chance of successfully creating and implementing an SEO strategy for your website, which is what really matters.
We've compiled a list of the best SEO books for 2020 by some of the most respected names in the industry. And we know what you're going to say—"Search engines are constantly updating their algorithms, so aren't these books outdated or soon going to be?" Yes and no. Many of these books come out with new editions yearly, so we usually recommend picking up the most recent edition. However, while some of the details may change, the core concepts and principles of SEO, such as identifying organic opportunities, keyword research, audience targeting, etc. have remained mostly unchanged, so the information contained within these books will help you rank higher in search engines for years to come.
Best SEO Books For Beginners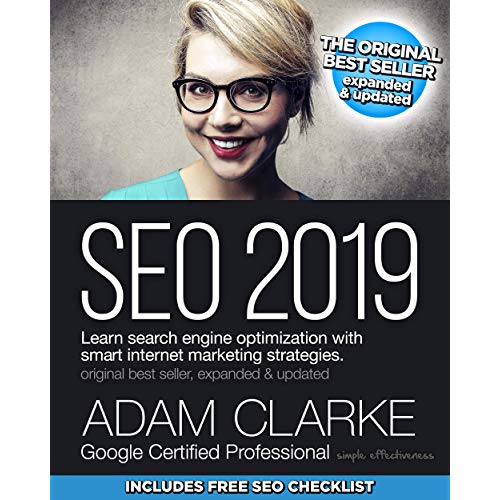 SEO 2020
Self-published by Adam Clarke, SEO 2020 is written in a more casual, conversational tone than some of the other books on this list, which isn't necessarily a bad thing. Some particular strengths of this book include his focus on the importance of keyword research (and handy strategies on how to do it quickly and effectively at scale), as well as how to troubleshoot some of the more common SEO problems like pages failing to index properly. Overall, this is a well-structured walkthrough of the basic steps necessary for a successful organic campaign—understanding the basics of SEO, building your site to be SEO-friendly from the ground up, and how to understand (and increase) your organic results and user engagement. In addition, it does a better job than most books when it comes to covering local SEO and local ranking strategies.
However, it does sometimes trade nuance for simplicity, and occasionally recommends strategies and tactics that will work for most (but not all) sites. It also spends less time on beginning principles and dives straight into SEO practice, which might make it less accessible to those completely brand new to SEO. Also, being self-published, it does contain a few typos and other editing mistakes.
However, it makes up for these minor shortcomings with a very solid, SEO-focused approach to building and ranking your website, which is really what we're here for. From building a technically-optimized site to accelerating your organic growth via whitehat linking and local SEO strategies, this book covers virtually everything you need to know to plan and implement a successful organic strategy. Additionally, it has some very helpful indexes, including helpful third-party SEO tools, a timeline of the most important Google algorithm updates, and how to integrate your SEO strategy with your PPC campaigns. Plus, it's (at the time of writing) on the razor's edge when it comes to freshness, discussing the BERT update that was recently released as well as some other very recent industry updates. Overall, we rank this as the best overall beginner-level book on SEO, although it does skew more towards intermediate readers rather than complete beginners.
Best for: Beginners and intermediates looking for a thorough, actionable book that blends solid on- and off-page optimization techniques.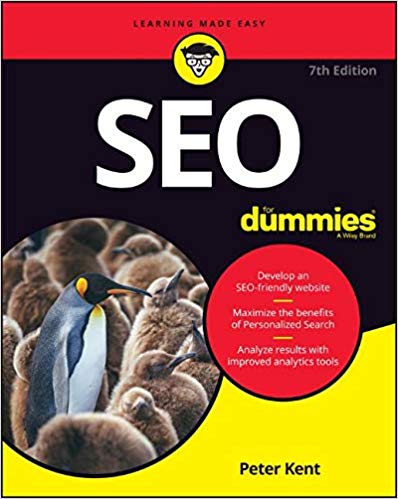 SEO for Dummies (7th and 3rd Editions)
While the 7th edition of SEO for Dummies is 3 weeks from publication at time of writing, we're including it here based on the strength of the previous edition. Written by Peter Kent, this book focuses on explaining SEO to a non-SEO audience, starting with the basics of how search engines work and then walking through a simple process to build a basic organic strategy for your business.
Rather than focusing on theory, it dives head-first into the process of building an SEO-friendly website, optimizing your content and pages to rank, and generally setting up a solid foundation for your future SEO efforts. While it doesn't introduce any groundbreaking concepts and sometimes falls short on context or technical details, it is very beginner-friendly and does a great job of conveying the practical basics of SEO without being overwhelming for those completely new to SEO. If you're looking for a book that focuses more on the foundational theory of SEO and organic strategy rather than step-by-step walkthroughs, we also recommend the 3rd edition of this book.
The 3rd Edition of SEO for Dummies is one of the best introductions to the less tangible aspects of SEO, such as understanding your competitive positioning within your market, building a keyword strategy focused on exploiting gaps and opportunities within your niche, and writing content designed to resonate with your target audience. However, be aware that this book focuses more on the theoretical and strategic sides of SEO (in essence, how to think like an SEO and make tactical decisions) rather than the more mechanistic, procedural approach taken by later editions of this book, which were written by a different author. In essence, the later editions of the book focus on the how, while this edition focuses on the why, which is every bit as important to organic success—if not more so. While some aspects may be outdated, this book focuses primarily on the foundations of good SEO and organic strategy, so the majority of it is as relevant today as when it was published. However, we do recommend supplementing it with a newer version of either the Dummies series (such as the 7th edition listed above) or with another more recent SEO book to make sure that you're not out of date on some of the biggest changes to the industry since 2015, such as the mobile-first index and some major algorithm updates.
Beginners who are interested in learning how to implement basic SEO best practices on their website, as well as how to make strategic SEO decisions.
The Best Advanced SEO Books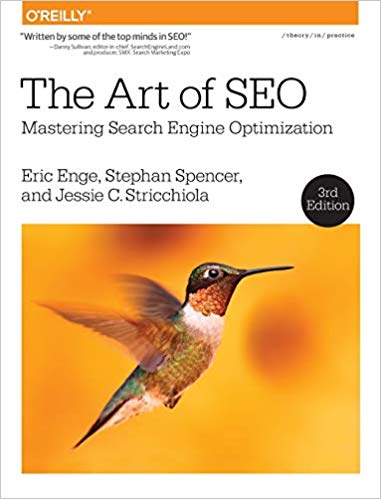 The Art of SEO: Mastering Search Engine Optimization
We published the initial version of this article way back in 2013, and this book has been on our best-of list every year since. Now in its third edition, The Art of SEO: Mastering Search Engine Optimization is the quintessential SEO book, and one that every SEO should read. Written by Eric Enge (Stone Temple Consulting), Stephan Spencer (Netconcepts), and Jessie Stricchiola (Alchemist Media), all of whom are some of the best-respected SEOs in the industry, this book adds to its already substantial credentials by collaborating with other industry leaders like Danny Sullivan (Google) and Rand Fishkin (Moz) to ensure the most up-to-date and insightful SEO knowledge possible. Weighing in at over 900 pages, this book contains information relevant to digital marketers of all skill levels, from initial SEO principles to advanced technical concepts (like angular.JS SEO). Furthermore, this book has been issued as a textbook for digital marketing and SEO classes from several universities, which is a powerful endorsement that few other books on this list can claim. If you're looking for an all-in-one source of SEO knowledge by the most trusted names in the industry, this is the SEO book for you. Overall, we rank this as the best advanced SEO book available.
If you're new to SEO, we recommend beginning with one of the books on the beginner list above—this book is very weighty (again, 900+ pages!) and detailed, so if you're looking for a concise guide to setting up your first organic campaign you should start elsewhere. However, we do recommend picking up a copy of The Art of SEO and reading through the first few chapters and then keeping it as a reference for when you have questions.
For more advanced SEOs, it makes an excellent reference book for when you need a definite (and quotable) answer to a very particular question, or you can skip ahead to the more advanced chapters and refresh your knowledge on some of the more technical or difficult concepts. The well-structured content makes it easy to find the topics you're looking for. (We have a well-loved and thoroughly-bookmarked copy that we share with the whole office.)
Best for: Advanced SEOs who want a massive, well-validated source of SEO knowledge and expertise.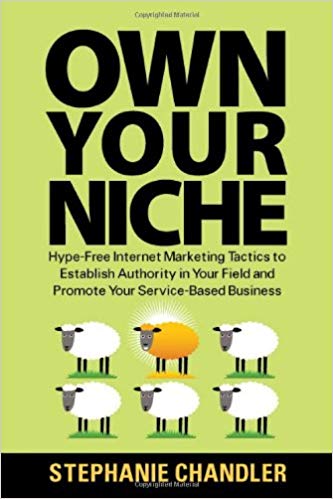 Own Your Niche
Own Your Niche by Stephanie Chandler is not just about SEO, which is what makes it so good. Like it or not, to be a truly successful SEO you must also be a capable, multi-disciplinary digital marketer, able to use every avenue available to you to promote your overall organic and non-organic success. This book does an excellent job of blending in the more multidisciplinary aspects of SEO such as audience identification, creating and distributing high-authority content, and generating exposure through search engines, social media, word of mouth, etc. It's especially relevant for those in narrow ecommerce niches, or those running service-based businesses.
While it does focus less on the SEO aspect of digital marketing, the core goal of this book aligns closely with every SEO's ultimate goal: to drive more qualified traffic to their website at the lowest possible cost. By focusing more on things like audience targeting and acquisition, content distribution and syndication, PR, and increasing your overall digital exposure, Own Your Niche is an excellent book for any SEO that has hit a plateau. Organic success doesn't exist within a vacuum, and often can't be relied on as your only (or even your primary) source of traffic. This book does an excellent job of bridging the gap between pure SEO and more holistic digital marketing, making it an excellent choice for digital marketers of all types.
Best for: SEOs who want to become more well-rounded, multidisciplinary digital marketers.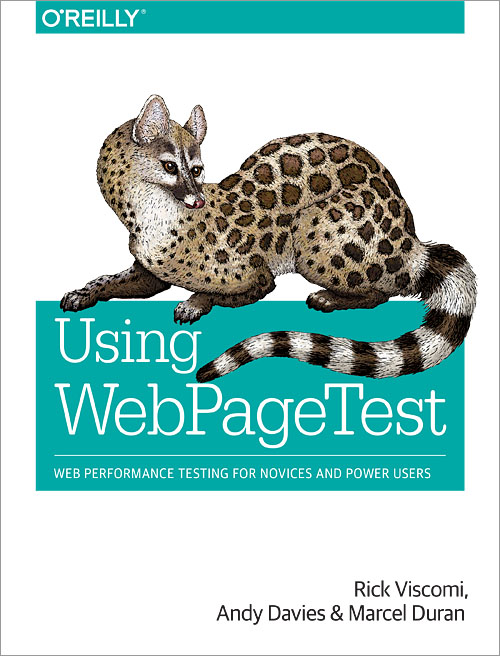 Using WebPageTest
Being an SEO requires you to bridge the gap between the content and technical world, and many people skew to one end of the technical/content spectrum. One of the most common (and most difficult) technical issues faced by advanced SEOs is that of page speed—it's known to be a major ranking signal (and has only grown in importance since the mobile first update), but while many SEOs know how to measure it, few know how to communicate relevant instructions to their development or design teams in order to actually improve site load times.
Using WebPageTest dives into that topic, focusing entirely on the use of Webpagetest.org, an open-source and Google-endorsed pagespeed testing tool. WebPageTest is capable of giving you much more thorough information than other pagespeed tools (such as Pagespeed Insights or Lighthouse audits) about what is causing your site to load slowly. If you've ever found yourself stumped by a pagespeed issue or confused by a waterfall chart, this will help you understand your website and the way your pages load in the same way that the developers do, allowing you to speak the same language and communicate across teams much more effectively. Even better, it has a heavy focus on automation and API setups to remove the majority of manual work, which is critical for large sites.
While this book doesn't take a holistic focus to SEO, it does drill down very deeply into one of the most commonly-faced, most important, and most difficult to fix SEO issues: pagespeed. From running single pagespeed tests and understanding the results to setting up massive, private-instance API testing and data exporting, Using WebPageTest is a book that should be on every professional SEO's bookshelf.
Best for: Any SEO who is concerned with slow page load times but doesn't know how to fix them.
That wraps up our list of the top SEO books you should add to your bookshelf this year. Don't see your personal favorite up there? Let us know your must-read SEO books in the comments below!