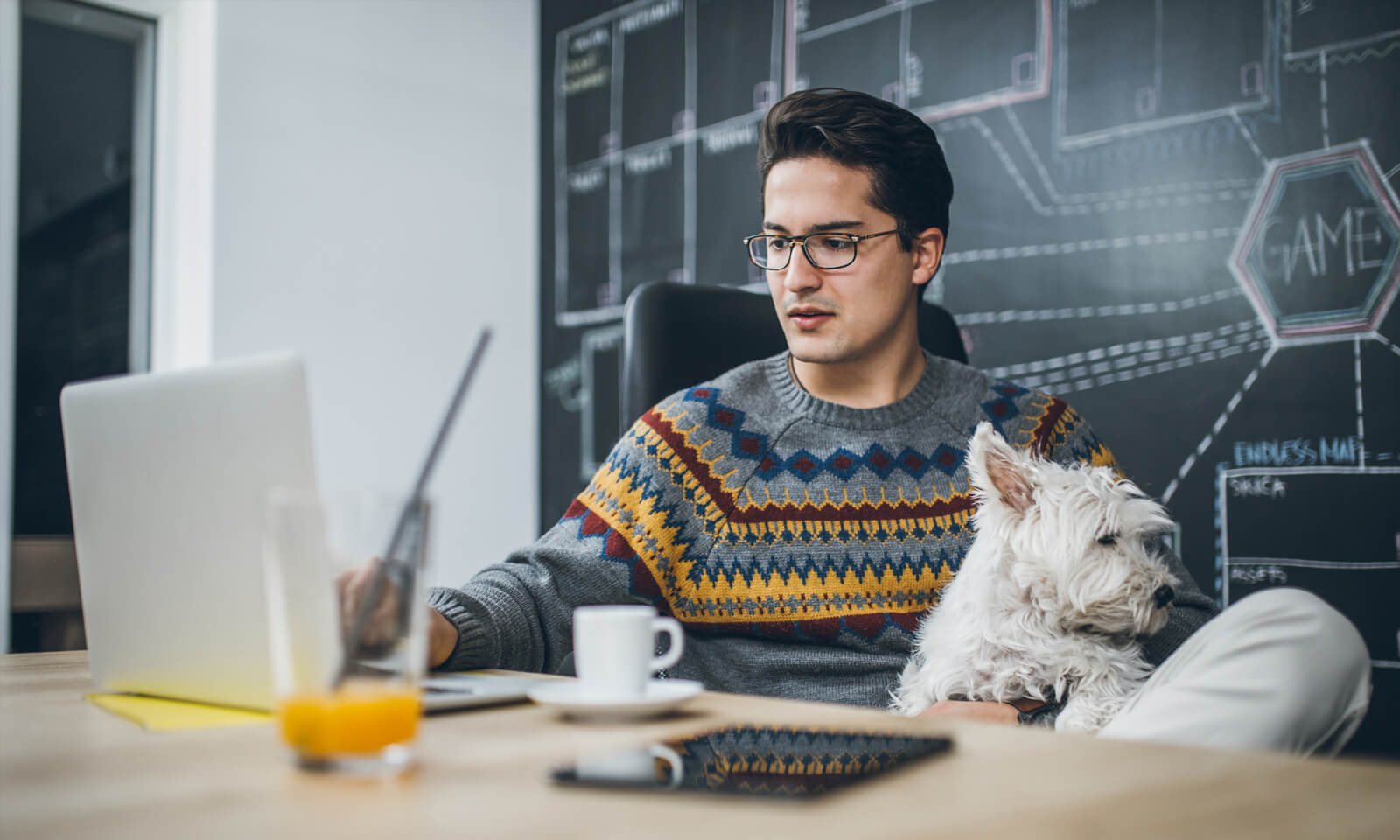 With every passing quarter, companies and businesses realize that maintaining a better work-life balance is crucial to the productivity of their employees. As such, working from home has become an attractive benefit for employers to keep employees happy. Not only does it provide huge advantages (hello, traffic-free mornings) but it fosters a deeper sense of independence and accountability.
If you're lucky enough to have a chance to work from home or you run your own business, you may know it can be difficult to balance the advantages with the inevitable distractions that arise. Here are some tips we have to keep our minds focused when working remotely:
1. Create a dedicated space.
It's important to keep consistent when you're working from home. The first thing you should do is create a workspace in your home that will be conducive to productivity. Even if you don't have a dedicated home office, set up a desk or table near a power outlet and keep all work-related files and reference materials nearby. While you can pep up your workspace with a plant or photos, overall your space should emulate an office environment. Avoid being close to the TV or a couch, it's way too easy to turn on the TV for some "background noise" and suddenly be four episodes into your new Netflix addiction.
To avoid working too much or too little, structure your workday by maintaining regular work hours.
2. Structure your workday.
It may be hard to believe, but when working remotely you may end up working longer hours than if you were to go into the office. To avoid working too much or too little, structure your workday by maintaining regular work hours. Sometimes, you may have to put in a little more time – and that's okay. Finish that project you're close to wrapping up. However, keep your sanity and manage your energy by planning your day, keeping a daily task list you want to accomplish, and when it's time to power off your computer, please do!
3. Avoid housework.
Seriously, don't handle household tasks while you're on the clock. You'll get sucked into a chore black hole that'll be very hard to escape from. It becomes way too easy to load the washing machine, then fold your clothes, then you'll decide to quickly tidy up the kitchen and you'll want to vacuum the living room carpet while you're at it. If the gravitational pull from your home duties is too much to handle, it's time for you to pack up your laptop and head to your local coffee shop. You'll have both a cozy, organized place to work and unlimited quantities of great coffee.
Even while working from home, you're still a part of a team.
4. Stay digitally connected.
It's vital for you to be available during normal business hours to ensure a degree of accountability. Make sure you're able to answer messages via email, phone or any instant messaging system you're company utilizes. Even while working from home, you're still a part of a team and a coworker or customer might want to reach out. We all know that social media can be a distraction; however, if responding to inquiries, comments or requests made on Facebook or Twitter is part of your job, be sure to respond with a sense of immediacy. Your customers or peers will appreciate your prompt responses, especially if you're a business owner.
5. Schedule face-to-face interaction.
If you work remotely every day, it may lead to a slight disconnect within teams or among business associates. Even if you're digitally available, be sure to schedule bi-weekly or monthly meetings to communicate project goals and regularly update each other on company efforts. This works both on a professional level to keep your colleagues up-to-date and also fosters a sense of community that can be lost from not seeing your business partners in an office setting. If you're a sole business owner, join an organization that will allow you to network with other business owners to gain more knowledge on professional development. Whether this means happy hours, lunches or seminars, this face-to-face interaction will allow you to bounce ideas off other like-minded entrepreneurs and get those creative juices flowing.
Contrary to popular advice, you don't have to wake up and "dress to impress".
6. Take advantage of the flexibility.
We've seen a lot of advice on work-from-home best practices that preach a very strict schedule. However, remember to take advantage of the benefits that come with working remotely. Contrary to popular advice, you don't have to wake up and "dress to impress". You're at home and if you want to work in a t-shirt and your favorite pair of stretchy pants, go ahead and do it. If you want to take a tea break and sit on your porch for a few minutes, go ahead and brew that green tea. Everyone works, learns and adapts differently. The important thing is to find what works for you and utilize the flexibility to benefit both you and your employer.
Do you work from home? Do you enjoy it? If you've got any tips of your own about getting work done from the comfort of your home, we'd love to hear them in the comments below!