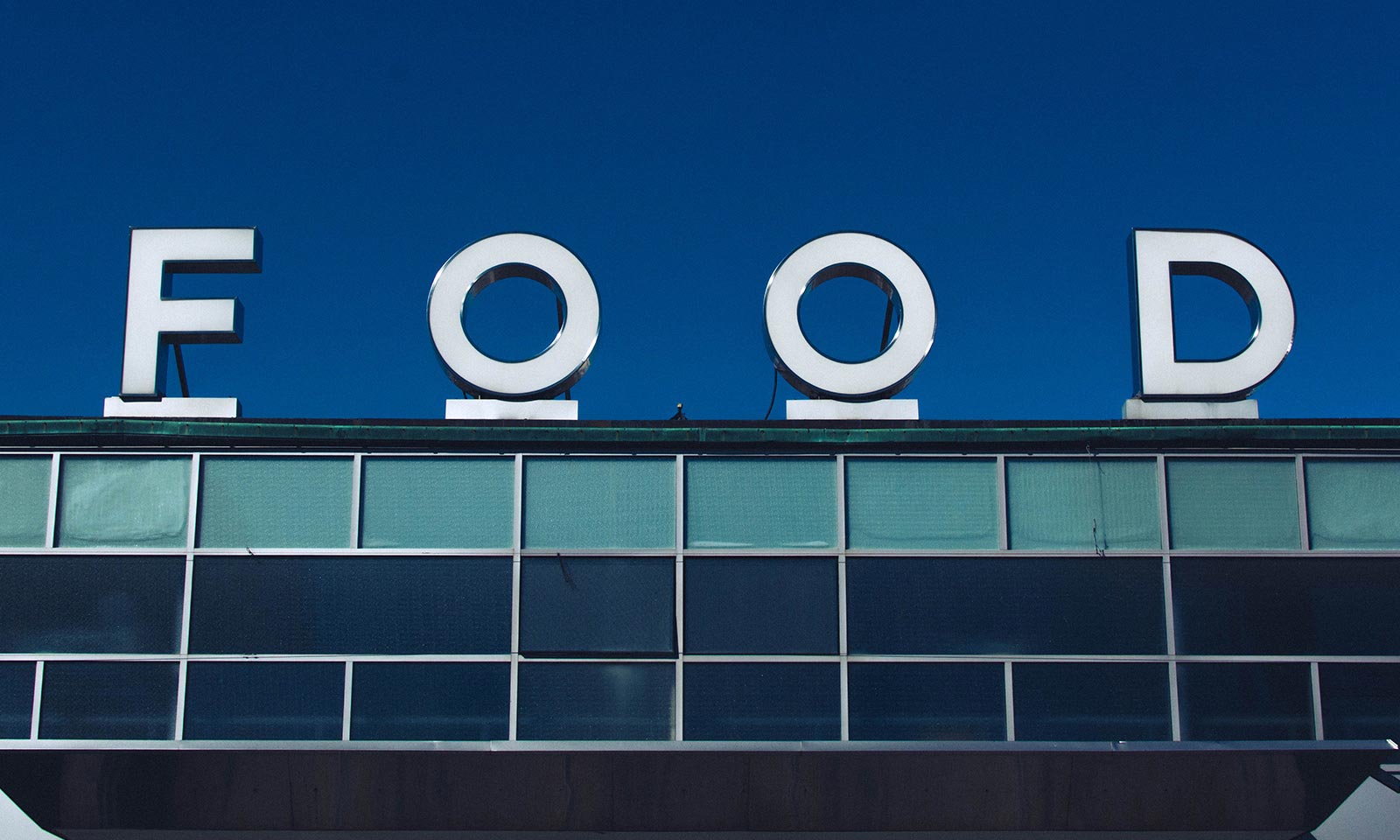 Our relationship with food runs deep. Yes, we need it to survive, but we also spend hours upon hours looking up recipes, gathering the right ingredients, carefully preparing it and sharing it with loved ones. And it's this very relationship that makes running an online food store is so unique.
In this guide, we'll learn how online business owners in the food industry can leverage their website and marketing channels to maximize success.


I. Design for the food industry
How food tastes is important, but how food looks gets people excited. And since the visual aspect of food is so important, that makes web design for a food-related ecommerce sites even more critical.

Here are some best practices when designing your online food store:

 
1. Utilize large, professional photos of your products
High quality product photos are especially important when you're selling food. Truly delectable images will help your products sell themselves.  Instead of using stock photography, invest in a professional photographer. This will differentiate your foods from other websites and increase your products' appeal.

Once you have those drool-worthy photos, showcase them with a slideshow on your homepage.  It's eye-catching, space efficient and bound to pique your customers' interest.
.
2. Think about your typography (and how you're using it)
Stunning product photos pair wonderfully with great typography. Together, the two create an appetizing experience for your visitors. So pay attention to the way your type is styled and presented. That will quickly set the tone of your site (playful, sophisticated, casual, etc) in a subtle, but powerful way.

Another aspect to consider when you're dealing with typography is how you'll get different fonts to play nicely together. In general, a larger, bolder font signals to the reader that the information is more important and needs to be read first, while smaller text typically indicates that the content is more nuanced and detail-oriented.
. .
3. Keep the website "clean" with flat design
Flat design is one of the most prominent design trends for 2014, which is fantastic news for food stores. A flat aesthetic highlights images and gravitates toward simpler, more straightforward design. This is particularly handy in the food business, since it psychologically conveys a clean, pure environment, which is exactly the kind of place people will want to buy food from.
. .
4. Use interactive elements with HTML5 and CSS3
Used correctly, HTML5 and CSS3 improve your store's usability and help you stand out from your competitors. You can display more information with rollovers, or just add a touch of excitement to your site with hover effects. A good example of the latter is the Seventh Duchess's "About Tea" hover effect, as seen below. The goal is to make your site more interactive, which will draw your customers deeper into your site and encourage them to make a purchase.
5. Choose your color palette carefully
An attractive, food-appropriate color palette can get your customers salivating the second they hit your homepage. Reds, greens, yellows and browns are popular choices for food stores, but don't feel like you have to limit yourself to that palette.

You can also utilize the colors that appear in your products. Do you sell fair trade, wood-roasted coffee beans? Then experiment with lots of browns and natural hues.  Is fruit-flavored candy your money maker? Then try playing off the bright colors of your most popular flavors.
6. Feature a detailed shopping cart summary on every page
This goes for any ecommerce site, but it bears repeating: Make sure your shoppers can always see how many items are in their cart, and can check out quickly and easily.  Not only will this help prevent sticker shock later on, but it creates a pleasant user experience for your shopper.
.
8. Look for inspiration elsewhere
Like any creative endeavor, it helps to get a look at what others are doing. Check out your competitors, other brands you admire and even spend some time with a Pinterest Board or two.  What's important is that you're keeping yourself in the know, discovering new looks you like and never letting your site get stale.

 
II. SEO for the food industry
To climb to the top of the food SEO pyramid, it's all about content. That is, thoughtful content geared toward a very specific audience.

What's great about the food industry is that food-related content, like recipe blogs, are very popular on the web already. What your store needs to do then is find out where it fits into that larger picture, then get out there and join the fray.

Here are some SEO best practices for online stores in the food industry:

 
1. Focus on a targeted niche
"Food" as a keyword is way too broad for your store to see any benefits from it. Instead, when it comes to your keywords and your audience, you'll want to get as specific as possible. Focus on super-targeted niches such as gluten free, fair trade, southern home cooking, French bakery, etc. Then make your name in that space, much like Kiffle Kitchen did for kiffles.

If you have a large range of products, you can target multiple niches by creating landing pages for each specific group of products. That way, you're delivering specific, targeted content to interested audiences, while still making sure your entire product line gets attention.

 
2. Create unique, informational content
When it comes to the food industry, you have a lot of ways to provide unique, valuable content to your customers. For starters, be sure to include size, quantity, taste and texture in your product descriptions. Since your online customers can't actually do a taste-test of your products, you'll want to deliver that experience the best you can with your copy.

Secondly, consider having either a blog or knowledge center for your products. That way, you can share recipes, spotlight new products, list unique ways to use your food, showcase a couple video reviews, and display other content that will catch your customers' eyes. Altogether, it'll not only help your SEO, but give potential customers an idea of what it's like to use and consume your products.

 
3. Reach out to bloggers
A very effective and often-underutilized SEO tactic for food businesses is blogger outreach. An endorsement from an influential blogger will drive traffic to your site and increase your website's SEO link juice. Luckily for food stores, there's no shortage of popular food bloggers who'd love to receive a free sample or two.

To get started, create a list of relevant bloggers who might be interested in your products and your story. After that, reach out to them by sending a sample their way. You can also offer a discount code to be featured only on their website to encourage their followers to purchase. Or, if you'd really like to spread the love, you can send the blogger a few additional products that they could use for a reader giveaway.

An excellent example of these ideas in action is how Merci Chocolates approached the BabyLovingMama blog. In this post, the writer says "Merci Chocolates asked me to share a last-minute gift giving idea with their holiday boxed chocolates." Included in the post is a link to purchase the chocolates, a brief review of the product and a small contest that gives readers a chance to win some Merci Chocolates for themselves.
III. PPC for the food industry
Food and advertising have been good friends for a while now. Flip on a TV, turn on a radio or open any magazine and you'll hear all about the latest burgers, cookies and everything else. PPC for the food industry is kinda like that, except you have the added benefit of being able to target your audience. That is, you can make sure that your ads only display to searchers who are already looking for what you offer.

Here are some best practices for using PPC for your online food store:

 
1. Find the right keywords
When writing ads for your food products, you'll want to use highly relevant language. For example, say a potential customer googles "fruit basket delivery same day" and sees the following results page:
Of the three PPC ads, only one specifically mentions both "fruit basket" and "same day delivery." The top ad makes no reference to same day delivery, and while the third ad says "same day baskets," it can be confusing as to what exactly that means. So of the three, the second ad wins hands-down. Likewise, when creating your ads, make a point to include the most relevant keywords and details in the limited space you have.
2. Use negative keywords
On the flip side, it's equally important to use the right negative keywords in your PPC ads. That means using negative keywords to filter out searches that don't apply to what your business offers. For example, if you don't offer same day delivery, include it in your negative keyword list so your ads don't show up for those searches.

 
3. Geotarget the correct areas
If you offer fresh food or same day delivery, make sure to use the geotargeting functionality in AdWords to advertise only to customers who live in the locations where these services are possible. This will help eliminate unqualified traffic from clicking on your ads, and save you from having to pay for their clicks.

 
4. Choose the right products to advertise
The food industry is rife with competition. And that means it can be extremely difficult, if not impossible, to compete with big grocery stores for generic food items.  To combat that, only use PPC on products that you specialize in, are hard to find in stores or appeal to people all around the country, such as "fresh Texas pecans."

 
IV. Shopping feeds for the food industry
You've probably heard the saying, " You are what you eat." Well, turns out it's true for shopping feeds as well. Comparison shopping engines are great marketing channels for food businesses, but they can only be as good as the product data you feed them. Give them poor, unhealthy product data and they'll become fat and sluggish, consuming more of your advertising dollars than they should. On the other hand, feed them healthy product data, and they can grow to be one of your strongest marketing efforts.

Here are some best practices for using shopping feeds for your food products:

 
1. Play by the product data rules
Google and other shopping engines have restrictions on the products that they're willing to display. Make sure you know which products are the troublemakers, and avoid submitting them. Otherwise, they could get your Shopping Feeds account suspended.

For example, Google allows you to advertise animal-related products, including food (such as frozen oysters). However, it doesn't allow you to advertise live animals (such as live oysters). This distinction can make or break your product feed acceptance, so it's a good idea to follow it to the letter.

 
2. Include all relevant information in your product descriptions
Your customers may be selective about what they eat, so make sure your product descriptions are as specific as possible. This means including the ingredients and nutrition information of your product, as well as other information like the size of its packaging and how many are included in each order.

 
3. Indicate expected delivery times
Online food shoppers want to know how long they can expect for your products to arrive, especially if your food items are very perishable.

So, saying we return to our frozen oyster example, your shopping feeds should indicate whether you provide expedited shipping, and whether there are additional charges for expedited shipping.

 
V. Social media for the food industry
Brands in the food industry have a huge advantage when it comes to social media: People's emotional connection to food. Everyone has a couple foods that bring back positive memories and lift their mood. And that means food businesses on social media are in a unique position to not only engage customers, but put smiles on their faces and create a really memorable brand experience.

Here are some best practices for using social media with your food store:

 
1. Build and showcase your brand personality
Think of every social channel as a showroom for your store. Use branded URLs and logos, verify profiles, write short but detailed descriptions, use high quality imagery and try to integrate your brand name in unexpected places. Dunkin Donuts does this very well - all their social profile URLs end with /DunkinDonuts, they use the same logo and use the "DD" in their Pinterest boards with titles like, "Happy HoliDDays" and "Words of WisDDom."

And don't forget to have fun with your brand personality! Grey Poupon, Oreos and Lay's are great examples of brands who are successfully engaging their community with their unique voice.

 
2. Take advantage of image-focused social channels
As we know, people love looking at tasty food. So use that to your advantage by leveraging Pinterest, Facebook and Instagram. Not only can you easily showcase your products, but also share recipes, post inspirational pictures and even highlight other food products that pair well with your own.

Whole Foods does a fantastic job with this across their social channels, especially on Pinterest. They have boards featuring recipes, gardening tips, natural makeup hacks, kids' lunchbox ideas and the list goes on. It's a fantastic example of how to provide a variety of valuable and visually-appealing content for your audience.

 
3. Be timely and relevant
Pay attention to current trending events and see how you and your products can have fun by joining the conversation. Oreo won the love of armies of tweeters with their "dunk in the dark" tweet.  This tweet (and accompanying image) played beautifully off the 2013 Super Bowl black out, and because of it, engaged a whole new audience of people who were closely following the big game.

Another aspect of being timely? Seasonality. The changing of the seasons vastly affects people's diets, so giving your customers those holiday recipes, food hacks, summer drink recipes and dinner party decor tips that they crave will help you connect with them. A great example of this is ShattoMilk's cow logo, who occasionally wears hats to celebrate, such as this Uncle Sam's hat for July.
4. Always be engaging others
Just like with any online store, following and tracking conversations about your brand is a must. But be sure to go above and beyond by tracking conversations about brands your store may carry, your industry and your favorite food bloggers. That way, you can jump in on these conversations when you have the answers they're looking for.

And of course, the usual social media rules all still apply: Ask questions, genuinely listen and use answers to provide your community with a better and more targeted experience.

 
VI. Email marketing for the food industry
Email marketing is about engaging and reconnecting with customers who have already expressed interest in your food. Provide your customers with captivating subject lines, eye catching visuals and fun content, and you're sure to have them drooling for more.

Here are some best practices for email marketing in the food industry:

 
1. Make a great first impression
A best practice in email marketing is to immediately send your customer a "Welcome email" upon subscribing to your newsletter. This is the perfect time to introduce your email campaign's tone and give your subscribers an idea of what to expect in the future, whether that be recipes, discounts and deals, new products and so on. It's also a chance to showcase some of your stellar food photography.

 
2. Retain and engage your readers
Two primary goals in email marketing are to keep customers engaged and retain repeat business. And what's great about email marketing in the food industry is that you can be so much more personal and involved in order to accomplish these goals. So don't be afraid to include fun activities and ideas for customers to share with friends.

Here are a few ideas to kick-start engagement:
Polls: Link your newsletter to a poll on your website. Customers can vote on different topics like recipes, favorite products, future newsletter articles and so on.
Recipes: Include a picture of a prepared meal, a tempting description and a link to your website. This will entice customers to try it for themselves and navigate to your website.
Party ideas: Keep them coming back for more by building a collection of inspirations, ideas and themes for parties focused around your product line.
3. Use promotions to boost conversion
You don't have to offer promotions all day everyday, but the occasional promotion can help increase sales during competitive times. To do this effectively, start gathering information about your customers and segment them in order to better personalized experience. Specific segmentations include birth dates, anniversaries, gender, favorite foods and more. By capturing this information, you can send targeted emails to customers like: "Brian, your anniversary is coming up. Please enjoy our gift with 25% off Chocolates!" 

.
VII. How to increase conversions in the food industry
Purchasing food and edible products without being able to taste the product is a new experience for many online shoppers. So ease this transition by exciting their other senses as much as possible. Encourage benefits and uses of food products to make users feel comfortable, while also making it easy for them to understand what they are purchasing.

Here are some best practices for increasing conversions:


 
1. Include detailed, relevant product information pages
Get to the meat of the products by including ingredients (keep common food allergies in mind), nutritional facts (low fat, calories per serving), preparation details (frozen or refrigerated) and serving sizes. All of this information should be included on product pages.

Product pages are also perfect for videos. Consider including recipe demonstrations, cooking how-to's, a spotlight of how the product is crafted, serving ideas and more. Videos not only boost conversions, but they're a form of content that people love to share. Speaking of which, don't forget to include social media sharing buttons on your product pages. These make it easy for your fans to share your product and brand with their networks.

 
2. Clearly indicate packaging protocol as well as shipping, delivery and return policies
Potential customers may hesitate to purchase if they doubt the freshness of the food. This is especially important with perishable goods. To build customer trust, clearly communicate how products will remain fresh and intact without any spills or spoilage. Text such as "shipped with freezer packs," "airtight," "guaranteed fresh" are a great way to boost customer confidence.

It's also critical to have clear instructions on return policies. Returning perishable products can be tricky, after all. So clearly communicate timelines and any qualifications on what can be returned.

 
3. Feature related products and pairing recommendations
How great is it when restaurants list what beverages go well with what entrees on the menu? You can offer your online shoppers that same experience by enabling "Related Products" and "Product Accessories."

Related products are similar items, usually found in the same subcategory; for example, different flavors or varieties of Olive Oil. A Product Accessory is something that pairs with or can enhance the product. In the previous example, if you are looking for Olive Oil, a specialty French Bread or pesto sauce could be appropriate accessories. Adding this feature is also a great way to upsell additional products and bundle products together.

 
4. Have an easy-to-navigate website structure
A clear and intuitive website is important with any ecommerce site. Products should be logically categorized and easy to find.  With edible products, you can also think outside the box and add resources such as "Where our ingredients come from" or "Health benefits of our products" to the site structure.

 
5. Clearly indicate that seasonal products are up-to-date
With edible products, you may see larger changes in your supply and demand. So make sure to define seasonal products with titles, headings or categories. Depending on your products, it may be easier to change out or hide seasonal products when they're not available. You'll also want to let customers know which new seasonal items are coming up on the horizon.

This chart from a store selling oranges is a good example of how you can communicate seasonal availability quickly and easily.
The food industry and ecommerce are a fantastic match. It's all the things we love about food, plus the speed and convenience of the internet. With the right know-how, a targeted customer base and some work, online food stores are set to take off in 2014.
Special thanks to Sarah Oen Cottle (Design Team Lead), Dan Bagby (SEO Team Lead), Ryan Noonan (PPC Specialist), Andrew McLeod (Shopping Feed Specialist), Cindy Day (Search Marketing Specialist), June Clark (Marketing Consultant) and Natalie Stambro (Marketing Consultant) for their significant contributions to this guide.