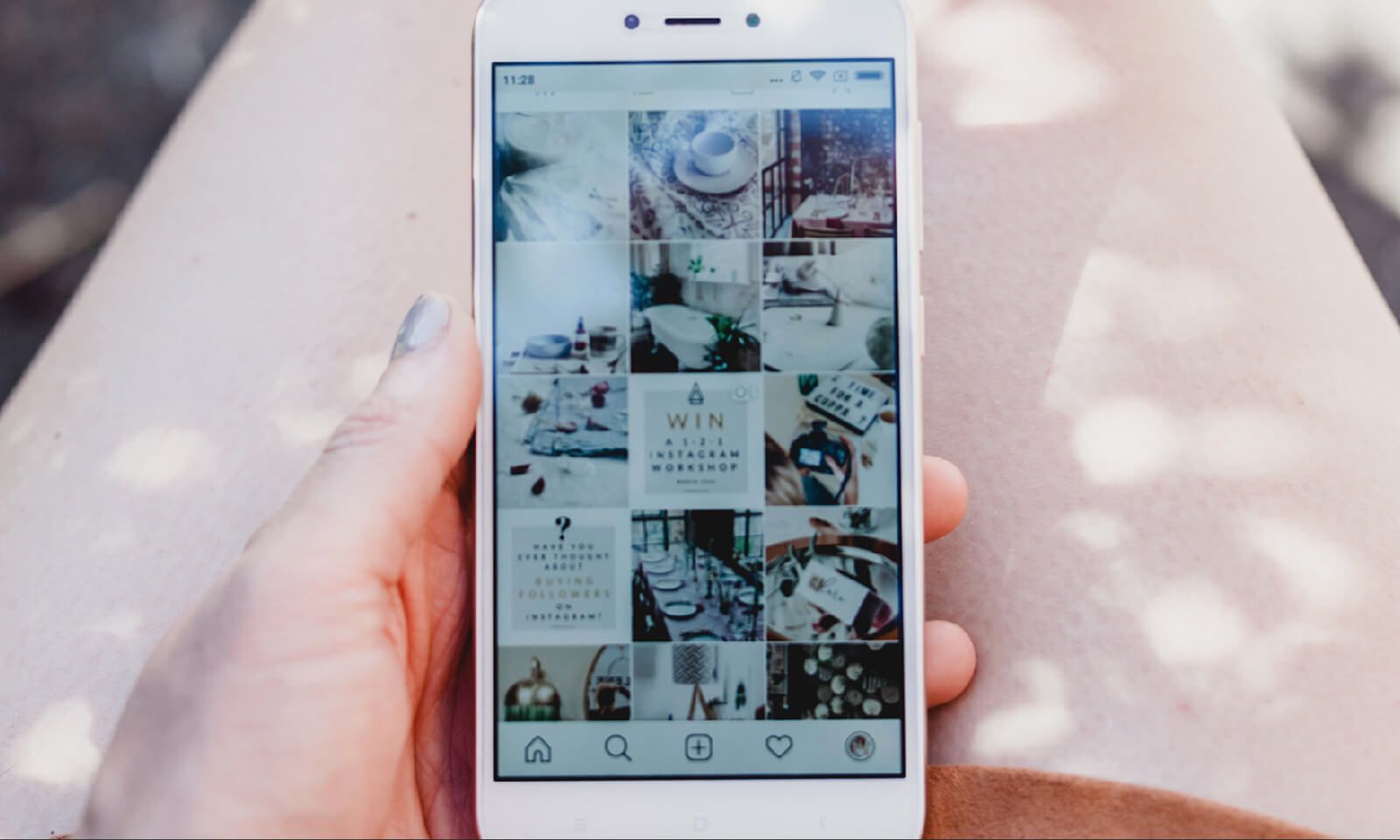 As a small business, it's almost a necessity to be present and active on one or multiple social media platforms. With over 1 billion registered users and 500 million active daily users on Instagram alone, it's easy to see why there are over 25 million business accounts on this Facebook-owned platform. But with so many users and business accounts, why are there are only 1 million advertiser accounts?
To help you become an advertiser and take advantage of Instagram's highly-engaged audience, we've compiled this beginner's guide to advertising on Instagram. We'll explain how it can improve your brand awareness, profile reach, and impressions, as well as ways it can increase your conversion rate and ROI. From promoting a well-performing post to creating Instagram stories and Instagram feed ads in Facebook Ads Manager, it's easier than ever to add paid traffic to your Instagram profile.
Let's start with a few of the common Instagram ads you've probably seen already.
Promoted Instagram Post
One of the most popular ways to promote your brand on Instagram is through a simple promoted Instagram post.
What is a promoted Instagram post?
A promoted Instagram post is a regular post on your Instagram feed that you can pay to show to more people, increasing your reach and impressions via a targeted audience selected by you. You can adjust the budget and length of time that the ad will run all within the Instagram app. Promoted Instagram posts appear in both Instagram feeds and Instagram stories without any additional effort.
The word "Sponsored" appears under the profile names to designate each post as an ad.
What Instagram posts should I promote?
Since every business is different, there is no one right post to promote. Some examples of posts you can and should promote on Instagram are:
Posts performing better than others on your feed
Posts promoting sales or limited time offers
Posts promoting new business news and announcements (think new locations, new staff, management changes, new hours, etc.)
Posts promoting new product arrivals
Posts promoting products coming soon
Posts promoting events
Posts promoting giveaways
How do I promote a post on Instagram?
Promoting a post on Instagram is easy—simply follow these five steps:
Step 1: Select the post you want to promote
From your business page, select the post in question and click "promote." Remember to check for spelling errors and make sure that the copy is not likely to need updating—you won't be able to make changes or edits once the promotion has started.
Step 2: Choose the destination of your promoted post
There are a few different places your users can be transported to after clicking on your post:
Your Profile: Great for brand awareness, giveaway posts, business announcements, and more.
Your Website: Great for shop now, sales, conversion-oriented goals, and lead generation. (This will direct users to your website within the Instagram App.)
Your Direct Messages: Great for asking questions, providing feedback, reserving an item or event invitation, and more.
Pick the destination that makes the most sense for the content of your post.
Step 3: Choose your target audience
The next step is to select who should see your post. You can select an automatic target, which will automatically target other accounts similar to your following, or create a brand new audience yourself and save it for later use. You can choose demographics like gender, age, geolocation, and interests.
PRO TIP: If you own a brick and mortar store, try targeting users within a 1-2 mile radius of your storefront.
Step 4: Choose your budget
Instagram has made it easy to select your budget with the use of slider bars. You can slide your daily spend amount from $1.00-$1,000.00 and the duration from 1-30 days. As you choose your budget and duration, Instagram's algorithm easily calculates the range of estimated reach for your specific posts. For instance, if we choose to spend $5.00 daily over the course of 6 days ($30.00 total ad spend), our estimated daily reach is 950-2,500 accounts.
Step 5: Approve the ad
The final step in creating a promoted post is to approve your ad for publication. You'll be able to preview the ad, review your targeting selections and budget, and submit it for approval through Instagram. An important thing to remember is you will no longer be able to edit the post once the ad is live, as well as after the promotion has ended.
Instagram Ads through Facebook Ads Manager
There are multiple types of ads you can create for Instagram through Facebook Ads Manager, but we're going to focus on two: Instagram Stories Ads and Instagram Feed Ads.
What is an Instagram Story?
Instagram Stories are photos or 15-second videos that have an expiration date of 24 hours. They're great for expanding on recent posts, providing personality to the brand, or even showcasing new products users can swipe to shop (if your business accounts has 10,000 or more followers). Learn more about them in this post.
Why should I promote Stories on Instagram?
As we saw earlier, 500 million users are active on Instagram Stories every day. With Instagram Ad revenue expected to be hit $10 billion for 2019 and 60% of users admitting they've found and purchased new products on Instagram, not taking advantage of the platform is a missed opportunity.
Instagram Stories Ads can be used for promoting sales, new products, and showcasing the personality behind the brand. Using an app like Canva or InShot for Stories templates will allow you to turn photos into videos, add your logo, and create a complete, branded experience. What's more, you're not limited to follower minimum to be able to swipe up!
PRO TIP: Add a URL tracking code to your swipe up link to track your users' site behavior.
What is an Instagram Feed Ad?
An Instagram Feed Ad is a 60 second video, photo, or carousel of images that appears in a user's feed, just as normal posts in their feed would. It also allows you to add a Call to Action to direct users to a product page, category page, or even an event registration page on Facebook.
What should I use an Instagram Feed Ad for?
Instagram Feed Ads are great for advertising collections of products, promoting sales and new arrivals, and more.
Use the 60 second video option to feature a new arrival or provide an inside look into business operations.
Use the single image feature to tease a new collection, announce events, create a lead generation opportunity, or announce a giveaway.
The carousel option (one of our faves) is perfect for sharing collections of products like sale items or holiday-specific items.
With so many options, the possibilities are endless.
How do I create Instagram Stories or Feed Ads?
Once you have decided on the design for your ad, you'll want to access your business Facebook Ads Manager Account and start by creating a new ad.
Step 1: Choose your objective
To start, pick a campaign objective from the available menu and create a name for your campaign. Remember NOT to select "Engagement" under Consideration, or "Catalog Sales" or "Store Visits" under Conversions, as these objectives are Facebook-specific. For the sake of this example, we chose "Traffic" under Consideration.
Step 2: Choose where you want your traffic referred to  
This can be your Website, an App, Messenger, or WhatsApp.
Step 3: Choose your audience
You can either choose to create a new audience, use a saved audience, or even utilize your pixel to target lookalike audiences. Facebook Ads Manager allows you to include detailed targeting just like you'd use for Facebook ads, and you can even add a connection type.
PRO TIP: Although you may have similar audience sizes on both Facebook and Instagram, remember that the demographic differs from platform to platform. Learn more about the demographics on each platform in this post.
Step 4: Edit the placements of your ad
Choose "Edit Placements" and unselect all options except Instagram Stories or Instagram Feeds (alternatively, select both for maximum engagement).
Step 5: Set your budget and duration of the ad
You can set your budget by daily or lifetime spending, and set a bid cap to maximize your budget and audience. As you adjust your spending and duration, you'll be able to see daily estimated audience sizes based on your configurations.
Step 6: Design your ad
It's time to design your ad! You'll be able to choose the format, insert your design, enter links with tracking codes attached, and specify a Call to Action for your ad.
Step 7: Preview and approve
After completing these steps, it's time to preview and approve your ad. Remember that ads running on Instagram must still adhere to Facebook's Advertising policies. Additionally, images with too much text tend to not be approved, as they do not create a great user experience. Get the most out of your ad dollars by using lifestyle images and eye-catching graphics.
No matter the Instagram Business Ad you're creating, remember to be creative, original, and to have fun with it! If you find you're having trouble creating an ad, or aren't sure where to begin, our Social Media Team is here to help. From social media management consulting for e-commerce to full-on social media services, Volusion has you covered. Message us today to learn more!