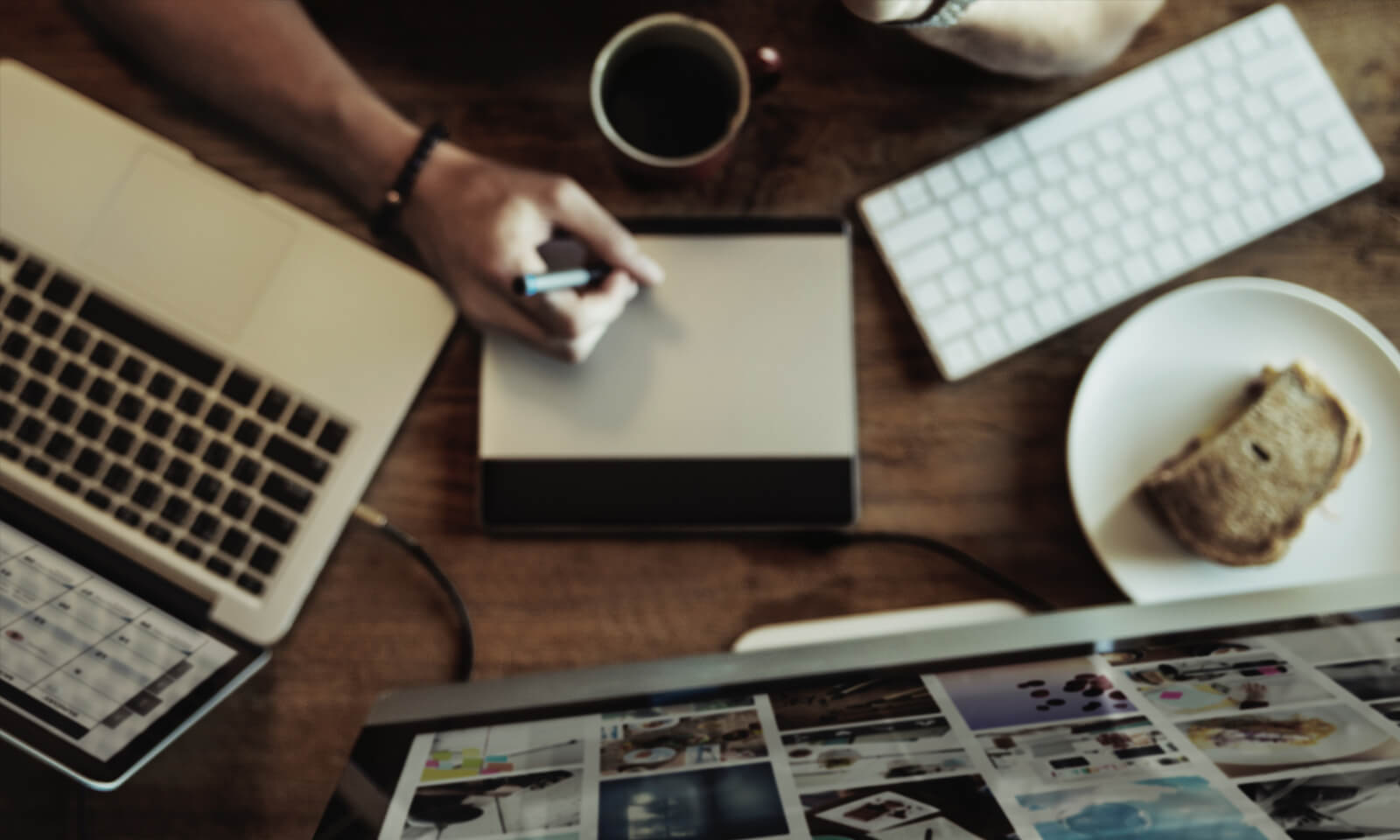 According to the Baymard Institute Product Page Study, 82% of the 60 top-grossing US and European ecommerce sites have "poor" or "mediocre" performing product pages. So, how do you make sure your site doesn't fall into the same trap?
Every site out there (even Amazon!) could use a little bit of tweaking in terms of product images, features and more. Here are nine simple ways you can better your product pages:
1. Solidify Product Page Metadata with Rich Snippets
Nearly 88 percent of shoppers search for products online before purchase. This means you need to optimize the metadata of your product pages with rich snippets in order to direct shoppers to your pages.
Here's a simple snippet in a standard search engine result:


Rich snippets, however, come with additional features such as navigation, price, review stars, technical specs and more:


A brand presents itself on the search results pages through metadata that's mainly comprised of three elements:
Title
URL
Meta Description
Here are some tips and tricks to optimize the three Metadata elements of your product pages:
The Title Tag
Of the 200+ signals Google uses in its algorithm to rank websites, the title tag is one of the most important. Why? Because it shows up directly in the search results and in the browser tab, not to mention on social networks as well. The title tag lets users and search engines know the sort of content they are about to see on a particular page.
How to Optimize Title Tags
Include one KEY differentiating factor that makes your product stand out
Stay within the 50-65 character limit
Include the main keyword
Be persuasive enough that people are compelled to click
Have an edge over similar title tags
Avoid including product categories
The Meta Description of the Product Page
Meta descriptions are not as strong as title tags when it comes to ranking, but they are still incredibly important. With the increase in the use of mobile devices for shopping, it has become even more important to come up with precise and to-the-point meta descriptions.
How to Optimize Meta Descriptions
Include the main keyword and secondary keyword at least once
Keep the character count between 150 and 300 characters
Include a call to action
Describe the page/product, build user expectations and convey a value
Stand out from other product page descriptions
Use complete sentences
The URL of your Product Page
The final element you need to consider in terms of optimizing the metadata of your product pages is the URL of the page. Sure, visitors don't pay much attention to the URL, especially compared to the title tag and meta description. However, an awkward-looking URL is just sloppy.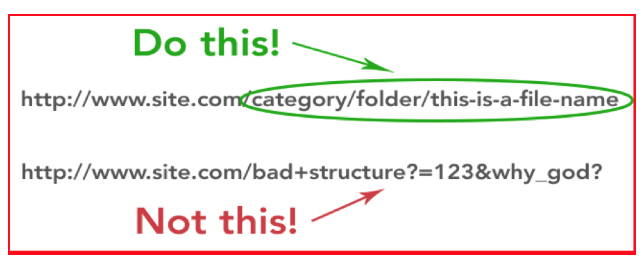 Remember: Google sometimes displays [breadcrumb navigation](http://schema.org/BreadcrumbList) in its featured snippet. So it's important to get your product page URLs correct no matter what.
How to Optimize the URL of your Product Pages
It should in the form of breadcrumb rich snippet that displays hierarchy
If not, it should be clean enough to grab users' attention
To embed breadcrumbs and rich snippets in your URL you need to factor in schema markup as well.
2. Use at Least One "In-Scale" Image on Every Product Page
An "in-scale" image gives users a relative idea of a product size by showing a human or a computer-generated image interacting with the product. Of the 60 major ecommerce sites analyzed by the Baymard Institute, almost 28% of the sites failed to provide an in-scale product image.
Here's a product page without an in-scale image: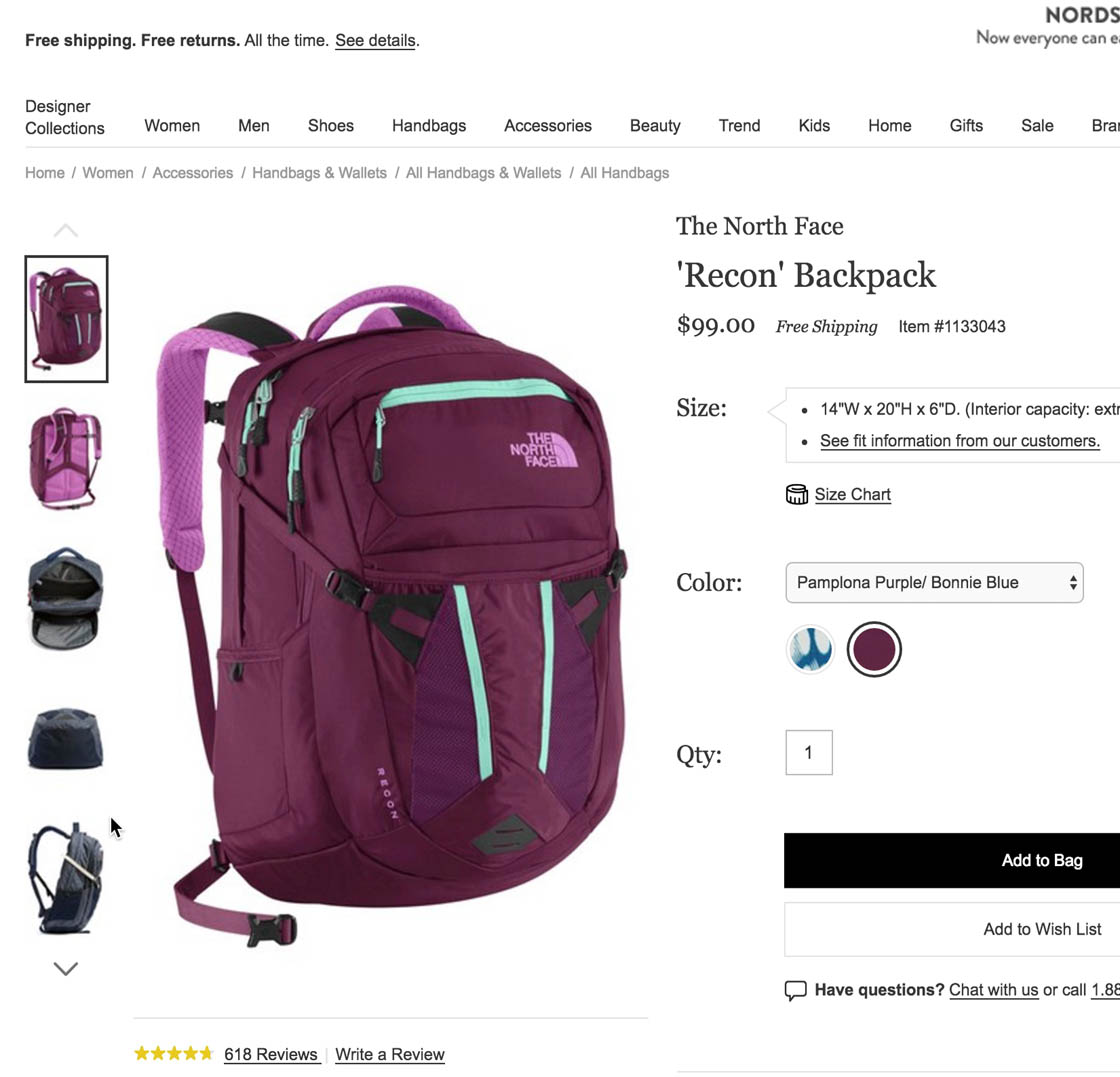 As you can see, there's no model here. Without an in-scale image, shoppers will have a hard time gauging the product's overall size.

By contrast, REI's site displays amazing in-scale images on their product pages: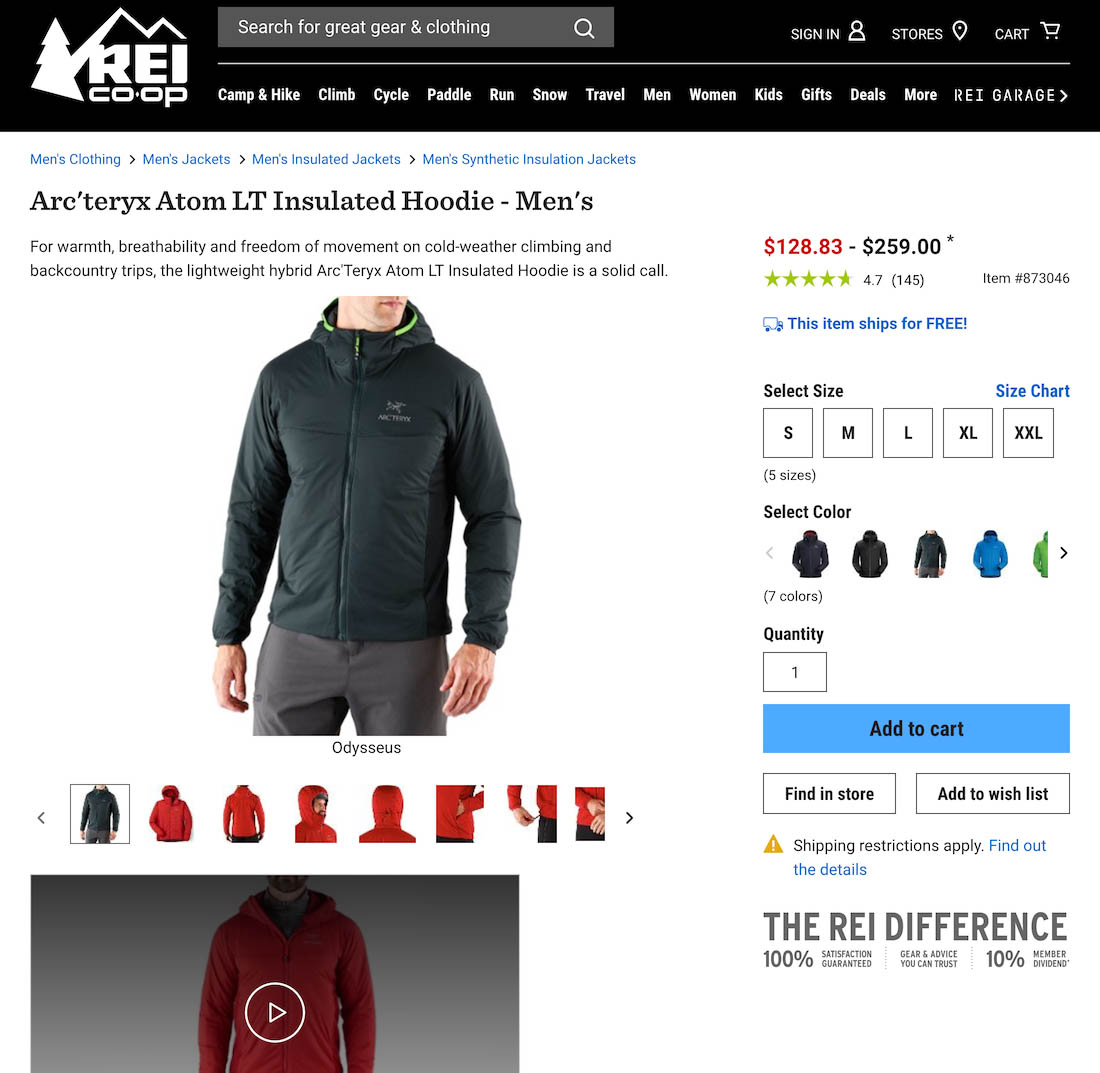 This product page provides users with a relative idea of the jacket size, and one image even shows the model's head covered in the hood. There are other image as well, which give the shopper an exact idea about the jacket size.
Imagine if just the jacket dimensions were provided, in terms of sleeve length, hood width and everything else. It would have made it really difficult for shoppers to gauge the overall size of the product, wouldn't it?
One of the major problems ecommerce retailers face is that shoppers like to touch a product before purchasing it. In-scale images put users one step closer to actually interacting with an item.
3. Sell "Out of Stock" Items
Ok. How do you sell stock that's already "Out of Stock?"
It's simple: delay the shipment period. You can simply make it very clear on your product page that an item ships within 30 days. This gives you time to restock the product and ship it.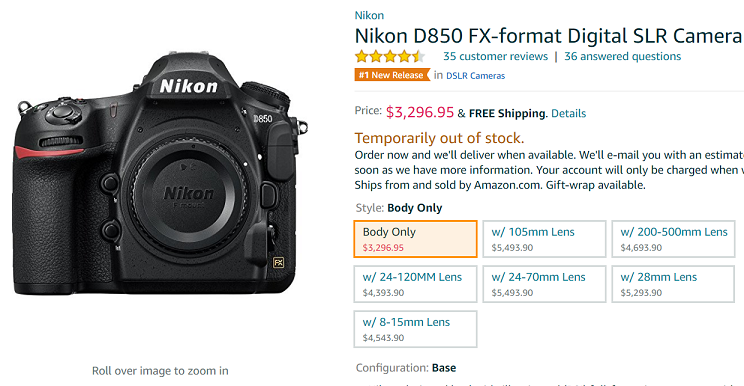 At REI, shoppers don't need to seek out-of-stock product elsewhere. The company assures users that they will *get the product back in stock soon* and that it will be shipped within 30 days.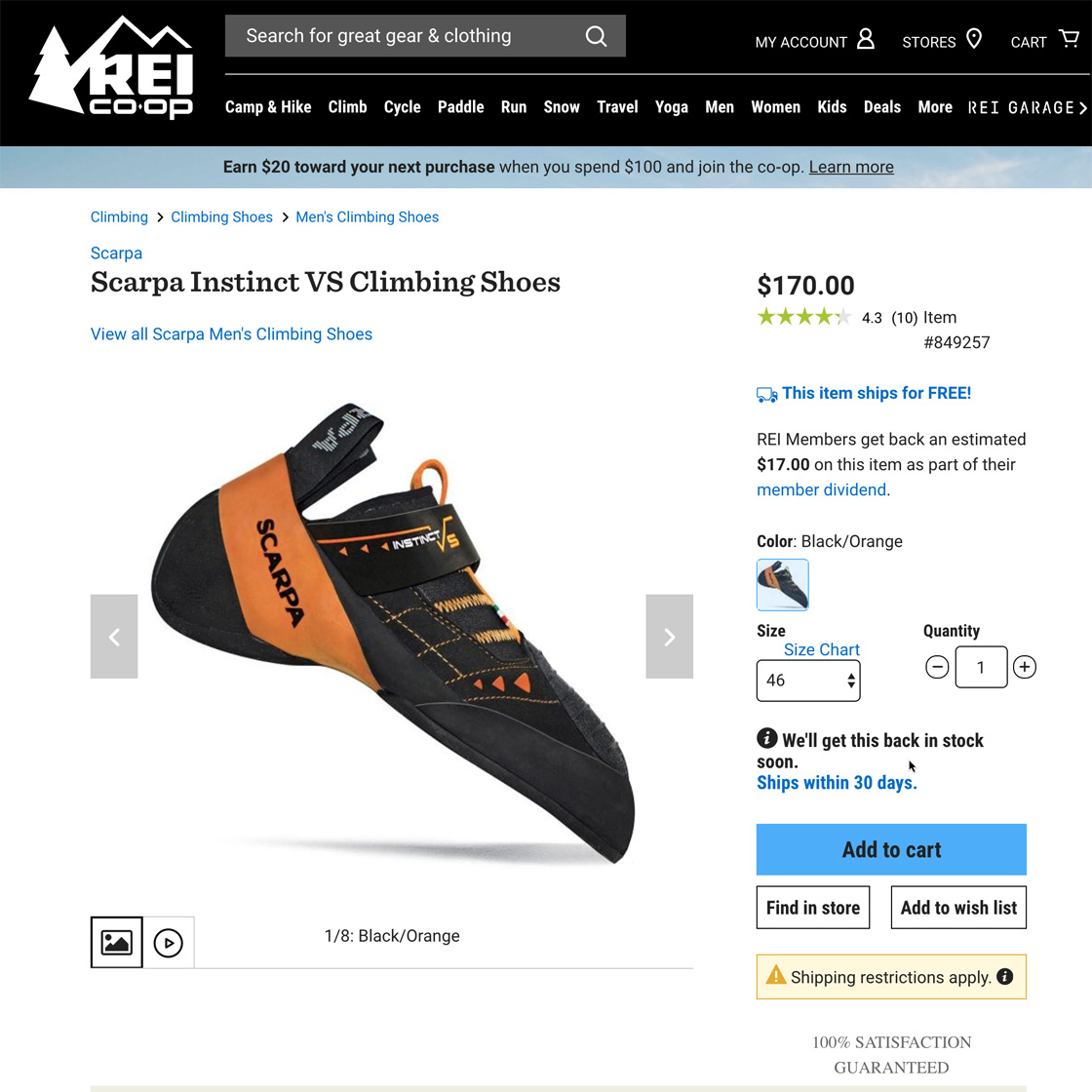 Think of out-of-stock products as nothing more than pre-ordered products that aren't available just yet, but will be soon. Some shoppers may still want instant gratification, but by having an "out of stock, ships soon" option, you'll still save some sales.
4. Don't Hide Extra Charges Behind a "Free Shipping" Veil
High shipping costs are the number one reason why consumers abandon carts, and 93% of consumers say they would buy more products if free shipping was available.
However, here's the thing:
Many sites that offer free shipping feature tend to hide terms and conditions that hide extra charges or stipulations, which are usually hidden behind a tiny link.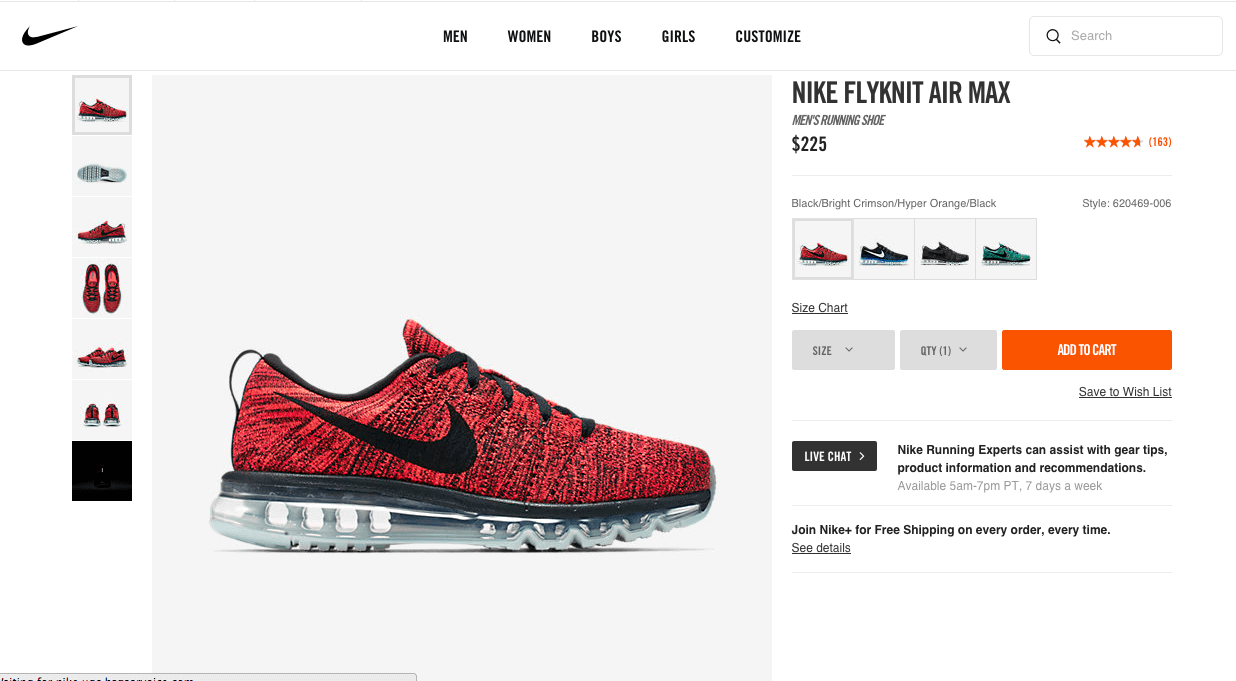 As you can see on Nike's product page, the free shipping label is followed by a *See Details* hyperlink, which buyers mostly skip while placing the order. Turns out, you have to actually be a member of NikePlus to qualify for free shipping.

Paulmitchell.com, however, gets free shipping right. Their product pages clearly communicate the free shipping threshold:


# 5. Don't Sacrifice Mobile Site Content at the Altar of Elegance

You want your mobile pages to look elegant and classy. Cool! So, in order to simplify things, you lop off some features and chop off some content on your pages. Not so cool! Removing content to make your mobile site look more elegant can lead to poor shopping experiences for users, and — in turn — cart abandonment.
Removing features and content to make your mobile site look more presentable can lead to poor shopping experiences for users, and — in turn — cart abandonment.
Users expect to see all the products that are visible on their desktops on their mobile devices as well. For example: when H&M was testing their mobile site, they only featured a curated set of products. Shoppers were determined to find the full product catalog, and when they couldn't many of them bounced.
The bottom line: don't sacrifice user experience for elegant mobile design. You can still have a gorgeous mobile site without removing information.
6. Support Advanced Zoom Features for your Mobile Site
It's been observed during mobile usability testing that shoppers often interact with product images by using different zooming functionalities, especially to inspect the product detail and quality.
A single large-sized image won't work for mobile sites, and will only give users the overall visual appearance of a product. To inspect the material, texture, build quality and other elements, users need to leverage zoom functionality, or at least provide up-close images of products.
7. Tap Into "Buyer's FOMO"
Sure, FOMO — or "fear of missing out" — is a piece of social media slang that can be surprisingly relevant to your store. Informing users that a certain product is running out of stock drives them to make a purchase as quickly as possible.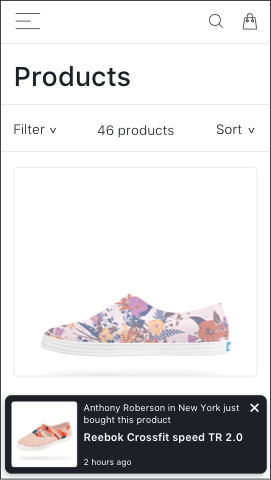 Tap into Buyer's FOMO by notifying the shoppers when an item is selling fast, or by posting a "Hurry: only X left in stock!" notification on the product page.
8. Count on the Rule of Reciprocity
Psychologist Robert Cialdini discusses the Rule of Reciprocity in his book, "Influence: The Psychology of Persuasion". This rule simply states that when someone offers you something, you feel compelled to offer something in return.
You can easily apply this rule to the ecommerce landscape: when users buy something from your site, you might want to reward them with offers and gifts. This will go a long way in creating a long-lasting relationship with shoppers...and it might make that Rule of Reciprocity come into play.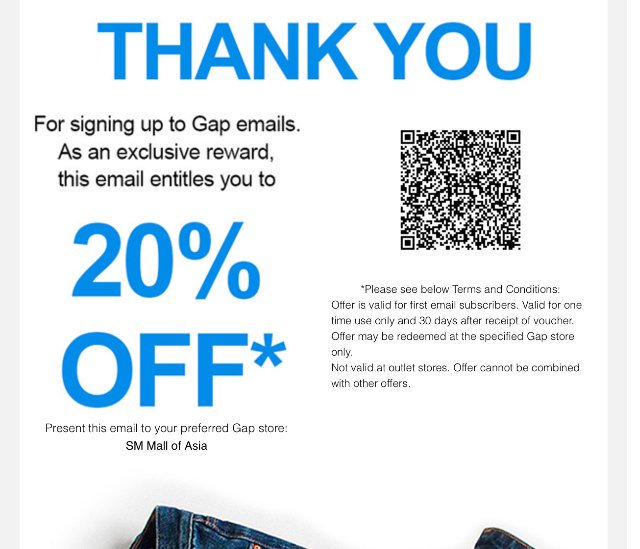 Even offering shoppers a free trial or some kind of offer might motivate them to buy a product, or promote your store on social media.
# 9. Take a Hard Line Approach Against "Feature Creep"

Let's be honest: developers have the noblest of intentions when they clog websites with features they think might be valuable to the shoppers. But in the real world, shoppers prefer to shop on sites that are easily-digestible.
In the real world, shoppers prefer to shop on sites that are easily-digestible
Even if shoppers are looking for additional info, they'll quickly scan the content looking for key points. You don't need to have a million features on your product pages to make them informative and engaging.
So, declutter your product pages. Include only those features that are essential and engaging. Here are few tips to get started:
Highlight large, crisp photos. Avoid small, grainy images that are distracting.

Add whitespace between content to increase user comprehension up to 20%

Keep product page design in sync with your other pages. This will make sure shoppers can easily find the CTA.
To Wrap It Up
There are infinite ways to improvise your product pages. However, the above mentioned strategies can make or break your website prospects. So, no matter what, address them when you're creating your store.
Have any tips or sites that can give product pages a considerable leg-up? Give us a shout in the comments. And if you've tested any of these tips, let us know how they worked for you.