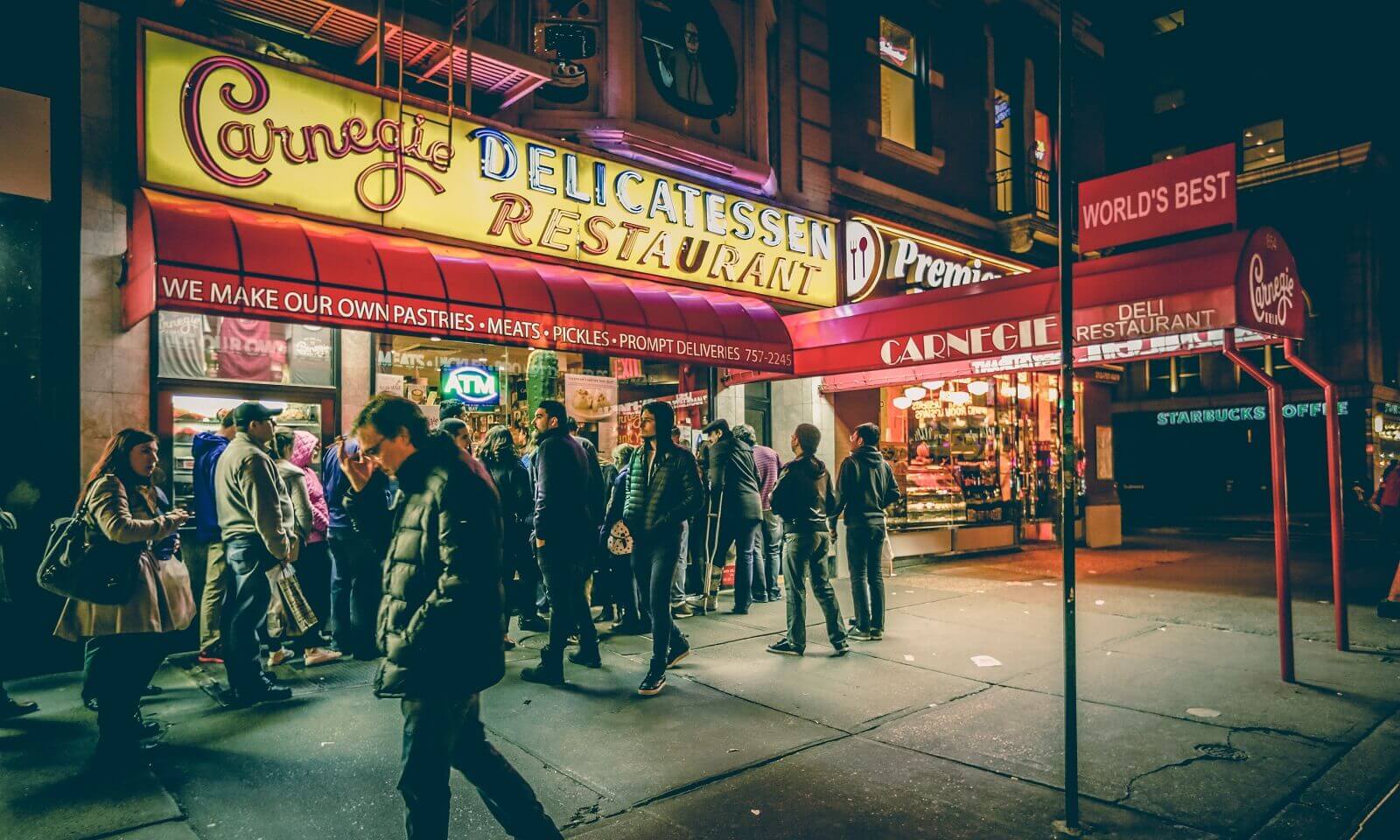 Growing a successful ecommerce brand involves many moving parts on the digital marketing side of your business. In past blog posts we've explained the opportunities of paid advertising, social media, and search engine optimization strategies and their relevance to branding and sales growth. However, this blog post will focus more on a new tool which utilizes your customer's positive shopping experiences. We're talking about Google Customer Reviews!
What is Google Customer Reviews?
On the surface, Google Customer Reviews is a program that allows customers to review the purchasing experience of an online store. Let's dive into what this program does to help your Volusion store receive valuable customer feedback. Google Customer Reviews has four main features:
1. Google Customer Reviews opt-in: This option appears to customers directly after they checkout from your store. If a customer chooses to opt-in, they will receive an email which asks them to participate in a survey related to their shopping experience on your store.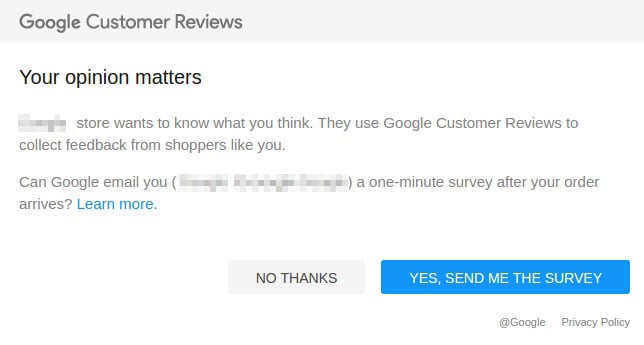 2. Customer Reviews survey: An optional questionnaire which gives customers the opportunity to rate your website's purchasing experience. This survey is emailed to the customer on or around their expected delivery date.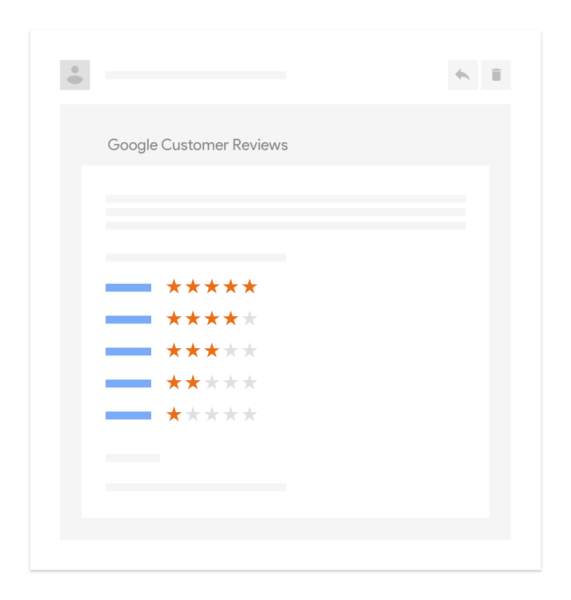 3. Seller Ratings: The collected reviews will contribute to your seller rating. When running a PPC or Shopping advertising campaign, an aggregate seller rating will appear on your text ads and Shopping ads. According to Google AdWords, showing seller ratings on your ads can boost your click through rate up to 10%.
4. Google Customer Reviews badge: A badge that can be placed on any page of your website, which displays the seller rating score of 1 - 5 stars.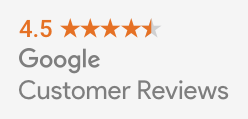 In order to display a 1-5 star seller rating on your Badge or in ads, you must generate at least 150 reviews before the rating can appear.
Benefits
Opportunity to increase sales by illustrating positive purchasing experiences
Qualify for seller ratings which appear in Search and Shopping ads
Higher Click-Through-Rate and lower Cost-Per-Click in Search and Shopping ads
Gain valuable reviews from customers engaged in your shopping experience
Brand awareness improvement and likelihood for repeat purchases
Enabling Google Customer Reviews In Merchant Center
In order to enable this feature, you must have an active Google Merchant Center account. If your Merchant Center account is already created, feel free to skip ahead to the Volusion setup below. Once you have entered your basic information, agreed to the Terms of Service, and verified your domain, you can enable Customer Reviews in Merchant Center. From the drop-down menu in the upper-right hand corner, select Merchant Center Programs. Find Customer Reviews and click Enable, then click the confirmation box that appears and click Save & Continue. Now that you have enabled Customer Reviews in Merchant Center, you're ready to enable the feature in your Volusion Dashboard.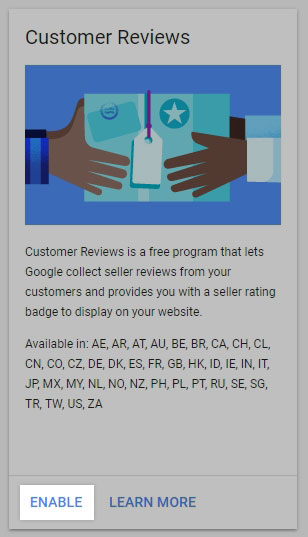 Enabling Google Customer Reviews In Volusion
Let's get started by pulling up this new feature in your Volusion dashboard. Simply find the Marketing drop-down menu and select Google Customer Reviews. You should see a page that looks like the screenshot below: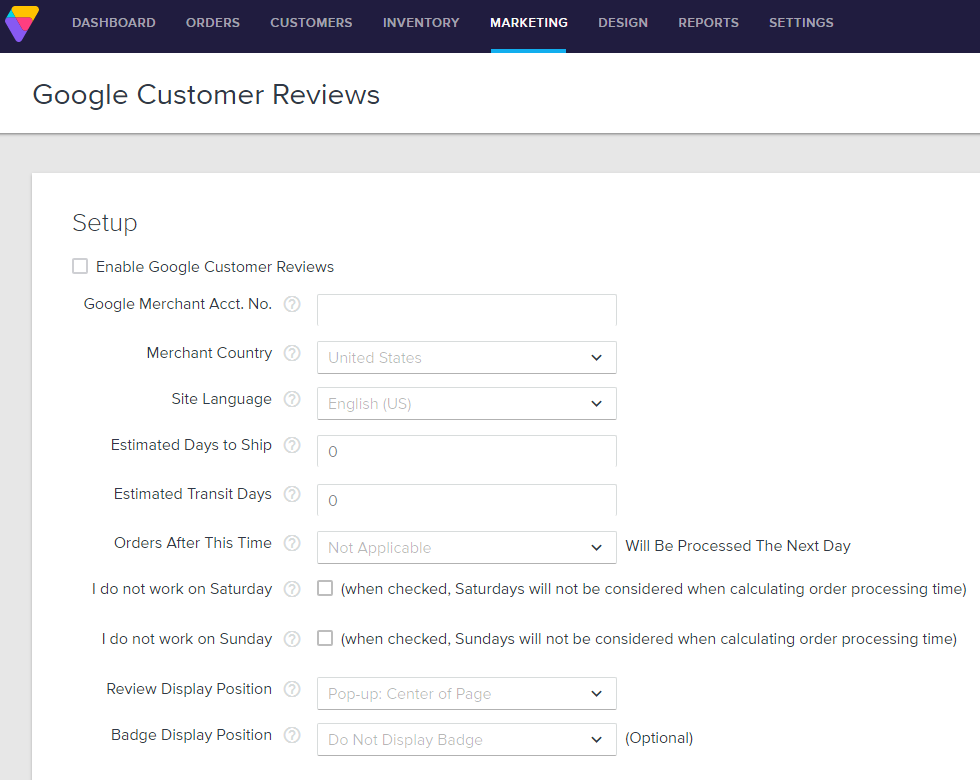 First, check the box Enable Google Customer Reviews, then continue to fill out the required fields with your store's information. It is important to fill out the Estimated Days to Ship field with an accurate number of days that it takes your business to ship an order. This value is only used if none of the products in an order on your Volusion store have an Estimated Days to Ship value.
Next, you can enter the Estimated Transit Days value, which represents the maximum number of days an item will be in transit after shipping. This value is only used if the shipping method selected by your customer does not have an Estimated Transit Days value within your store. In order to better set expectations for your customers, select a time in the drop-down field that is located between Orders After This Time ____ Will Be Processed The Next Day. This value will determine when you will stop processing orders for the day, and any orders that come in after this time are set to be processed the following business day.
Another unique feature that Volusion offers in the Customer Reviews integration is the option to exclude Saturdays or Sundays from order processing time. Simply select the I do not work on Saturday and I do not work on Sunday boxes if you choose to enjoy your weekends away from work! The final step to setting up the integration is to select the Review Display Position, and the Badge Display Position. Until you receive 150 reviews, your seller rating will show as the text "Rating Not Available", so it may be appropriate to select the Do Not Display Badge value until 150 reviews or more have been received.
Requirements For Google Customers Reviews Integration
Now that we have explained how to set up your Google Customer Reviews integration in Merchant Center and in your Volusion Store, let's go over some more requirements that must be in place prior to fully integrating this helpful tool. First, Google Customer Reviews requires that your site be HTML5 compliant. Some of Volusion's older themes are not HTML5 compliant, and this may also be true of custom themes created by third parties. If you haven't upgraded to one our beautiful new themes, we highly recommend taking a peek at them and upgrading today!
Additionally, your Volusion store must also operate on the HTTPS secured protocol and have a valid SSL Certificate. Without an SSL Certificate installation, visitors will not be able to access the post-purchase survey or any other features of Google Customer Reviews. This feature will only appear to customers who are completing an order from the list of supported countries, which is the same list that is found under Marketing > Google Customer Reviews > Merchant Country in your dashboard. Before we move forward, it is very important to note that Google Customer Reviews is unavailable for customers using mobile browsers, but the feature will appear on a desktop browser if it is properly set up and meets the technical requirements mentioned above.
So now that you have some more knowledge on this new Volusion integration, we hope you will take advantage of its benefits! Keep in mind that the required number of reviews (150 or more) may take some time to accumulate, but this powerful tool can make a difference to a shopper who is indecisive about purchasing from your store.