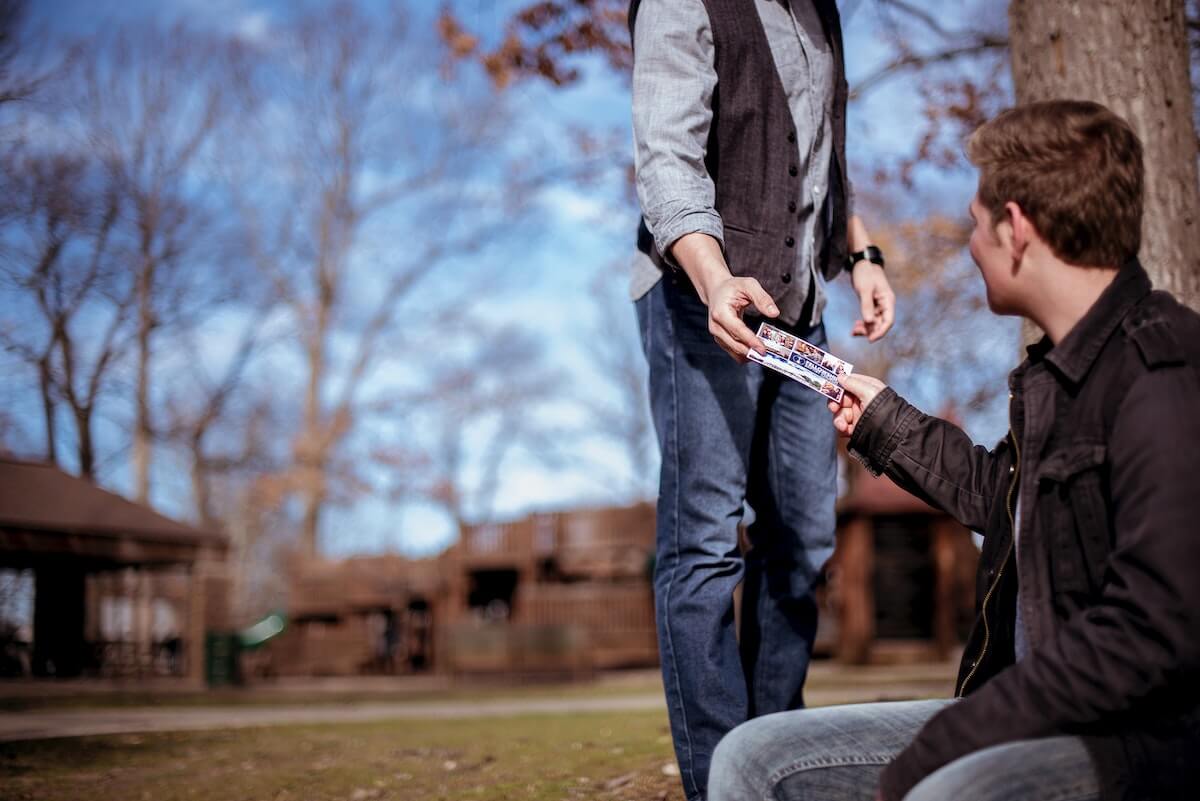 Marketing can be expensive, and there is often no guarantee that a specific strategy will generate real sales. PPC, SEO, and content marketing have their place—and they can all be incredibly effective. But they also take time, require money, and have no guaranteed return on investment, which makes them a risky endeavor for many companies. Luckily, there is an incredibly affordable and effective marketing option for ecommerce companies—an ecommerce referral program.
What exactly is a referral program, and how can it help you increase sales? Here is everything you need to know about referral programs, and how to build a successful program that drives sales without costing your company an arm and a leg.
What Is An Ecommerce Referral Marketing Program?
An ecommerce referral marketing program is a method of generating sales or subscriptions to your product or services by incentivizing current customers to share their experience with their network while encouraging their friends and family to also purchase from the company.
For example, Harry's, an ecommerce razor and shaving company, uses an ecommerce referral marketing program to encourage current subscription customers to invite their friends to join Harry's subscription program.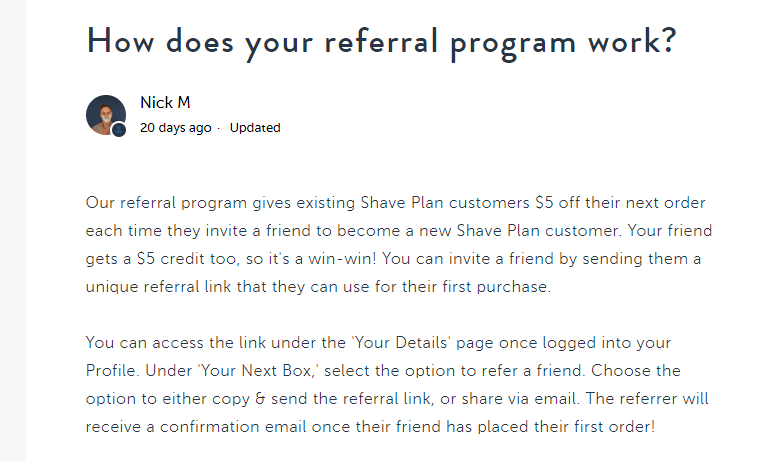 Image source
Both the subscriber and the new customer earn a $5 credit, which encourages customers to share and new customers to use a friend's code. The company wins as well because they don't have to spend as much money on marketing.
Why Are Ecommerce Referral Programs Effective?
The ecommerce industry is incredibly competitive, which makes standing out a challenge for new or growing ecommerce companies. But there is one crucial ingredient that can give your company the upper hand: social proof.
Social proof is the idea that folks are likely to follow what their friends are doing. For example, if your friends are all playing the newest video game and raving about how great it is, there is a good chance that you are going to want to play, too.
Referral marketing leverages the inherent trust we place in the information that comes from an unbiased source, like our friends, over marketing. In fact, a recent report found that 83% of consumers say having a close friend recommend a product can impact purchase behavior.
In addition, referral programs are often far more affordable because you only pay incentives if you earn a new customer. And since referral programs often offer a credit, it costs the company less in the long run.
What Makes an Effective Ecommerce Referral Marketing Program?
Now that you understand the benefits of an ecommerce referral marketing program, it is time to figure out how to build an effective program that will actually drive sales.
It starts with finding the right incentive. The best incentive is appealing and offers benefits to both the referrer and the referral. For example, offering new clients 25% off might attract them to buy, but if there is nothing in it for your current customers, they won't bother sharing it.
Rothy's is an ecommerce shoe and fashion company that makes fashionable shoes and other accessories from reimagined plastic bottles. Their referral program offers new and current customers a $20 credit towards their next purchase. This is exciting for both the new and the original client.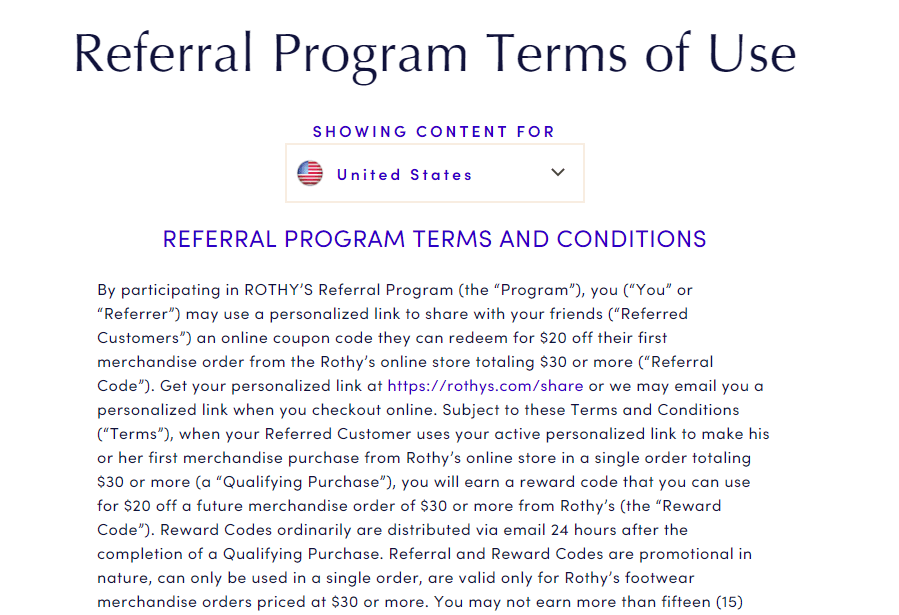 Image source
After finding an attractive incentive, you will need to decide how you will track referrals, often by offering each customer a specific coupon code or using a unique URL. Then, create a detailed terms and services page that outlines who is eligible for referral bonuses and if there are any restrictions, such as a limit on awards per month. Finally, announce the program with an email and social media blast and wait for those sweet referrals to start rolling in.
How Is a Referral Program Different from Affiliate Marketing?
Affiliate marketing is a way to earn passive income by promoting another brand's products and services. For example, a food blogger might promote a blender they love and use an Amazon affiliate link to earn a small commission when one of their readers clicks a link on their blog. Ecommerce referral programs, however, tend to rely on real customers without an agenda to promote their products.
Both methods rely on word-of-mouth marketing; however, ecommerce referral programs offer a discount or credit rather than a cash commission. This attracts people offering personal recommendations to their network, rather than marketers or bloggers looking to earn an income. Many referral programs also prohibit customers from sharing links via a commercial platform, such as a monetized blog. Both affiliate marketing and referral programs can be effective methods for driving sales; however, they use slightly different incentives and are designed for different audiences.
How Do You Choose the Right Customer Incentive for Your Ecommerce Referral Program?
The right customer incentive can make or break your ecommerce referral program, so it is essential to select the right incentive if you want to drive sales. Here are a few key factors to keep in mind:
Make sure your incentive is actually something people want—a discount or a credit are safe bets for most ecommerce companies.
Use a two-sided incentive—both the referrer and the referral customer should get something.
Ensure that the incentive is repeatable so referrers can earn it again and again. (This is why a discount or credit is so popular, as they can add up.)
Here are a few examples of effective referral program incentives:
DoorDash, an online food delivery platform, offers referrers a $10 credit towards takeout, while new customers earn $5 off their first three orders—this incentivizes them to order takeout at least three times.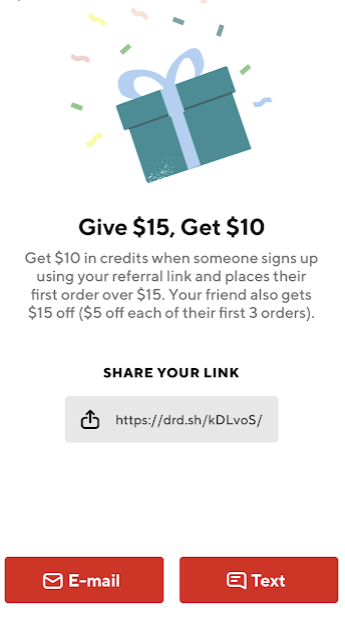 Image source: DoorDash app
Todoist, an online task management tool, offers both the referer and the referee two free months of their premium subscription for reach referral.

Image source
Overtone, an ecommerce hair dye company, offers membership customers $10 credit per friend referred and gives the friend $10 off their first order of $30 or more. The referral program isn't available to all customers—only those who sign up for their free membership reward program.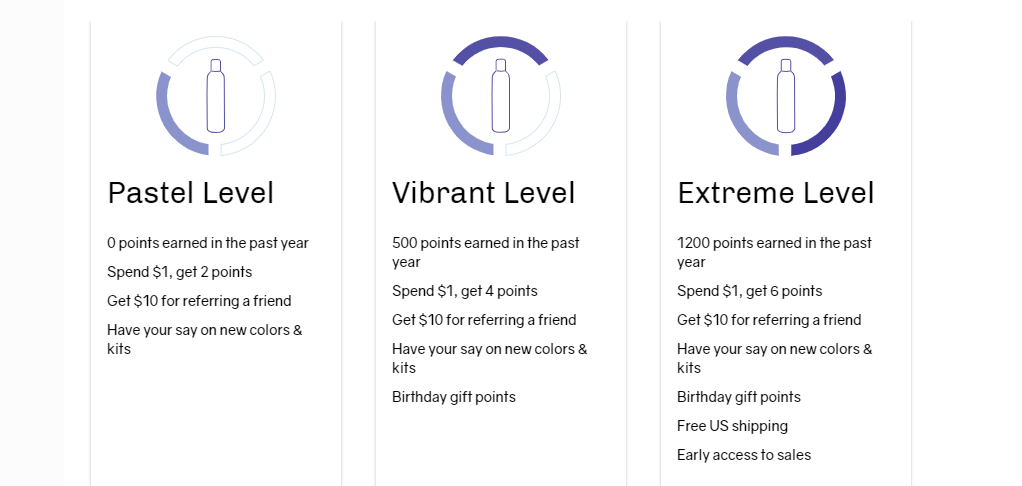 Image source
Notice what these examples have in common? They all offer a discount for both the friend and the current customer as well as a substantial, repeatable discount.
How Do You Make Sure Your Website Is Ready for an Ecommerce Referral Program?
Referral programs can be an incredibly effective method for promoting your ecommerce business. With very little upfront investment, you can extend the reach of your brand using trusted, word-of-mouth marketing. Sounds great, right? But is your website ready for the traffic your referral program will drive? Or are users going to land on your site, get frustrated, and leave?
According to Website Setup, this problem is actually one of three main reasons why someone bounces from a website:
"The first reason is that the site is just confusing. Perhaps it has way too many elements on the screen that the user has to process. Alternatively, there may be lots of distracting animation or imagery."
The most attractive incentive program won't work if your website is difficult to navigate, slow, or if folks can't find their referral link easily. Here are a few tips for making sure that your website doesn't tank your referral program success:
Use Google's PageSpeed Insight tool to make sure your site loads easily on mobile and desktop devices.
Test your website usability to make sure visitors understand how to navigate your page—and where to find their referral link.
Use a simple, easy-to-navigate interface so that customers and prospects easily understand the benefits of your products or services.
Make use of negative space to draw the users' attention to critical links, including referral program sign-ups, email registration, and purchase buttons.
To make sure your site is easy to navigate, check out this guide on website usability.
How Do You Maximize the Number of People Who Sign up for Your Referral Marketing Program?
Referral marketing programs are ideal for companies looking to grow without investing thousands of dollars in dozens of different marketing strategies. However, don't assume you can throw up a referral program and the sales will roll in. Like any marketing strategy, building an ecommerce referral program takes time and requires effort to be effective. Here are a few tips to maximize the effectiveness of your referral program:
Make sure your current customers are actually happy with your company. Annoyed customers aren't going to refer your product, even if it does earn them a credit. Use a survey to ask customers if there are areas where you can improve.
Make your referral program easy to use—and easy to find. Don't bury your referral codes three clicks deep in your website. Make sure current customers can easily find their link and click to copy. This will increase the likelihood they will actually share your program with their network.
Use a referral program in addition to other marketing strategies. For example, use influencers to kick start your referral program by asking them to promote your brand to their followers. Micro-influencers are often highly trusted by their audiences and can be an effective way to build trust with your audience.
How Do You Maximize the Revenue You Get from Your Ecommerce Referral Marketing Program?
Referral marketing programs can be highly cost-effective—but they can also be abused. Some customers may use their referral links on paid blogs to generate hundreds of dollars in credits or share them on discount code sharing sites like RetailMeNot. These loopholes can leave you paying thousands of dollars in credits to customers who were likely going to sign up for your product or service regardless.
So how do you protect your company and prevent folks from taking advantage of your referral program? By creating an iron-clad terms and conditions page. Ideally, everyone will use your program as intended, but if they don't, you need to have a way to protect yourself. For example, Netflix's referral program terms and conditions state the program is "Solely intended for personal, non-commercial use," and they reserve the right to disqualify any member who abuses the program.

Image source
When creating your referral program terms and conditions, make sure to cover your basis and give yourself the flexibility to cancel accounts for customers who abuse your program in ways you might not even think of.
What Software Can Be Used to Build an Ecommerce Referral Program?
Now that you understand how to build a successful ecommerce referral program, let's get into the nitty-gritty. How do you actually create a referral program? While you could manage the program manually by offering a unique coupon code for each customer, that strategy isn't practical long term.
Instead, invest in referral software designed specifically for ecommerce companies such as Talkable or Growsurf. These platforms make it easy to create user-friendly referral programs and run tests to find out what works best for your company. Talkable, for example, offers access to customer insights so you can see what is working and what isn't.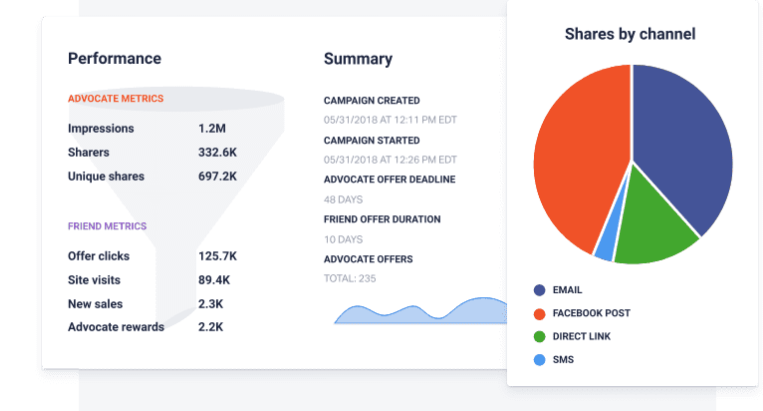 Image source
It also integrates with many platforms you are already using, including MailChimp and Salesforce.
Final Thoughts of Ecommerce Referral Programs
Whether you are running an established ecommerce enterprise or looking to grow a newly-minted startup, a referral program can be an effective method for increasing word of mouth marketing. However, referral marketing does not come without challenges.
This is not a marketing strategy that you can set and forget. Just like paid ads or social media, you will need to spend time optimizing your referral program and testing changes. But it comes with major benefits—with referral marketing, you only pay for customers or leads you actually get, which makes it a far more effective use of your marketing dollars.
Is a referral program right for your ecommerce business? If you have a great product (or service) and a high customer satisfaction rate, it may be the right tool to help your business grow.