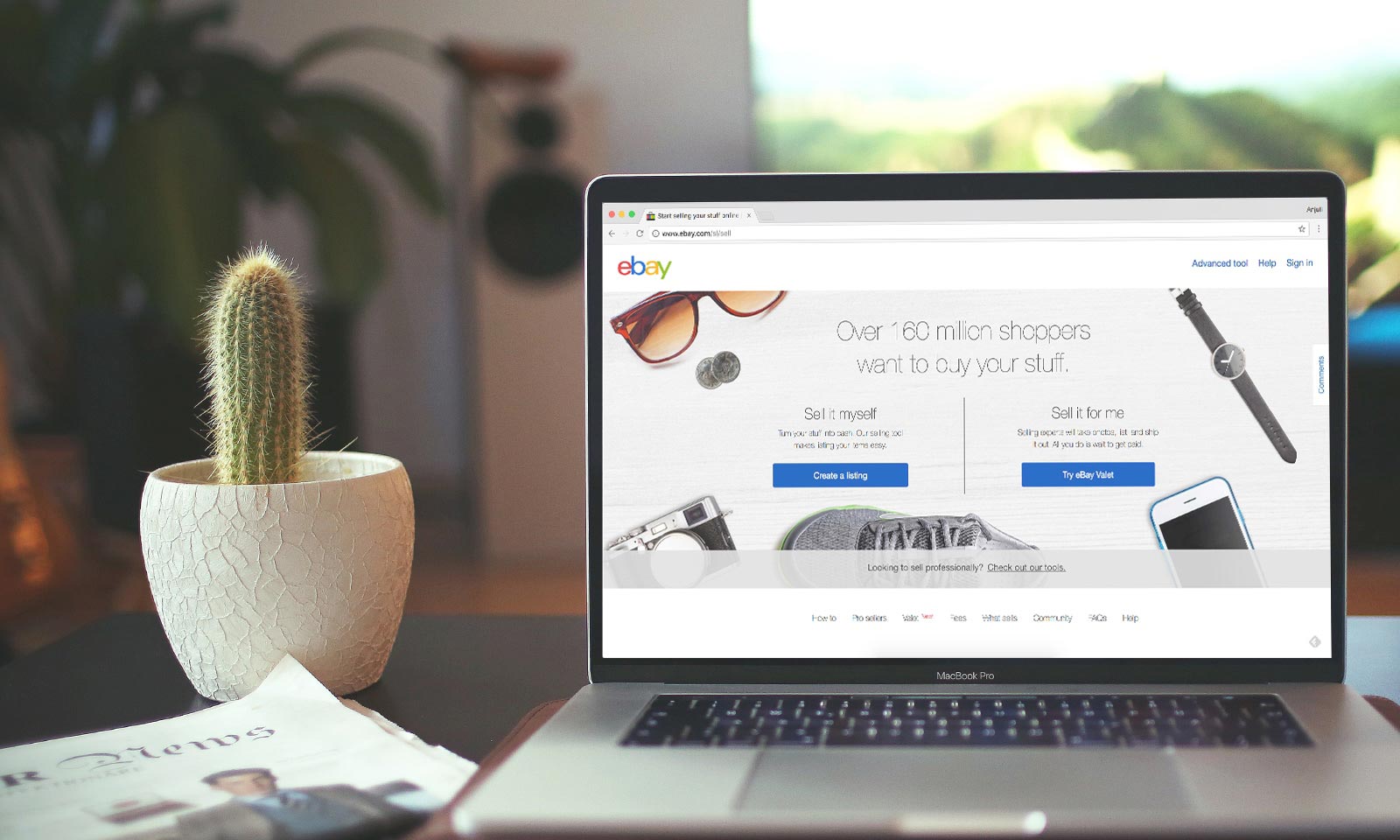 Many online sellers and entrepreneurs use eBay as a gateway or stepping stone to generate an income and learn about selling online, with the goal of ultimately building a full ecommerce business. Whatever your short- and long-term goals are for your eBay store, building a successful online shop and ecommerce experience for your customers will require a bit of planning and trial and error.
Getting Started
The selling process as listed on the eBay Seller Center is fairly straightforward: list, ship, and get paid. However, within the three basic categories are a number of essential steps that will help with everything from boosting your SEO rankings so customers can find your store to how to offer the best customer service experience.
Here is a summary of the most important points to consider when planning and setting up your ecommerce business on eBay.
1. Research: Think Like a Buyer
Even if you've never bought anything on eBay before, you probably shop online regularly and know how the process works—you search for something you want or need, find relevant listings, buy, and wait for your purchase to arrive at your door. So what else is there to know? The key to setting up and maintaining a successful eBay store is to understand how the platform operates from the buyer's perspective.
Spend some time searching through the site as a casual buyer and an observer to get a feel for how the site works and what the most successful sellers (across multiple categories) have in common. Then, make your search more granular and focus on similar products and categories to those you plan to sell in your own store. You'll want to make your products and store stand out and build your own brand, even if you are selling products in a popular category. That said, you don't have to reinvent the wheel—think like a buyer to determine how your customers are searching for what you're selling, then perform some research to get a sense for what successful sellers in your category are already doing.
2. What Are You Selling? Top-Selling Items
At its inception, eBay was a marketplace for people to sell everything from the mundane to the outright weird, from outgrown baby clothes to hard-to-find Beanie Babies. Since the early days, eBay and the millions of independent sellers on the platform have evolved to offer everything from luxury goods and services to top-shelf electronics.
If you want to open a store but are not sure what to sell, the top-selling items feature is an invaluable resource that provides insight into where customers are spending the most money on the platform. If you've already chosen your inventory and seller niche, understanding the top-selling items can help you see where your store fits in, as well as what top sellers are doing to get their products in front of millions of eBay's loyal customers.
3. Selling Points: Store and Item Listing Categories and Fees
If you or someone you know was on eBay in the early days, chances are that they spent a good amount of thought and time perfecting their bidding game. But if auctions are not your thing, the "Buy it now" option makes it possible for customers to purchase items from your store as a direct sale. (It's important to note that the buy it now option is a premium function that will cost more than listing items for auction).
eBay charges a number of fees depending on the type of store and the items you will be selling, and it can get confusing when trying to decide how to price your items to ensure that you are not operating at a loss wherever possible. You'll pay a monthly subscription fee to keep your store open and operating, as well as an individual listing fee for every item that you sell in the store (known as an insertion fee).
There are five main seller subscription categories:
Starter
Basic
Premium
Anchor
Enterprise
The monthly subscription fee is determined according to the type of store you buy, but the insertion fees will vary according to a number of factors such as the type of listing, whether it is a single or duplicate listing, and whether the item is relisted, among others. Sellers are given a certain allocation of zero insertion fee listings, but you'll have to check the specifics of your particular account for your monthly allowance.
Visit eBay's store selling fees section for a comprehensive breakdown of the fees associated with listing your items as an auction and upgrading to additional listing features, and offering the buy it now option for some or all of the eligible items in your store.
4. How to Price Your Items
As the previous point illustrates, successfully pricing your eBay store's items in order to cover your investment, store and listing costs, and desired profit involves a little research and legwork. eBay has broken down a formula to help you find your best price point into three basic steps:
Number crunching
Market research
Good old-fashioned psychology
Pricing your items is an area that will require quite a bit of research and trial and error, so spend some time figuring out how the listing fees will affect the price, whether an auction or buy it now option is the way to go, and how to adequately factor in shipping costs, as well as the investment of your capital and time in putting it all together.
The process can feel overwhelming when you're first getting started, but this is an area where research is your friend. See how other sellers are pricing and marketing similar items, determine your own revenue projections, and get to number crunching. The process will become more intuitive as you go along and get a better understanding and feel for your market and customer base.
5. Picture Perfect: Creating Images that Sell
One of the many benefits of setting up an ecommerce store on eBay is that it comes with a built-in audience of millions of consumers already actively shopping and looking for what you're selling. There may be a market for just about anything, but relying on a strategy of building it and waiting for customers to come is a recipe for getting lost in the shuffle of millions of online stores and transactions.
Even an eBay store in the hottest market needs to be marketed effectively in order to attract (and hopefully retain) loyal customers and turn a profit. That's where your images come in. Even if you're bootstrapping your store and operating with a limited to non-existent marketing budget, investing in professional looking, clear, accurate, and informative images is a must for your listings to rank well for SEO purposes and building trust among your customer base.
Here are a few easy-to-follow photo-taking tips from eBay to help you showcase your products in the best light, professional photography skills optional:
Use a plain white backdrop and keep the image as minimal and uncluttered as possible—let the product take center stage so that your customer can clearly see what they're buying without distractions or weird associations.
Use soft, gentle lighting that clearly shows the product, but doesn't include a harsh glare.
Make sure your images are high-resolution. Keep in mind that your listings will be viewed across multiple devices, so you want to be sure that your images will be as clear on a smartphone as they are on a desktop or laptop.
Let the item fill as much of the frame as possible.
Take multiple shots from various angles to give the customer as much of an accurate description and view of the item as possible. Of course they'll read the product description and listing, but without an accurate and enticing product photo, it can be difficult to seal the deal.
Don't use filters—let the product speak for itself. Remember that the devil can be in the details when it comes to selling products online, and two shades of coral can be all it takes for a buyer to return an item or leave you a negative review for misrepresenting it. The closer the product listing picture is to the real thing, the better.
Don't try to hide or lie about imperfections—let potential buyers see what the product actually looks like and be upfront about any issues like scratches or discolorations and let them decide if they can live with them. Selling an item only to have it returned or to lose a potential repeat customer is not worth the trouble.
Visit eBay's product photo guide for more tips and suggestions about how to optimize your listings using product photos and descriptions.
6. Writing the Product Description
Like the product listing photo, the product description is one of the most important components of your eBay store. In addition to creating a detailed, concise, and accurate description of your product, your listing should include relevant keywords to help your listings and store rank in the search engines for your product and store category.
Pro tip: eBay has its own search engine and mystery algorithms for ranking listings according to relevant keywords, so take a little time to familiarize yourself with their basic SEO guidelines. This will ensure that your listings are being indexed and ranked for the desired keywords and getting in front of the customers searching for what you're selling.
A few tips to keep in mind while you're writing:
Keep it short, sweet, and skimmable—no one wants to read War and Peace while looking for earrings or a vintage Hermes bag.
Don't use duplicate content (your own or another seller's—write unique product descriptions for each listing to avoid being penalized for duplicate content.
Break up the text to make it readable and attractive by using bullet points, lists, numbers, and short sentences.
Triple-check your spelling.
Give as much (relevant) detail as possible.
Write killer headings.
A quick note about writing for SEO—while you want to use the right keywords and best practices for search when creating your store's product descriptions, keep in mind that you're still writing for and marketing to humans. Use keywords naturally and write organically (as you would speak) so that your descriptions sound natural and unforced.
Tactics like keyword stuffing or using popular keywords out of context to boost your rankings temporarily will backfire and hurt your store's SEO rankings in the end. The most important thing is to provide value to your customers by giving them all of the details they need to make an informed decision.
7. Giving and Receiving Feedback
In ancient times, merchants bought and sold from each other from caravans, bazaars, town squares, and village marketplaces while operating on a currency of mutual trust and reciprocity. eBay stores operate in much the same way. Your store may have the best products at a great price, your pictures and product descriptions may be on point, but if your account doesn't have any feedback to vouch for your trustworthiness and professionalism, you may find that buyers are skipping you altogether to pick up their wares from the next stall (or eBay seller—you get the picture).
For new sellers, ratings and feedback can be something of a chicken and egg situation—how can you get great feedback without first selling to the customers that will leave that feedback? One solid workaround is to become a good buyer. Shop around and leave feedback on your purchases for other sellers, and actively encourage feedback on your sales when starting out to boost your seller rankings.
Keep in mind that your rankings are about more than positive feedback—the more volume you have, the better. If a buyer is looking at two virtually identical items from different sellers, looking at the seller's rankings is one of the most common ways to tip the scales. Just think about how you would make your own purchasing decision under the same circumstances. On a marketplace like eBay, reputation and a robust network of both happy customers and peers are still essential factors in becoming a successful seller.
8. Promote Your eBay Store Like a Business
For many sellers, the early stages of an ecommerce store's life are about finding a footing and developing the brand and voice, which will naturally evolve over time. But even if your store is a side business or part time project while you hold down a day job and all of life's responsibilities, it's important to treat your store like a business if you want it to grow and be profitable. That means promotion.
Start with Social Media
Depending on the nature of your store and what you're selling, social media platforms like Facebook, Instagram, and Pinterest are tailor-made for the kind of visual content that makes up the lion's share of ecommerce businesses. Whether you're selling handmade candles, refurbished laptops, or designer jeans, social media is one of the most effective and affordable avenues to get your business in front of the people who are either actively looking for what you're selling, or fit the target demographic for your ideal customer.
Promotion Boxes
eBay also offers a tool that allows you to promote your items within the listing. For example, if an item contains a special feature or attribute, or if you're offering a specific sale or promotion that you'd like to highlight to potential customers, you can make that visible.
For additional listing fees, eBay also offers the option of upgrading or promoting listings to help give you a leg up on the competition.
Content Marketing
Blogging and offering your customers additional value by providing them with relevant content is not only a good way to promote your ecommerce site and build trust—it's also a great way to establish yourself as an authority and thought leader in your field. A monthly newsletter or free ebook is a great way to capture prospective customers who are interested in what you're selling, but may not be ready to buy at the moment.
9. Sell in Cycles
As you perform your market research, you'll probably find that sales in your given sector may be subject to peaks and valleys in terms of demand. Consider cycling your inventory and designing your store according to seasonal ebbs and flows for holidays, seasonal changes, or even special events like graduations or the Super Bowl. An item that falls flat in November or December may very well be the hottest seller in your store in May or June.
10. Take a Long-Term View
In eBay selling as in life, you can do everything "right" and still see limited to disappointing results—at least in the beginning. Remember that Rome wasn't built in a day, and neither was a single successful and profitable business—online or off. Whether you're building an ecommerce store to earn some extra cash on the side or as your primary business and source of revenue, making a list of short- and long-term goals is a good way to get some momentum going and to stay motivated as you learn your way around. Experiment with different methods and tools in the short term with a view towards building your customer base and online presence slowly but steadily over time.
Final Thoughts
Selling on eBay may seem intimidating at first, but by following these steps closely, you can set your eBay store up for success. Don't be discouraged if you're having trouble gaining momentum in the beginning—sometimes it just takes a little bit of time to build up an effective strategy.